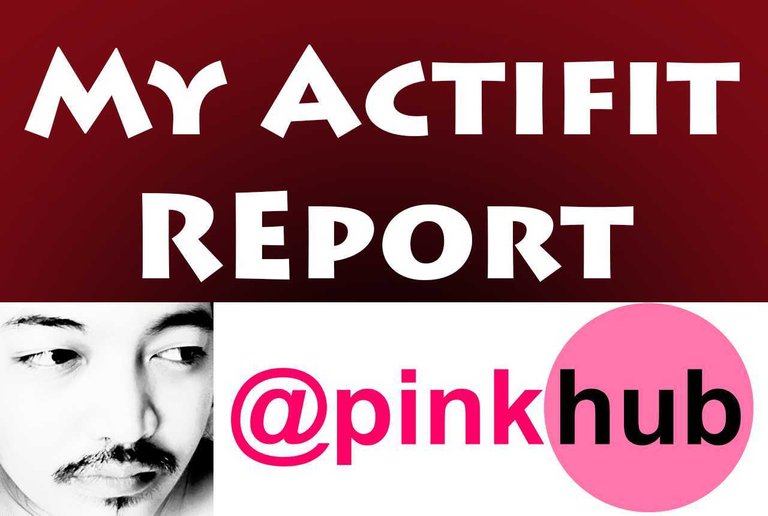 Hello everyone 😁 how was your day today? I am back once again to report on my actifit activity today yay 😁
Yesterday I rested my body and I think it worked coz when I woke up this morning my body felt so light. I felt the stress I'm doing to my body during the last couple of days that is why I decided to take a rest yesterday.
---
Morning Walk
---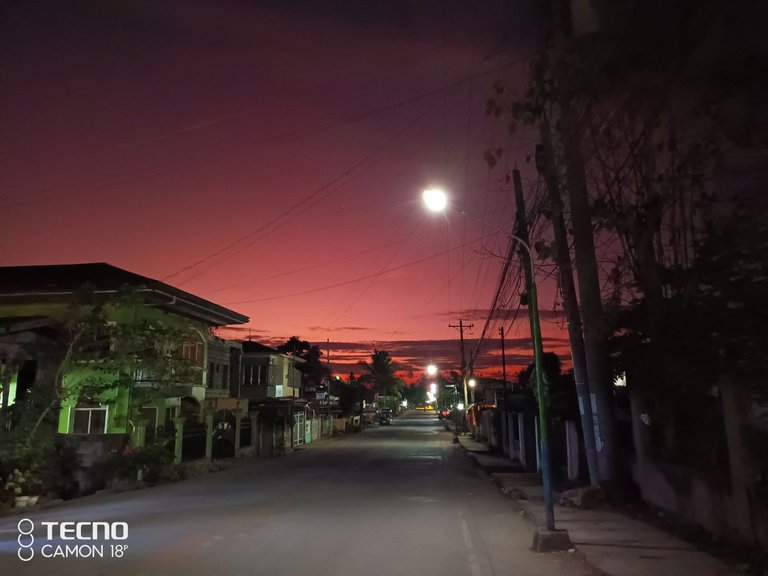 Thanks to that I was able to wake up with no problems this morning. Although I was a little late for my walk because of some things that I still needed to do. When I got out it was already twilight as seen in the horizon. It's during these days that I hope to see something great.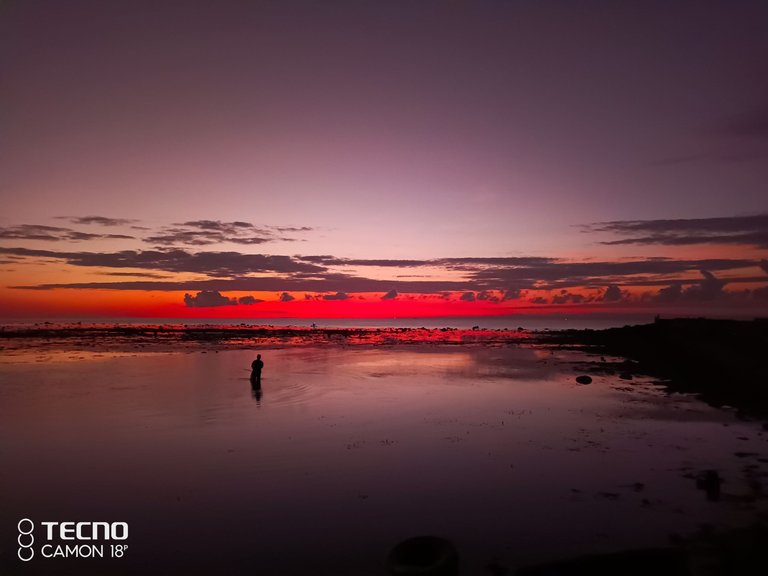 And sure enough it didn't disappoint 😁 The sky is blood shot red. It was both beautiful and scary at the same time. I feel like it is some sort of bad omen when I see the sky as red as a blood. Though that's just me and my imaginative mind 😂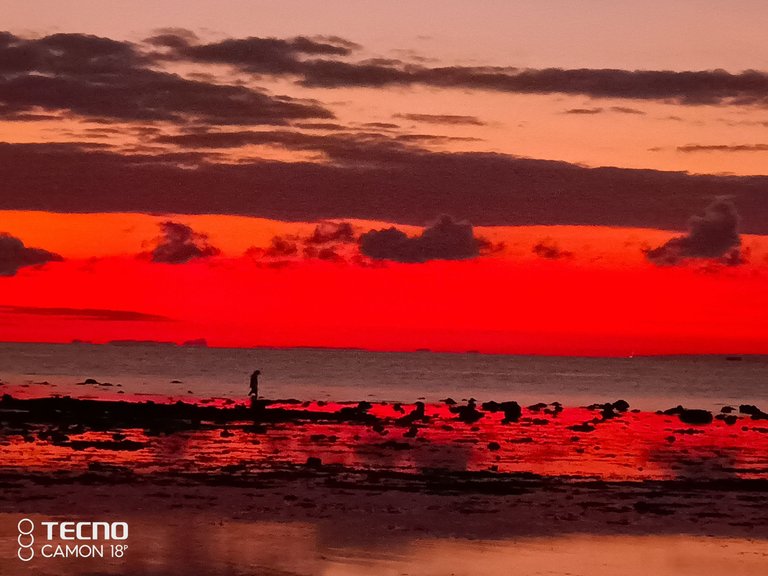 Just look at how red that sky is it's almost eerie creepy. Still it didn't stop me from doing crazy stuff this morning as you will find out in just a minute.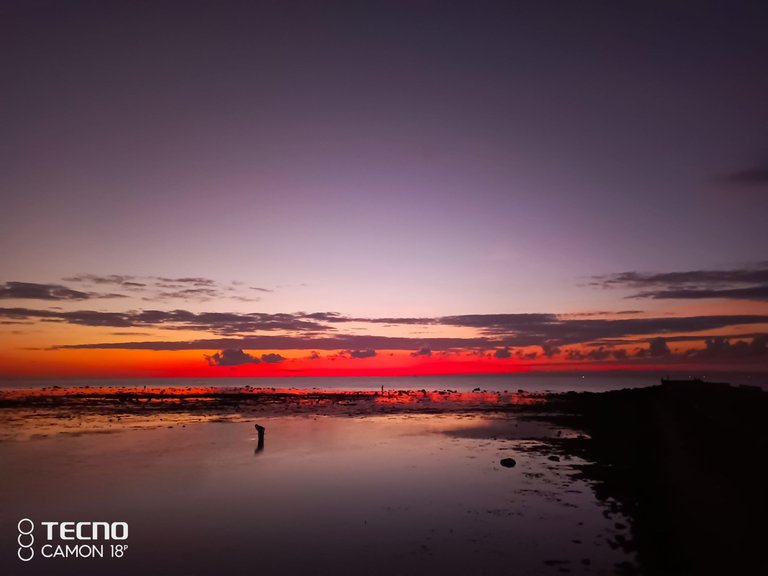 There were already people in the wharf when I arrived, just like the man down there in the sea looking for sea mollusks. They really help out in making my shots more appealing coz there are people in the frame 😅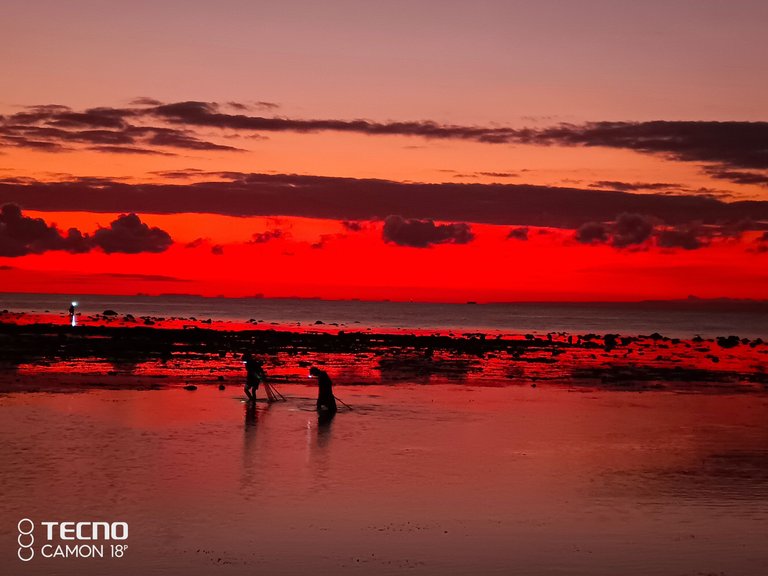 After the first guy went over to a different area of the sea, two more came to the same spot which I wanted to take a photo of but then I saw another one from a far and included him in the frame as well.
Most of my silhouette shots are usually during the golden hour which for me is quite appealing looking at the golden sky with shadowing figure but having a blood red background ain't so bad either right? 😁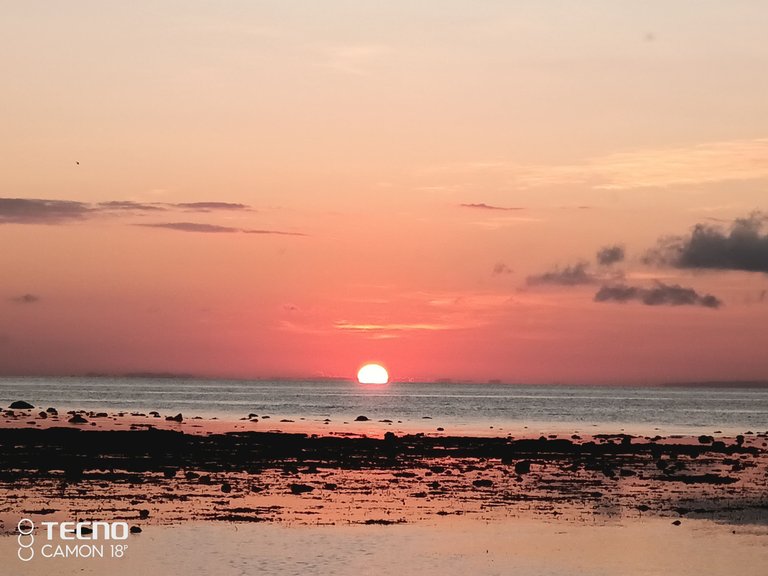 After the bloodied sky came the sun. I've been seeing sunrises non-stop the past week I guess which is great coz rainy days would mean less activity for me 😅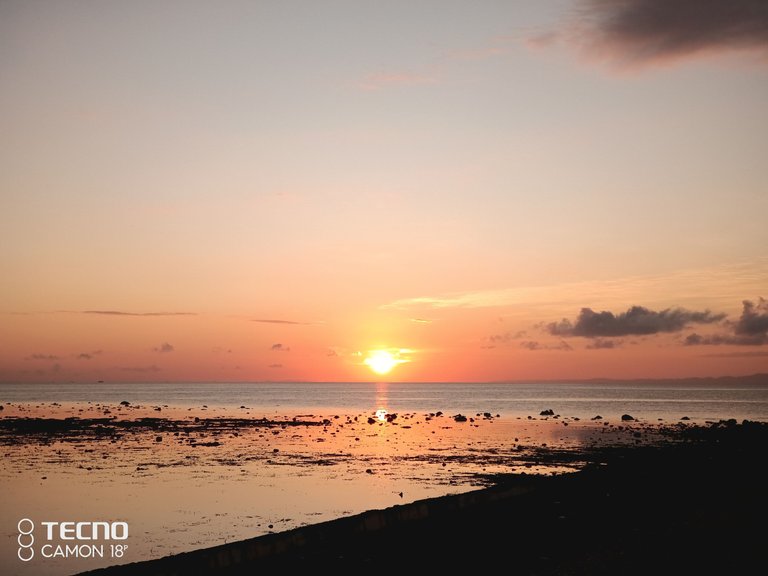 The sun is up in the horizon and my sunrise experience is complete... Right? WRONG!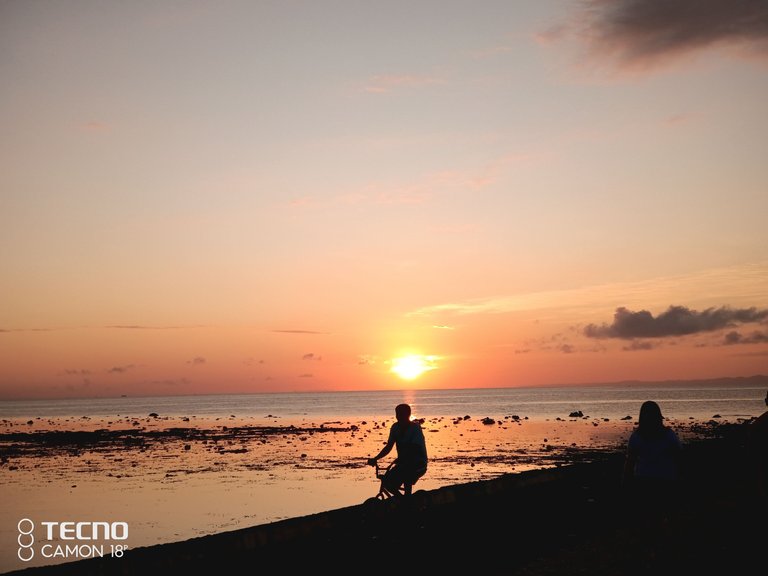 Remember what I said earlier about doing something crazy? Yup this is the part where I went ballistic 😂 the sun is up in the horizon and I was taking picture of it when suddenly people just came into the frame ruining my shots and so I thought hmmm maybe I could use these people and frame the sun in a funny way and wallah! A man riding his bike with a fireball on top of his head 😆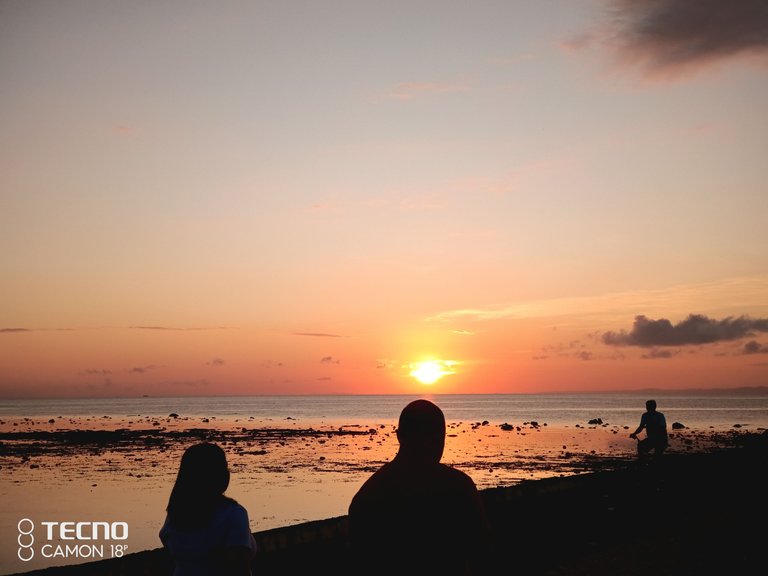 This one is probably the best one yet. Have you seen a double sun? Well I did this morning 😂 This one is way too funny not to be shared lol 😜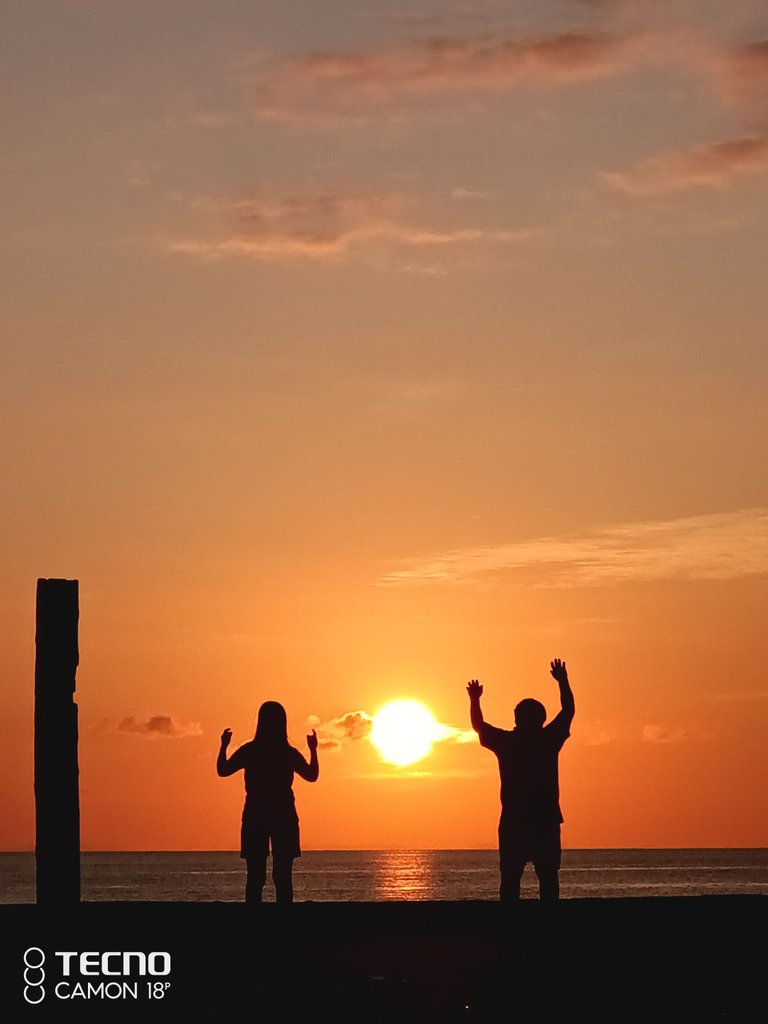 And lastly is a couple exercising facing the sun. These two just like me is always present in this wharf every single morning. I think they never missed a day unlike me when I went for rest yesterday. Anyways it was lucky coincidence for me to be walking in circles and I saw this angle in which the sun is directly in between them. Not to mention their hands are up like they are some native people praising the sun god of some sort. But they weren't at all. They were just exercising that is why I love this photo. It may not be taken with my DSLR camera and only taken by my phone but it doesn't really matter does it? What matters most is how you compose your shot and how you deliver the shot 😍
---
Afternoon Ride
---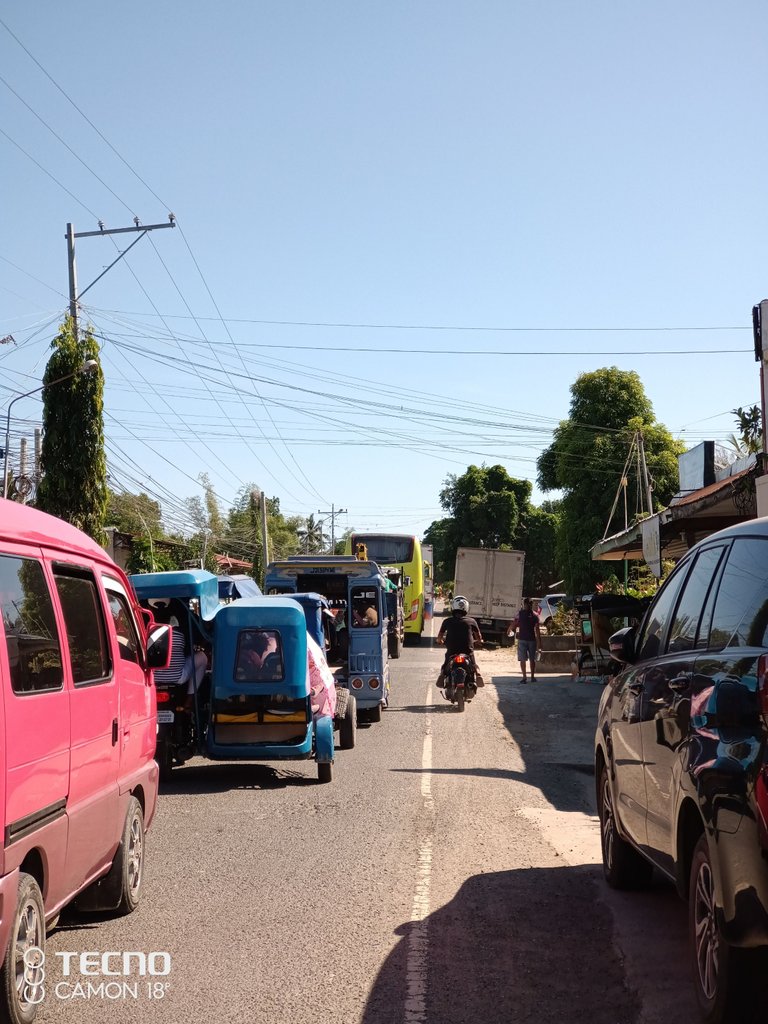 This afternoon since I have the time and my son has no school for today I decided to go on a little ride. I didn't want to go crazy on today's ride so I decided to just go to Taloot Argao for today and then back to Sibonga. 2 or 3 kilometers into my ride I saw this very long traffic. I didn't bother much coz the last time I saw something like this was just due to some 10-wheeler truck doing some backing in the main road which caused the traffic. So I continued to move forward since bikes can easily slip into small spaces unlike motorcycles 😁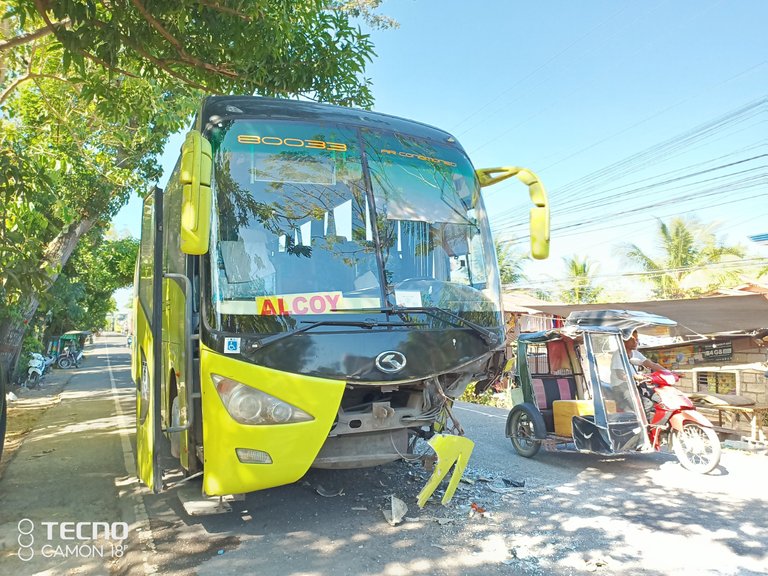 Just 300 to 400 meters ahead I saw the cause of the traffic and it was a car accident! Yikes! 😱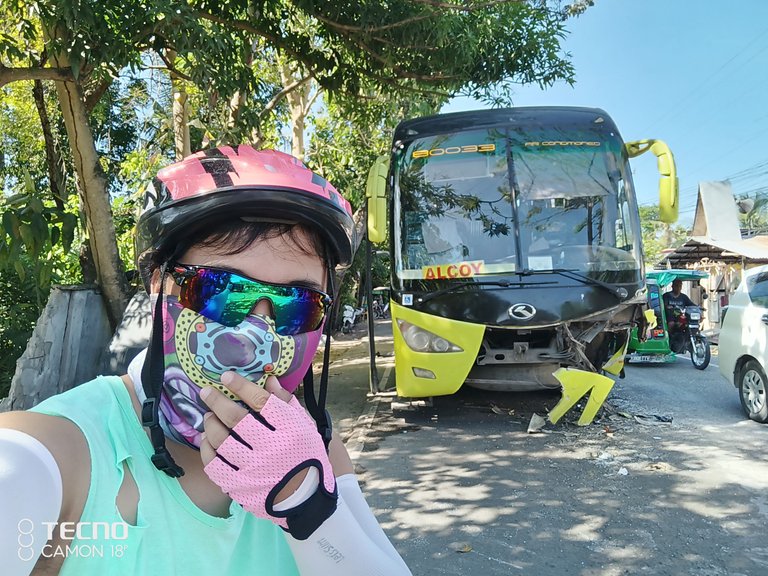 Selfie as proof lol 😅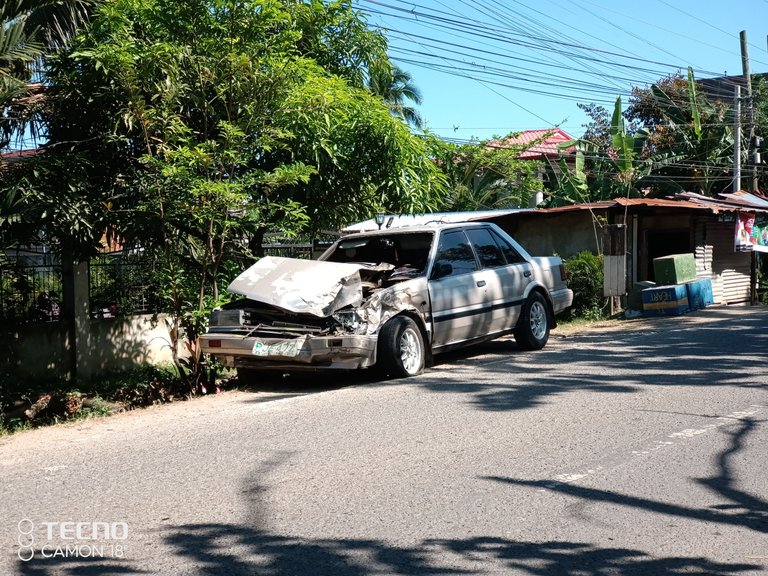 Apparently this car went on a head-on collision with the busted bus above and the driver of the car died. Well to be honest I don't know the details. I'm not 100% accurate as to the validity of the claim since I only talked to the guys enforcing the traffic around this area. These guys were needed to enforce the traffic since the bus is still in the middle of the road blocking the traffic on the other side of the two lane highway 😅 I asked if there were any casualties and he said the driver of the car died. Well I can't really disagree with the guy since you can look at the damage the car went and It could be possible. Although no blood can be seen in the road I would still consider this incident as a bloody afternoon to say the least.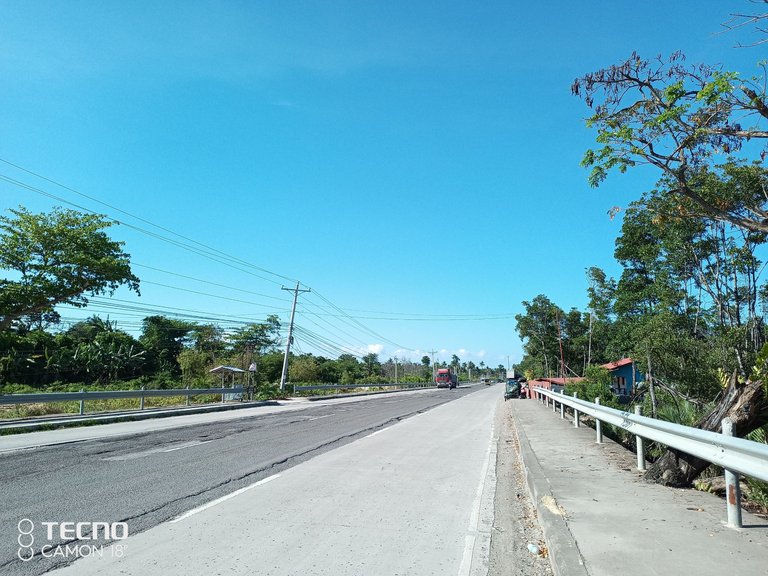 After that I continued to move forward and arrived at my destination for today. I didn't stay there long coz there wasn't any place to stay anyways so I headed back home or to our plaza.
Upon arriving at our plaza I rested for 5 to 10 minutes before doing at it again. But this time I was doing rounds around the park instead.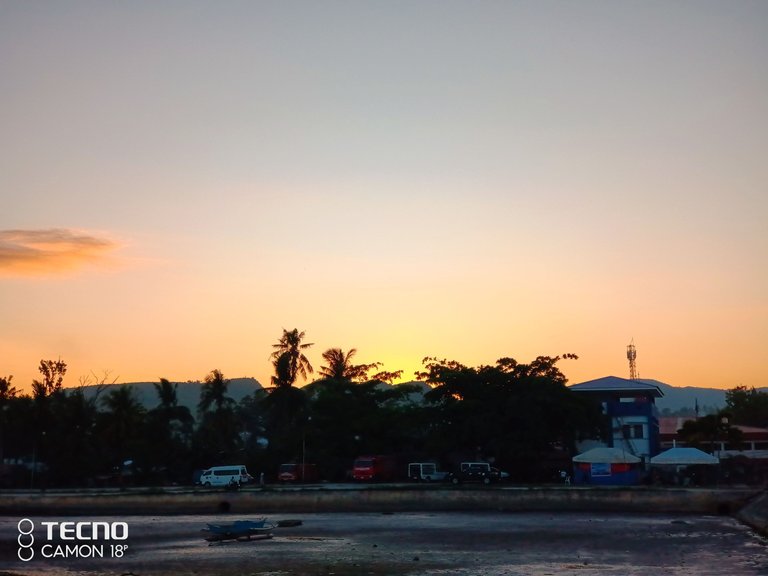 After my fun ride in the park which lasted for maybe 30 minutes I decided to rest again. This time in the wharf that I really love and maybe I'll be able to see a good sunset. It didn't disappoint and I got what I wanted. I'm just happy that my day ended in a very relaxing state and I enjoyed the sunset today.
So this ends my Activity Report for today guys. I hope you enjoyed my "Bloody Day" Activity 😁 Till next time! Cheers! 😎

This report was published via Actifit app (Android | iOS). Check out the original version here on actifit.io




21/03/2023

22776

Cycling, Daily Activity, Walking