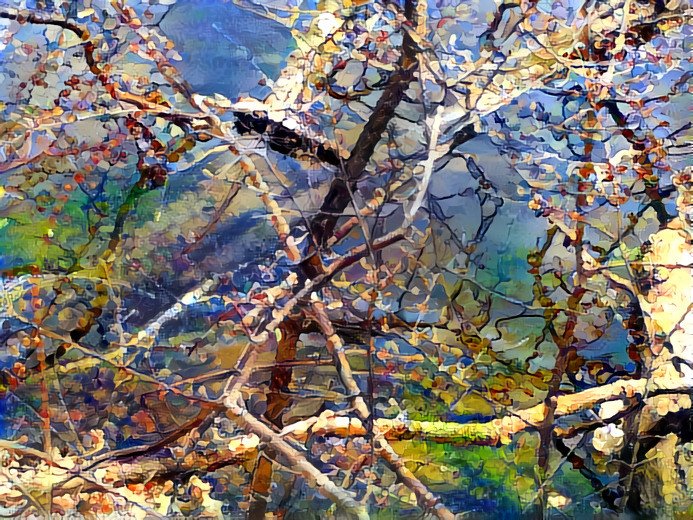 (From a photo taken with my iPhone, looking through brush to the shore of Lake Linden, digitally modified with DeepDreamGenerator.)
Got a decent step count today, mostly from a three-mile walk with my wife that passed by several of Minnesota's numerous small lakes. One of Minnesota's many nicknames is Land of 10,000 Lakes but that's just a nice round number. Linden's small enough to probably be a pond rather than a lake. There's no "official" definition of when a body of water is large enough to be considered a lake. Some geographers call it a pond if smaller than 10 acres (about 4 hectares) and a lake if bigger than 10 acres. By that measure, Minnesota has something on the order of 15,000 lakes. But I knew some geographers in my college days, and those dudes could slam back beers like it was nobody's business. So I wouldn't trust a geographer further than I could throw one. Which isn't very far since the ones I knew tended to have not insignificant beer bellies.
But geographers are teetotalers compared to beekeepers. Well, at least the subset of beekeepers who I've had contact with. Almost 40 years ago, I worked in a couple of hotels in downtown Minneapolis where I met, and served alcohol to, all kinds of conventioneers. Why Arkansas car dealers would meet in Minneapolis of all places for an annual convention when they could choose Vegas or Honolulu or New Orleans before Katrina is beyond me, but they did. Conventions of fashion designers, pet store owners, actuaries, cookware manufacturers, I served them all. But the group that was, by far, the heaviest drinkers that I met was beekeepers. I have no idea if it was a fluke of which beekeepers happened to attend their annual convention that year or if there's something about bees that drives those who tend them to the bottle.


This actifitter chose to donate this report's original AFIT token earnings to @schoolforsdg4 charity

11504