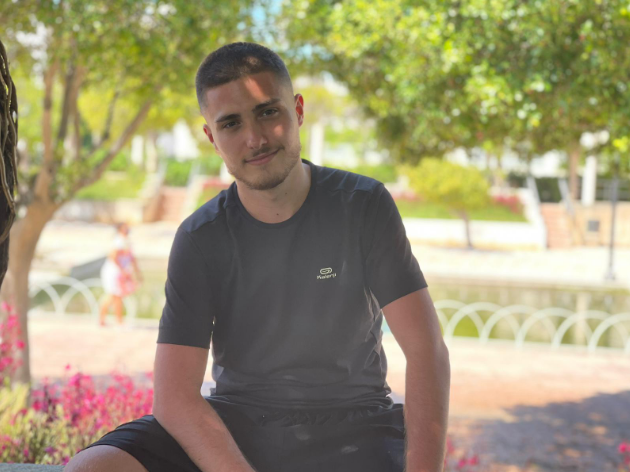 Hello everyone, you already know that I am writing about the rock of 70, which was the golden age of rock.
Well, this one you see in the photo is my younger brother Flabio, you have girls crazy about him, well with his 20 years I think we've all been through that hahaha.
He is the second of my two brothers and the youngest and the most pampered by the family, (I love him madly), because it turns out that he has been behind me for a few months to help him out, (because now he wants to be a rapper) And he knows that I understand all of this.
So I'm going to help you and try to make him a rap star, so I'm going to do is that once a week I will put your YouTube video and share it with you and if you can also give your opinion to improve it, so I'm going to put the videos that He has on his channel and if you can, give him a like that also helps

Hola a todos, ya sabéis que últimamente estoy escribiendo sobre el rock de 70, que para fue la epoca dorada del rock.
*Pues este que veis en la foto es mi hermano menor Flabio, que tienes a las niñas loca por el, bueno con sus 20 años creo que todos hemos pasado por eso jejejej. *
Es el segundo de mis dos hermanos y el mas chico y el mas mimado por la familia, ( lo quiero con locura ), pues resulta que lleva unos meses detrás de mi para que le eche una mano, ( por que ahora quiere ser rapero ) y el sabe que yo entiendo de todo esto.
Así que voy a ayudarle y intentar hacerlo una estrella del rap, así que voy hacer es que una vez a la semana pondré sus vídeo de youtube y compartirlos con ustedes y si también podéis opinar para que mejore, así os voy a poner los videos que tiene en su canal y si podéis le dais a me gusta que eso también ayuda
MULTIPLYING JOYS - FB1312 ft Crazyboy G (audio oficial) prod: K.G.GoldBeats
Street Flow (audio oficial) prod: K.G.GoldBeats
FB1312 - BACK TO THE PAST (video official)
LET´S GO - FB1312 ft CRAZYBOY G (audio oficial) (prod: K.G.goldbeats,South Giron)
FB1312 - The O.G (audio oficial) prod: South_Giron_