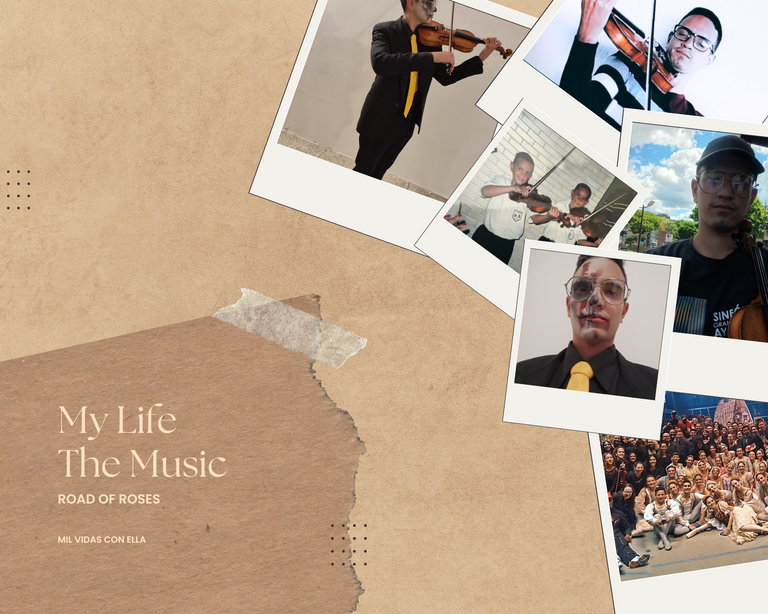 Hola amigos de Hive y la comunidad de Music, es grato poder detenerse un momento y reflexionar sobre todo lo aprendido, las experiencias adquiridas en compañía de la música.
¿Por qué "Camino de Rosas"?, la música es un mundo hermoso pero al mismo tiempo complejo. Cuando decidimos convertirnos en músicos de profesión, la vida se hace interesante y al mismo tiempo compleja; comenzando con las horas, meses, años de estudio para lograr un buen nivel de interpretación. Aún puedo afirmar que es mucho lo que me falta por recorrer y aprender de esta bella profesión, y no es tan fácil como quizás algunas personas piensan, porque quizás tú que me lees sabes que es así más, sin embargo, siempre seremos calificados por mentes no tan educada en el mundo artístico.

Hello, friends of Hive and the Music community, it's nice to be able to stop for a moment and reflect on all that has been learned, and the experiences gained in the company of music.
Why "Camino de Rosas", music is a beautiful but at the same time complex world. When we decide to become professional musicians, life becomes interesting and at the same time complex; starting with the hours, months, and years of study to achieve a good level of interpretation. I can still affirm that I still have a lot to go through and learn about this beautiful profession, and it is not as easy as some people think, because maybe you who read me know that it is more so, however, we will always be qualified by minds that are not so educated in the artistic world.

Entre las fallas de electricidad, las constantes caídas de la banda ancha de CANTV y las torrenciales lluvias que gracias a Dios ya han cesado; mi arco terminó en terapia intensiva.
Por suerte el trabajo de reparación no fue tan engorroso y solo fueron algunos días en el taller del luthier, la nuez que es la parte que parece un taco rectangular de madera salió un día volando, ya que el orificio donde se sujeta el tornillo interno que a su vez le da presión a las cerdas se aisló o abrió demás. Este problema ocasionaba que el arco no tuviera la presión correcta y me tocó hacer magia por un tiempo y ponerle cinta adhesiva.
Hace un par de días me entregaron el arco con cerdas nuevas y la nuez reconstruida, se siente una gran diferencia cuando se renuevan las cerdas, ya que la fricción se hace más cómoda.
Pues nada, me toca hacer de cuenta que no ha pasado nada y retomar el estudio y grabar videos nuevamente. Solo espero no se vaya la luz, aquí donde estoy me siento algo preocupado porque es ya muy recurrente, aunque no sé el motivo real de la falla y tampoco del internet, aunque este lo disfruto gracia a un vecino.
Between the power failures, the constant downtime of the CANTV broadband, and the torrential rains that thank God have stopped; my bow ended up in intensive care.
Fortunately, the repair work was not so cumbersome and it only took a few days in the luthier's workshop. The nut, which is the part that looks like a rectangular wooden block, flew out one day, as the hole where the internal screw that gives pressure to the bristles is fastened was isolated or opened too much. This problem caused the bow not to have the correct pressure and I had to do magic for a while and put adhesive tape on it.
A couple of days ago I got the bow with new bristles and a rebuilt nut, it makes a big difference when the bristles are renewed, as the friction becomes more comfortable.
Well, nothing, I have to pretend that nothing has happened and go back to the studio and record videos again. I just hope the power doesn't go out, here where I am I feel a bit worried because it is already very recurrent, although I don't know the real reason for the failure and neither the internet, although I enjoy it thanks to a neighbor.
---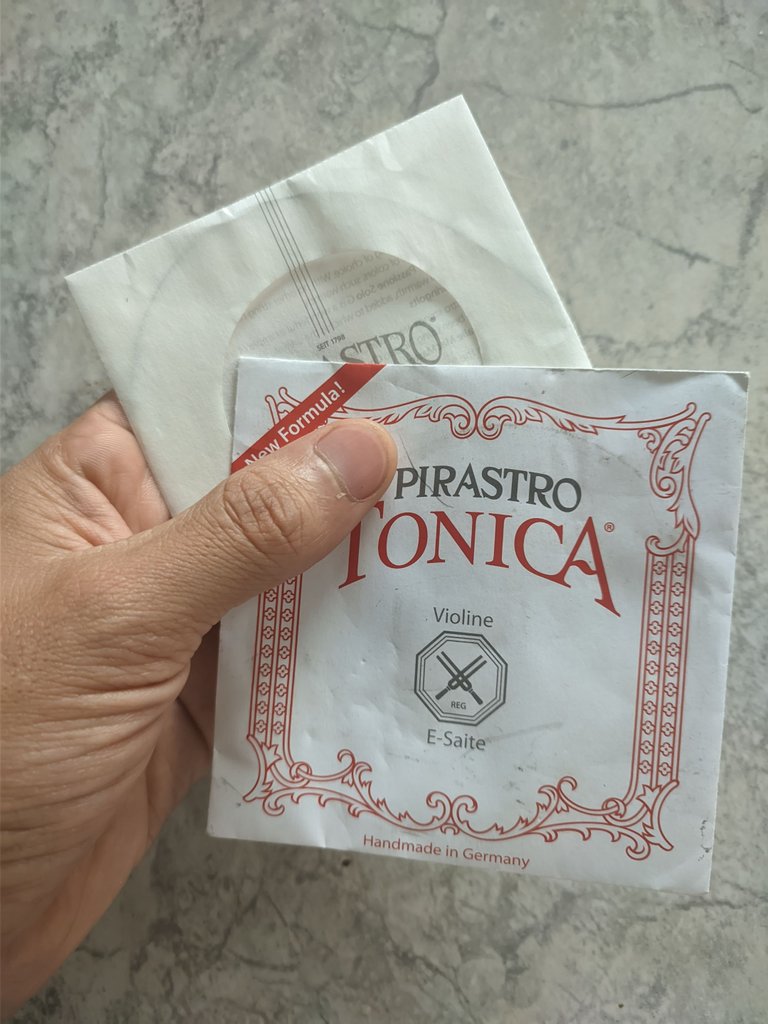 En una de las funciones de la opera que toqué con la orquesta recientemente "Coppelia", el director se me acerco y con gesto amable me regalo la primera cuerda del violín, esta es una buena marca de cuerda y aunque me encantaría ponersela al violín, sin sus compañeras (las otras tres cuerdas), no tiene mucha gracia porque la diferencia de sonido y proyección entre esta sola y mis viejas cuerdas será abismal y no es muy agradable al oído.
Esta es otra inversión enre un par más que tengo pendiente con mi violín, aun debo hacerle un par de reparaciones a la caja del instrumento y cambiar las clavijas ya que en la ultima reparación hace varios años, el Luthier en ese entonces tuvo que readaptar las clavijas pero no quedaron del todo bien, lo que dificulta un poco afinar el instrumento. Aparte de ello lo que es la mentonera, el botón y la cordal son de una madera en exceso pesados y me encantaría ponerle otros de una madera más ligera que no le reste sonoridad claro está.
In one of the performances of the opera I played with the orchestra recently "Coppelia", the conductor approached me and with a kind gesture gave me the first string of the violin, this is a good brand of string and although I would love to put it on the violin, without its companions (the other three strings), it is not very funny because the difference in sound and projection between this one and my old strings will be abysmal and it is not very pleasant to the ear.
This is another investment among a couple more that I have pending with my violin. I still have to make a couple of repairs to the case of the instrument and change the pegs because in the last repair several years ago, the Luthier at that time had to readapt the pegs, but they were not quite right, which makes it a little difficult to tune the instrument. Apart from that, the chinrest, the button, and the tailpiece are made of wood that is too heavy and I would love to put some lighter wood that does not detract from the sound of course.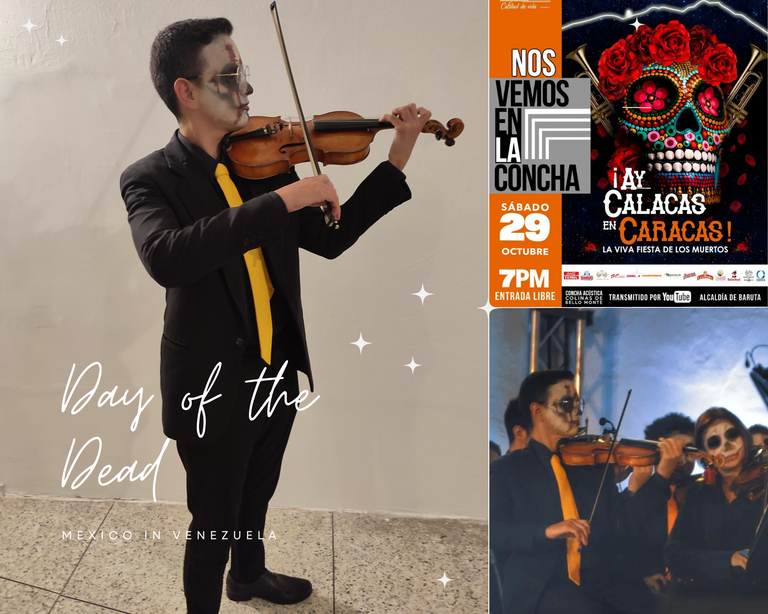 Recientemente, se celebró el día de los muertos y una delegación de actores Mexicanos llegaron a Venezuela para hacer junto a mi orquesta una obra teatral con música orquestal en vivo. Esta fue sin duda una experiencia genial, la he disfrutado muchísimo.
El evento estuvo ambientado entre música Venezolana y Mexicana, haciendo un contraste bastante interesante y demostrándolo una vez más que la música une naciones, culturas, la música es el único idioma que tenemos en común sin importar de donde venimos o cuál es nuestra lengua materna. Donde las palabras sobran, la música puede comunicar hasta lo que no tiene explicación, sencillamente es mágica.
La obra, entre su toque de humor negro y entre música conovedora, alegre y bailable, deleito a miles de personas que se acercaron a este evento que aún bajo una suave lluvia se dio al aire libre bajo la noche caraqueña.
Recently, the Day of the Dead was celebrated and a delegation of Mexican actors came to Venezuela to perform with my orchestra a play with live orchestral music. This was without a doubt a great experience, I enjoyed it very much.
The event was set between Venezuelan and Mexican music, making a very interesting contrast and demonstrating once again that music unites nations, and cultures, music is the only language we have in common no matter where we come from or what our mother tongue is. Where words are superfluous, music can communicate even the unexplainable, it is simply magic.
The play, with its touch of black humor and its moving, joyful and danceable music, delighted thousands of people who came to this event that even under a light rain took place in the open air under the Caracas night.
---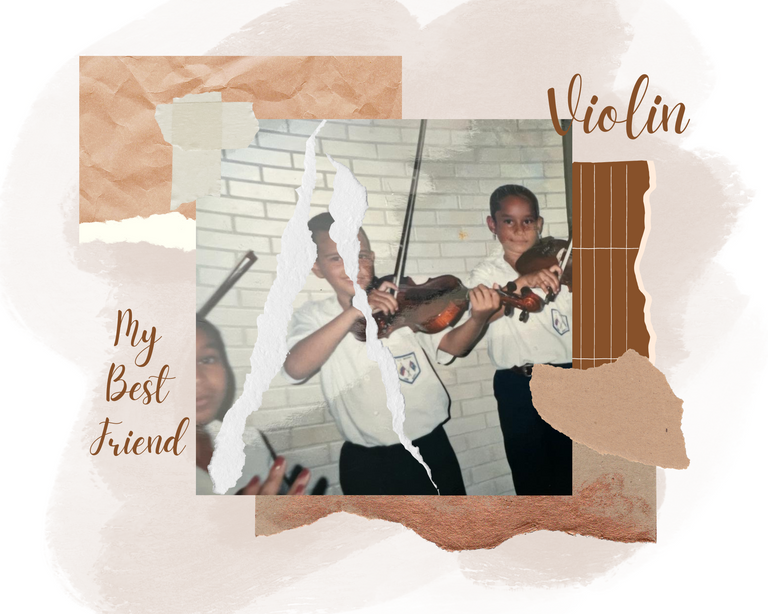 Antes de despedirme, quiero regalarles algo de TBT, aunque no sea jueves aún. Esta foto data de aproximadamente 21 años atrás, esta se tomaría el día de mi primer concierto con una orquesta infantil. Mi familia se ha tomado la tarea de desempolvar fotos de hace varias décadas, al fin de cuentas los recuerdos son los que mantienen vivos a nuestros seres queridos, aunque algunos hayan partido.
Before I say goodbye, I want to give you some TBT, even though it's not Thursday yet. This photo dates from about 21 years ago, it was taken on the day of my first concert with a children's orchestra. My family has taken on the task of dusting off photos from several decades ago, after all, memories are what keep our loved ones alive, even if some of them have departed.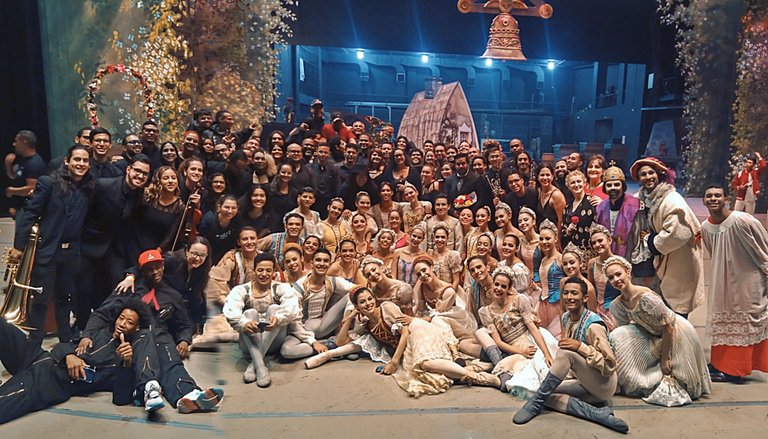 Acá una más actual, esta fotografía se tomó en la última función del Ballet Coppelia, en este momento estamos trabajando en la Opera "L'Elisir d'Amore" del compositor Italiano Gaetano Donizetti. Ha sido mucho el camino y lo que aún queda desde hace más de veinte años, un trabajo que se disfruta como nada.
Gracias por haber llegado hasta acá y leerme, cuéntame tu experiencia con la música en la caja de comentarios ¿Qué representa ella en tu vida?, creo que todos tenemos al menos una experiencia con alguna canción, una pieza o algún artista. Ya me pondré al día con la comunidad mientras el internet y la luz me lo permitan, así como seguir compartiendo algo de música, siempre es agradable tocar para Hive, hay mucha gente talentosa y eso me llena de emoción porque tengo el placer de escucharles antes que nadie, así si el día de mañana te vuelves una superestrella; podré decir que te comente y me comentaste en alguna ocasión. No hay nada más bonito que esa relación tan íntima entre quien te escucha y lo que pueden comunicarse ambas partes, el feed-back que da vida a este mundo virtual.
Here is a more current one, this picture was taken at the last performance of the Ballet Coppelia, at this moment we are working on the Opera "L'Elisir d'Amore" by the Italian composer Gaetano Donizetti. It has been a long road and what remains for more than twenty years, a work that is enjoyed like nothing else.
Thank you for coming here and reading me, tell me about your experience with music in the comments box, and what it represents in your life, I think we all have at least one experience with a song, a piece, or an artist. I will catch up with the community as long as the internet and light allow me to, as well as keep sharing some music, it's always nice to play for Hive, there are many talented people and that fills me with excitement because I have the pleasure to listen to them before anyone else, so if tomorrow you become a superstar; I will be able to say that I commented you and you commented me some time. There is nothing more beautiful than that intimate relationship between those who listen to you and what both parties can communicate, the feedback that gives life to this virtual world.

- Los separadores usados y muchos otros están disponible haciendo clic aquí (Página no disponible) y su uso es de libre distribución, hay muchos que son realmente geniales, se los recomiendo.
- Los collages fueron realizado usando Canva utilizando fotos propias y otras del instagram de la orquesta (fuentes más abajo).
- Fuente de las imágenes y gif utilizados en la edición del video: 1, 2, 3
---
- The used separators and many others are available by clicking here (Page not available)

- The collages were made using Canva using my own photos and others from the orchestra's instagram (sources below).

- Source of the images and background videos used in the editing of the video: 1, 2, 3

---

Banner made in Canva ||| Banner realizado en Canva