Saludos a todos los amigos de hive, diciembre es una época muy bonita, de compartir en familia, de disfrutar en gran manera con los amigos y sobre todo entre tantas cosas, tiempo de fiesta. Para los muchos músicos también es una gran época para trabajar, para divertir a las personas con nuestro talento.
He tenido cierta actividad de este tipo en estos días, y en realidad aunque es trabajo para nosotros, es un trabajo que disfruto inmensamente. Entre ellos, trabajar con una excelente artista que tiene el nombre de "Jeylín", ha sido de gran placer para mí, no solo porque tiene un talento y voz hermosa, también escribe sus propios temas, y es una excelente persona; aún no tengo un año tocando con ella, y ya ha hemos desarrollados lazos casi familiares en nuestra banda.
Cada uno de los integrantes son grandes amigos míos, personas con las cuales también me he visto vinculados en otros proyectos, todos tienen mi respeto, admiración y cariño.
Greetings to all the friends of hive, December is a very beautiful time, to share with the family, to have a great time with friends and especially among so many things, party time. For the many musicians it is also a great time to work, to entertain people with our talent.
I have had some activity of this type these days, and actually although it is work for us, it is work that I enjoy immensely. Among them, working with an excellent artist who goes by the name of ** "Jeylín" **, has been a great pleasure for me, not only because she has a talent and a beautiful voice, she also writes her own songs, and she is an excellent person. ; I haven't been playing with her for a year yet, and we've already developed almost family ties in our band.
Each of the members are great friends of mine, people with whom I have also been linked in other projects, they all have my respect, admiration and affection.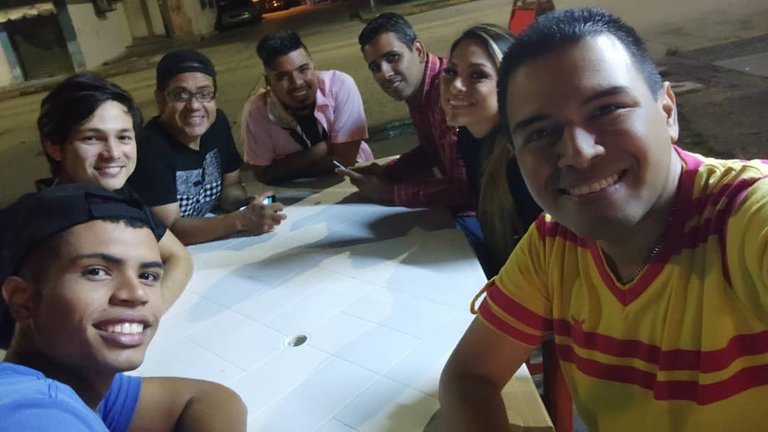 Hablo de cada uno de ellos de izquierda a derecha: el primero de camisa azul, se llama Jackson, el más chico en de la banda, un bajista talentoso formado en el Sistema de Orquestas de Venezuela, un joven maduro y dedicado que trabaja duro para poder alcanzar cada una de sus metas, a pesar de una corta edad, está bastante enfocado en lo que desea alcanzar, lo cual es alcanzar el nivel económico necesario para poder casarse con su bella novia, a quién también le tengo un gran aprecio. Luego sigue Eduardo Fiallo, quien es muy popular por su apellido; este chico es el segundo más joven, sin embargo es el director de la banda; yo me siento muy orgulloso de él, ya que en un tiempo atrás fue mi alumno, sin embargo ahorita tenemos una relación de amistad bastante cercana, el toca guitarra. Después sigue el maestro Juan Carlos Marín, quién es el más viejito de todos, jejeje, baterista y percusionista, a quien admiro mucho por el gran compromiso que posee con cada uno de los proyectos donde él se compromete, y con quién también tengo una amistad muy cercana. Después sigo yo, obviamente no hablaré de mí, jejeje. Después sigue el gran Jonathan, no es músico, es el esposo de Jeylín, uno de los más comprometidos con el proyecto, él está pendiente de todo lo que se necesita, admiro el gran apoyo incondicional que da a su esposa, él es el fan número uno. Después sigue la bella y talentosa Jeylín, a quién pronto tendremos en HIVE, está super interesada en mostrarnos su contenido, espero que les guste y la apoyen bastante. Por último y quien tomó la foto está Douglas, la persona que está detrás de cada uno de los detalles de Jeylín, quién la maquilla, le asesora en su performance, graba, toma fotos, maneja sus redes y portafolio.
Les dejo algunas fotos del evento, y un video promocional que hicimos, para escuchen como canta y compone, además de como suena la agrupación.
I talk about each of them from left to right: the first one in a blue shirt is called Jackson, the youngest in the band, a talented bassist trained in the * System of Orchestras of Venezuela *, a mature and dedicated young man who works hard to achieve each of his goals, despite a young age, he is quite focused on what he wants to achieve, which is to reach the economic level necessary to be able to marry his beautiful girlfriend, who I also have great appreciation for . Then follows Eduardo Fiallo, who is very popular because of his surname; this boy is the second youngest, however he is the director of the band; I am very proud of him, since at one time he was my student, however right now we have a very close friendship relationship, he plays guitar. Then there is the teacher Juan Carlos Marín, who is the oldest of all, hehehe, drummer and percussionist, whom I admire a lot for the great commitment he has with each of the projects where he commits himself, and with whom I also have a friendship very close. Then I follow, obviously I will not talk about me, hehehe. Then the great Jonathan follows, he is not a musician, he is Jeylín's husband, one of the most committed to the project, he is aware of everything that is needed, I admire the great unconditional support he gives his wife, he is the fan number one. Then follows the beautiful and talented Jeylín, who we will soon have at HIVE, she is super interested in showing us her content, I hope you like it and support her a lot. Finally and who took the photo is Douglas, the person behind each of Jeylín's details, who does her makeup, advises her on her performance, records, takes photos, manages her networks and portfolio.
Here are some photos of the event, and a promotional video that we made, to hear how he sings and composes, as well as how the group sounds.