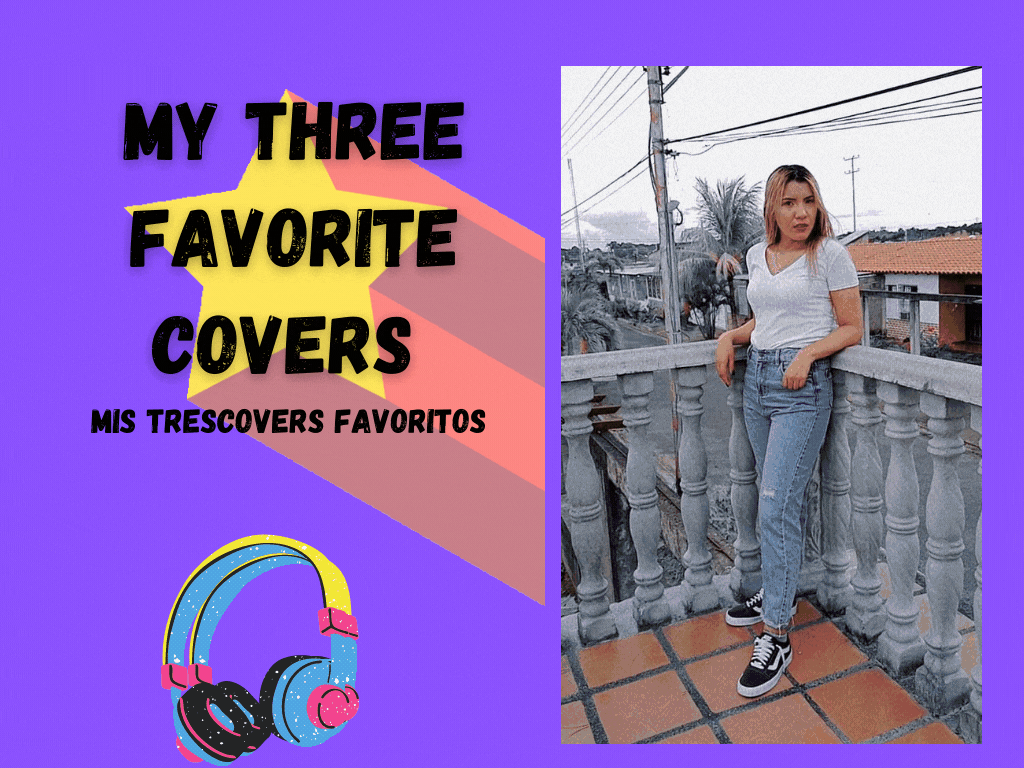 Hola amantes de la música, tenía mucho tempo sin aparecer por esta comunidad y no es porque deje de escuchar música, algo impensable para mí, solo que he estado ocupada en otras cosas y he estado alejada de la colmena, pero en esta oportunidad vengo a compartir mis tres covers favoritos.
***Hello music lovers, I had a long time without appearing in this community and it's not because I stopped listening to music, something unthinkable for me, just that I've been busy with other things and I've been away from the hive, but this time I come to share my three favorite covers.
Cuando de descargar música para mi teléfono se trata, nunca he sido fan de descargar covers, siempre he preferido la canción original en la voz del artista correspondiente, pero debo admitir que existen algunos covers que me hacen pensar que ciertas canciones fueron grabadas por las personas equivocadas, ciertamente existe una cantidad incontable de talentos en internet que se dedican a versionar sus canciones favoritas, la mayoría cuentan con un voz alucinante, algunos son conocidos otros lamentablemente otros no, por eso el día de hoy quiero presentarle mis tres covers favoritos de toda la historia hasta ahora.
When it comes to downloading music for my phone, I have never been a fan of downloading covers, I have always preferred the original song in the voice of the corresponding artist, but I must admit that there are some covers that make me think that certain songs were recorded by the wrong people, certainly there are countless talents on the internet that are dedicated to cover your favorite songs, most have an amazing voice, some are known others unfortunately others are not, so today I want to present my three favorite covers of all history so far.
Sin más preámbulo, comencemos:
Without further ado, let's get started:

Ember Island - Umbrella
Uno de los mayores éxitos de la hermosa Rihanna es Umbrella, una estupenda canción que me encanta y nunca imagine que me pudiera gustar más en la voz de otra persona que no fuera la reina de barbados, pero así fue, el grupo musical sueco Ember Island realizo mi cover favorito de todos los tiempos, la voz de la vocalista es muy relajante, perfecta para escuchar mientras escribes o para combatir el estrés. Esta versión de umbrella es muy conocida en internet, pero no conozco mucho sobre esta agrupación, pero me gustaría escuchar otro material de ellos.
One of the biggest hits of the beautiful Rihanna is Umbrella, a great song that I love and I never imagined that I could like it more in the voice of someone other than the queen of barbados, but so it was, the Swedish band Ember Island made my favorite cover of all time, the voice of the vocalist is very relaxing, perfect for listening while you write or to combat stress. This version of umbrella is very well known on the internet, but I don't know much about this band, but I would like to listen to other material from them.
---
Drown · Seafret
Brigme the horizon es de mis bandas de rock favoritas, a pesar de que sus últimos álbumes tienen una inclinación más por el género dance/ pop, debido a los lamentables daños vocales por los que atraviesa su vocalista, aún quedan sus viejas canciones para ser admiradas. Por otro lado, drown es una de mis canciones favoritas y realmente me encanta la voz de Oliver Sykes interpretándola, sin embargo, debo recomendarles el covers que realizo otra banda británica.
Seafret es una banda británica que me gusta mucho también, la voz de sus vocalistas también es impresionante, muy diferente a la de Oliver, pero tiene algo igual de adictivo, sin dudad deben escuchar drown en la voz de Jack Sedman.
Brigme the horizon is one of my favorite rock bands, even though their last albums have a more dance/pop leaning, due to the unfortunate vocal damage their vocalist is going through, there are still their old songs to be admired. On the other hand, drown is one of my favorite songs and I really love the voice of Oliver Sykes performing it, however, I must recommend the cover of another British band.
Seafret is a British band that I like a lot too, the voice of their vocalists is also impressive, very different from Oliver's, but it has something just as addictive, you should definitely listen to drown in Jack Sedman's voice.
---
Fifth Harmony "Impossible"
Con este covers conocí esta canción, y a pesar que la versión original me gusta me quedo con la versión de las chicas de Fifth Harmoney, esta canción la cantaron por primera vez en The X factor USA, cuando se encontraban en la temida casa de los jueces, esperando ver si tendrían oportunidad de entrar a la competencia. Aun años después, al escuche este cover se me eriza la piel, sin duda todas poseen una voz espectacular.
With this cover I met this song, and although I like the original version I prefer the version of the Fifth Harmoney girls, this song was sung for the first time in The X factor USA, when they were in the dreaded judges house, waiting to see if they would have a chance to enter the competition. Even years later, listening to this cover makes my skin crawl, without a doubt they all have a spectacular voice.

Amigos gracias por leer y compartir el amor por la música, espero leerlos en los comentarios, ¿les gustaron estos covers o se quedan con la versión original? ,se les quiere, ¡hasta la próxima!
Friends thanks for reading and sharing the love for music, I hope to read you in the comments, did you like these covers or do you stick with the original version? We love you, see you next time!