SPANISH
Saludos y bendiciones querida comunidad de Hive, por aquí les brindo homenaje a nuestros sitios históricos y a nuestros cultores a través del Grupo Musical "Gerónima Muñoz y sus amigos", recientemente estamos iniciando este proyecto de mostrar la música tradicional venezolana.
Aparte, les cuento un poco de mi experiencia en el Museo de Arte Popular "Bárbaro Rivas", donde pudimos disfrutar con gente de nuestras comunidades que hacen vida en este espacio maravilloso, llevamos un poco de música y alegría, compartiendo con personas que frecuentan el sitio y comparten en familia. Es un lugar hermoso, acógedor de infraestructura netamente colonial, dirigido por la Lic. el cual les invito a conocer y conectar con nuestro gentilicio.
Por otra parte, quiero comentarles sobre el Maestro José Ramón Villarroel, quien fue amigo y hermano de mi Padre Pedro Muñoz Farías, compartieron largo tiempo en la Isla de Margarita, con la familia y otros músicos de la Región Insular, luego en el paso del tiempo pude apreciar y ejecutar la música margariteña, sus galerones, jotas, malagueñas, merengues, diversiones, motivo guaiqueri, entre otros géneros que enriquecen nuestra identidad como Venezolanos.
El Maestro José Ramón Villarroel, nació en el Estado Nueva Esparta, Isla de Margarita, 31 de mayo de 1937 y fallece en Puerto La Cruz, el 30 de abril de 1995, fue un cantor, cuatrista, locutor, compositor, poeta neoespartano de excelente trayectoria. Se le conoció en el Canto Tradicional Margariteño como el Huracán del Caribe, dentro de sus temas se destaca el que les traigo hoy "La Gaga", El Tinajón de mi abuela, María Antonia (popularizadas por Gualberto Ibarreto) entre otras.
Día a día, me doy a la tarea de visibilizar a nuestros Cultores y Cultoras, ya que de ellos aprendemos y nos dejan su gran legado para continuar creando multiplicadores... Para ello es necesario contar con colaboradores, hermanos que aman nuestra música y las artes de manera integral, los cuales son: William García en la mandolina y voz, Danilo Angulo (Guitarra), José Martínez (Maracas y Tambora), Marcos Mayaudón (Cuatro Venezolano), gracias a todos ellos por acompañarme y poder traer parte de lo que hacemos a nuestra red de Hive.
Por aquí les dejo una muestra del tema La Gaga,autoría del Maestro José Ramón Villarroel, como muestra de la admiración y respeto a su gran obra, agradeciéndole la amistad con mi padre y los aportes brindados a nuestro país.
Espero disfruten mi publicación. Gracias por leerme!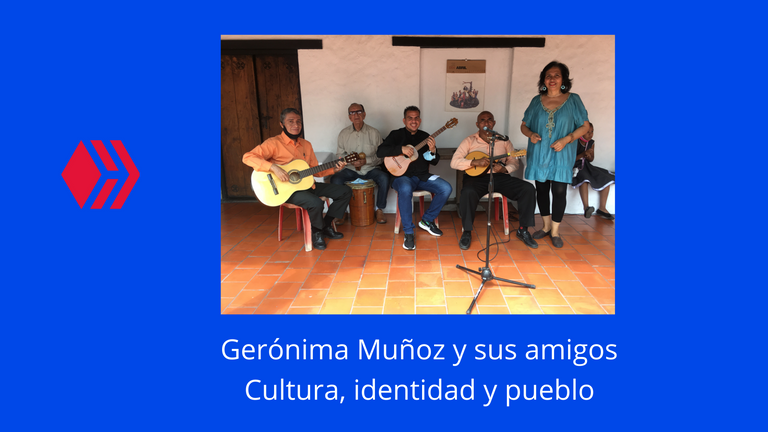 ENGLISH
Greetings and blessings dear community of Hive, here I pay tribute to our historical sites and our culture through the Musical Group "Geronima Muñoz and her friends", we are recently starting this project to show traditional Venezuelan music.
Besides, I tell you a little of my experience at the Museum of Popular Art "Bárbaro Rivas", where we could enjoy with people from our communities that make life in this wonderful space, we brought a little music and joy, sharing with people who frequent the site and share with family. It is a beautiful place, with a purely colonial infrastructure, directed by the Lic. which I invite you to know and connect with our people.
On the other hand, I want to tell you about Maestro José Ramón Villarroel, who was a friend and brother of my father Pedro Muñoz Farías, they shared a long time in Margarita Island, with the family and other musicians of the Insular Region, then in the course of time I could appreciate and perform the music of Margarita, its galerones, jotas, malagueñas, merengues, diversions, guaiqueri motif, among other genres that enrich our identity as Venezuelans.
Maestro José Ramón Villarroel, born in Nueva Esparta State, Margarita Island, on May 31, 1937 and died in Puerto La Cruz, on April 30, 1995, was a singer, singer-songwriter, composer and poet from Nueva Esparta with an excellent career. He was known as the Hurricane of the Caribbean in the Traditional Margarita Songs. Among his songs, the one I bring you today is "La Gaga", El Tinajón de mi abuela, María Antonia (popularized by Gualberto Ibarreto) among others.
Day by day, I give myself the task of making our Cultors and Cultoras visible, since we learn from them and they leave us their great legacy to continue creating multipliers.... For this it is necessary to have collaborators, brothers who love our music and the arts in an integral way, which are: William Garcia on mandolin and voice, Danilo Angulo (Guitar), Jose Martinez (Maracas and Drums), Marcos Mayaudon (Venezuelan Cuatro), thanks to all of them for joining me and to bring part of what we do to our network of Hive.
Here I leave you a sample of the song La Gaga, authored by Maestro José Ramón Villarroel, as a sign of admiration and respect for his great work, thanking him for his friendship with my father and his contributions to our country.
I hope you enjoy my publication. Thank you for reading it!

LETRA ESPAÑOL

TÍTULO: LA GAGA
Autor: José Ramón Villarroel
Género: Merengue
I
OYE NIÑA ESTE CONSEJO
PORQUE ESTÁS EN LA INOCENCIA
MÁS SABE EL DIABLO POR VIEJO
LO DIGO CON EXPERIENCIA
II
SI TIENES TU ENAMORA´O
NO LE DES MUCHA CONFIANZA
QUE YO EN EL TIEMPO PASADO
ASI PERDI LA ESPERANZA
III
Y SI TE INVITA A PASEAR
NO ACEPTES LA INVITACIÓN
PORQUE TE PUEDE PASAR
COMO A MI EN UNA OCASIÓN
      CORO

NO TE A PU PU PU PU PU RES MAMÁ
QUE QUE QUE QUE QUE QUE QUE QUE
QUE YO NO SOY SOQUETA NA´
AL QUE SE ME ME ME ME META CONMIGO
LE ME ME METO UNA PESCOZA´. (Bis)

English lyrics

TITLE: LA GAGA
Author: José Ramón Villarroel
Genre: Merengue
    

I



HEY GIRL THIS ADVICE
BECAUSE YOU ARE IN INNOCENCE
THE DEVIL KNOWS BEST FROM THE OLD MAN
I SAY IT WITH EXPERIENCE
II
IF YOU HAVE YOUR LOVER
DON'T GIVE HIM TOO MUCH CONFIDENCE
THAT I IN THE PAST TIME
I'VE LOST HOPE LIKE THAT
III
AND IF HE INVITES YOU FOR A WALK
DON'T ACCEPT THE INVITATION
BECAUSE IT CAN HAPPEN TO YOU
LIKE IT HAPPENED TO ME ONCE
CORO
I DON'T WANT YOU TO PU PU PU PU PU PU PU PU PU MOMMY
THAT THAT THAT THAT THAT THAT THAT THAT THAT THAT
THAT I'M NOT A SOQUETA NA'
WHOEVER MESSES WITH ME
I'LL GIVE HIM A BIG FAT ONE.


Banner hecho por mí a través de Canva
Vídeo editado por mi con equipo Iphone6
Imágenes de separadores tomadas de Hive Stock Images

Translator: www.DeepL.com
Banner made by me through Canva
Video edited by me with Iphone6 equipment
Images of separators taken from Hive Stock Images