Saludos, Comunidad de Hive. | Greetings, Hive Community.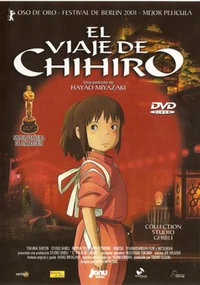 Portada del DVD en España | Spanish DVD cover
(https://studioghibli.fandom.com/es/wiki/El_viaje_de_Chihiro)

Esta semana tenemos un artículo sobre el ending de una de las mejores animaciones de los Estudios Chibli, les hablo de Always With Me de la película Spirited Away o como se conoce en su traducción en español: El Viaje de Chihiro.

El Viaje de Chihiro es una película estrenada en el 2001 bajo la dirección de Hayao Miyasaki y con banda sonora del célebre compositor y director de orquesta japonés Joe Hisaishi. Pero en esta oportunidad nos centraremos en el tema de cierre de la película, la cual es el único que no pertenece a Hisaishi sino a una compositora y cantante japonesa, Yumi Kimura.
This week we have an article about the ending of one of the best animations of Chibli Studios, I am talking about Always With Me from the movie Spirited Away or as it is known in its Spanish translation: El Viaje de Chihiro.
Spirited Away is a film released in 2001 under the direction of Hayao Miyasaki and with a soundtrack by the famous Japanese composer and conductor Joe Hisaishi. But this time we will focus on the closing theme of the film, which is the only one that does not belong to Hisaishi but to a Japanese composer and singer, Yumi Kimura.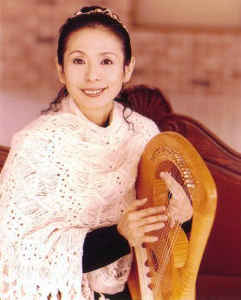 Yumi Kimura
(https://www.discogs.com/es/artist/374627-Youmi-Kimura)
Always With Me, es una canción de Kimura, quien también es la intérprete del tema en la película de Hayao Miyasaki. El nombre de la canción en el idioma original es Itsumo Nando Demo que se puede traducir como Siempre Conmigo. Kimura además es ejecutante de la Lira, con la cual se acompaña mientras canta.
Durante el trabajo con la película de La princesa Mononoke, Miyazaki escuchaba la música de Yumi Kimura en la radio. Luego del estreno de dicha película, le pidió a Kimura participar en su próxima producción que sería Rin y el pintor de chimeneas, la cual su no se llevó a cabo. Kimura, quién había aceptado su participación, realizó una partitura la cual ya tenía grabada pero no se publicó en el momento debido a la cancelación del rodaje.
Always With Me, is a song by Kimura, who is also the performer of the theme song in Hayao Miyasaki's movie. The name of the song in the original language is Itsumo Nando Demo which can be translated as Always With Me. Kimura is also a performer of the Lira, with which he accompanies himself while singing.
While working on Princess Mononoke, Miyazaki listened to Yumi Kimura's music on the radio. After the release of that film, he asked Kimura to participate in his next production, Rin and the Chimney Painter, which did not happen. Kimura, who had accepted his participation, made a score which he had already recorded but was not released at the time due to the cancellation of the filming.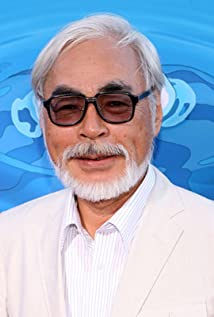 Hayao Miyazaky
https://www.imdb.com/name/nm0594503/
Aun así, Miyasaki la tenía en cuenta, y al finalizar su trabajo con la película Spirited Away notó que la canción de Kimura calzaba perfectamente con las composiciones de Hisaishi y agregó a Always With Me como Ending de dicha producción. Para Kimura, el estreno de la película le dio reconocimiento a nivel mundial.
Even so, Miyasaki kept it in mind, and upon finishing his work with the film Spirited Away, he noticed that Kimura's song fit perfectly with Hisaishi's compositions and added Always With Me as the Ending of that production. For Kimura, the film's release brought him worldwide recognition.
---
Análisis | Analysis
Canción original | Original song
Cortesia de youtube
| Tonalidad: Fa mayor | Key: F major |
| --- | --- |
| Metrica: 3/4 | Metric: 3/4 |
| Estructura: AB – AB – A' B' | Structure: AB - AB - A' B' |
Arreglo para flauta y piano | Arranged for flute and piano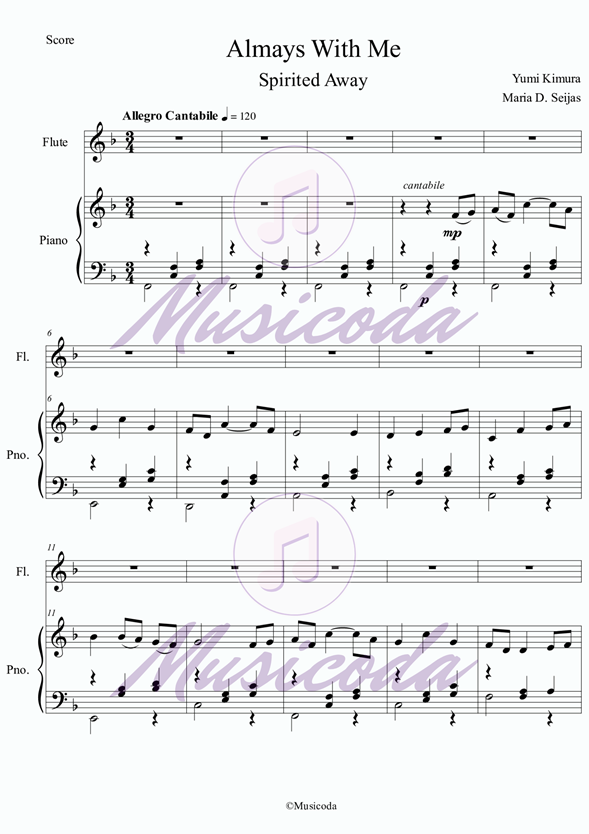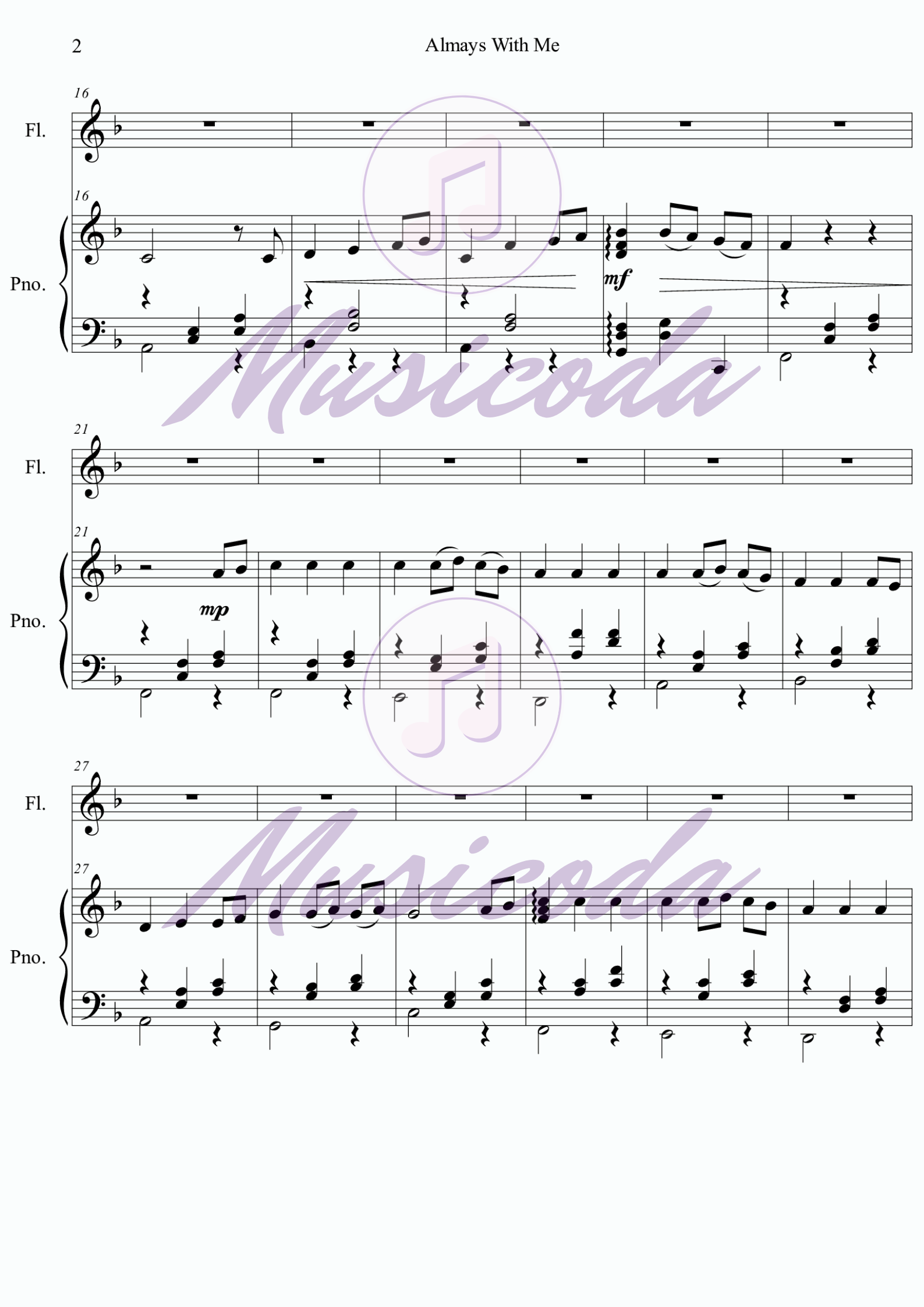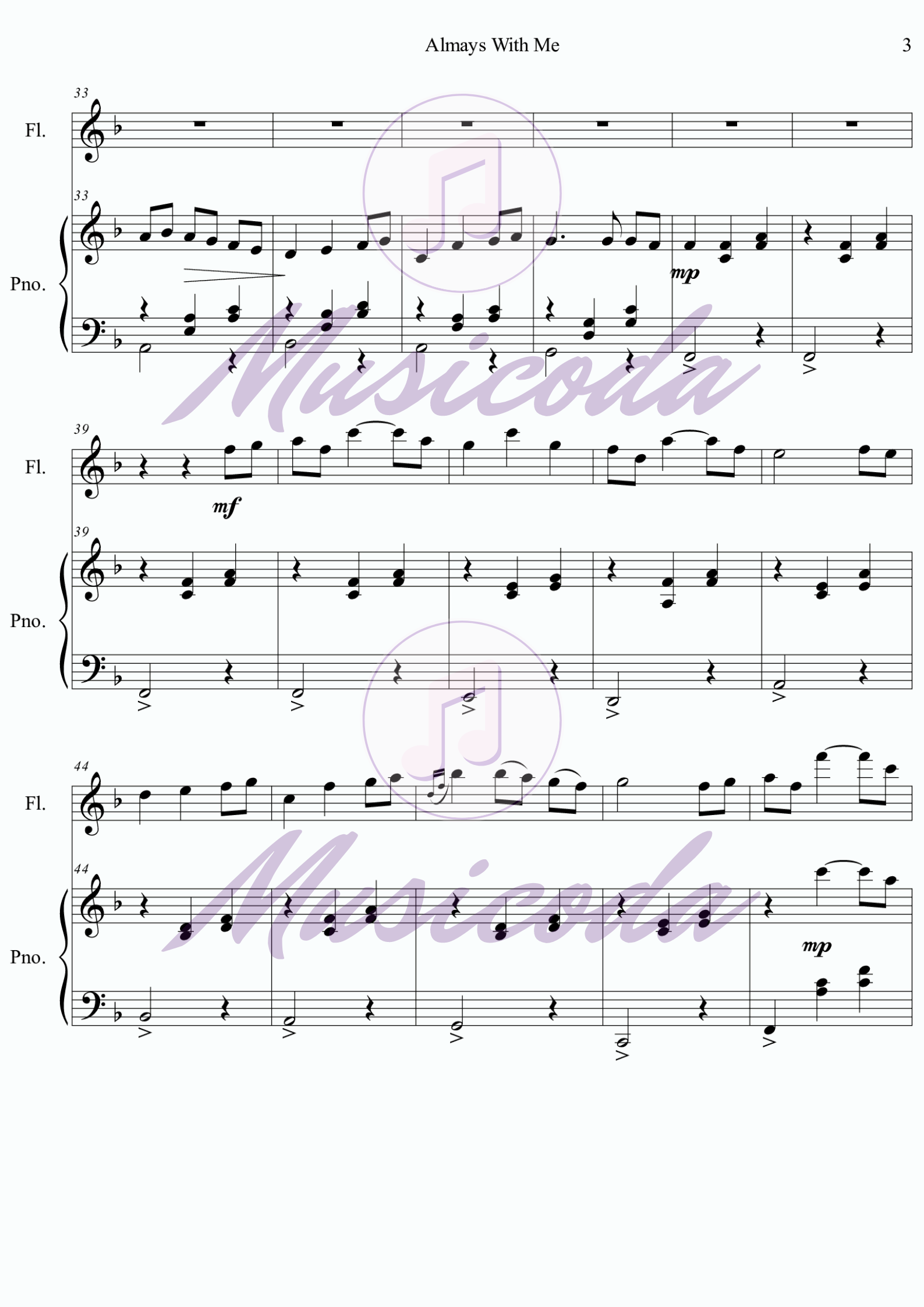 Partitura de musicoda
| Tonalidad: Fa mayor | Key: F major |
| --- | --- |
| Metrica: 3/4 | Metric: 3/4 |
| Estructura: AB – AB – A' B' - Coda | Structure: AB - AB - A' B' - Coda |
| Documento: PDF 8pag. | Document: PDF 8pg |
Para el arreglo, se realizó una exposición con los temas A y B solo con el piano. Luego entra la flauta con el tema principal una octava por arriba, más adelante con una variación del tema y concluye con una coda.
For the arrangement, an exposition was made with the themes A and B alone with the piano. Then the flute enters with the main theme an octave higher, followed by a variation of the theme and concludes with a coda.
Letra de la canción | Song lyrics
A
Yondeiru Mune no Dokoka Okude
Itsumo Kokoro Odoru Yume wo Mitai
Kanashimi wa Kazoekirenai kedo
Sono Mukou de Kitto Anata ni Aeru
B
Kurikaesu Ayamachi no Sonotabi Hito wa
Tada Aoi Sora no Aosa wo Shiru
Hateshinaku Michi wa Tsuzuite Mieru keredo
Kono Ryoute wa Hikari wo Dakeru
A
Sayonara no Toki no Shizukana Mune
Zero ni Naru Karada ga Mimi wo Sumaseru
Ikiteiru Fushigi Sinde Iku Fusigi
Hana mo Kaze mo Machi mo Minna Onaji
B
Tojiteiku Omoide no Sono Naka ni Itsumo
Wasure takunai Sasayaki wo Kiku
Konagona ni Kudakareta Kagami no Ue nimo
Atarashii Keshiki ga Utsusareru
A'
Hajimari no Asa Shizuka na Mado
Zero ni Naru Karada Mitasarete Yuke
Umi no Kanata niwa Mou Sagasanai
Kagayaku Mono wa Itsumo Koko ni
Watashi no Naka ni Mitsukerareta Kara
B'
Lala la la la la lala lala
La la la la lala lala
La la lala la la lala la lala lala la
Ohoh oh oh oh oh ohoh ohoh
Dun dun dun dunju juju
Nuru nuru nu un nuru nu nunu nunu
A
Somewhere, a voice calls, in the depths of my heart
May I always be dreaming, the dreams that mover my heart
So many tears of despair, uncountable through and through
I know on the other side of them I'll be sure to find you
B
Everytime we fall down to the ground we look up to the sky above
We wake to it's blueness, as if for the first time
Though the road is long, lonely and the end far away, out of sight
I can, with these arms, embrace the light
A
As I bid farewell my corazón stops, tenderly I feel
My silent empty soul begins to listen to what is real
The wonder of living, the wonder of dying
The wind, town, and flowers, we all dance in unity
B
The whispering voice, we will never want to forget,
in each passing memory always there to guide you
When a miror has been broken, shattered pieces scattered on the ground
Glimpses of new life, are reflected all around
A'
Window of beginning let shine the light of a new dawn
Let my silent, empty soul be filled and reborn
No need to buscar the land, nor sail across the sea
'Cause it's here shining inside me, it's right here deep inside me
Thanks to tu I've found the light, and it's always with me
B'
Lala la la la la lala lala
La la la la lala lala
La la lala la la lala la lala lala la
Ohoh oh oh oh oh ohoh ohoh
Dun dun dun dunju juju
Nuru nuru nu un nuru nu nunu nunu
A
En algún lugar, una voz llama, en lo más profundo de mi corazón
Que siempre esté soñando, los sueños que mueven mi corazón
Tantas lágrimas de desesperación, incontables hasta el final
Sé que al otro lado de ellas seguro que te encontraré
B
Cada vez que caemos al suelo miramos al cielo
Nos despertamos a su azul, como si fuera la primera vez
Aunque el camino es largo, solitario y el final está lejos, fuera de la vista
Puedo, con estos brazos, abrazar la luz
A
Al despedirme mi corazón se detiene, con ternura siento
Mi alma vacía y silenciosa comienza a escuchar lo que es real
La maravilla de vivir, la maravilla de morir
El viento, el pueblo y las flores, todos bailamos en unidad
B
La voz susurrante, que nunca querremos olvidar
en cada recuerdo que pasa, siempre ahí para guiarte
Cuando un espejo se ha roto, los pedazos se esparcen por el suelo
Los destellos de la nueva vida, se reflejan por todas partes
A'
Ventana del comienzo deja brillar la luz de un nuevo amanecer
Deja que mi alma silenciosa y vacía se llene y renazca
No hace falta buscar la tierra, ni navegar por el mar
Porque está aquí brillando dentro de mí, está justo aquí en lo profundo de mí
Gracias a ti he encontrado la luz, y siempre está conmigo
B'
Lala la la la la lala lala
La la la la lala lala
La la lala la la lala la lala lala la
Ohoh oh oh oh oh ohoh ohoh
Dun dun dun dunju juju
Nuru nuru nu un nuru nu nunu nunu
Traducción realizada con la versión gratuita del traductor www.DeepL.com/Translator
---
Gracias por acompañarnos en este post. Si deseas tener la partitura completa puedes ponerte en contacto con nosotros a través del correo [email protected] En un próximo post tendrán el vídeo de la interpretación este arreglo. Recuerda apoyarnos con tu voto y un comentario.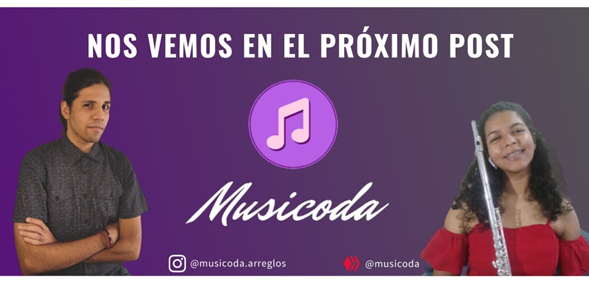 ---
Artículo realizado por María Delia Seijas @yeyaflute
Partituras: @musicoda
Publicado por @musicoda
Referecias: