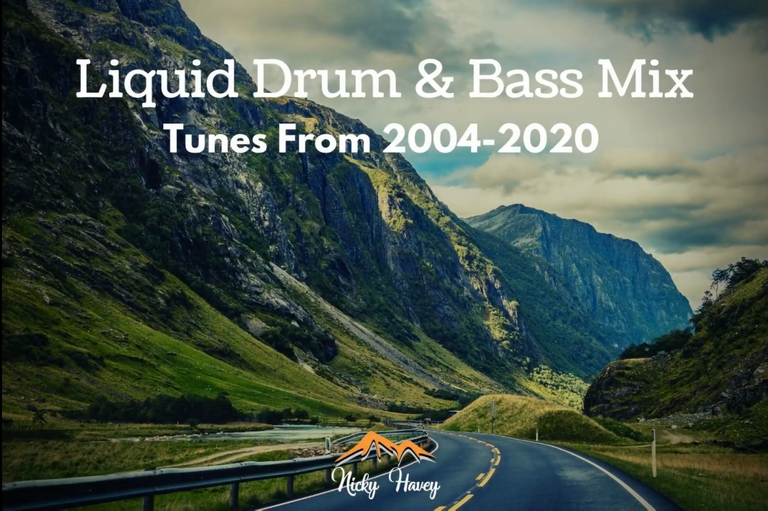 Ahoy hoy dnb heads!
We're back in the fast lane after sharing the fruits of yesterday's new release chilled out labour :)
In fact, after the success of actually cleaning my phone's charging socket, it has actually started to work a lot better, which was an unexpected benefit lol!
As I was driving to a hike today, up popped a tune that features at the beginning of this 60 minute mix I did a couple of months ago and so it felt right to share this one again.
I think the picture is in New Zealand but it is a stock one with the description of "Grey Asphalt road between mountains", which isn't overly helpful, but it's pretty!
It is very similar to the road that's on the way to Milford Sound as you come out the tunnel but I could be wrong.
When I visited there, we had to wait for the lights to go green to allow us to go through the tunnel. As I turned around, it was a spectacular view like the one in the cover picture, just with the most extraordinary cloud and sun shining through, almost looked like something from Independence Day lol!
Anyway, this mix is more of the tunes that I enjoyed listening to over the 16 year time period of 2004-2020 and I've credited each artist at the relevant section of the video so you know who you're listening in to :)
Enjoy!
Tracklist
00:00 - Air. K & Cephei - Way Home
05:36 - Loz Contreras - Sarajevo (Hosta remix)
09:17 - Drumatic - Wrong Means Right
14:04 - Bronski - Sambasso
17:00 - David Carbone & Kubiks - After Dark
21:03 - Hugh Hardie feat. Cimone - Raindrops
24:00 - Malaky & Satl - Serenade (feat. GLXY)
27:40 - Klute - Crosby
32:24 - Morcheeba (feat. Judy Tzuke) - Blue Chair (Silence Groove remix)
36:30 - Scott Allen - These Are The Breaks
39:49 - Bank - Moonshot
42:23 - ALB & Subdivision - Origins
45:20 - Rolfey - Resolve
48:17 - Boduko - It Hurtz
54:04 - Dkay - Twin Peaks
57:01 - Humanature - First Light
1:00:19 - Concept & Geetox - Better Days