Hello! So a few days ago, the Japanese kawaii/metal group released a dvd of their 2-day Metal Galaxy concert in Japan and uploaded an album for the live audio version of the show on music streaming sites like Spotify. I'm not sure if the concert they released was the full version of the show they streamed months ago. Since I have no money to spend for albums, I only rely on their free streams on Youtube and Spotify. I am happy that they've thought of uploading the audio of the show on Spotify, at least poor fans like me can still get to experience the show. Hehe! 😂
Here's the link to the dvd if you wish to purchase one:
Leged - Metal Galaxy (Metal Galaxy World Tour In Japan Extra Show)
It's currently out of stock on the main website but you might still find one on other sites.
BABYMETAL is a Japanese kawaii (cute)/metal/idol group composed of two members namely Su-metal (Suzuka Nakamoto) and Moa-metal (Moa Kikuchi). The group was formed in 2010, a sub-unit of the girl group Sakura Gakuin, and under the management of Amuse, Inc. The group is backed by a band called "Kami Band". With their out of this world music, BABYMETAL has become a regular guest on music festivals in Japan and overseas. They have also done arena shows at Wembley and Forum, and have performed as opening acts to a couple of musicians like Lady Gaga, Metallica, Korn, Guns N' Roses, and Red Hot Chili Peppers.
LEGEND - METAL GALAXY DAY 1 & 2 AUDIO REVIEW
Disclaimer: I am not a music expert and will review the album as a fan.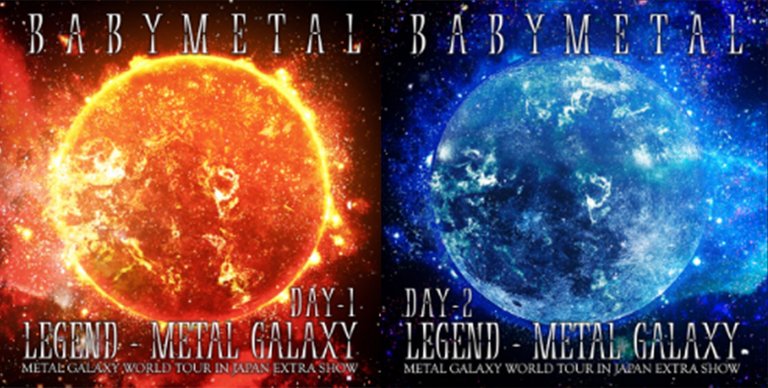 Screenshot from Spotify and collage by Straykat

Let's talk about the album covers first! BABYMETAL used to be a 3-member group but when Yui-metal left, there has been a lot of changes and experimentation with the group. One of them was the concept of the light force and dark force where the light represents Su-metal while the dark represents Moa-metal. Thus, making it a perfect album cover for a 2-day show. On Day 1 or the light force, the set list has more of their songs from their latest album and felt light and fun. Meanwhile, Day 2 or the dark force's set list has more of their heavier songs.
What I love about live albums are the cheers and excitement of the crowd on the background, the live singing, and the extended and different arrangement of songs. I have no songs that I didn't like on this live album to be honest. Maybe I'm being biased, oh well, this is my post anyway. Lol.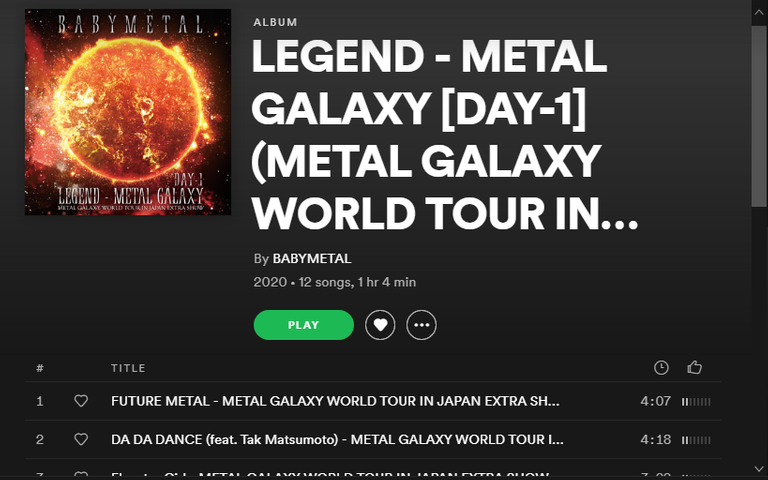 Screenshot from Spotify

On the Day 1, I love the extended version of Megitsune where Su-metal talks to the crowd. The song Brand New Day which is a less heavy song, sound so good. I didn't like the studio version that much but the live version makes me love it. This song feels a bit magical and fresh for me. On the song The One, I thought Su-metal sang ahead on the second stanza because it sounded like they were not in sync but then I listened to their live on Wembley and it was the same. Hmm..why didn't I notice that before? Meanwhile the intro used for the song Road of Resistance is very similar to a song on the anime Attack on Titan. I always get tricked every time I hear it. I would automatically open Spotify to check if it shuffled to an Attack on Titan Ost but then I see it's still on BABYMETAL. Oh.
By the way, Gimme Chocolate sounded so good on this live album. I don't know why, probably because the sound of the bass is more heard?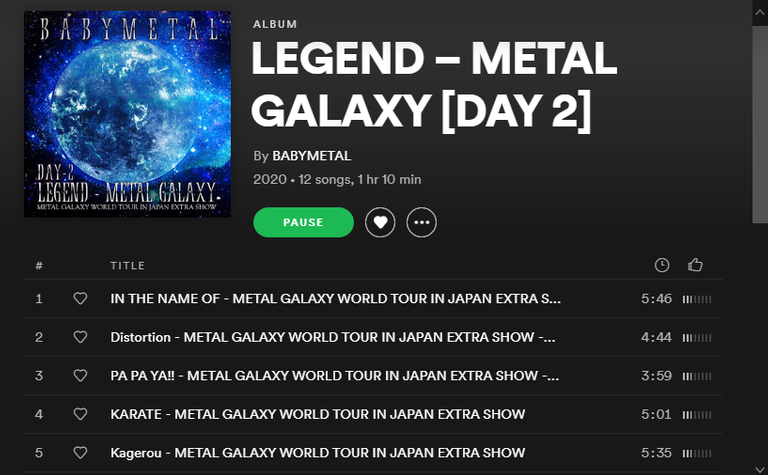 Screenshot from Spotify

Let's go to Day 2!! Ah, my instant favorite album because of the song BxMxC! They didn't include some songs like the BxMxC during the Youtube stream and I've been dying to hear a clean audio of the live version. There has been tons of fan cams of this song but an official live version is of course much better. The song is also extended. I very much like it. How I wish I could see their performance on this song. Hehe! As usual the intro for the song Distortion is cool, it makes you feel like you're in a battle. PA PA YA!! is also a very good song live since the melody is very lively and I could hear the crowd chanting in between some parts of the song. No doubt, the crowd loves this song a lot.
For the song Karate, I find it awesome and hilarious when the crowd shouts "Osu!" Some Kami Band solos at the beginning of Kagerou were definitely a delight to the ears. The favorite song Headbangeeeeerrrrr!!!! (yes, it's written with lots of e and r) is included on the second day and I guess this is like the longest version of the song which takes 7 minutes and 16 seconds. They included this song on the Youtube stream and the long part where Su-metal ordered the crowd to create a circle pit by twirling her index finger while the entire crowd bows at her is very awesome and no doubt, will be remembered by the fans forever. The crowd shouting "Kiero!" so loud and with strong emotion felt so amazing, I wish I can go to at least one of their shows someday and scream "Kiero!" too. Hahaha! Kiero means "get lost" or "disappear". 😂
Su-metal's English speech at the beginning of Ijime, Dame, Zettai shows her improvement in speaking the language. The line, "In a dream, the fox god taught us, wall of death", which she says on a live performance of this song sounded more cool because of her continuous improvement in English.
Overall, I love these two live albums a lot. Su-metal's voice has become matured and more beautiful. They began the group when they were just about 12 and 13 years old. On the other hand, I'm still trying to train my ears to only hear Moa-metal on some parts wherein she was supposed to sing together with Yui-metal. Nonetheless, Moa-metal sings good too and her voice can be heard better now.
---


That's all for the BABYMETAL live album audio review! It's been the only albums I've been listening to in the past few days with BxMxC the most-played song. Haha!


---
Stream music on Spotify!
Legend - Metal Galaxy Day 1
Legend - Metal Galaxy Day 2


---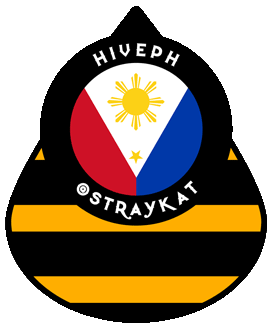 Hive PH badge by @bearone. :)


---
I AM ON INSTAGRAM and YOUTUBE!