---
Una canción muy reconocida en el mundo del Jazz y el Pop es «Nature Boy» del compositor eden ahbez quien dejó un mugriento manuscrito de la composición en el camerino de Nat King Cole en 1947. La canción fue grabada por Capitol Records y popularizada por Nat King Cole en 1948. El tema nos habla de un chico encantador y extraño que va de manera errante sobre la tierra y el mar. Nos habla de sus atributos personales, como un joven con ojos triste, tímido, sabio y este al final aprende lo que significa amar y ser amado. Esa fue la lección más grandemente aprendida. Entre los cantantes, y músicos que he escuchado versiones están: James Brown, Natalie Cole, John Coltrane, Frank Sinatra, Celine Dion, Tony Bennett & Lady Gaga, Aurora Aksnes y Pentatonix.
A well-known song in the world of Jazz and Pop is «Nature Boy» by composer eden ahbez who left a grimy manuscript of the composition in Nat King Cole's dressing room in 1947. The song was recorded by Capitol Records and popularized by Nat King Cole in 1948. The song tells of a strange, enchanted boy who wanders over land and sea. He tells us about his attributes, as a young man with sad eyes, shyness, and wisdom, and in the end, he learns what it means to love and be loved. That was the greatest lesson learned. Among the singers and musicians I have heard covers of are: James Brown, Natalie Cole, John Coltrane, Frank Sinatra, Celine Dion, Tony Bennett & Lady Gaga, Aurora Aksnes, and Pentatonix.
La Canción comenzó como un poema, parece ser que es un tema autobiográfico, ya que el mismo autor llevaba una vida espiritual, peregrina al estilo Hippie y en armonía con la naturaleza. Mis primeros contactos con la canción fueron en la escuela de Música, recuerdo haberla escuchado en la película Moulin Rouge y recientemente con la cantante noruega Aurora en la película Alien: Covenant. Hoy les comparto mi interpretación con la trompeta.
The Song began as a poem, it seems that it is an autobiographical theme since the author himself led a spiritual life, a pilgrim in the Hippie style, and harmony with nature. My first contacts with the song were in music school, I remember hearing it in the movie Moulin Rouge and recently with the Norwegian singer Aurora in the movie Alien: Covenant. Today I share my interpretation with the trumpet.
---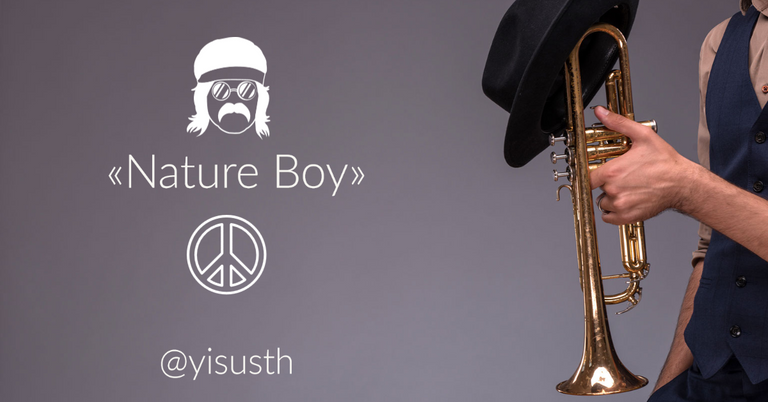 Nature Boy
There was a boy
A very strange enchanted boy
They say he wandered very far, very far
Over land and sea
A little shy and sad of eye
But very wise was he
And then one day
A magic day he passed my way
And while we spoke of many things
Fools and kings
This he said to me
The greatest thing you'll ever learn
Is just to love and be loved in return
The greatest thing you'll ever learn
Is just to love and be loved in return
---

---
▶️ 3Speak