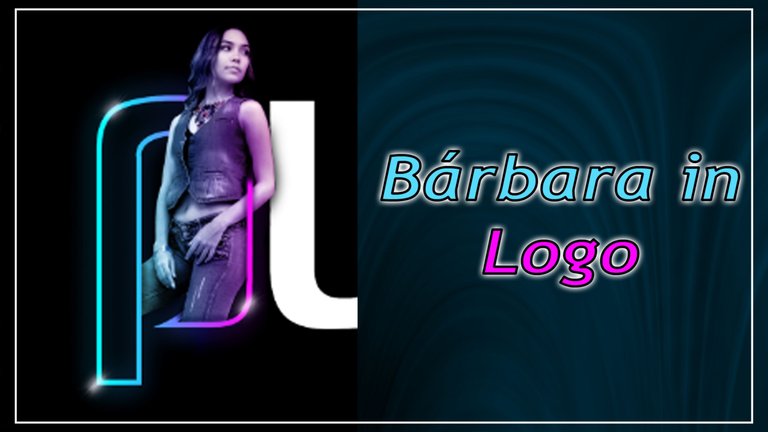 Hola comunidad. Con tantos artes sobre el efecto Neón dentro de Letra; me pareció que debería hacer un arte más complejo en el sentido que tenga más partes, por ejemplo en vez de solo la inicial, que la modelo esté en toda la palabra. Después tuve la idea de hacer un arte para mi marca Puzzlesorios ®. Así que usaré el logotipo para incrustar a las modelos que tengo, que han posado con los accesorios de la marca.
Para la primera letra usé a Bárbara a quien uso bastante en mis retoques. Puedes ver el último aquí con la inicial de su nombre. Para las otras letras usaré diferentes modelos, aunque creo que ocupar todas las letras puede sobrecargar el arte, así que ya veremos como será la evolución. Quizás me faltan modelos y tenga que realizar una sesión, ya que deberían tener algunas poses características y las tomas no ser tan cerca.
Hello community. With so many arts about the Neon effect inside Letra; I thought I should make a more complex art in the sense that it has more parts, for example instead of just the initial, that the model is in the whole word. Then I had the idea to make an artwork for my brand Puzzlesorios ®. So I will use the logo to embed the models I have, who have posed with the brand's accessories.
For the first letter I used Barbara who I use quite a lot in my retouching. You can see the last one here with the initial of her name. For the other letters I will use different models, although I think that taking up all the letters can overload the art, so we'll see how it will evolve. Maybe I'm missing models and I'll have to do a session, as they should have some characteristic poses and the shots shouldn't be so close.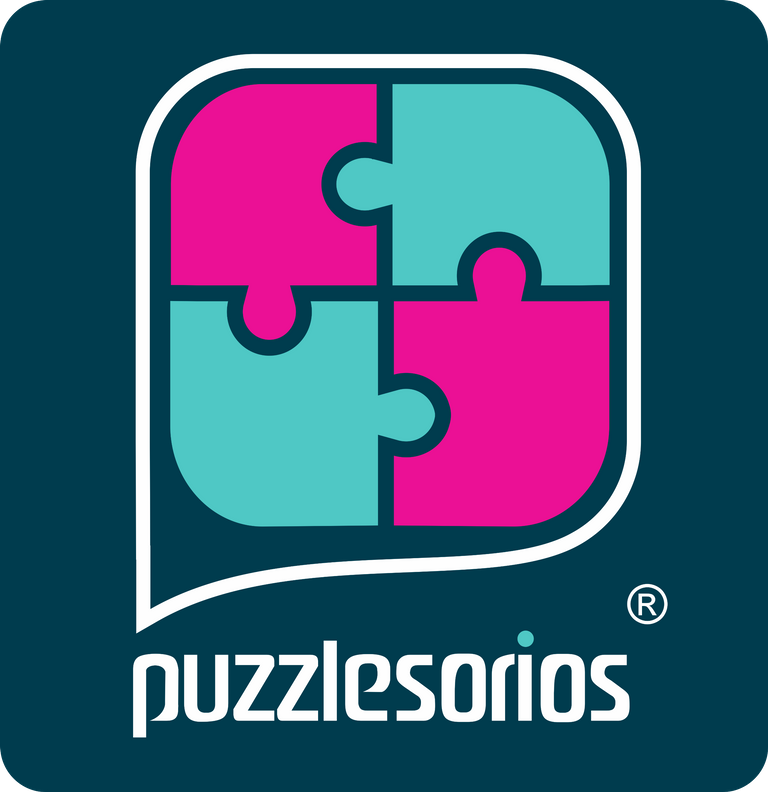 ---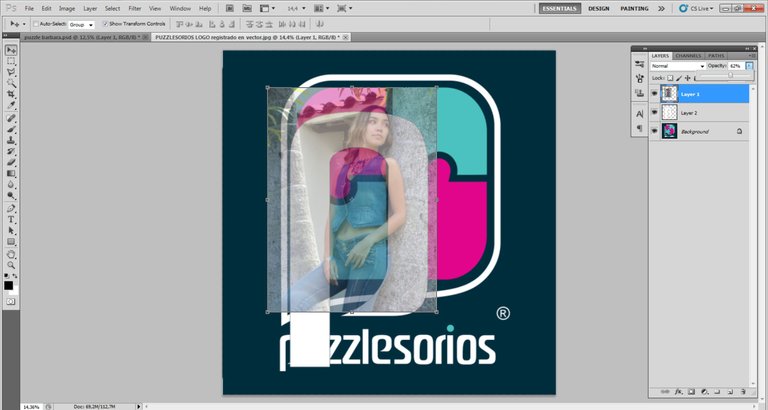 Para comenzar tenía que elegir la foto y casualmente lo hice con la misma que la manipulación anterior. Viendo con la transparencia me di cuenta que calzaba perfectamente y ya me estaba imaginando cómo la iba a recortar dentro de la letra.
To begin with I had to choose the photo and coincidentally I did it with the same one as the previous manipulation. Seeing with the transparency I realized that it fit perfectly and I was already imagining how I was going to cut it inside the letter.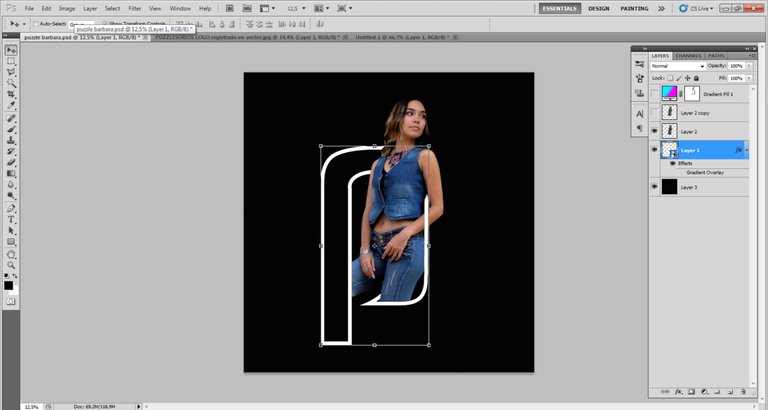 Una vez que le quité el fondo a la modelo, procedí a siluetear la letra. Para eso le damos en fusi´n el borde blanco de un grosor adecuado y el relleno en 0%. Esta capa la convertimos en objeto inteligente. Previamente habíamos recortado esa P del logotipo.
Cuando la letra ya era un borde huevo, procedí a recortar el brazo de la modelo para simular que la línea de la letra pasaba sobre él.
Once I removed the background from the model, I proceeded to silhouette the lettering. For that we give it in fusi'n the white border of a suitable thickness and the fill in 0%. We turn this layer into a smart object. Previously we had previously cut that P from the logo.
When the letter was already an egg edge, I proceeded to cut the arm of the model to simulate that the line of the letter passed over it.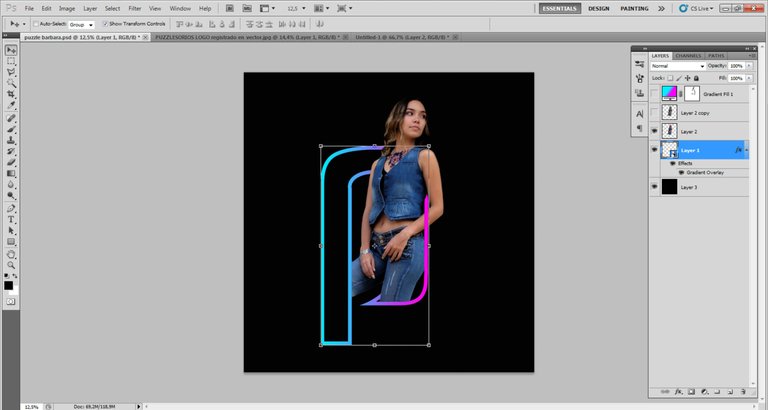 A la capa de la letra, le aplicamos un modo de fusión de superposición de degradado. Los colores de cian a magenta y la inclinación en 0. Para este momento dupliqué a la modelo y le quité toda la saturación. Borré el área de la capa donde están los accesorios para que aparezcan en color por verse la capa de abajo.
To the letter layer, we applied a gradient overlay blend mode. The colors from cyan to magenta and the tilt at 0. For this moment I duplicated the model and removed all the saturation. I deleted the area of the layer where the accessories are so that they appear in color because the layer below is visible.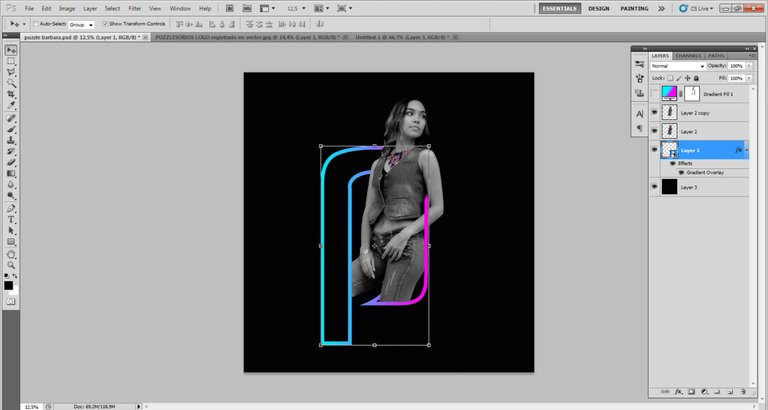 En este paso dupliqué la letra y le apliqué desenfoque gausiano.
In this step I duplicated the letter and applied Gaussian blur.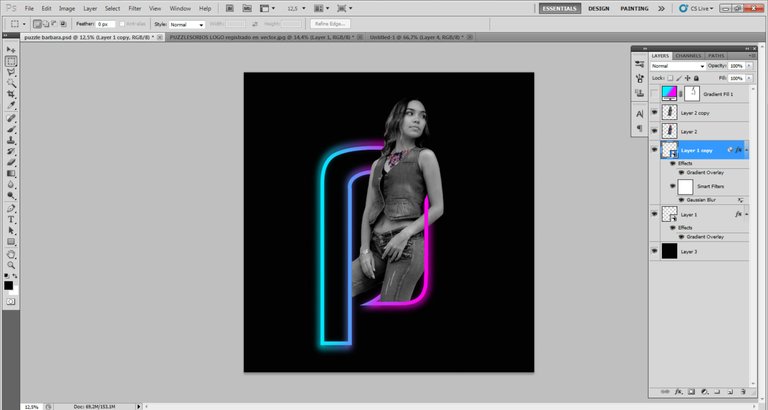 Borré un poco la capa de la modelo que está en blanco y negro, a la altura de la cara para que tenga un poco de color.
I erased a little bit of the model's layer that is in black and white, at the height of the face to give it some color.
Llegó el momento de las sombras y que no se vea plano y falso. Comencé por darle sobre al brazo, porque la línea le pasa por encima. Luego seguí por las piernas.
It's time for the shadows so it doesn't look flat and fake. I started by giving it over the arm, because the line goes over it. Then I went on to the legs.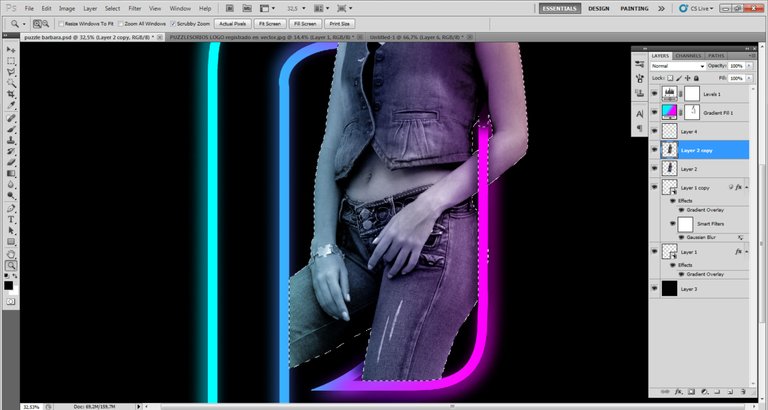 Aquí pueden observar el resultado con las sombras colocadas.
Here you can see the result with the shadows in place.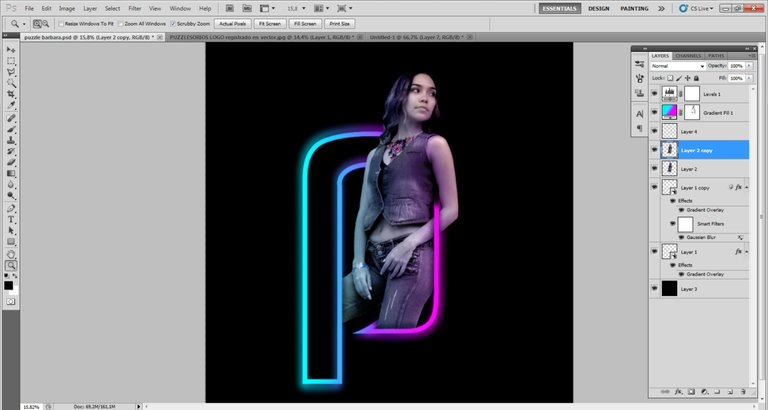 Ahora realicé el fondo. Como en artes anteriores, pinté varios círculos de cian, magenta y blanco. Después un efecto de desenfoque radial y lo repetí 3 veces. Giré una de las capas para equilibrar la composición ya que había mucho peso abajo a la izquierda. Le apliqué unos brillos blancos y les di desenfoque movimiento.
Now I made the background. As in previous arts, I painted several circles of cyan, magenta and white. Then a radial blur effect and repeated it 3 times. I rotated one of the layers to balance the composition as there was a lot of weight at the bottom left. I applied some white glows and gave them motion blur.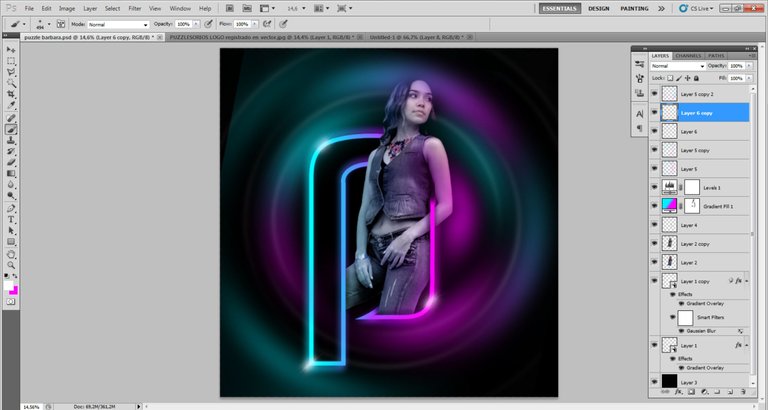 Así quedaría dentro del logotipo. Por supuesto que las demás letras no hirían en blanco, sino con el efecto neón. En esta muestra eliminé el fondo, ya que al arte completo del logotipo, cuando esté terminado le tengo que crear un fondo general.
Vizualizando cómo quedaría, pienso que colocar modelos en todas las letras es muy pesado y chocarían unas con otras. Así que para el próximo post, presentaré las que tengo con las letras elegidas y después aplicar el efecto a cada una.
This is how it would look inside the logo. Of course the other letters would not be white, but with the neon effect. In this sample I eliminated the background, since I have to create a general background for the complete artwork of the logo when it is finished.
Visualizing how it would look, I think that placing models in all the letters is very heavy and they would clash with each other. So for the next post, I will present the ones I have with the chosen letters and then apply the effect to each one.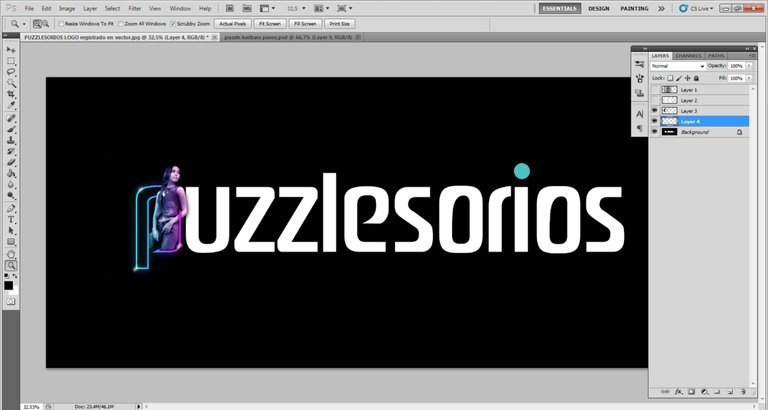 Este es el resultado final. También le apliqué a la modelo un efecto de resplandor difuso para resaltar los brillos. Cada modelo tendrá su arte individual y todas también con uno general.
This is the final result. I also applied a diffused glow effect to the model to highlight the highlights. Each model will have her individual artwork and all of them will also have a general one.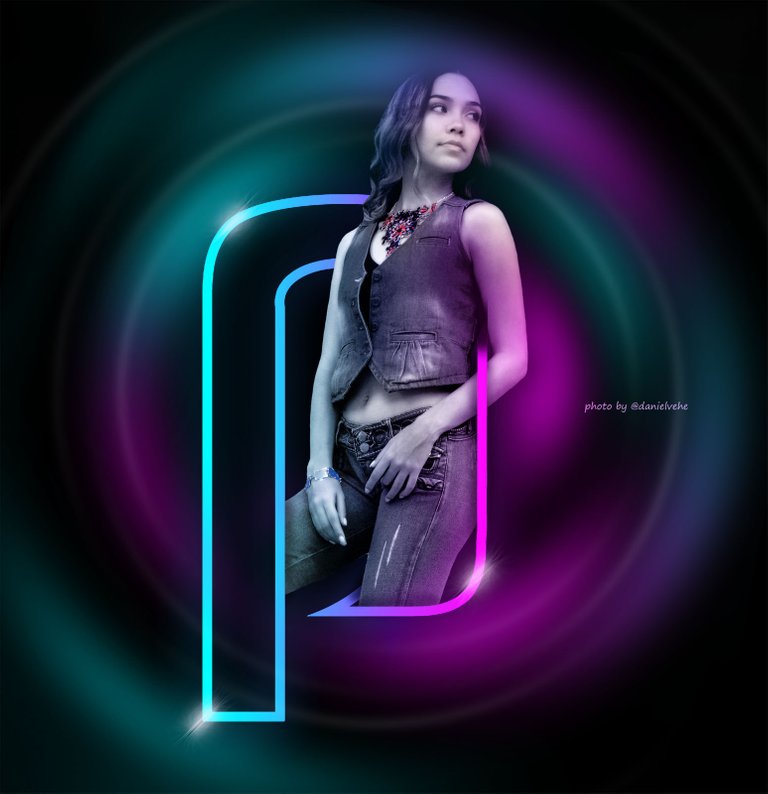 Si te gusta este tipo de efecto te invito a ver los anteriores:
If you like this type of effect I invite you to see the previous ones:
Translated with www.DeepL.com/Translator (free version)