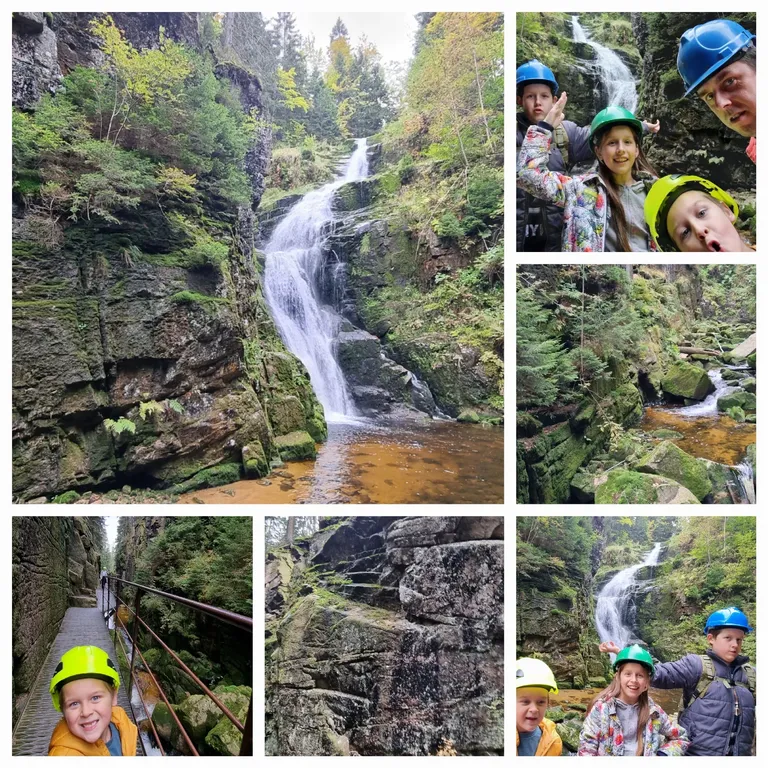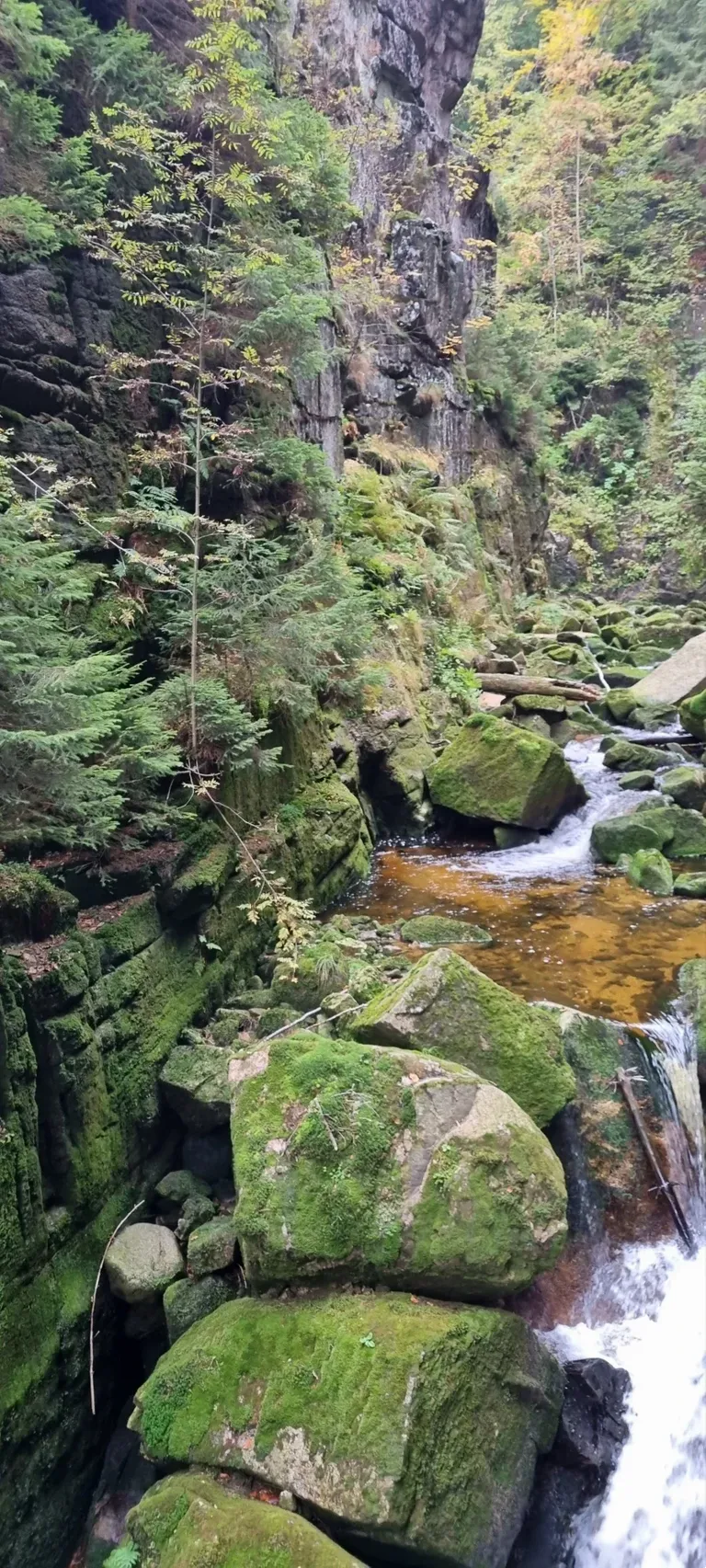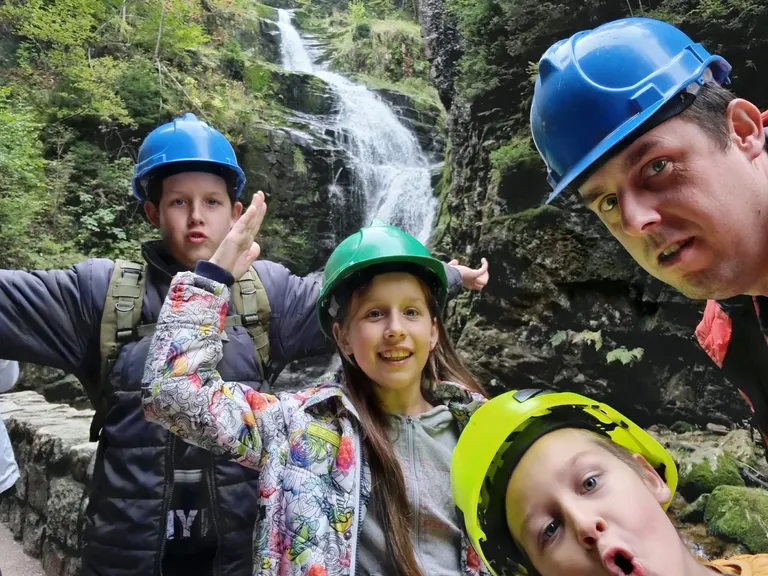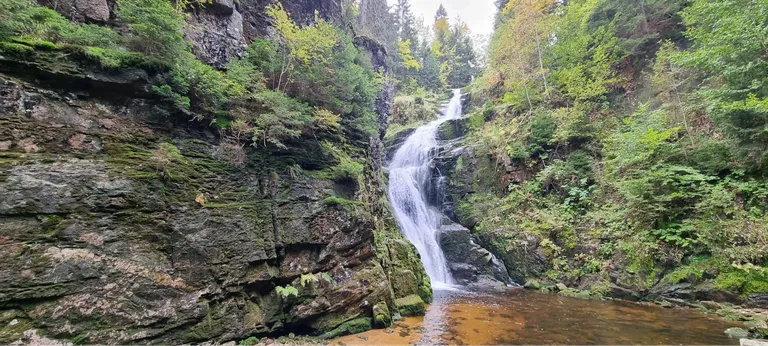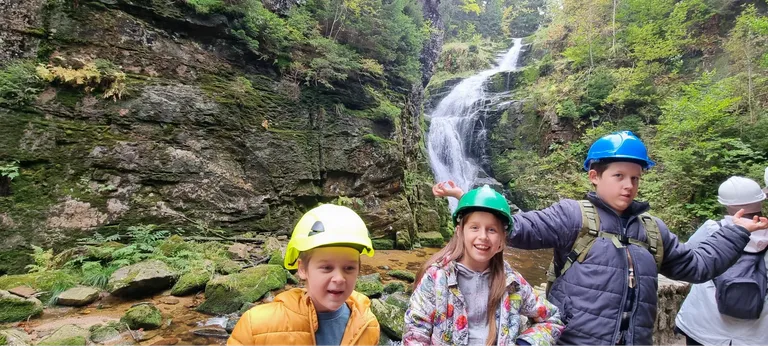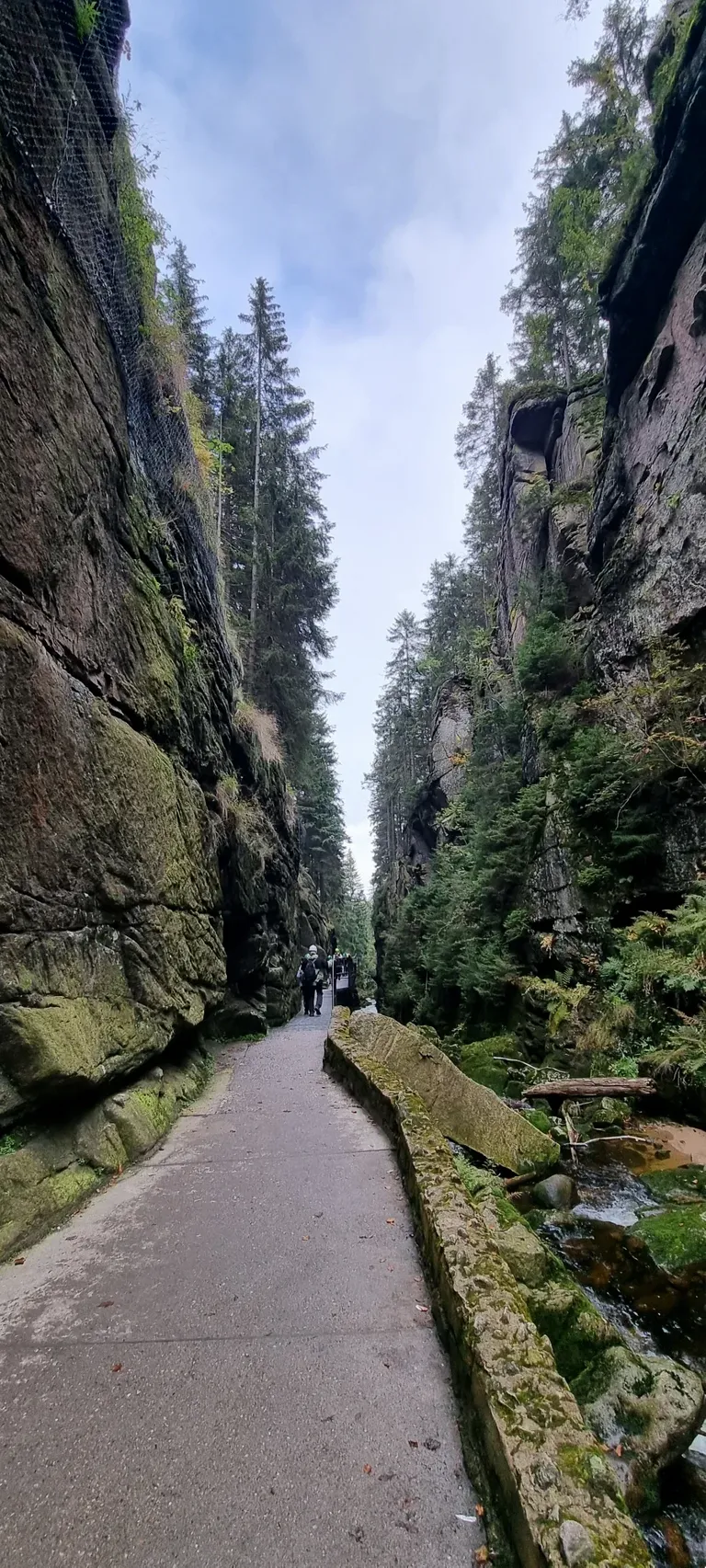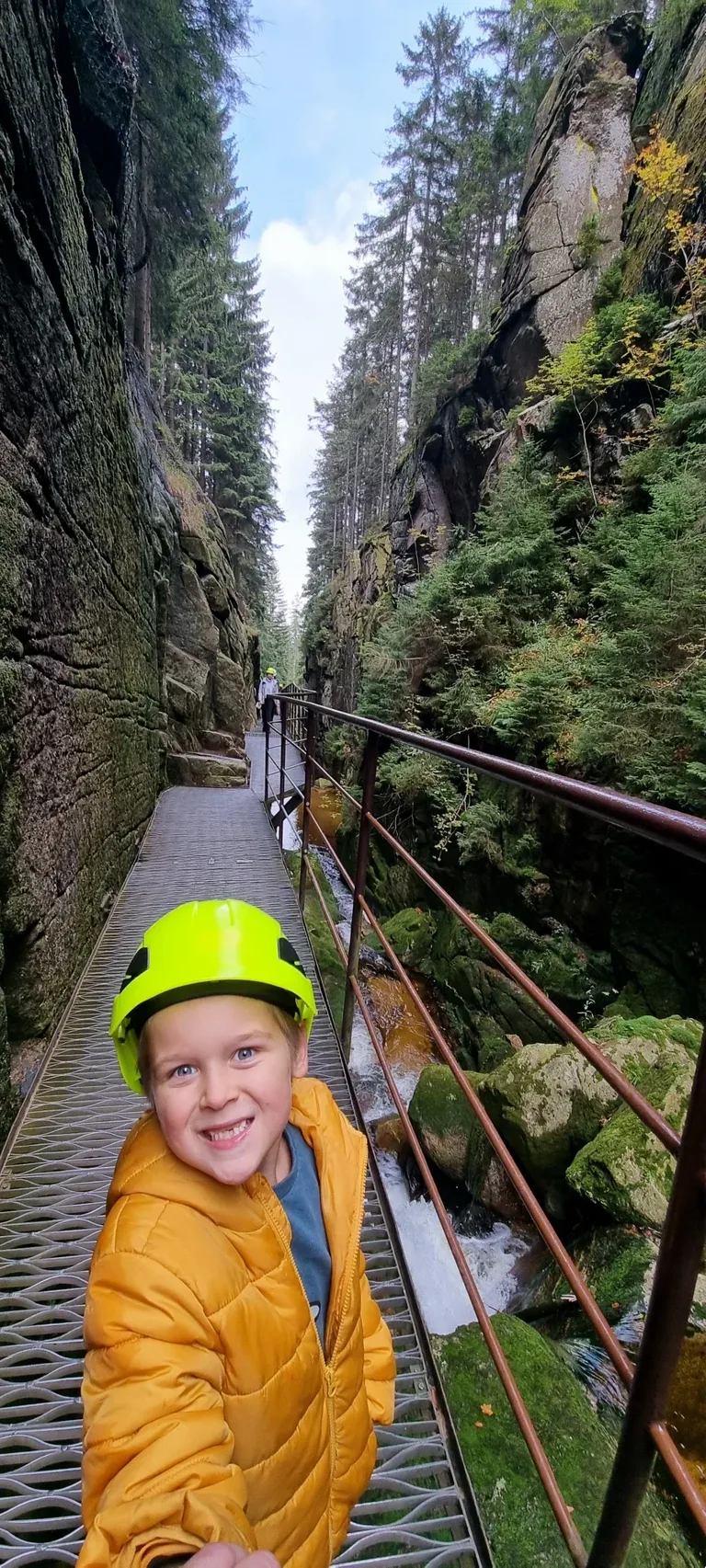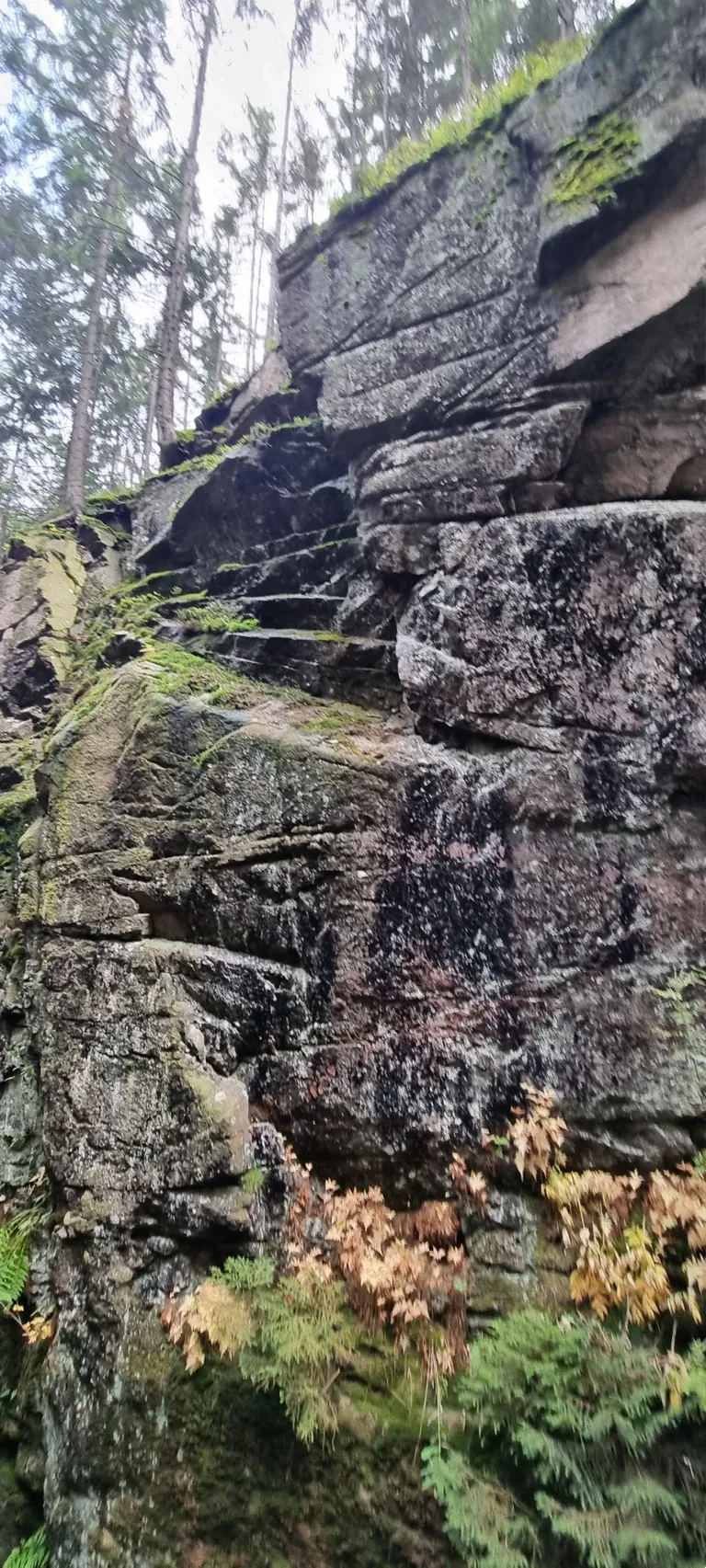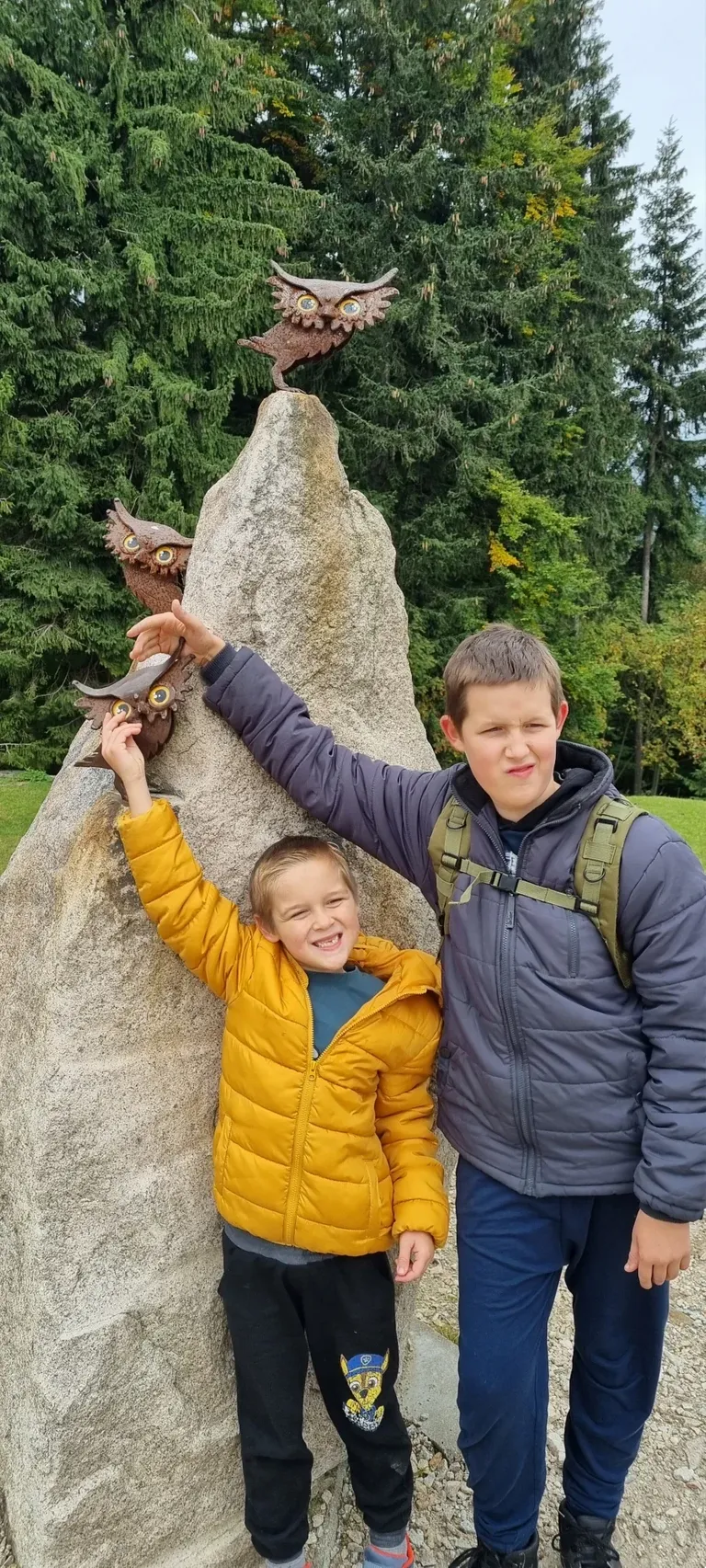 This weekend I decided to take my family to my beloved town in the Polish mountains, everyone has some places to which they have some sentiment in my case it is Szklarska Poręba, somehow it turned out that it has a special place in my heart and I decided to pass on some of this sentiment to my children and husband.
I planned a trip in August, I ordered a place in the hotel. We rented a 2-room apartment for 6 people with a kitchenette and a bathroom, it was at an affordable price and a great location so it would be a pity not to use. We started our trip around Szklarska Poreba with an expedition to one of the 2 surrounding waterfalls, the Kamieńczyk Waterfall went to the first fire.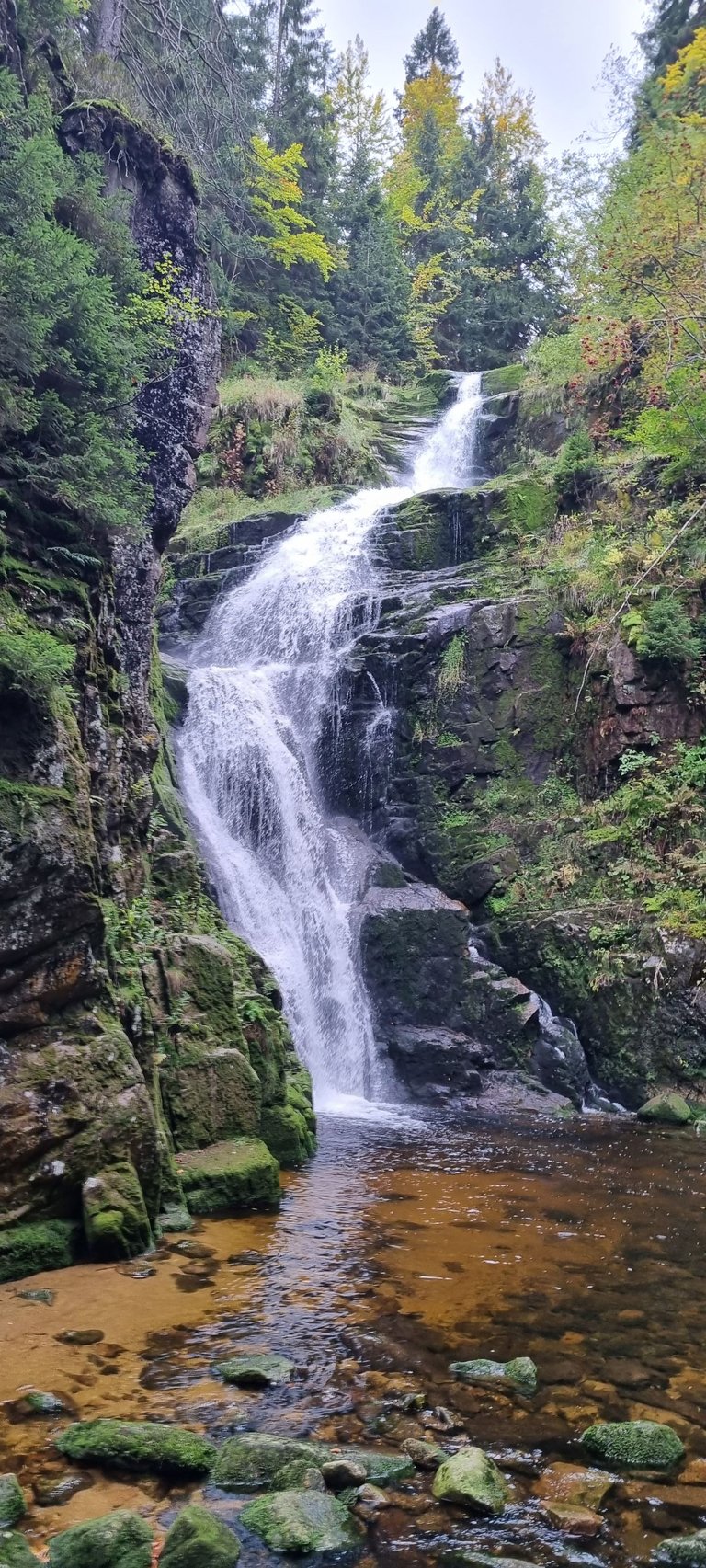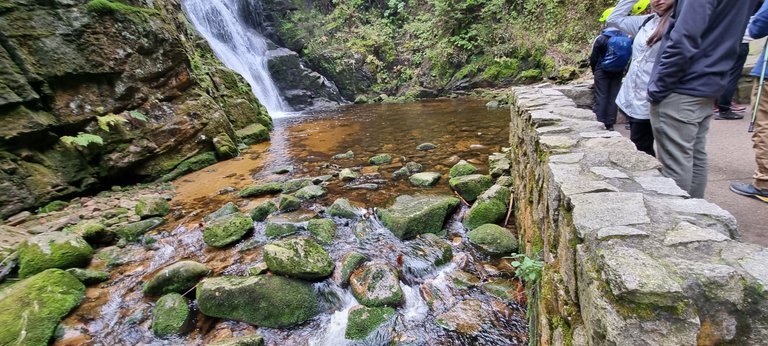 For the uninitiated, I will say that this is the highest waterfall on the Polish side of the Karkonosze Mountains, it is located at 846 m above sea level. and it consists of three cascades with a total height of up to 27 m, which gives us the height of 7 giraffes standing on each other (I read this wisdom in one of the guides 😊 is a funny way to illustrate the height of our youngest treasures).
This waterfall flows into the Kamieńczyk Gorge, which is about 100 m long. One of the curiosities about the waterfall I described is that behind the middle cascade there is a cave called "Golden Den" which was partially carved by man. In the old days, it was possible to visit the cave, after stopping the waterfall by a special stopping mechanism, now the system is no longer active, but it is worth noting that the waterfall can be admired both from above, for which you do not have to pay extra, but it is also worth using the second option and going down to the Kamieńczyk Gorge to admire the beauty of this waterfall from a slightly different perspective.
To go down to the gorge, you should go down the stairs in a special helmet protecting us from stones that may fall from higher areas above the slopes of the gorge, the fee for using this attraction is symbolic and it is worth using it. The view of the waterfall is breathtaking, it impresses not only ordinary bread eaters, but is also a source of inspiration for numerous works of art.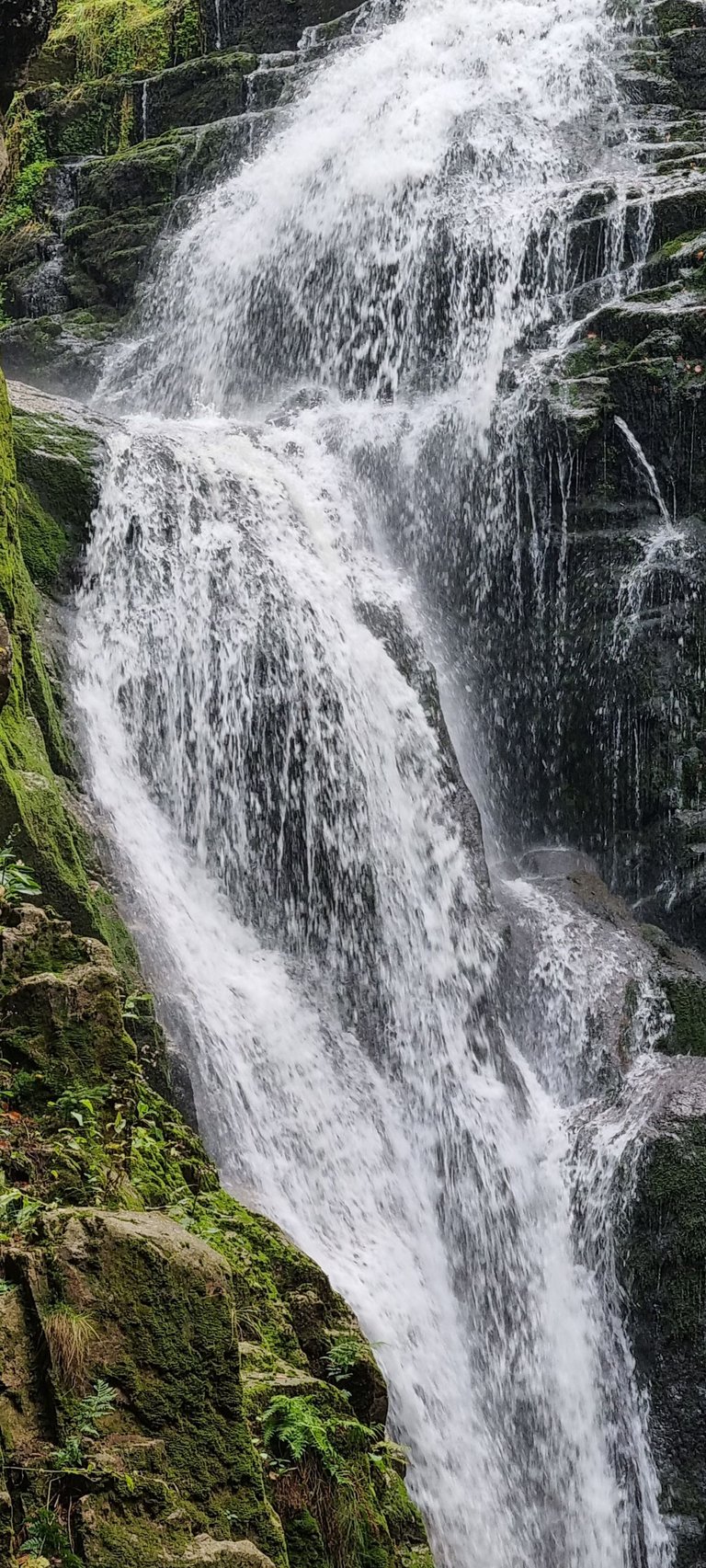 Interestingly, the fairy-tale character of this natural wonder appealed to, for example, director Andrew Adamson, who shot some of the scenes for the film "The Chronicles of Narnia: Prince Caspian". There are two red and black trails leading to the waterfall, despite the fact that we were with four children, the youngest of whom is only 2.5 years old, we chose the black trail and managed to reach it without any problems, and after a moment of rest and eating at the shelter ,, Kamieńczyk" we made an attempt to climb to the top of Szrenica so it is easy to imagine that getting along the black trail to this place is not a big problem.
Returning to the view of the waterfall, at the beginning I wrote that it can be viewed from 2 perspectives, but it is not entirely true, because in total you can admire it from 3 sides from below what I described early, from the middle right next to the hostel I mentioned, here is a special balcony that has several levels, at the height of the hostel on its other side there is also a beautiful clearing with a place to relax strewn with numerous benches, on the slope there is also a natural observation deck with a beautiful view of the mountain panorama. The third perspective on the waterfall we have from the very top standing on the bridge, which leads towards the top of Szrenica, we can admire the view of the waterfall and the gorge, I do not know why many people skip this view but I liked it very much.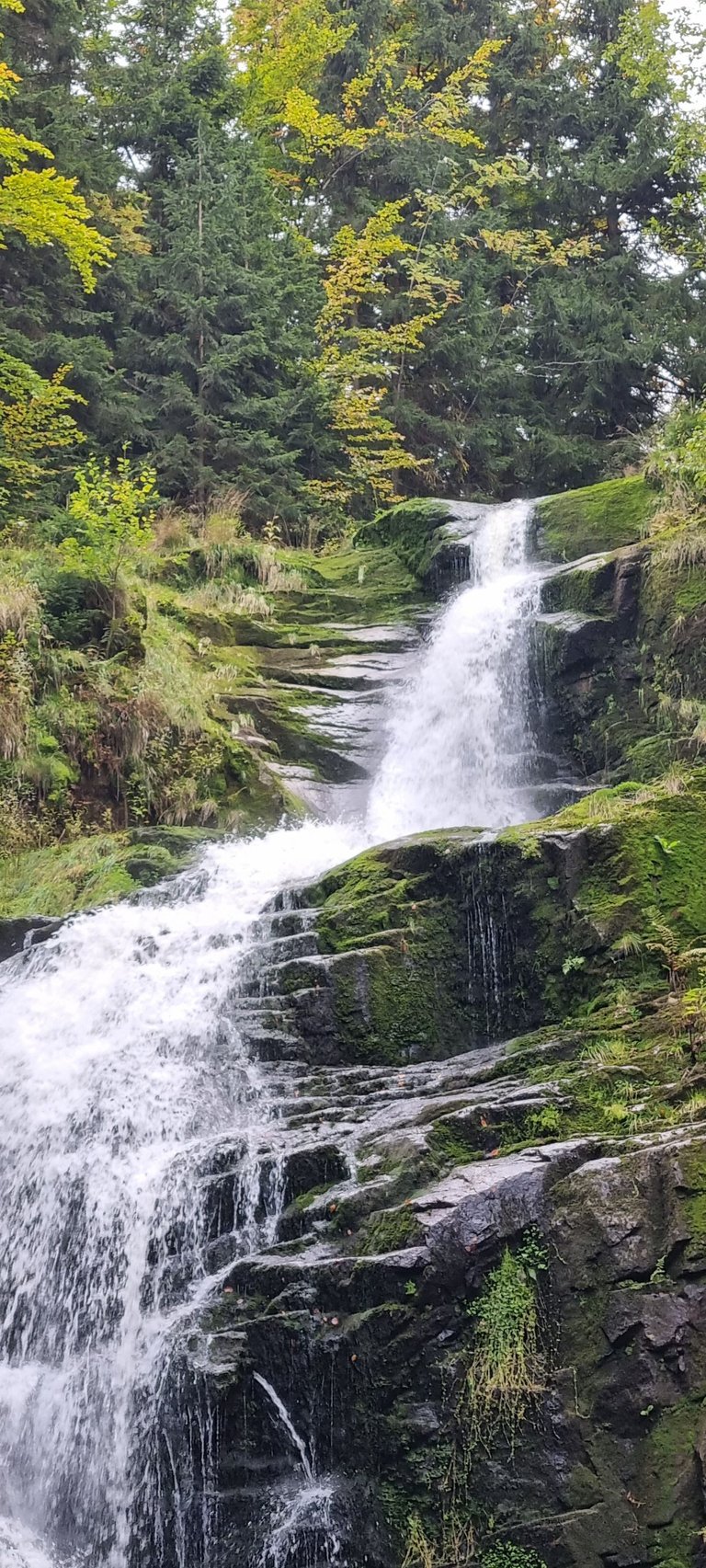 Enjoying the view of flowing water, listening to the sound of water crashing against the rocks, you can really calm down and recharge your batteries for the further route. The amount of endorphins that we catch by saturating our senses communing with nature is what I recommend to anyone who feels tired, by the big city, rush at work and everyday life. Speaking about the fairy-tale character of the waterfall, it is also worth getting to know the fairy tale that tells the story of its creation and let me quote it to take you into the world of fantasy and stimulate your imagination. " As the legend goes, the waterfall arose from the tears of seven rusalkas who mourned the death of one of them in love with Kamieńczyk Bronisz, who high up in the Karkonosze Mountains was looking for precious stones to help his sick mother in poverty.
The doll, because that was the name of the rusalka, regardless of the warnings of the sisters, fell in love with a mortal. She gave him all her treasure - precious stones, so that he could use them for the treatment of his sick mother. Bronisz, who reciprocated the feeling of the rusalka, promised that he would return soon. However, this did not happen, although Łabudka was looking for Bronisz for many days.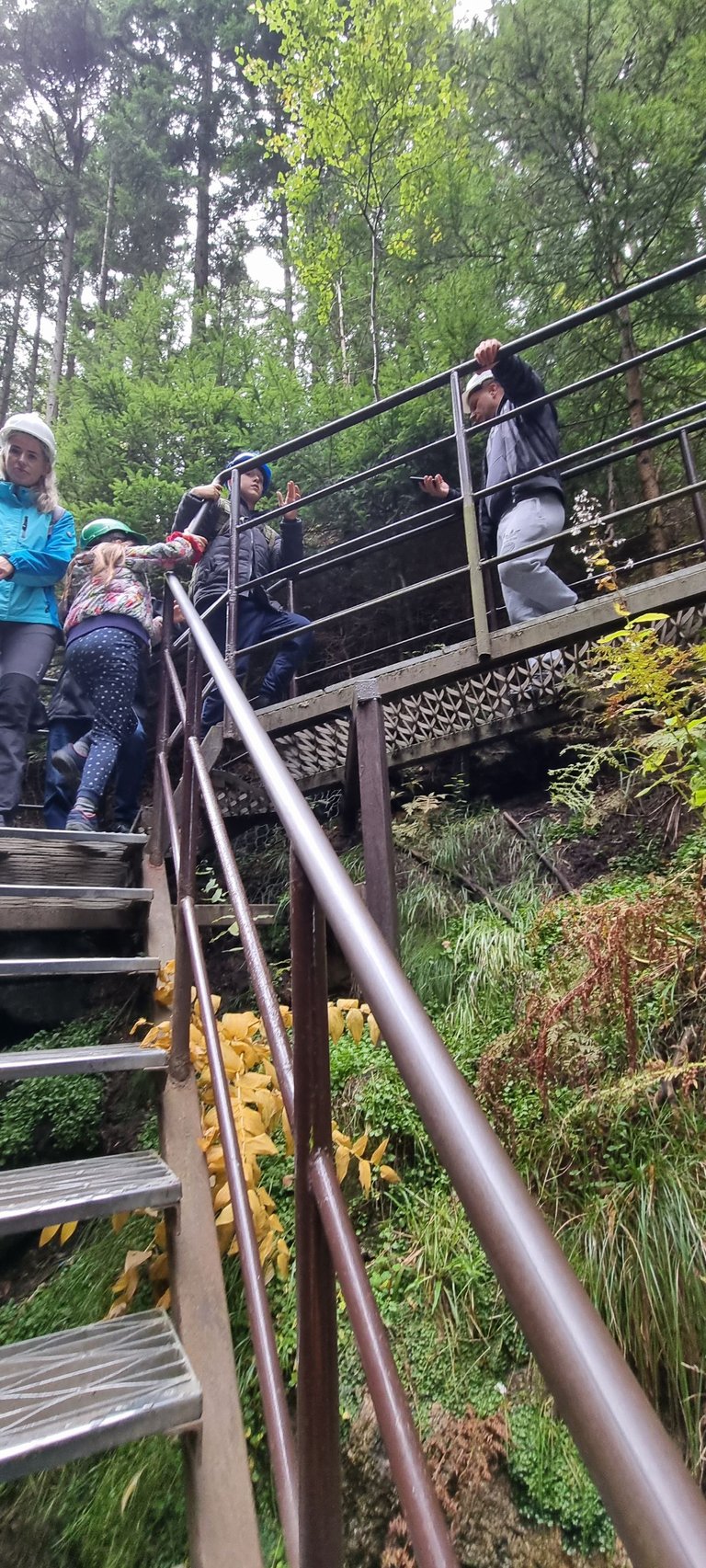 Finally, sick with longing, she decided to find her beloved. She moved from her home under the Elbe Peak north towards Hala Szrenicka. From there, she cautiously moved down. Suddenly, she saw a terrifying sight – the body of her beloved, who was falling from a rock cliff. Rusałka slipped and fell near Bronisz. The sisters cried for a long time over the fate of their lovers, and from their tears the Kamieńczyk waterfall was created – one of the most beautiful places in the Karkonosze Mountains.
text: Anita Kaczmarska". I hope that at least A little encouraged you to visit this place, we will come back here in January and we will definitely enter to admire this beautiful waterfall in the winter scenery, we will definitely throw you a new photo report from this trip, I am already starting to count down the time to this trip. And in the near future I will tell you what else we managed to see during this weekend 😊 We greet you warmly Patrycja, Adrian and our Mega Łobuziaki.
---
POLSKI :
---
W ten weekend postanowiłam zabrać moją rodzinkę do mojej ukochanej miejscowości w Polskich górach, każdy ma jakieś miejsca, do których żywi jakiś sentyment w moim wypadku jest to Szklarska Poręba, jakoś tak wyszło, że ma ona szczególne miejsce w moim sercu i postanowiłam przekazać nieco tego sentymentu moim dzieciom i mężowi.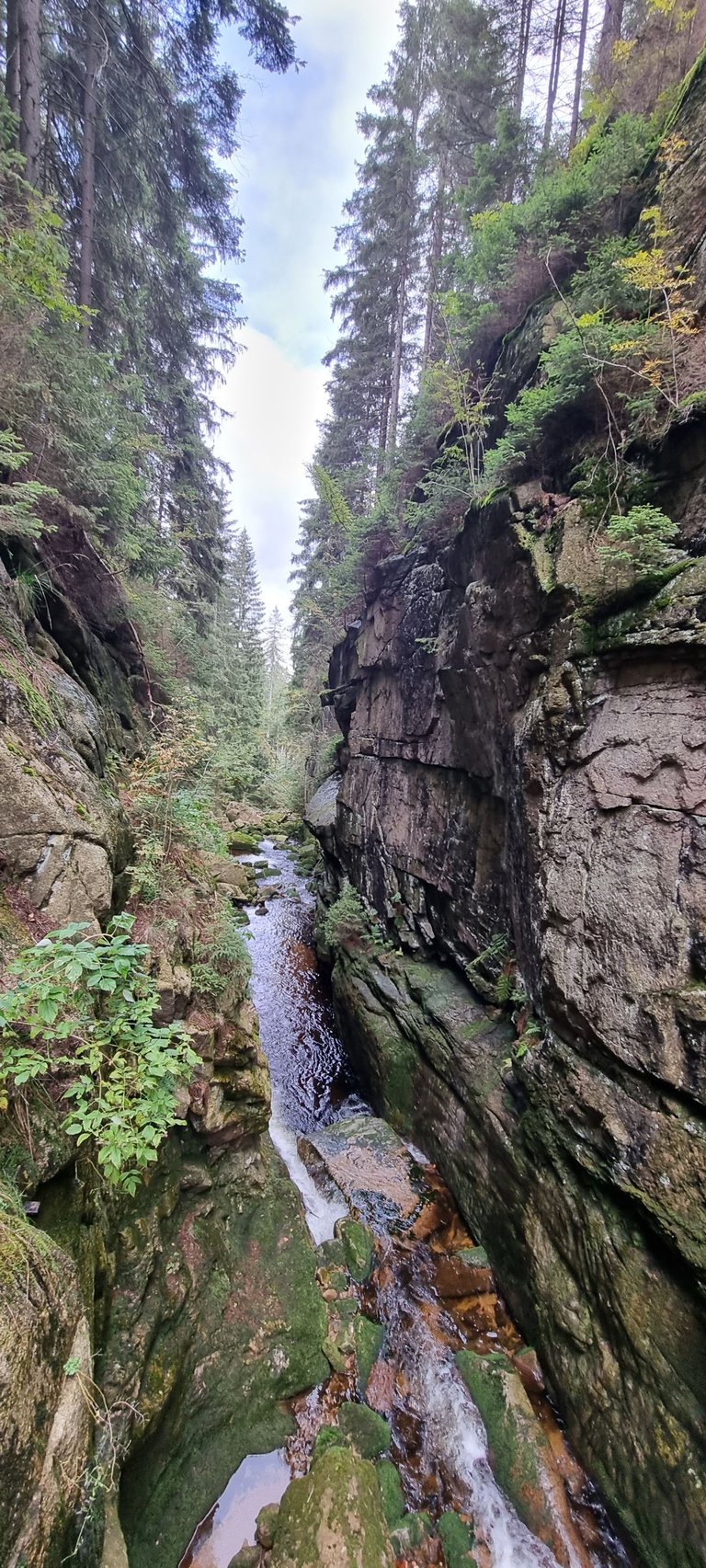 Wypad zaplanowałam już w sierpni, zamówiłam miejsce w hotelu. Wynajęliśmy w nim 2 pokojowy apartament dla 6 osób z aneksem kuchennym i łazienką, był w przystępnej cenie i świetnej lokalizacji więc szkoda było by nie skorzystać. Naszą wycieczkę po Szklarskiej Porębie rozpoczęliśmy od wyprawy na jeden z 2 okolicznych wodospadów, na pierwszy ogień poszedł Wodospad Kamieńczyka.
Dla nie wtajemniczonych powiem, że jest to najwyżej położony wodospad po polskiej stronie Karkonoszy znajduje się on na 846 m n.p.m. i tworzą go trzy kaskady o łącznej wysokości aż 27 m co daje nam wysokość 7 żyraf stojących na sobie ( mądrość tą wyczytałam w jednym z przewodników 😊 jest to zabawny sposób zobrazowania wysokości naszym najmłodszym skarbom ).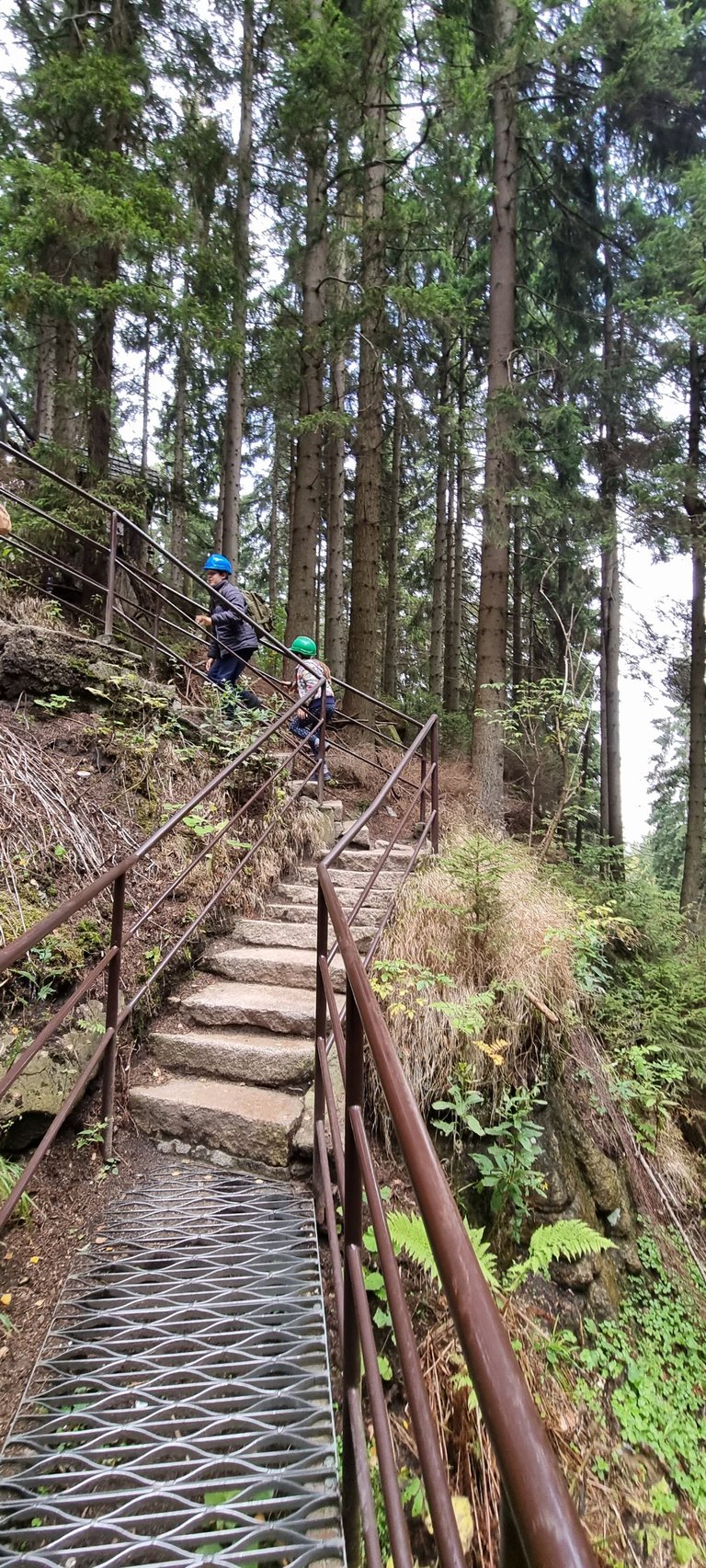 Wodospad ten wpada do Wąwozu Kamieńczyka, który ma mniej więcej 100 m długości. Jedną z ciekawostek dotyczących opisywanego przeze mnie wodospadu jest to, że za środkową kaskadą znajduje się jaskinia o nazwie ,, Złota Jama" która została częściowo wykuta przez człowieka. W dawnych czasach można było zwiedzać jaskinię, po zatrzymaniu wodospadu przez specjalny mechanizm tamujący, obecnie system jest już nie aktywny, jednak warto zauważyć, że wodospad można podziwiać zarówno od góry za co nie trzeba dodatkowo płacić, ale warto również skorzystać z drugiej opcji i zejść na dół do Wąwozu Kamieńczyka , by podziwiać piękno tego wodospadu z nieco innej perspektywy.
Aby zejść do wąwozu należy zejść po schodach na dół w specjalnym kasku chroniącym nas przed kamieniami które mogą spadać z wyższych terenów nad zboczami wąwozu, opłata za skorzystanie z tej atrakcji jest symboliczna i warto z niej skorzystać. Widok wodospadu zapiera dech, robi wrażenie nie tylko na zwykłych zjadaczach chleba, ale jest również źródłem inspiracji dal licznych dzieł sztuki.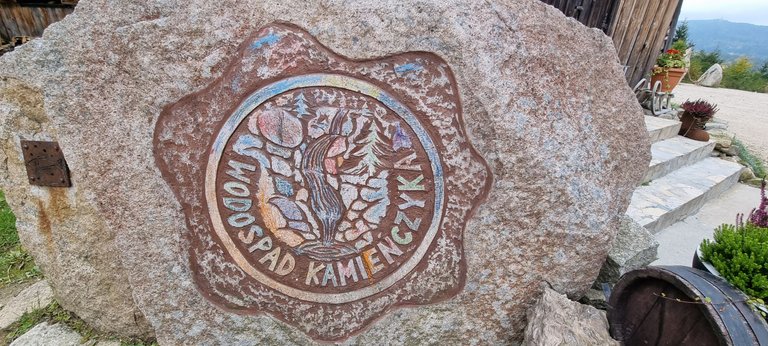 Co ciekawe bajkowy charakter tego cudu natury, przypadł do gustu np. reżyserowi Andrew Adamson, który nakręcił tam część scen do filmu ,, Opowieści z Narnii: Książe Kaspian". Do wodospadu wiodą dwa szlaki czerwony i czarny, my mimo tego, że byliśmy z czwórką dzieci z czego najmłodszy ma zaledwie 2,5 roku wybraliśmy szlak czarny i daliśmy radę dojść bez żadnych problemów, a po chwili odpoczynku i posileniu się przy schronisku ,, Kamieńczyk " podjęliśmy próbę wejścia na szczyt Szrenicy więc łatwo sobie wyobrazić, że dojście czarnym szlakiem w to miejsce nie stanowi dużego problemu.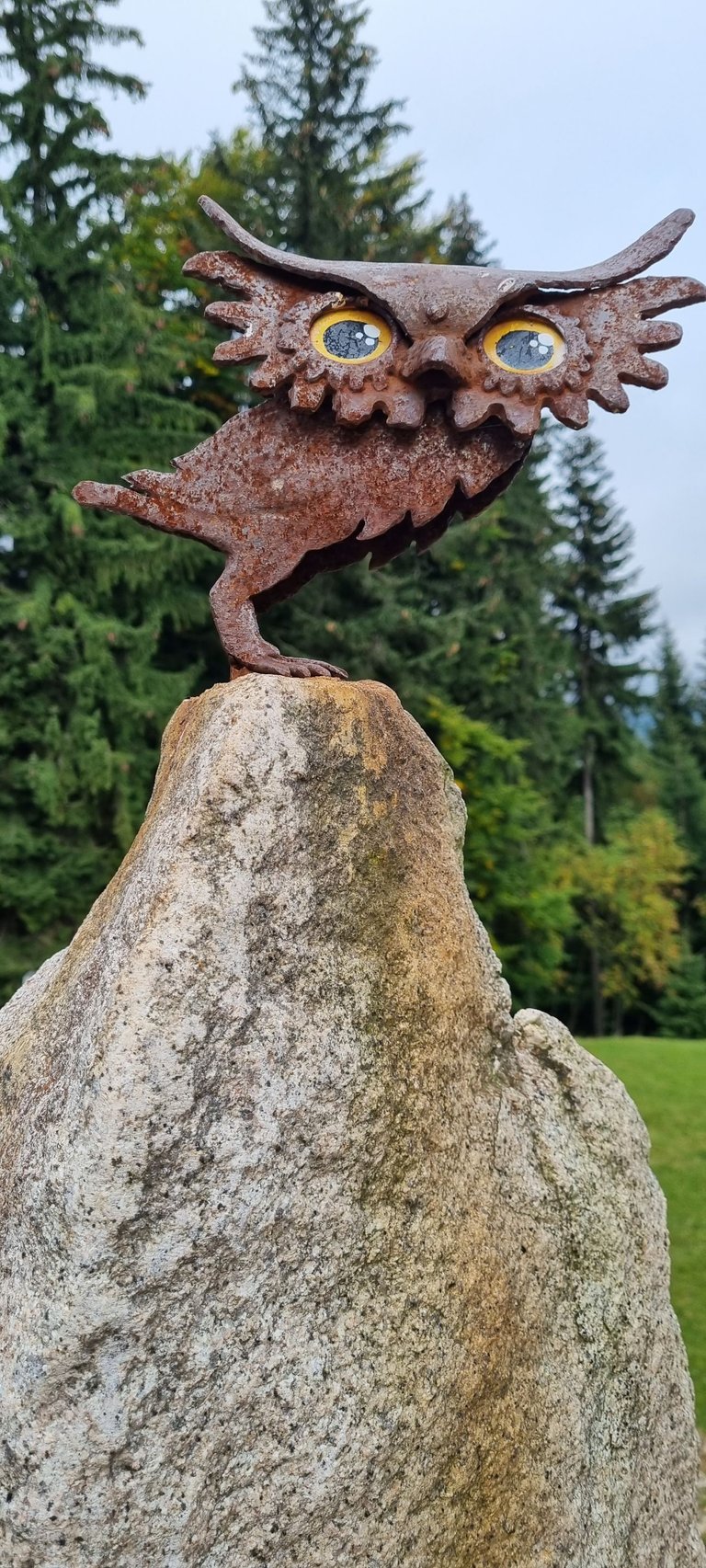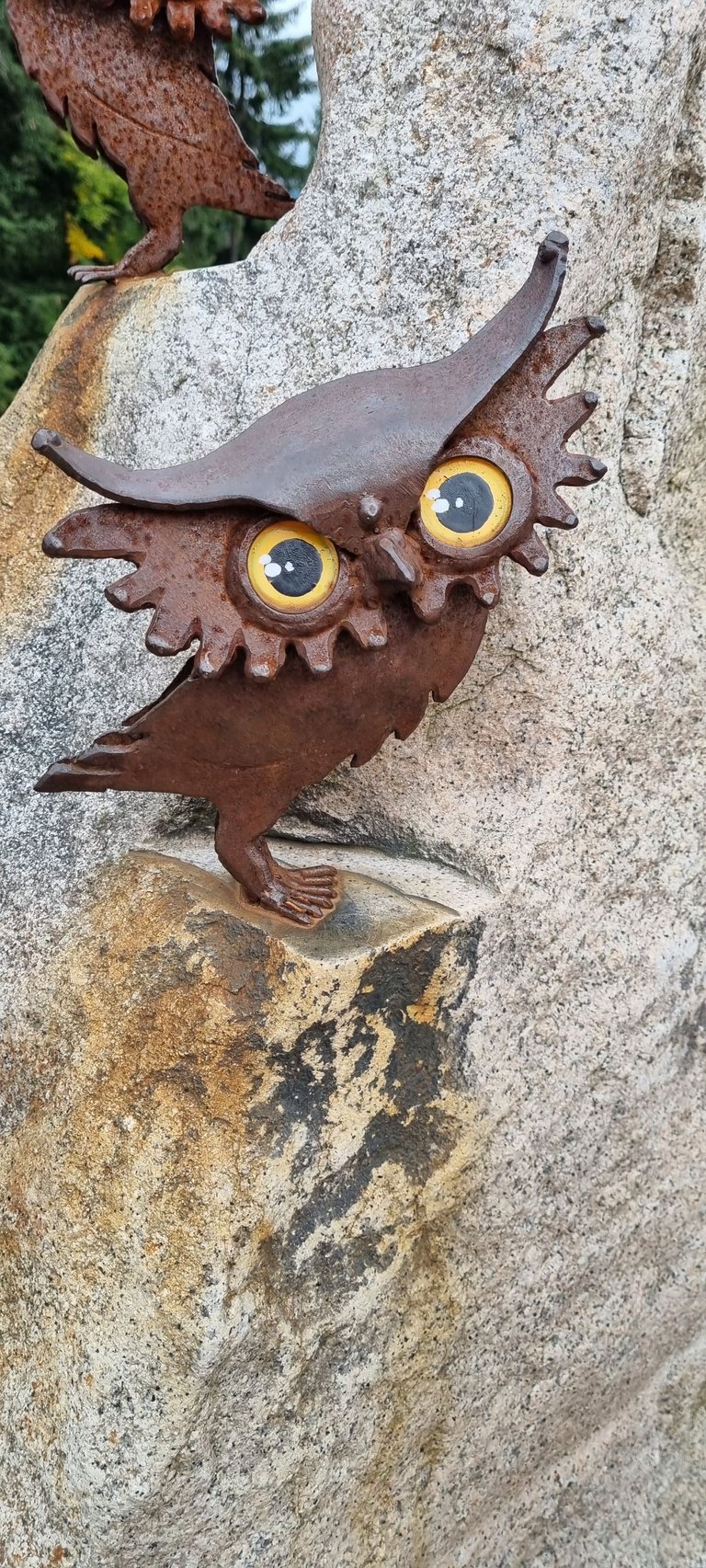 Wracając do widoku na wodospad, na początku napisałam, że można go oglądać z 2 perspektyw, ale nie do końca jest to prawda, bo w sumie można go podziwiać z 3 stron z dołu co wcześnie opisałam, ze środka tuż przy wspomnianym przeze mnie schronisku, tu jest specjalny balkon który ma kilka poziomów, na wysokości schroniska po jego drugiej stronie znajduje się również przepiękna polana z miejscem do wypoczynku usłanym licznymi ławkami, na zboczu jest również naturalny taras widokowy z pięknym widokiem na górską panoramę. Trzecią perspektywę na wodospad mamy z samej góry stojąc na mostku, który wiedzie w kierunku szczytu Szrenicy możemy podziwiać widok na wodospad i wąwóz, nie wiem czemu wielu ludzi pomija ten widok ale mi przypadł od bardzo do gustu.
Delektując się widokiem płynącej wody, wsłuchując się w szum wody rozbijającej się o skały można naprawdę się wyciszyć i naładować akumulatory na dalszą trasę. Ilość endorfin, które łapiemy nasycając nasze zmysły obcując z przyrodą jest tym co polecam każdemu, kto czuje się zmęczony, przez wielkie miasto, pęd w pracy i życiu codziennym. Mówiąc o bajkowym charakterze wodospadu warto również poznać baśń która opowiada historię jego powstania i pozwolę sobie ją zacytować, by przenieść was w świat fantazji i pobudzić waszą wyobraźnię. ,, Jak głosi legenda wodospad powstał z łez siedmiu rusałek, które opłakiwały śmierć jednej z nich zakochanej w Kamieńczyku Broniszu, który wysoko w Karkonoszach szukał szlachetnych kamieni aby pomóc w biedzie chorej matce.
Łabudka, bo tak nazywała się rusałka, nie bacząc na ostrzeżenia sióstr zakochała się w śmiertelniku. Oddała mu swój cały skarb - drogocenne kamienie, aby ten mógł przeznaczyć je na leczenie chorej matki. Bronisz, który odwzajemnił uczucie rusałki obiecał, że niedługo wróci. Tak się jednak nie stało, choć Łabudka wypatrywała Bronisza przez wiele dni.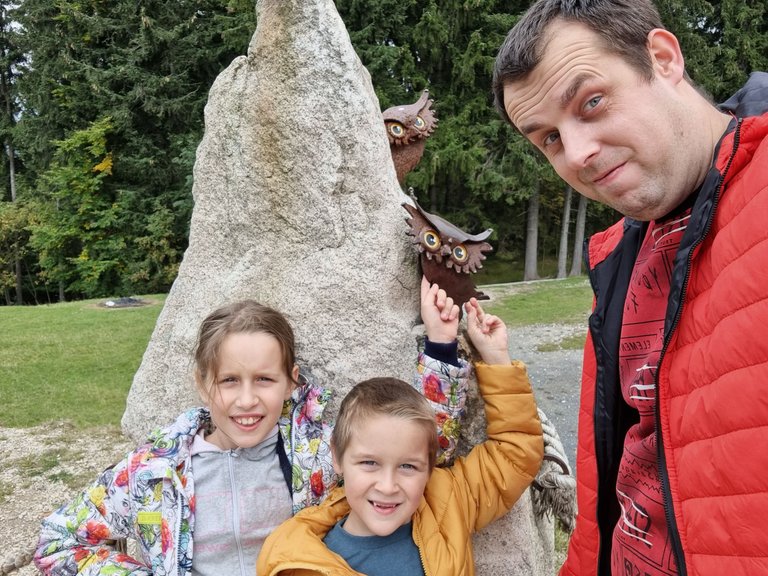 W końcu chora z tęsknoty postanowiła odszukać ukochanego. Ruszyła spod swego domu pod Łabskim Szczytem na północ w kierunku Hali Szrenickiej. Stamtąd ostrożnie posuwała się w dól. Nagle zobaczyła przerażający widok – ciało swego ukochanego, który spadał ze skalnego urwiska. Rusałka z wrażenia poślizgnęła się i upadła koło Bronisza. Siostry długo płakały nad losem kochanków, a z ich łez powstał wodospad Kamieńczyka – jedno z najpiękniejszych miejsc w Karkonoszach.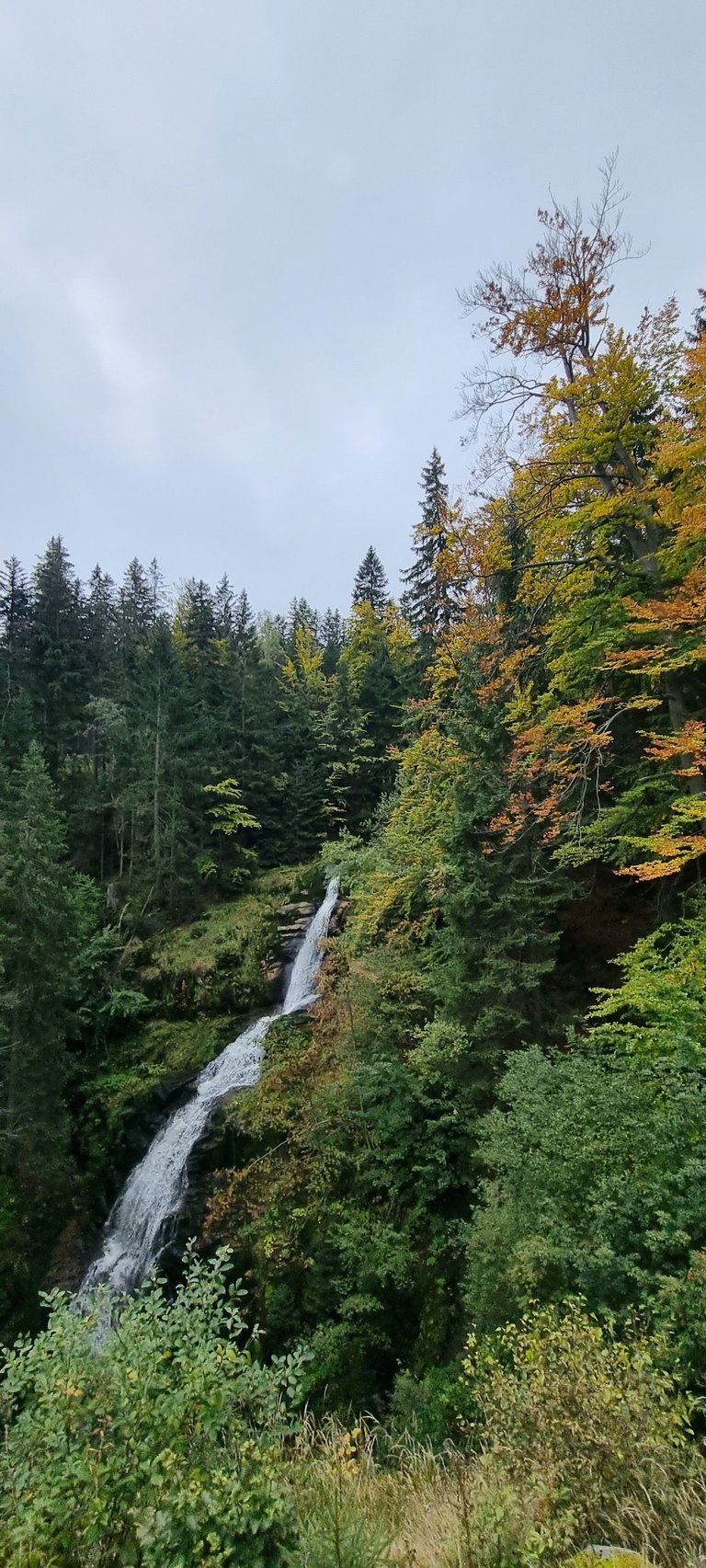 tekst: Anita Kaczmarska". Mam nadzieję, że choć trochę zachęciłam was do odwiedzenia tego miejsca, my wrócimy tu już w styczniu i na pewno wejdziemy podziwiać ten przepiękny wodospad w zimowej scenerii, na pewno wrzucimy wam wtedy nową fotorelację z tej wyprawy, już zaczynam odliczać czas do tego wypadu. A w najbliższym czasie opowiem wam co jeszcze udało się nam zobaczyć podczas tego weekendu 😊 Pozdrawiamy was ciepło Patrycja, Adrian i nasze Mega Łobuziaki.
---
For the best experience view this post on Liketu