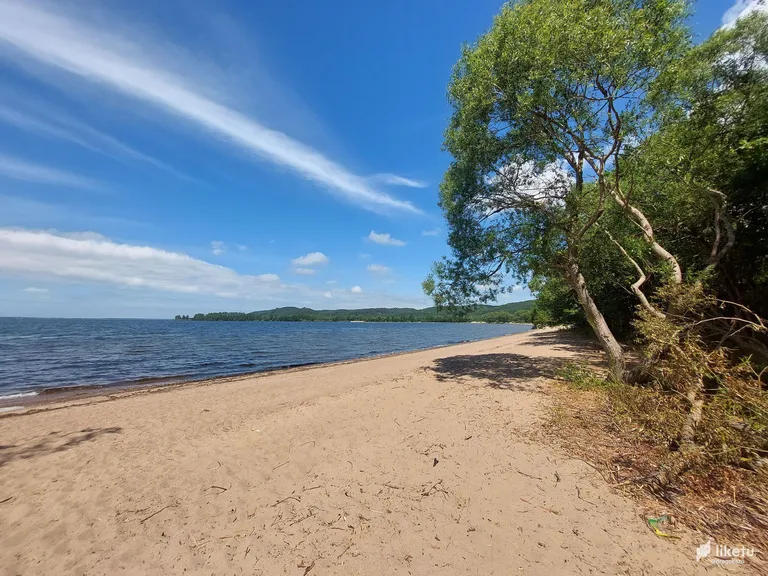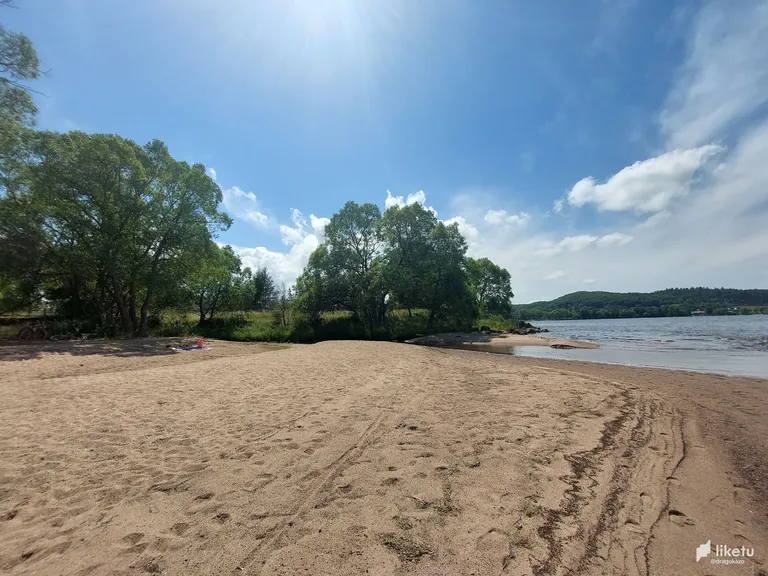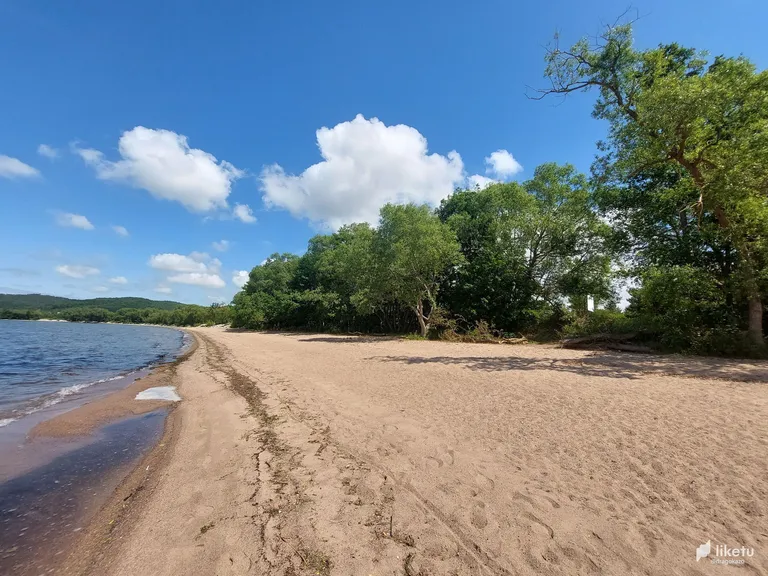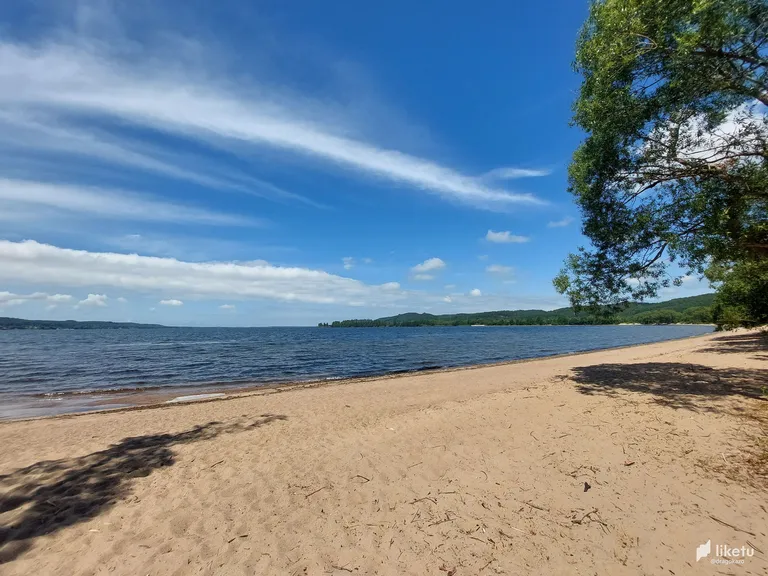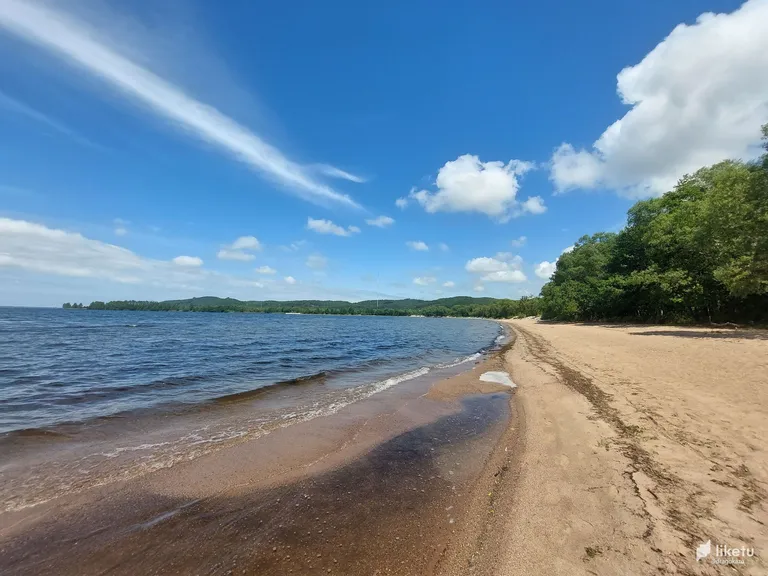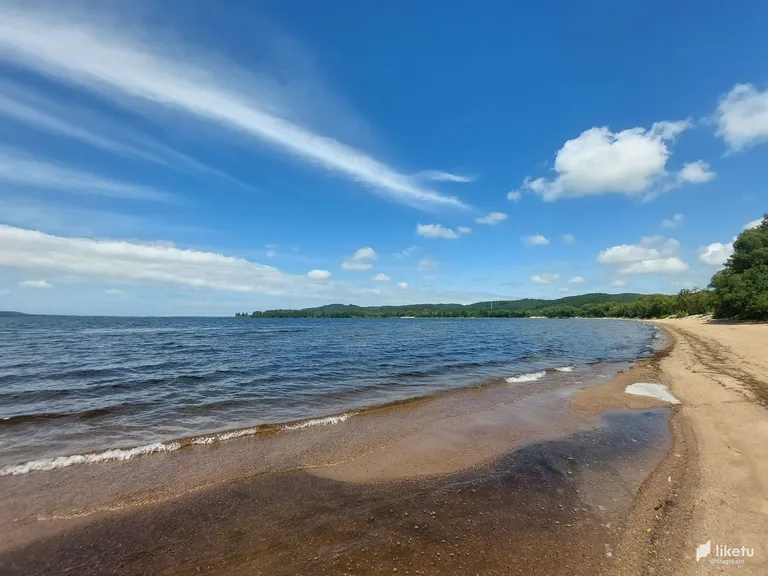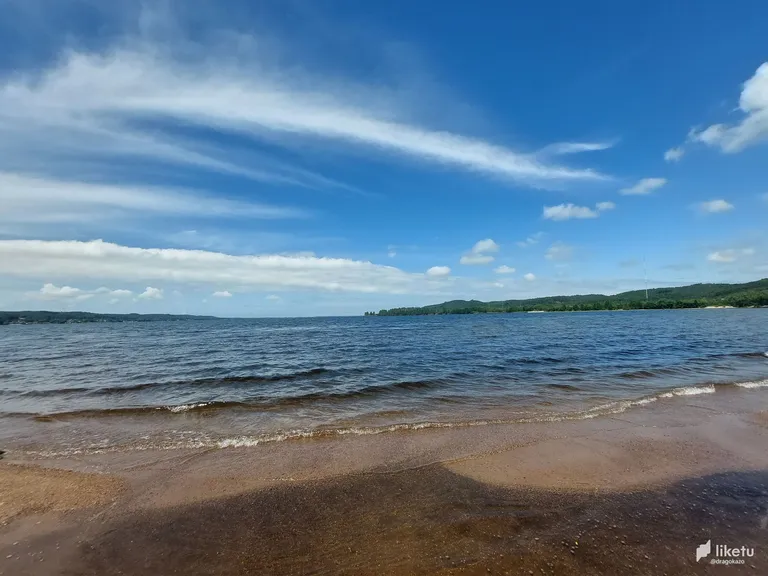 This is just the beginning of the holidays and the season has not started for good. I am glad that this year we have chosen the end of June and the beginning of July for our vacation, because the tourist season has not started for good yet. Here, in smaller towns in Kashubia, people do not bounce against each other, the beach is wide and sandy, both by the sea and the lake, no one is sitting overhead for other people.
At the beautiful lake Żarnowieckie, we can enjoy the peace and quiet, the lake is really vast and the surrounding forests floating on the hills create a beautiful landscape. Along the lake there are numerous guarded and unguarded beaches, the entrances to the water are gentle, along the beaches there are trees that provide pleasant shade, for those who need more privacy, I recommend smaller beaches surrounded by rushes that weaken prying eyes.
The prices in the seaside bars and shops on this beautiful lake are really competitive and do not differ from the prices in the cities, so there is no point in looking for horror receipts known to us recently from television and the Internet. Hiking enthusiasts can feel a bit like in the mountains here because the post-glacial landscape has created numerous hills here, in addition to beautiful forests, the lake is surrounded by charming villages with characteristic buildings, as well as wonderful vast fields and colorful flower meadows, which are now dominated by wonderful blue cornflowers.
This place is undoubtedly a great treat for lovers of photography, clouds create here unbelievable paintings, which, combined with the spreading nature, give the opportunity to create private works of art. Both me and my wife like to take pictures as an amateur, which then remind us of a moment of rest and give us a kick before planning the next trip. I don't know about you, but we run away from the hustle and bustle of a big city and such landscapes, silence, peace, time spent in nature are really important for us to recharge the battery and be able to regenerate after a whole year of work If you do not have a vacation plan yet and you like the natural landscape, what drives you is drawing energy from the world around, I recommend the surrounding places, I think that it is most peaceful here in Lubków, this place will be a great starting point for hiking, cycling or car trips.
As a nice addition I will say that you can do any water sports here, for those who do not believe in their own strength on the water, cruises on the Nodolanin cruise ship are an alternative, those who are passionate about kayaking will find a lot of pleasure on the lake, but I can also take part go on an adventure and go canoeing towards the sea along the beautiful Piaśnica riverbed. As a curiosity, I recommend rafting in a transparent canoe, which will undoubtedly be an additional attraction for those who are thirsty for new experiences. So the wonderful Żarnowieckie lake will be recommended to everyone for a charming holiday, you will also find a military trail nearby and numerous monuments in the form of castles and smokers.
We greet you strongly and let's take handfuls of this wonderful atmosphere.
POLISH:
To dopiero początek wakacji i sezon nie rozpoczął się na dobre. Cieszę się, że w tym roku wybraliśmy na urlop koniec czerwca i początek lipca, bo sezon turystyczny nie zdążył się jeszcze rozkręcić na dobre. Tu w mniejszych miejscowościach na Kaszubach, ludzie nie obijają się o siebie, plażę są szerokie i piaszczyste, zarówno nad morzem jak i jeziorem, nikt siedzi innym ludziom nad głową.
Nad przepięknym jeziorem Żarnowieckim, możemy cieszyć się ciszą i spokojem, jezioro jest naprawdę rozległe a otaczające je lasy unoszące się na pagórkach tworzą przepiękny krajobraz. Wzdłuż jeziora ciągną się liczne plaże strzeżone i nie strzeżone, zejścia do wody są łagodne, wzdłuż plaż ciągną się drzewa, które dają przyjemny cień, dla tych którzy potrzebują więcej prywatności, polecam mniejsze plażyczki otoczone szuwarami osłabiającymi od wścibskich spojrzeń.
Ceny w przybrzeżnych barach i sklepach przy tym przepięknym jeziorze są naprawdę konkurencyjne i nie odbiegają od cen w miastach, taj więc próżno tu szukać paragonów grozy znanych nam ostatnio z telewizji i internetu. Miłośnicy pieszych wycieczek mogą się tu poczuć nieco jak w górach bo polodowcowy krajobraz stworzył tu liczne wzniesienia, oprócz przepięknych, lasów jezioro otaczają urokliwe wsie z charakterystyczną zabudową, oraz cudowne rozległe pola i kolorowe kwietne łąki, na których dominują obecnie cudowne niebieskie chabry.
Miejsce to jest niewątpliwie świetną gratką dla miłośników fotografii chmury tworzą tu niewiarygodne malunki, które w połączeniu z roztaczającą się przyrodą dają możliwość stworzenia prywatnych dzieł sztuki. Zarówno ja jak I żona lubimy amatorsko robić zdjęcia, które potem , przypominają nam chwilę wytchnienia i dają kopa przed planowaniem kolejnej wyprawy. Nie wiem jak wy ale my uciekamy przed zgiełkiem dużego miasta i takie krajobrazy, cisza, spokój, czas spędzony na łonie natury są dla nas naprawdę ważne by naładować baterię i móc się zregenerować po całym roku pracy Jeśli jeszcze nie macie planu na wypoczynek i lubicie naturalne krajobraz, tym co was napędza jest czerpanie energii z świata do około to polecam okoliczne miejsca myślę, że najspokojniej jest tu w Lubkowie, miejscowość ta będzie świetną bazą wypadową do wycieczek pieszych, rowerowych czy też samochodowych.
Jako fajny dodatek powiem, że można tu uprawiać wszelkie sporty wodne, dla tych co nie wierzą we własne siły na wodzie alternatywą są rejsy stateczkiem wycieczkowym Nodolanin, ci których pasja są kajaki znajdą dużo przyjemnością na jeziorze, ale mogę też wziąć udział w przygodzie i udać się na spływ kajakowy w kierunku morza płynąć pięknym korytem rzeki Piaśnicą. Jako ciekawostkę polecam spływ przezroczystym kajakiem co niewątpliwie będzie dodatkową atrakcją dla spragnionych nowych doznań. Tak więc cudowne jezioro Żarnowieckie polecą się wszystkim na urokliwe wakacje, w pobliżu znajdziecie też szlak militarny oraz liczne zabytki w postaci zamków i palący.
Pozdrawiamy was mocno i zmykamy czerpać garściami ten cudowny klimat.
---
For the best experience view this post on Liketu