I found myself at work on the south coast of England and needing to drive hundreds of miles home to where I live in the north. It was only 1pm after my meeting had finished so decided to change plans. Instead of driving home directly, I would make a detour and head in to Canary Wharf, London. No one would care if I was to be late home so it wasn't a difficult decision!
After a "lovely" drive on the M25 doing battle with Audi and BMW wankers, I finally arrived not too long before the sun was starting to set.
As I arrived, I knew that the Canary Wharf Winter Lights festival was just beginning. Around the estate are around 20 or so public works of art full of colourful lights and sculptures, perfect for shooting at dusk and in to the night.
This is what I got:
Bladerunner
Being normally a lightpainting photographer, I like to be different and do something which others haven't done before. This footbridge has been photographed probably a million times before and I didn't want to shoot just another damned version of the same thing. I decided to breath on my lens to make it mist over in the cold air. This has probably been done before but not in such an epic location.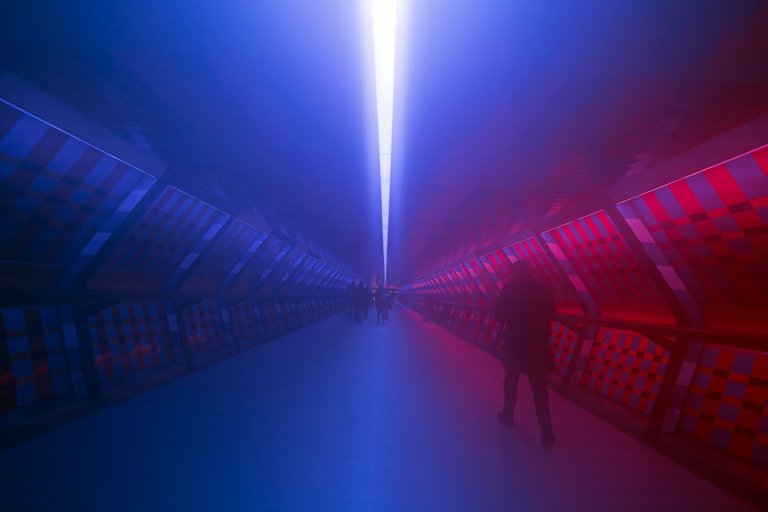 I figure I must have looked odd to passing security guards hanging around a tunnel in the dark breathing on my lens!
I spent ages snapping away here trying to get the perfect combinations of silhouettes in the right positions for composition but this was maybe the best I got: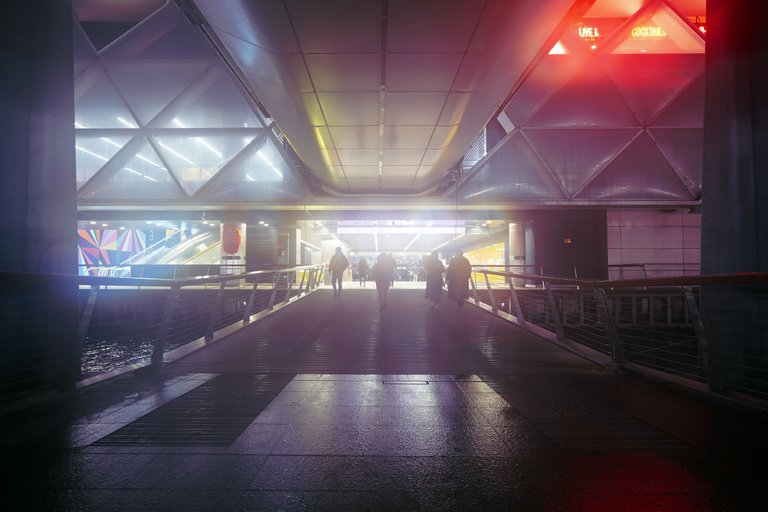 Hanging around in a colourful tunnel
This tunnel through which many people were passing through is probably the most photographed place in Canary Wharf. It does make a good place to practice low light street photography using slow shutter speeds.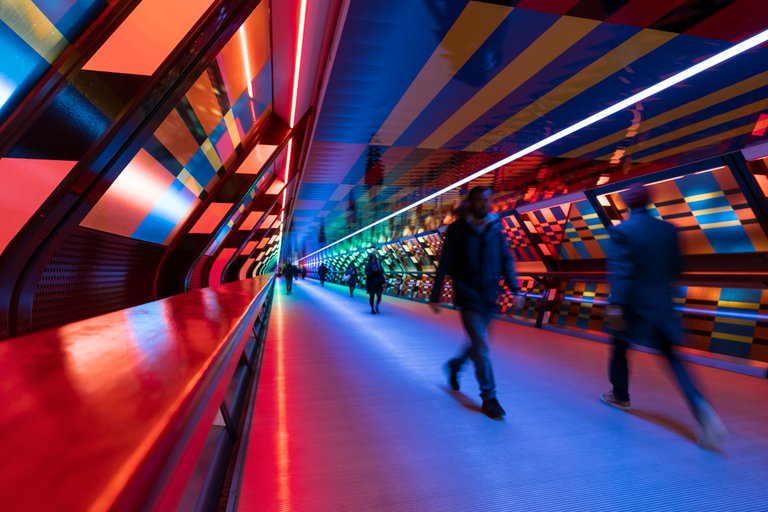 In your face colour!
Forgetting the right parts!
Whilst I was shooting, I was carrying a small tripod ready for when the night finally came. I decided to try some long exposures from this high level view. The only trouble was, I had the wrong damn tripod adaptor place on the bottom of my camera! Damn! Damn!!
Not able to use my tripod aka an expensive paperweight, I decided to prop my camera against the hand rail barrier and chance my arm at a few long exposures. This was 0.5 of a second!! Not too shabby...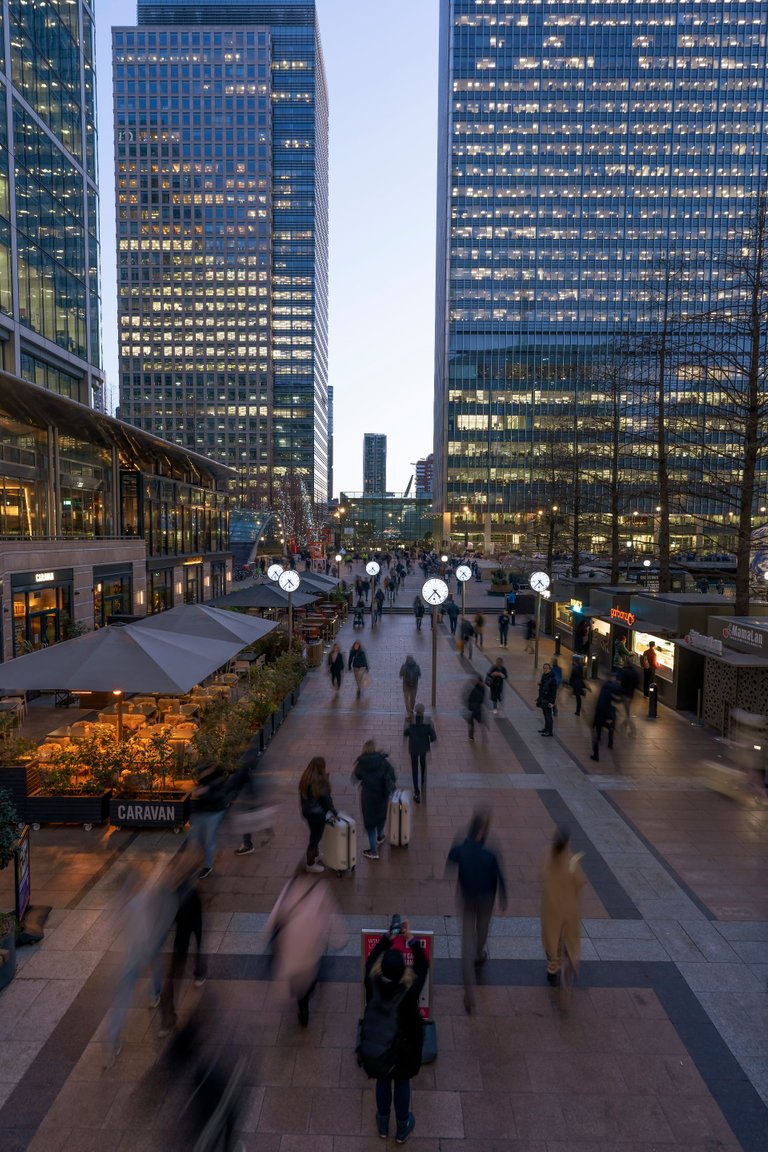 Doing it before the Gram!
The night I shot these images was the first night of the Winter Lights festival. I have no doubt this place will be set upon by millions of camera phones which will inevitably end up on Instagram and probably look exactly the same! I got in early to beat the Gram!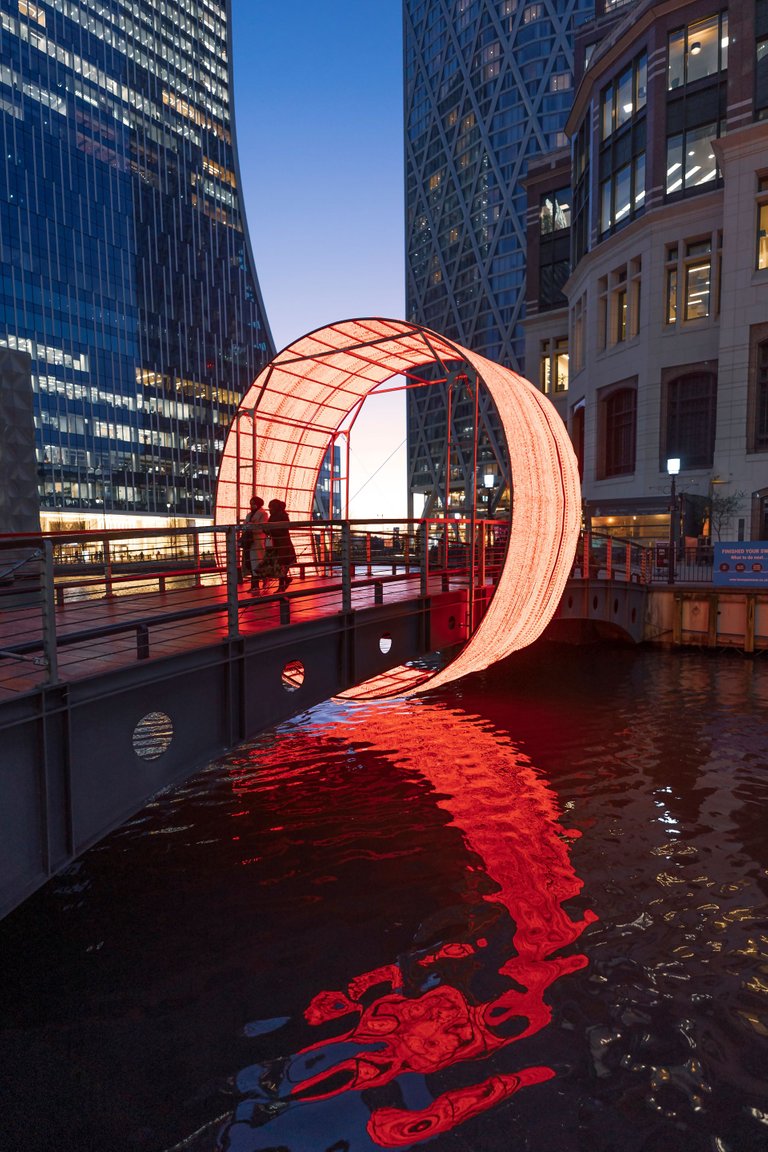 The Blue Hour
There's a period of time as the sun sets known as the blue hour. I'm not particularly keen on this intense blue in the sky....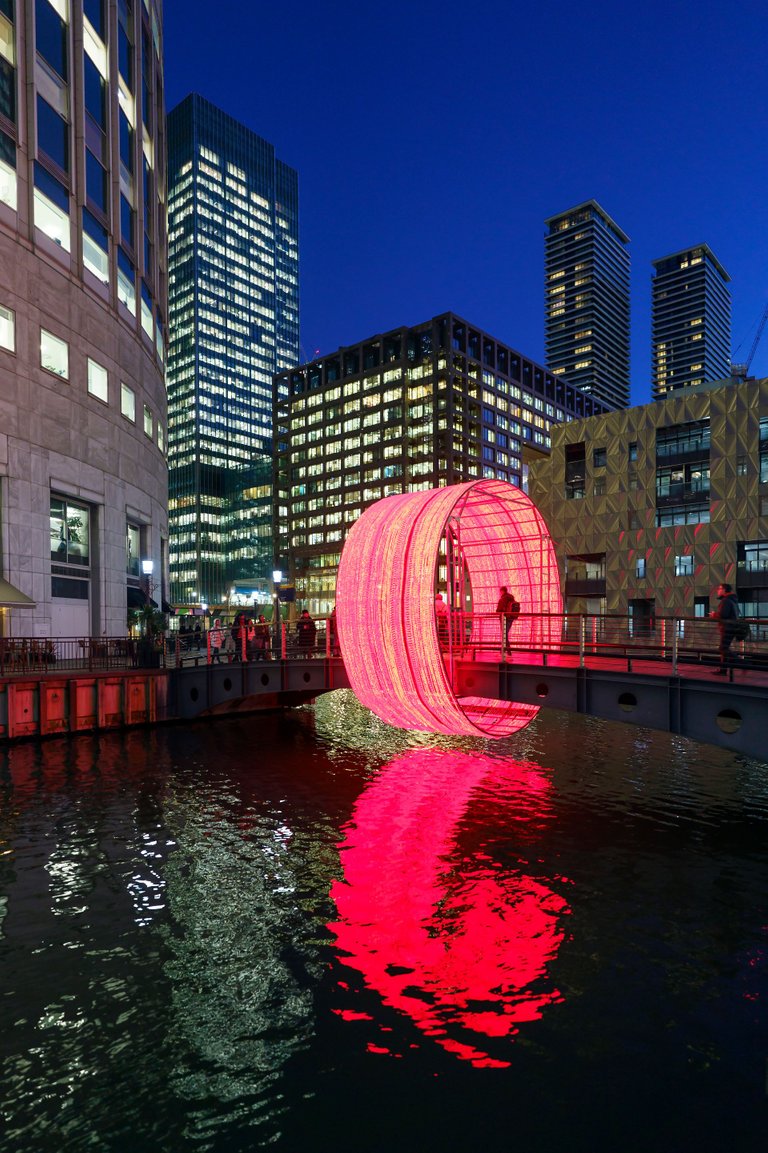 They Ruined the View!
One of the exhibits was this presumably inflatable planet Earth. It wasn't quite inflated fully making Antartic sag somewhat! It was also positioned slap bang in the middle of the photogenic view where trains pass by making trails. Not possible now for a while it seems.....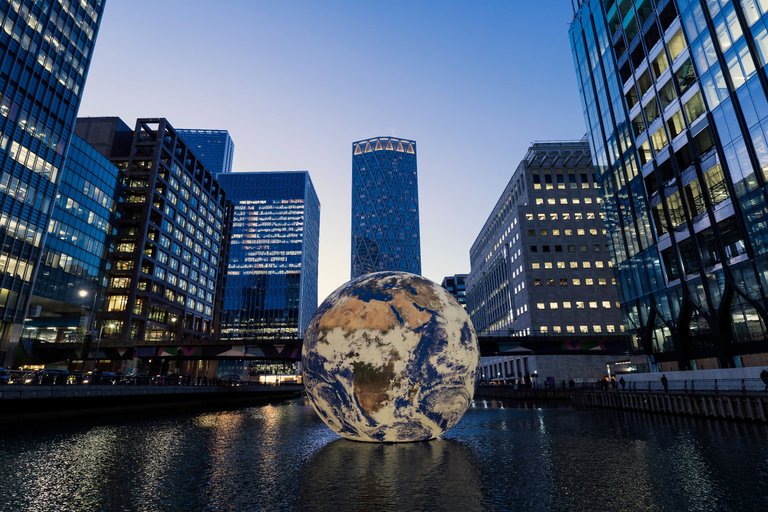 "But it's not even in focus"
This was a quick grab shot as I walked up the stairs to see people walking towards me. None of the technical stuff is right but I love the blurred effect on the people especially the way the light hits the lady on the right hand third.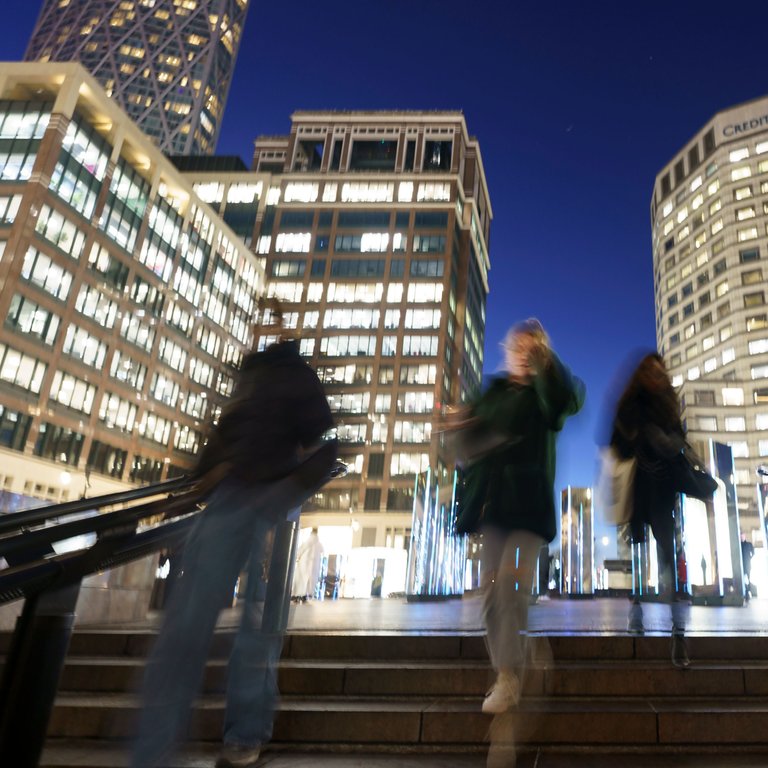 No tripod, no problem
Probably not technically perfect especially considering how good my lens and camera is but I managed to grab this at 1/6 exposure handheld. Not easy....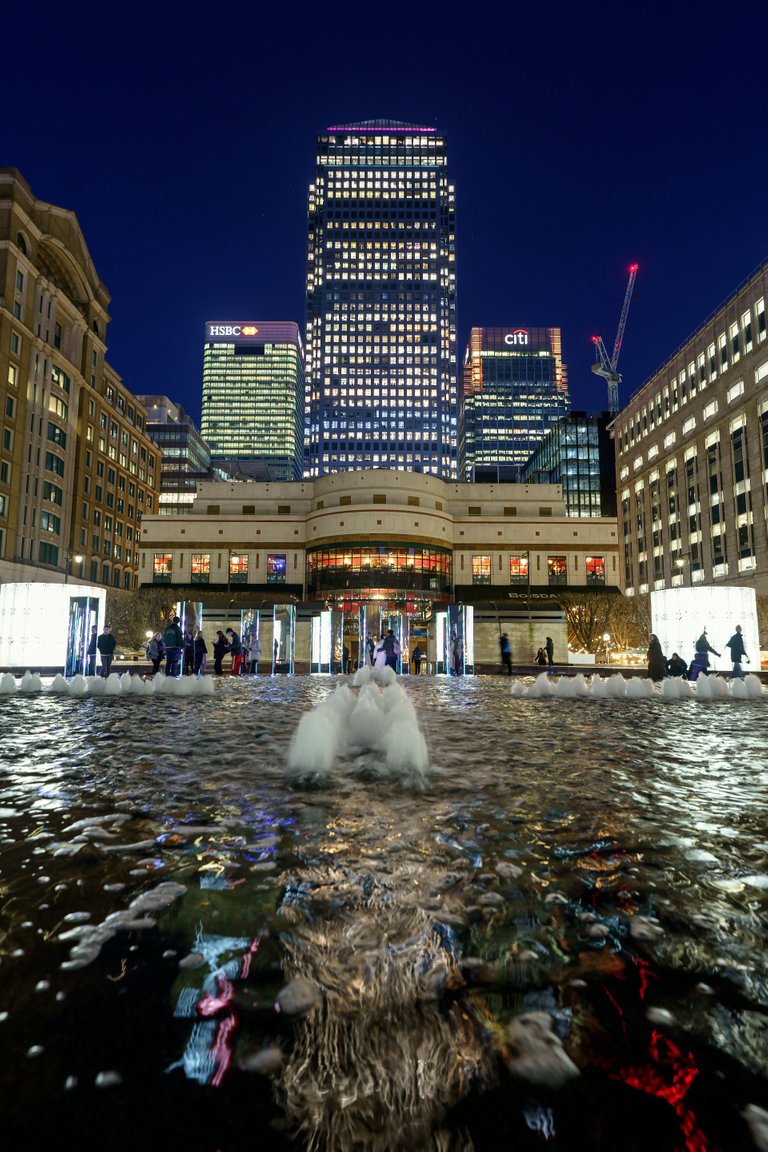 The luckiest grab shot
After walking 4.9 miles shooting over a few hours, I started walking back to my car reassuring myself I'd remembered where I'd parked. As I walked through these columns under one the most expensive buildings in the world, I saw these two approaching and got lucky with the focussing and composition!
I've promised myself to return here again and shoot some more!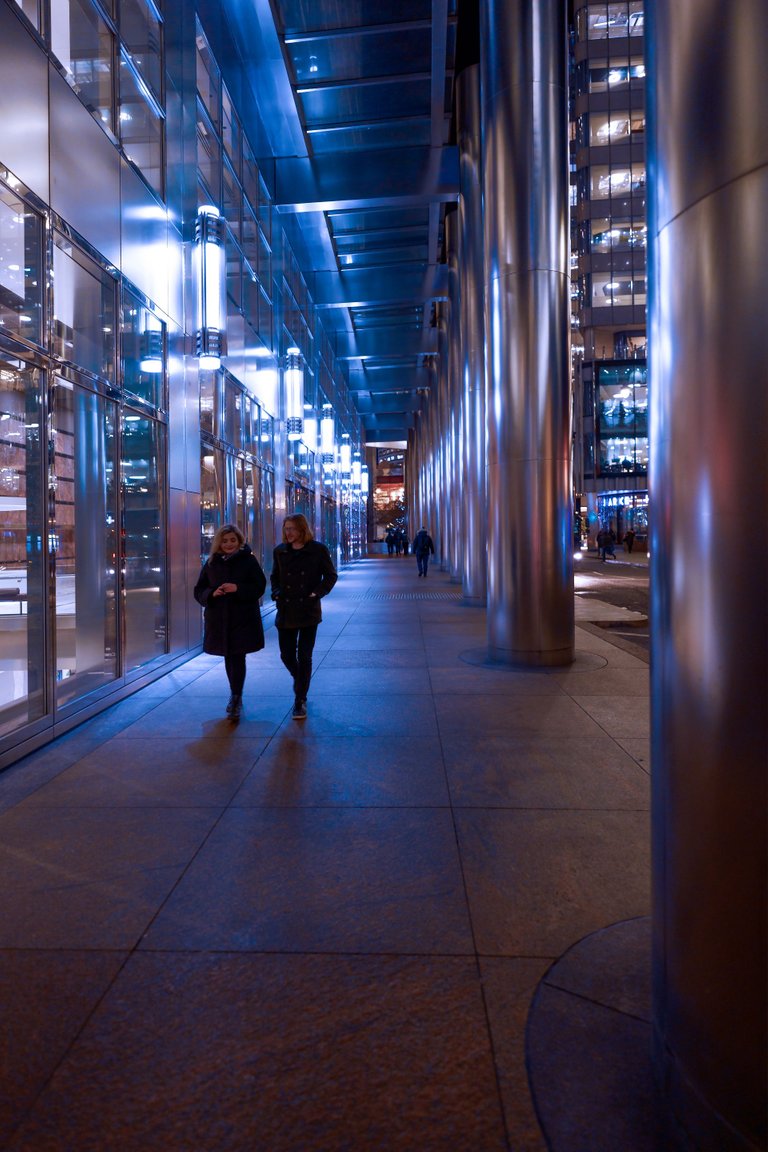 About me:
I usually specialise in shooting lightpainting images but occasionally dabble in urbex and artistic model photography. I'm always on the lookout for someone to collaborate with; please don't hesitate to get in touch if you'd like to create art.
Social Media
https://www.facebook.com/fastchrisuk
https://www.flickr.com/photos/fastchris/