"Wherever you go becomes a part of you somehow" Anita Desai
A year has passed since we were out drifting around the red centre of the oldest continental crust on Earth. Eighteen months since we left our home of three years, in the frozen northern heart of British Columbia. How the world has changed since then. What will we all think looking back at this period of our lives? What stories will our kids tell their kids of the pandemic and everyone's response to it?
We cooked fish tacos tonight using fish we caught and bbq'd on the on the back transom of SV Cirrus. The boys were just so ecstatic about it. They get so excited about the little things, like fishing for hours while dreaming of fish tacos, or swimming into the beach and playing in the sand, or going for a ride on the bus, or a hike in the jungle. I would love to be able to just tap into their excitement, forget the big things and focus on the little things. That said I think I am slowly becoming better at letting go of frustrations, of which life on a boat in a pandemic with small children obviously has had more than its fair share of. Living in a small space is a harsh teacher, it sets everyone's personality traits rubbing up against each other. I am fortunate to have an amazing wife who is particularly tolerant of my idiosyncrasies 😉
We took this shot driving in towards the iconic Kata Tjuta or The Olgas in the Northern Territory of Australia. There are 32 domes in total in what has to be one of the most surreal landscapes on the planet. They first formed over 550 million years ago and have been slowly weathering and changing their shapes ever since. To put some geological perspective on that it's over twice as long ago as when the dinosaurs first appeared on the planet, or seven times older than when the Rocky mountains first started to form in North America. This sheer weight of time creates certain characteristics in the landscape which are not replicated elsewhere.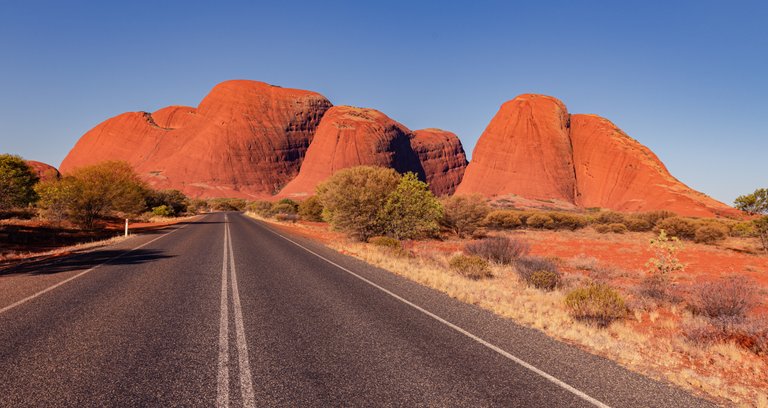 If you would like to learn a little bit more about my background in photography you can read the interview @photofeed did with me here.
Robert Downie
Love Life, Love Photography
All images in this post were taken by and remain the Copyright of Robert Downie - http://www.robertdowniephotography.com