Hello friends Photography Lovers, this publication contains images of a cactus species was very common in my village until the middle of the 20th century, because it was commonly used to limit properties as a natural fence. Bur later with the advent of barbed wire, it lost its use and was replaced by this one. However, traces of these cactus fences can still be found on some farms and houses in the village.
Hola amigos amantes de la fotografía, esta publicación contiene imágenes de un tipo de cactus que fue muy usual en mi pueblo hasta mediados del siglo XX, pues era comúnmente usado para limitar las propiedades a manera de cercado o verja natural. Después, con la llegada del alambre de púas, fue perdiendo su uso y fue sustituido por este. Sin embargo, aún se pueden conseguir vestigios de esas cercas de cactus en algunas fincas y casas del pueblo.
---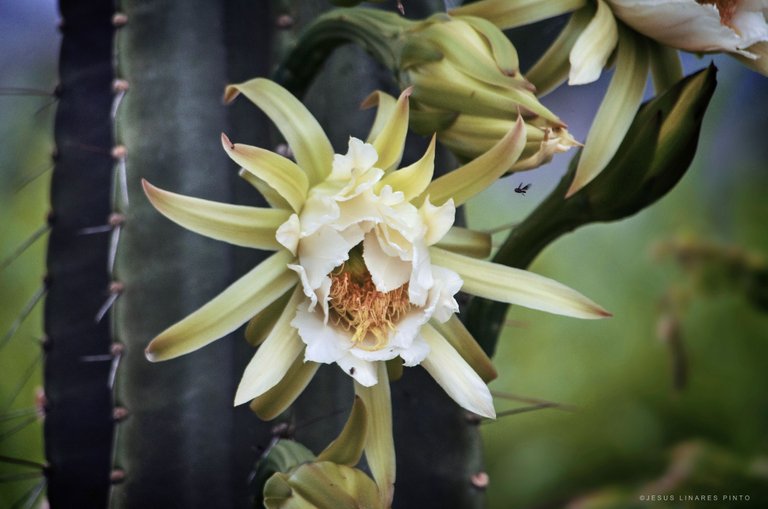 The Cereo cactus (Cereus peruvianus - R.Kiesling, 1982), commonly called "Candelabrum Cactus" because its shape similar to the candleholders used in the past to light the houses with candles, is a type of large cactus, reaching up to 10 metres in height over the years.
El cactus Cereo (Cereus peruvianus - R.Kiesling, 1982) comúnmente llamado "Cactus Candelabro" por su forma semejante a los candelabros que se usaban antiguamente para alumbra con velas las casas, es un tipo de cactácea de grandes dimensiones, llegando a alcanzar hasta 10 metros de altura con los años.
---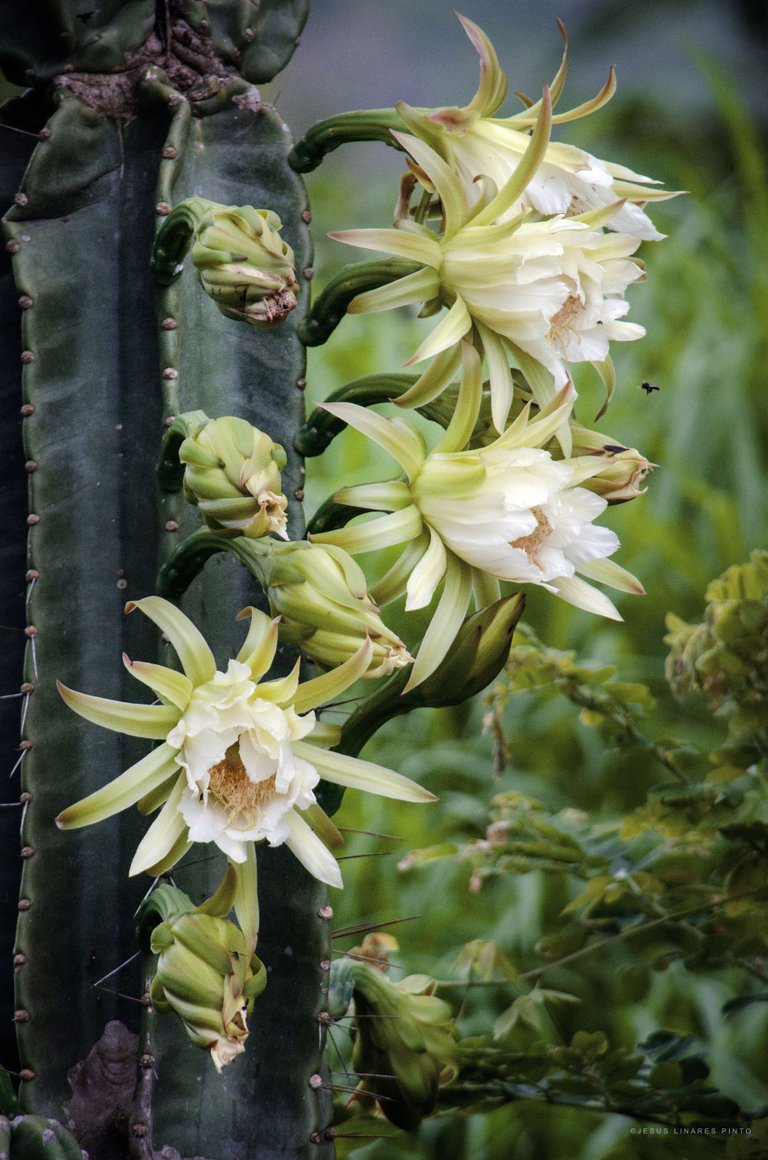 But beyond its impressive size and shape, the most attractive feature of the Cereo cactus are the flowers. They are truly magical to look at.... The radial petals are pearly white with faint reddish tinges and a star-shaped petal centre filled with elegant, curved pistils.... The design of the flowers is truly enchanting.
Pero más allá de su impresionante tamaño y forma, lo mas atractivo del cactus Cereo son sus flores. En realidad son algo verdaderamente mágico poder observarlas.... Los pétalos radiales son de color blanco nacarado con leves trazos rojizas y un centro peciolado en estrella repletos de pistilos elegantes y curvos... Realmente el diseño de las flores es encantador.
---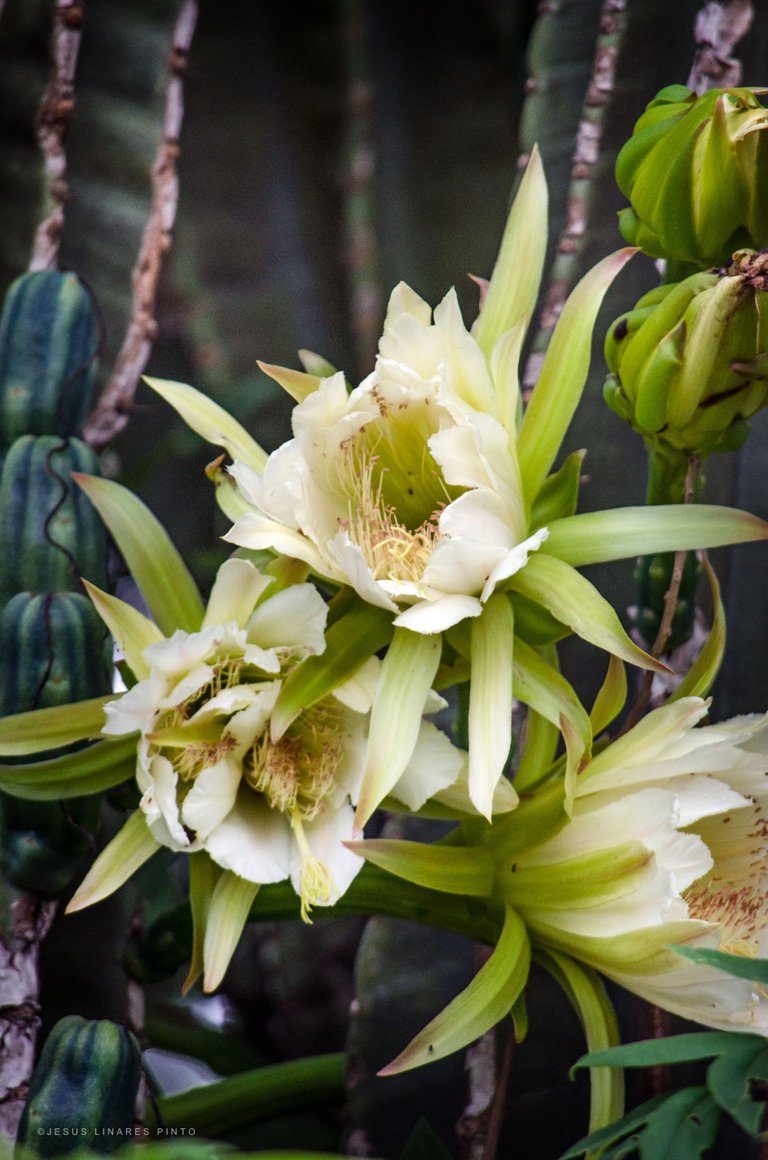 Well, but these flowers have a couple of drawbacks to take pictures of... The first problem is that they open only one day and then wither and the second problem is that they open only at night!... So, taking pictures of these flowers during the day and with natural light, is almost impossible for those of us who don't have a cactus in an artificial environment (as in my case).
Bien, pero estas flores tienen un par de inconvenientes para hacerles fotos.. El primer problema es que abren solo un día y luego se marchitan y el segundo problema es que ¡solo abren de noche!... Entonces, hacer fotos de estas flores de día y con luz natural, es casi imposible para aquellos que no tenemos un cactus en ambiente artificial (como en mi caso).
---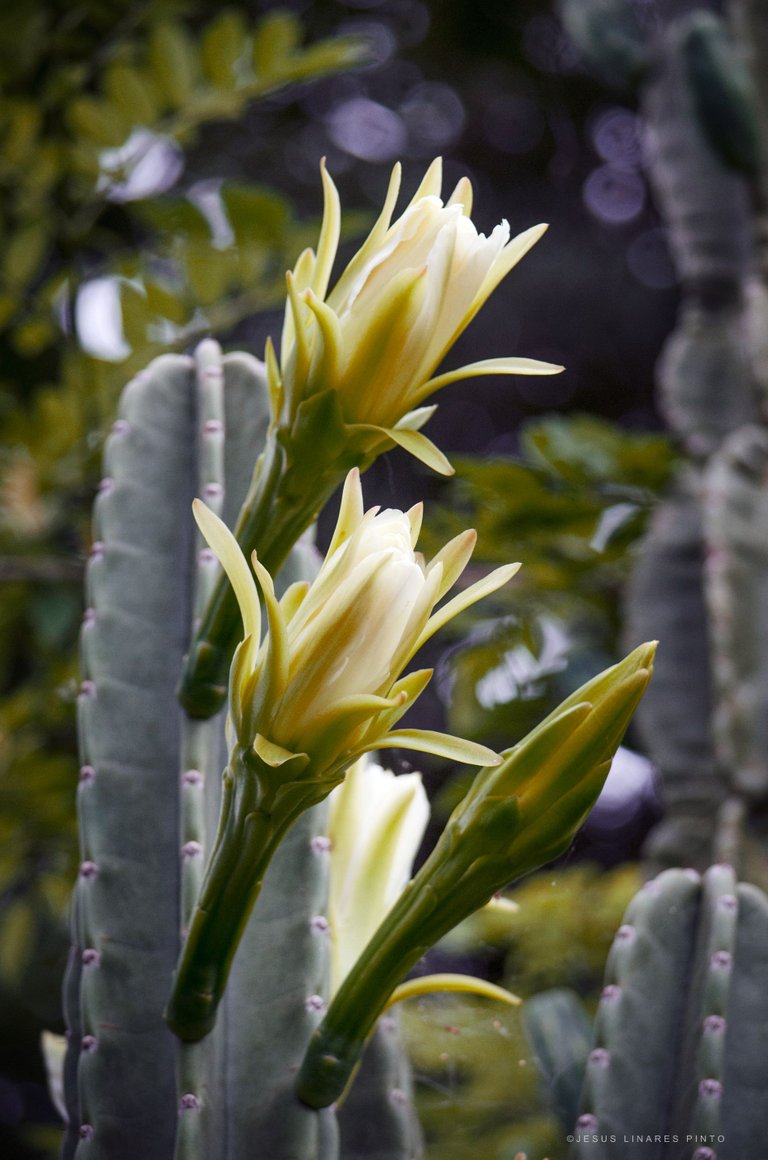 But for everything there is an exception... And that's why I'm sharing these photos today.
In the past few days I went out for an early morning bike ride (6 AM).... And the night had been rainy and the sky at dawn was cloudy, quite whitish and grey.... That was perfect!... For at the side of the road the beautiful flowers of the Cereos were still open.... It seems that the low light had prevented them from closing!... So, I'm a lucky guy! ;-)
Pero para todo hay una excepción... Y esa es la razón por la que hoy estoy compartiendo estas fotos.
En días pasados salí a por un paseo en bicicleta muy temprano (6 AM)... Y la noche había sido lluviosa y el cielo al amanecer estaba nublado, bastante blanquecino y gris... ¡Eso fue perfecto!... Pues a la orilla del camino las hermosas flores de los Cereos estaban aún abiertas... ¡Parece que la poca luminosidad había hecho que no se cerrasen!... ¡Entonces, soy un tipo con suerte! ;-)
---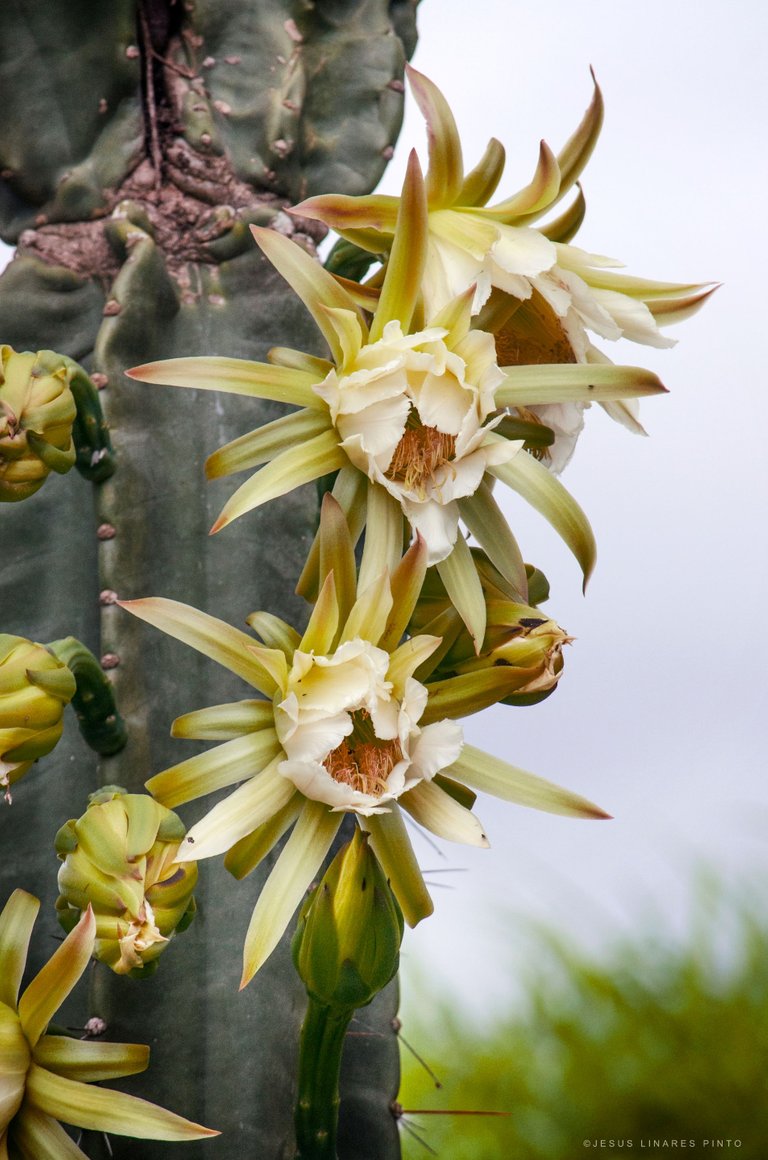 So I invested quite a lot of time in taking these photos and for me it was a real delight. For, even as the morning advanced and the light increased, the flowers remained open for me!.... This has been lovely, this is a lush species and well worth seeing.
Así que invertí bastante tiempo en hacer estas fotos y para mi fue un verdadero deleite. Pues, inclusive cuando la mañana avanzó y la luz se incrementó, las flores permanecieron abierta para mi!... Esto ha sido encantador, esta es una especie exuberante y digna de verse.
---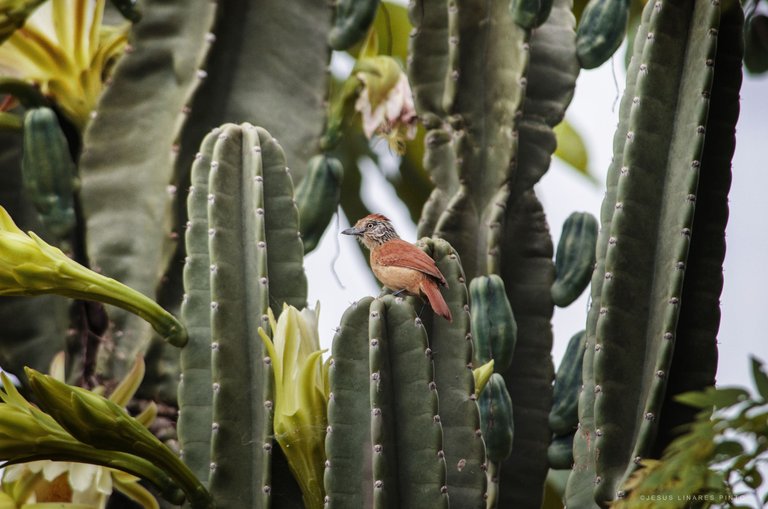 Even this little female Barred Antshrike (Thamnophilus doliatus) was as delighted as I was to see those beautiful flowers after hours.... (Well, she was only there to eat the insects that pollinate the flowers, let's face it) ha ha ha ha.... :-)
Inclusive esta pequeña hembra de Pavita Hormiguera (Thamnophilus doliatus) estaba tan encantada como yo de ver esas hermosa flores fuera de horario... (Bien, ella solo estaba allí para comerse los insectos que polinizan las flores, seamos realistas) ha ha ha... :-)
---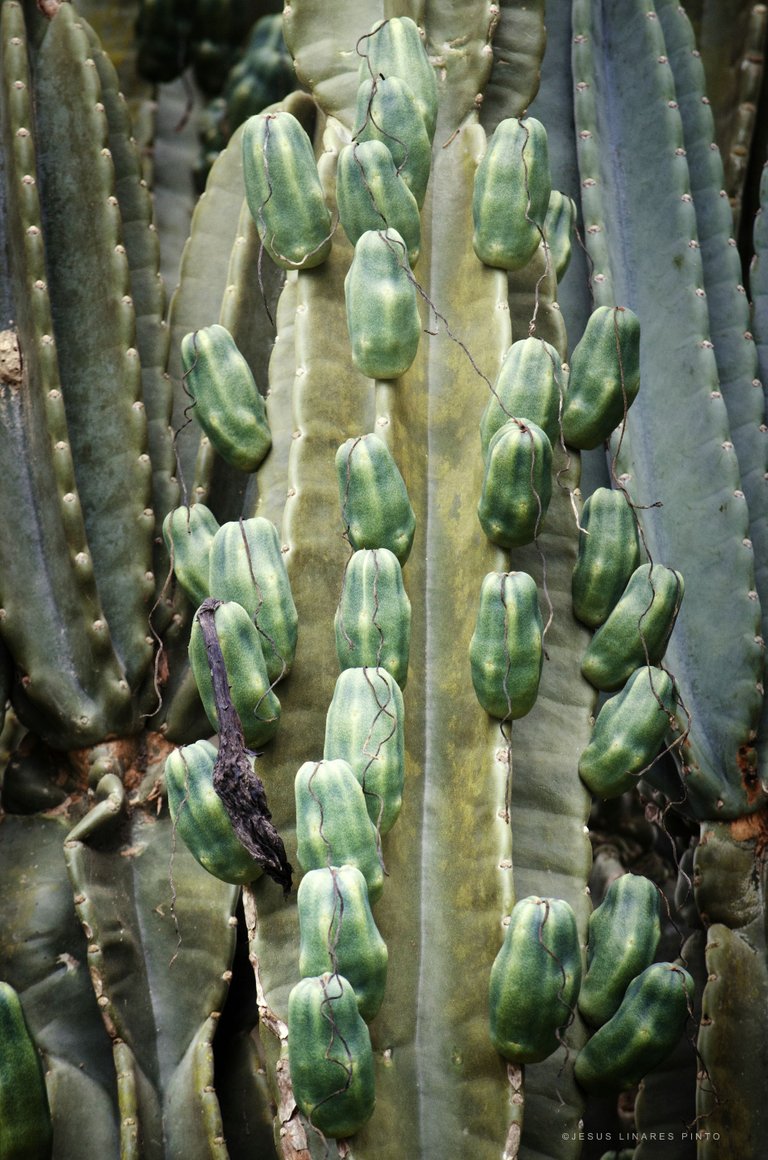 After the flowers fade, these bulbs remain on the stem of the cactus and act as a "seed", which, if placed in the ground or in pots, will grow into new cacti.
Después que las flores se marchitan, quedan en el tallo del cactus estos bulbos, los cuales fungen como "semilla" pues, sí uno los coloca en el suelo o en macetas, se convierten en nuevos cactus.
---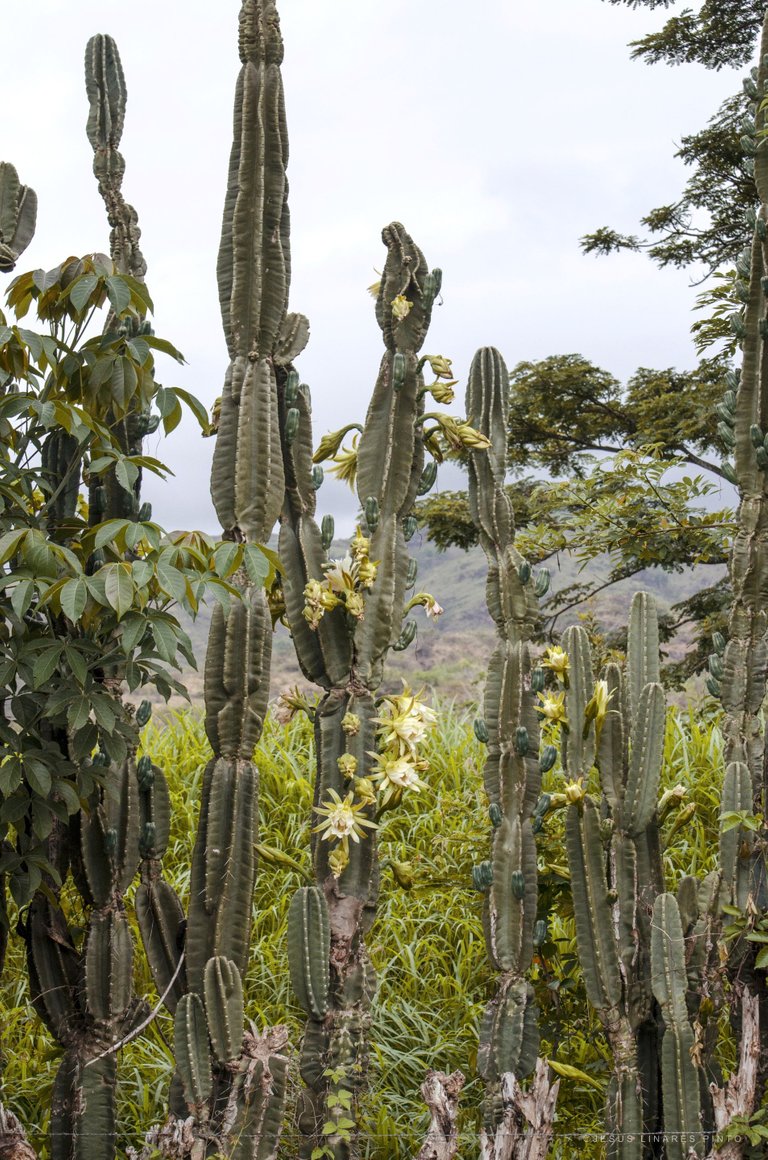 I really enjoyed taking these photos and then editing them. I hope you also find interesting these pictures of this species of cactus we have here. ;-)
He disfrutado mucho haciendo estas fotos y después editando estas. Espero que a ustedes también les parezcan interesantes estas imágenes de esta especie de cactus que tenemos aquí. ;-)
Thank you very much for stopping by and appreciating, hugs and greetings to all!
Muchas gracias por pasar y apreciar. ¡Un abrazo y saludos a todos!
---
END / FIN
---
"We make photographs to understand what our lives mean to ourselves." - Ralph Hattersley.
"Hacemos fotografías para comprender lo que nuestras vidas significan para nosotros mismos." - Ralph Hattersley.

Camera: Nikon D7000 | Lens: AF-S DX NIKKOR 55-300mm f/4.5-5.6G
Cámara: Nikon D7000 | Objetivo: AF-S DX NIKKOR 55-300mm f/4.5-5.6G
Montalbán, Carabobo, Venezuela.