Happy Sunday friends, I hope you are all great, we continue with the content of halloween and this time I want to show you something I made, that wuao friends, this if a little beyond anything I've done before, a kind of decapitation, although it is not "a kind" is really one, to make this I was inspired by the series "The Walking Dead" in a scene of chapter 15 of season 9, where they leave The Spades, with fan of the series that was a super super shocking scene and until recently I remembered the scene and said "why do not I do something like that? so I started to think about it and it was 11 o'clock at night, I didn't have the job with the one that made the special effects but I was inspired so I had to improvise to not lose that inspiration and desire to create something like that, I started to search in my archive and I found a photo from last year that was exactly what I wanted to do and from there I could start to create the rest, first before explaining the creative process, this was the final result.
Feliz domingo amigos, espero esten de lo más genial todos, seguimos con el contenido de halloween y en esta oportunidad quiero mostrarles algo que realice, que wuao amigos, esto si es un poco más alla de todo lo que he realizado antes, una especie de decapitación, aunque bueno no es "una especie" es realmente una, para realizar esto me inspire en la serie "The Walking Dead" en una escena del capítulo 15 de la temporada 9, donde salen Las Picas, con fan de la serie que fue una escena super super impactante y hasta hace poco recordé la escena y dije "¿por que no hago algo asi? asi que bueno me puse a idear y eran las 11 de la noche, no tenía la pega con la que realizó los efectos especiales pero estaba inspirado asi que me tocó improvisar para no perder esa inspiración y ganas de crear algo asi, me puse a buscar en mi archivo y me encontré con una foto del año pasado que era justamente lo que quería hacer y de alli podia empezar a crear el resto, primeramente antes de explicarles el proceso creativo, asi fue el resultado final.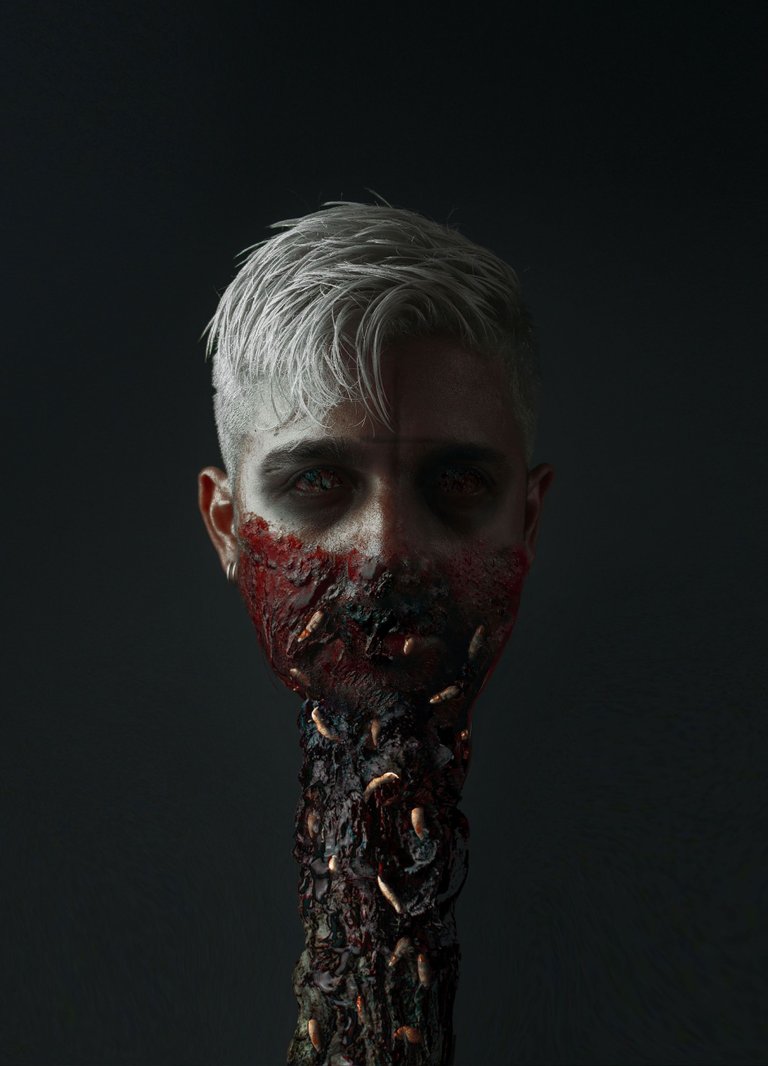 As I told you, I started from a photo of a zombie from last year, because for this proposal I needed only one photo, one pose, there was not much to do, my vision was really accurate, for the trunk or the pike I used a tree trunk that I use for the product photos that I was taking for the make up brand, I added fake blood and took the picture because I didn't want it to be too fake in the sense of using things from the internet and just things that I have created myself, and I also had in mind to use the same worms that I did in my first proposal this year, the rest folks, a long creative process in making the final result did not resemble anything of what I will share below, everything I used to make the final result friends, and the truth is that I am satisfied with the result since very little I handle with more advanced editing or editing and well, not if you like this, but if you like this, I will share with you everything I used to make the final result, not if you like this, but at least I hope you like the effort I had to make this and if you have any opinion I hope you let me know in the comments, I hope you had a great weekend, I send you all the good energy and vibes in the world to have a great week ahead, until next time.
Como les comente, partir de una foto del año pasado de un zombie, ya que para esta propuesta en si requería de una sola foto, una sola pose, no había demasiado que hacer,mi visión realmente era exacta, para el tronco o la pica en si utilice un tronco de árbol que utilizo para las fotos de producto que les estaba haciendo a la marca de maquillaje, le agregue sangre falsa y me tome la foto porque mas alla no queria que fuese demasiado falso en sentido de utilizar cosas de internet y solo cosas que yo mismo he creado, y tambien tenia en mente utilizar los mismos gusanos que hice en mi primera propuesta de este año, el resto amigos, un largo proceso creativo en hacer que que el resultado final no se asemejara a nada de lo que a continuación les compartiré, todo lo que utilicé para hacer el resultado final amigos, y la verdad es que estoy satisfecho con el resultado ya que muy poco me manejo con montajes o ediciones más avanzadas y bueno, no si les guste esto, pero al menos espero les agrade el esfuerzo que tuve en hacer esto y si tienen alguna opinion espero me lo dejen saber en los comentarios, espero hayan tenido un excelente fin de semana, les envío toda la buena energía y vibras del mundo para que tengan una excelente semana entrante, hasta la próxima.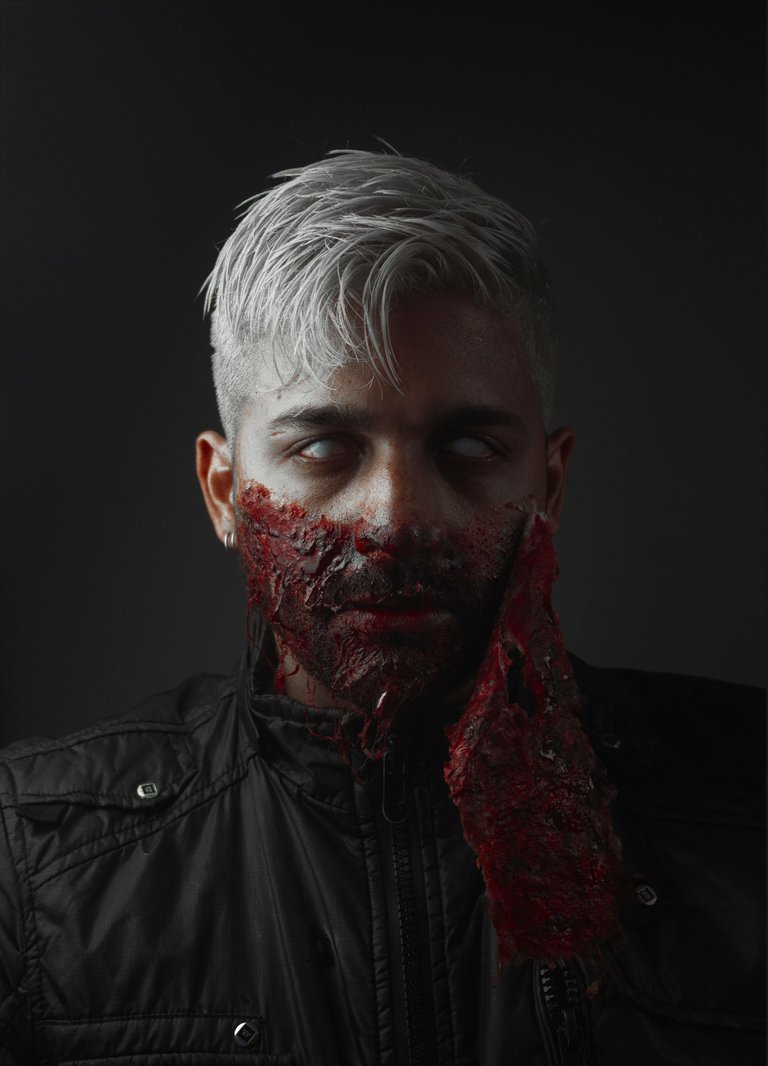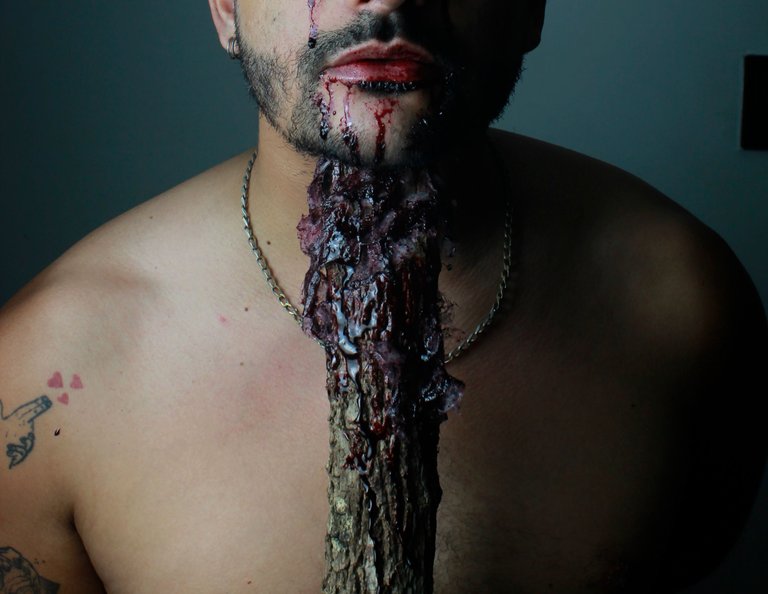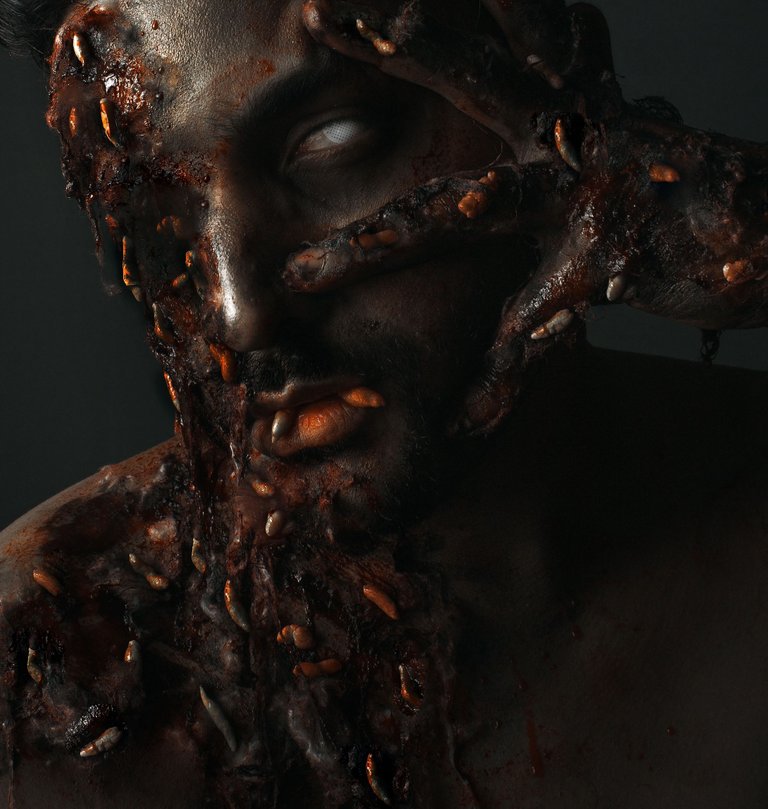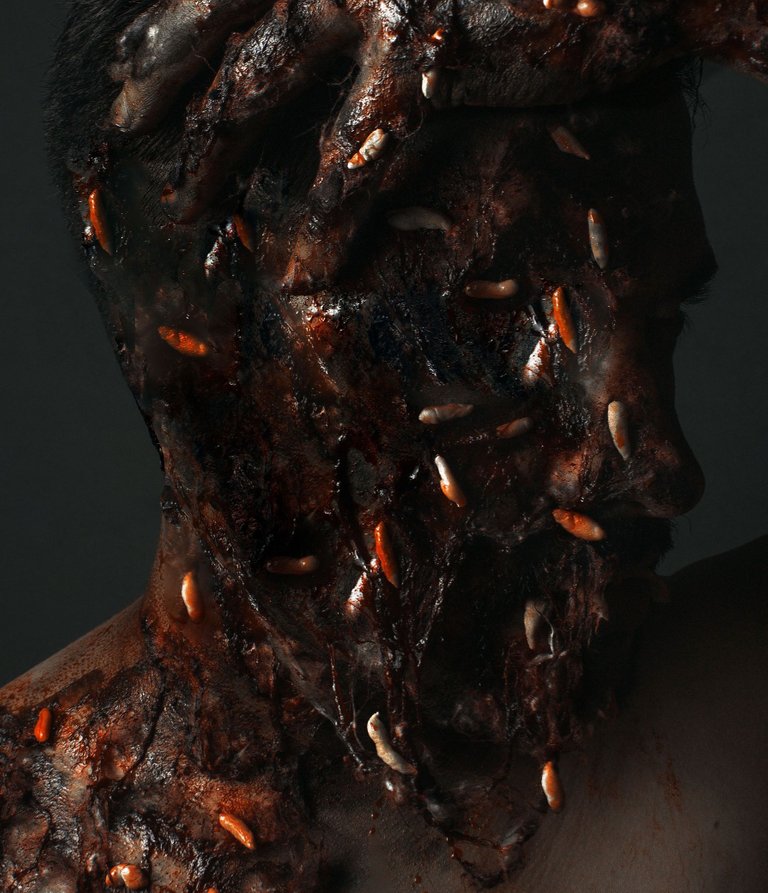 Account where I upload my personal content | Cuenta donde subo mi contenido personal
José Luna
Account where I upload my professional content | Cuenta donde subo mi contenido profesional
Jlphotographyart
Cámara utilizada en esta sesión: Canon EOS REBEL T3
Objetivo Canon: 18-55mm
Programa de edición: Adobe Photoshop CS6
Camera used in this session: Canon EOS REBEL T3
Canon Lens: 18-55mm
Editing program: Adobe Photoshop CS6