Amigos seguimos con la actividad de halloween y hoy quiero mostrarles mi sexta propuesta, honestamente cuando empece esta sesión no sabia lo que quería, simplemente me senté frente a mi espejo y empece a pensar en elementos para crear algo, quería empezar con dos heridas una en la frente y una al costado y me imagine tener los ojos vendados pero para no ponérmela tan difícil porque siempre me hago las sesiones yo mismo y no tengo compañía decidí mejor taparme la boca y manchar con sangre como si recientemente hubiese comido algo y luego recordé, que hace dos años en una de mis compras compulsivas por Internet había comprado una calavera anatómica y la busque, seria el material perfecto para agrear algo para lucir mas terrorífico y asi resulto.
Friends we continue with the Halloween activity and today I want to show you my sixth proposal, honestly when I started this session I didn't know what I wanted, I just sat in front of my mirror and started thinking about elements to create something, I wanted to start with two wounds one on the forehead and one on the side and I imagined having my eyes blindfolded but in order not to make it so difficult because I always do the sessions myself and I don't have company I decided better to cover my mouth and stain it with blood as if I had recently eaten something and then I remembered, that two years ago in one of my compulsive purchases on the Internet I had bought an anatomical skull and I looked for it, it would be the perfect material to add something to look more terrifying and that's how it turned out.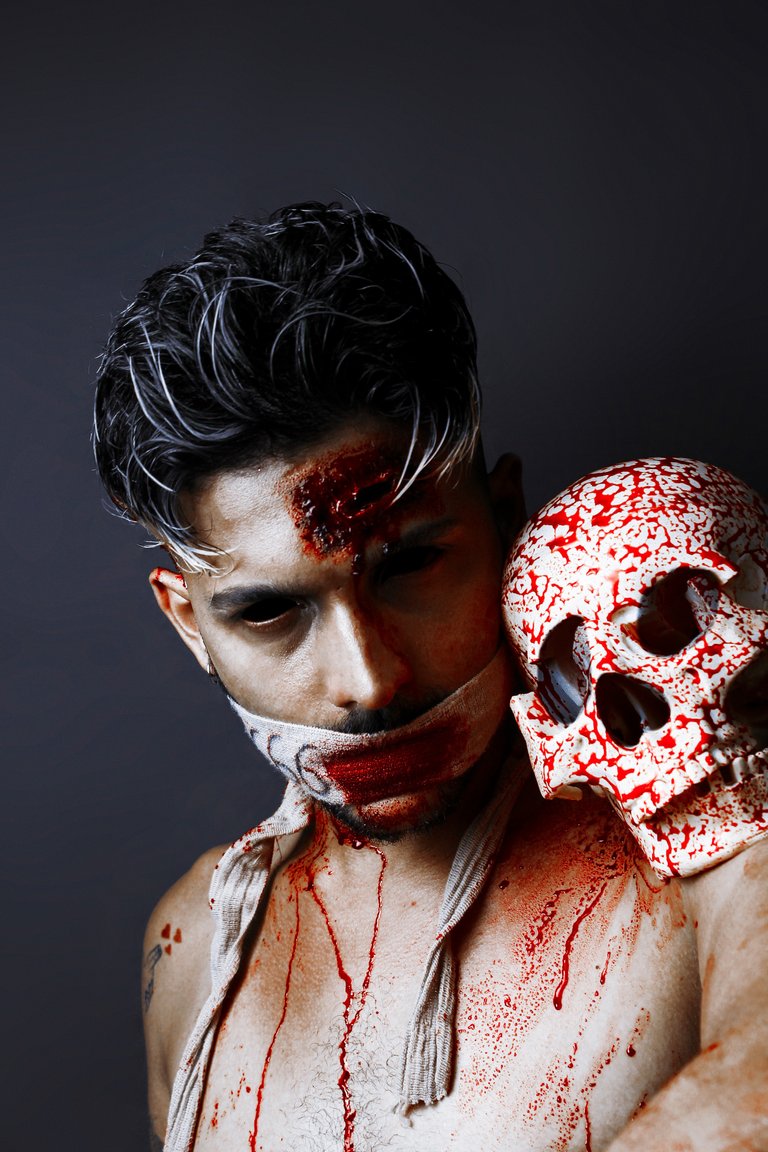 El resultado me super encanto, a la banda le agregue un mensaje subliminal con los números más reconocidos del mal que son el famoso "666", ojos negros para que se perdiera la mirada y con toda la sangre que me sobro de las dos heridas y lo que me salia por la boca se la aplique a la calavera y también el todo mi torso para verme también algo sucio, cuando la estaba haciendo tenia miedo de que no quedara tan bien como me la estaba imaginando porque habían muchas cosas, la banda, las heridas, la sangre, el numero, la calavera y todo eso, pero una visto el resultado, me gusto muchisimo.
The result I super charm, to the band I added a subliminal message with the most recognized numbers of evil that are the famous "666", black eyes to lose the look and with all the blood I have left from the two wounds and what I had coming out of my mouth I applied it to the skull and also the whole of my torso to see me also something dirty, When I was making it I was afraid that it wouldn't look as good as I was imagining it because there were so many things, the band, the wounds, the blood, the number, the skull and all that, but once I saw the result, I liked it very much.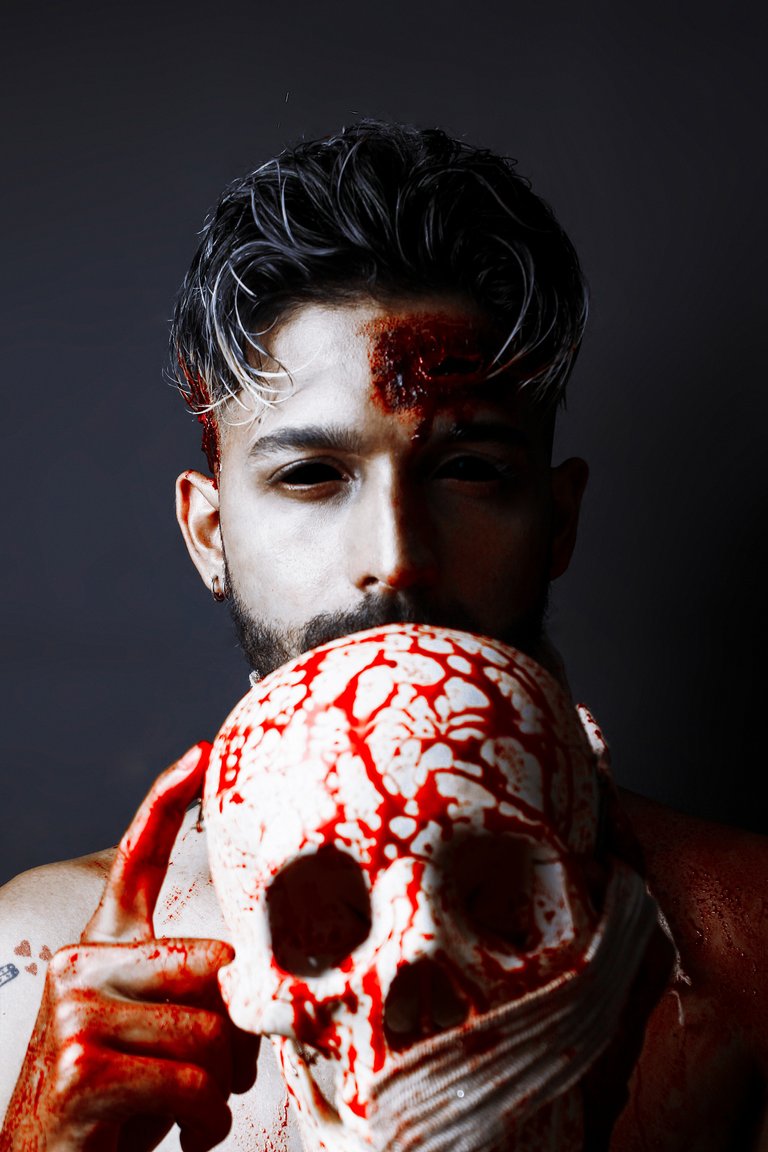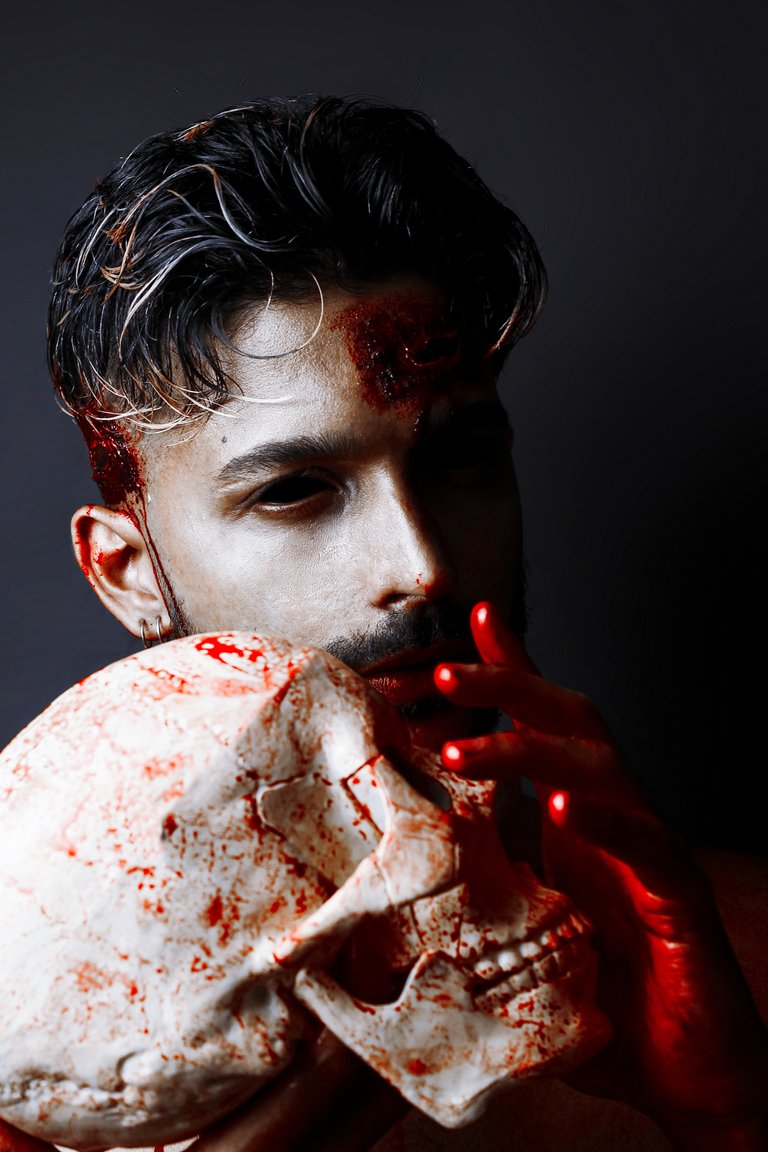 Así es como han surgido cada una de estas propuestas que he realizado para halloween, no las pienso demasiado y confió en lo que puedo hacer y en mi trabajo y la verdad me siento muy orgulloso de como ha resultado todo y emocionado de lo que he aprendido en este mes realizando estas sesiones. Nuevamente, espero les guste esta propuesta tanto como a mi.
This is how each of these proposals that I have made for halloween have come about, I don't think about them too much and I am confident in what I can do and in my work and the truth is that I feel very proud of how everything has turned out and excited about what I have learned in this month by doing these sessions. Again, I hope you like this proposal as much as I do.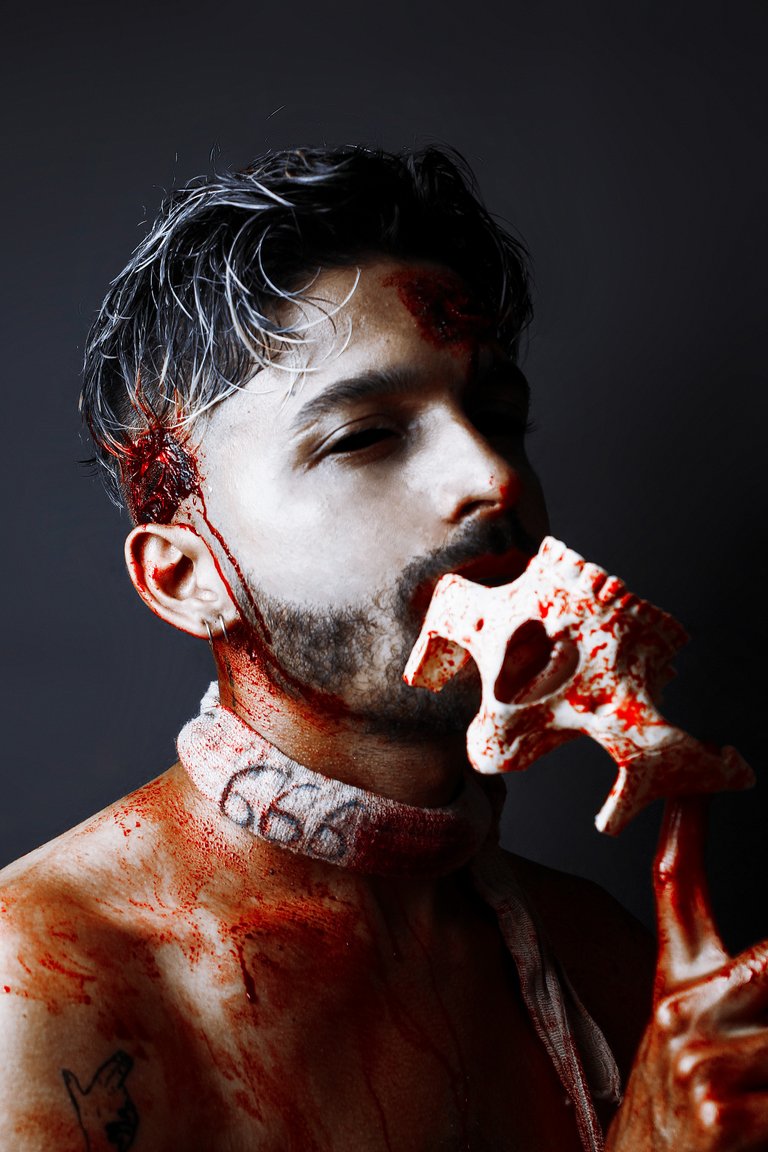 Account where I upload my personal content | Cuenta donde subo mi contenido personal
José Luna
Account where I upload my professional content | Cuenta donde subo mi contenido profesional
Jlphotographyart
Cámara utilizada en esta sesión: Canon EOS REBEL T3
Objetivo Canon: 18-55mm
Programa de edición: Adobe Photoshop CS6
Camera used in this session: Canon EOS REBEL T3
Canon Lens: 18-55mm
Editing program: Adobe Photoshop CS6
Gracias por ver y leer, nos vemos en la siguiente publicación amigos.
Thanks for watching and reading, see you in the next publication friends.