Hola comunidad de HIVE, regreso a esta gran comunidad para compartir con todos ustedes alguna imágenes que logré captar con mi teléfono.
Hello HIVE community, I return to this great community to share with you all some images that I managed to capture with my phone.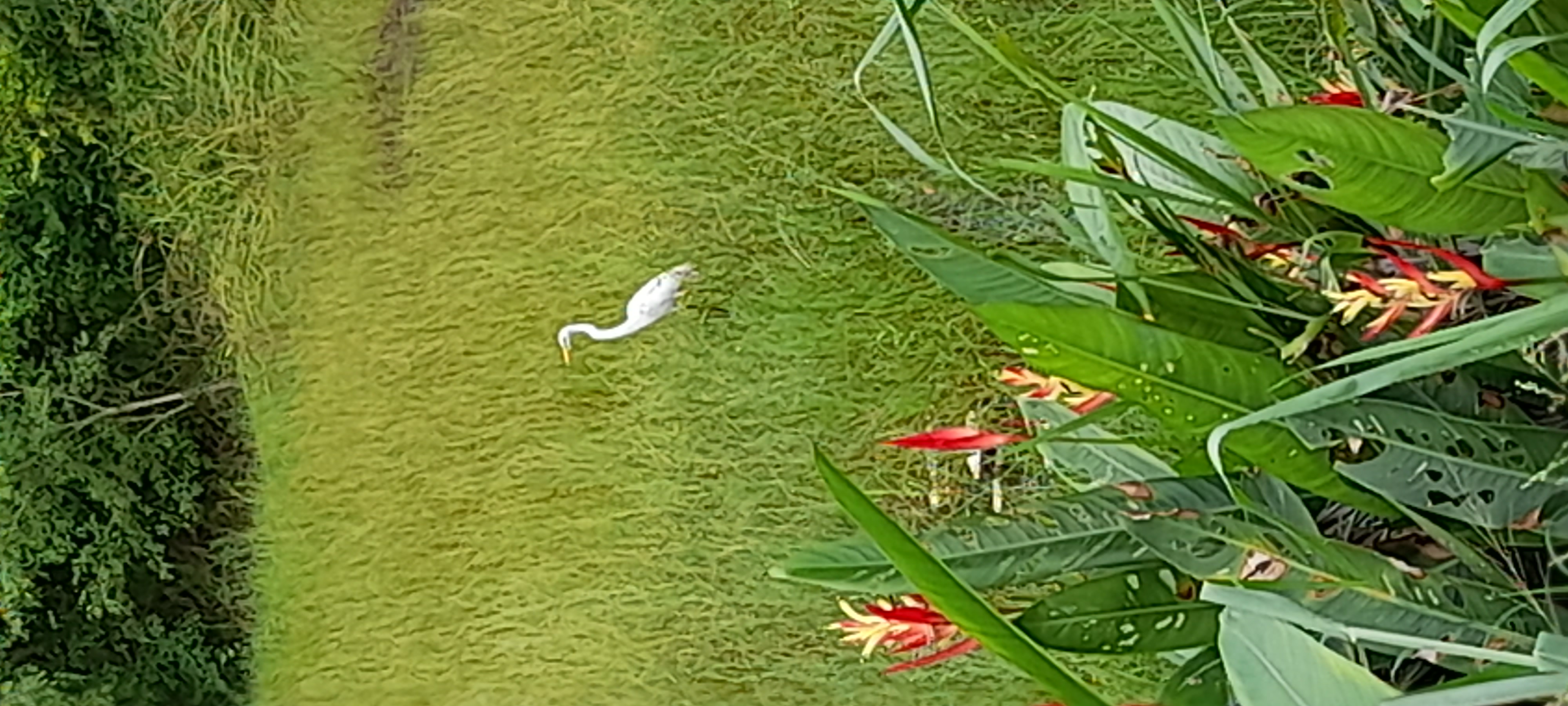 Cada día me levantó con la misma rutina, preparar el desayuno y partir hacia mi trabajo, el estar 8 horas sentada frente a una computadora suele cansar mi vista, además de producir algunas veces, dolores de cabeza, es esta la razón que suelo aprovechar para caminar y despejar mi mente algunos minutos. Mientas realizo mi recorrido, una garza blanca captó mi atención, esta garza posó para el lente de mi teléfono, permitiendo obtener la imagen principal de este publicación.
Every day I wake up with the same routine, prepare breakfast and leave for work, being 8 hours sitting in front of a computer tends to tire my eyes, besides sometimes producing headaches, this is the reason that I usually take the opportunity to walk and clear my mind for a few minutes. While I was walking, a white heron caught my attention, this heron posed for the lens of my phone, allowing me to get the main image of this publication.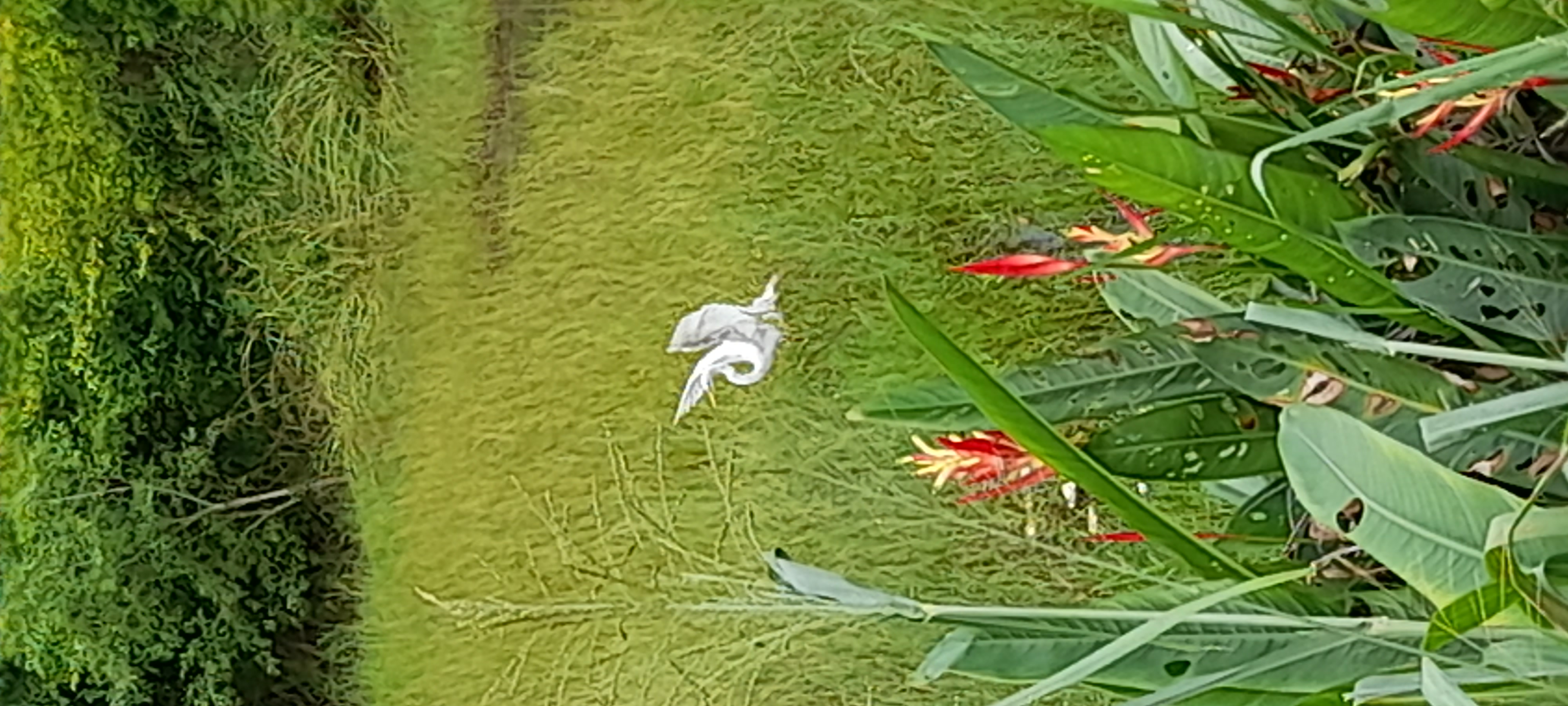 Con sus alas y un esplendoroso vuelo, esta garza se despide y me deja la mejor sensación del día, además de disfrutar de un hermoso paisaje y despejar mi mente por algunos minutos, logré captar unas excelentes imágenes para compartir con todos esos amantes de la fotografías. El lugar de estas fotografías fue específicamente en el complejo Muscar, Punta de Mata, estado Monagas, Venezuela.
With its wings and a splendid flight, this heron says goodbye and leaves me the best feeling of the day, besides enjoying a beautiful landscape and clear my mind for a few minutes, I managed to capture some excellent images to share with all those photography lovers. The place of these photographs was specifically in the Muscar complex, Punta de Mata, Monagas state, Venezuela.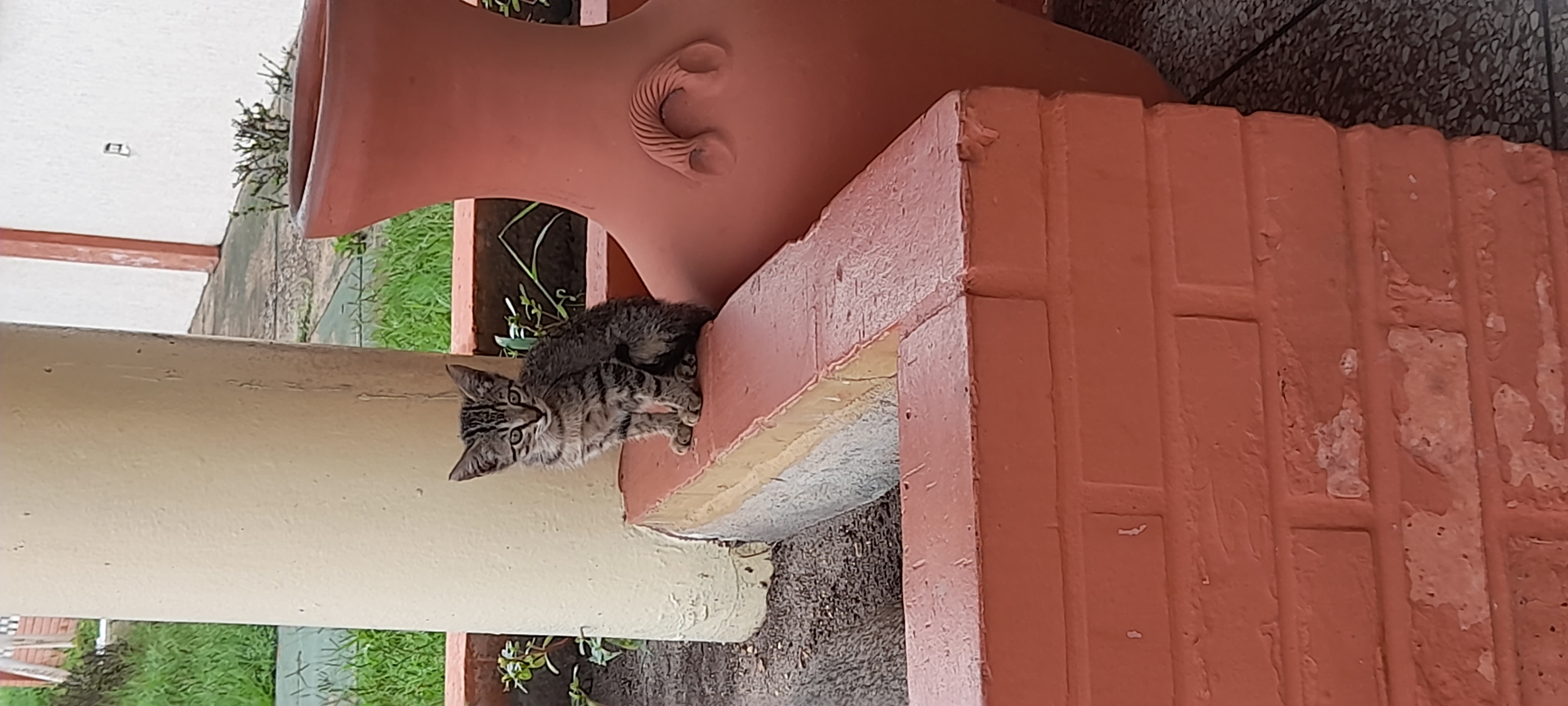 Durante algunas de mis salidas de mi oficina, me encontré con este amigo, un pequeño gato, el cual fue abandonado frente al edificio administrativo, el motivo de su abandono, es difícil saberlo, ya que nadie vio cuando dejaron a este pequeño en la entrada de nuestras oficinas.
Un compañero de trabajo decidió llevarse este gato a su casa, así que estoy tranquila de saber que este amigo consiguió un hogar. Los animales doméstico están padeciendo por el ato porcentaje de abandono, muchas personas suelen tener mascota sin control de esterilización, es este el principal motivo de ver estos pequeños abandonados a la suerte.
Sin embargo la naturaleza es muy sorprendente, nos regala a diario oportunidades para disfrutar y lograr captar las mejore fotografías.
During some of my outings from my office, I met this friend, a little cat, who was abandoned in front of the administrative building, the reason for his abandonment, it is difficult to know, since no one saw when they left this little guy at the entrance of our offices.
A co-worker decided to take this cat home, so I am happy to know that this friend found a home. Domestic animals are suffering from the high percentage of abandonment, many people tend to have pets without sterilization control, this is the main reason to see these little ones abandoned to fate.
However, nature is very surprising, it gives us daily opportunities to enjoy and capture the best pictures.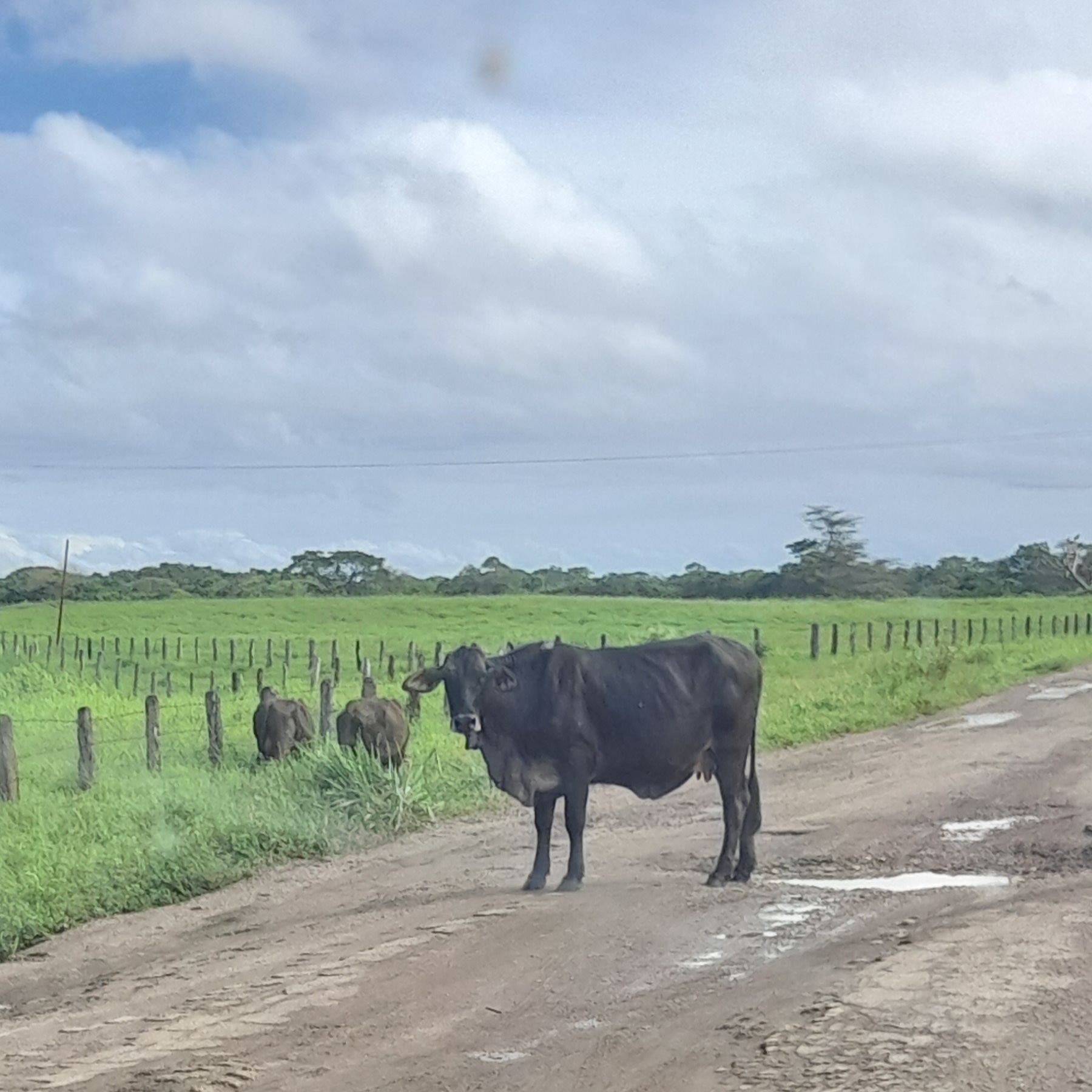 En los últimos días he tenido la oportunidad de obtener unas excelentes imágenes, desde una hermosa garza blanca, hasta un enorme becerro, bloqueando nuestro camino. Sin duda alguna la naturaleza es muy apropiada para dejar en nuestra mente esas imágenes. Mientras les escribo esta publicación, logre captar otra mascota, un gato que suele visitarme para que lo alimente, aún no sé quién es su dueño, pero estoy segura que tiene dueño, ya que esta muy bien alimentado, además de lucir un buen pelaje. Espero que les haya gustado mis fotografías y les invito a dejar un comentario, de esta manera sabre que les agradó mi publicación y fotografías.
In the last few days I have had the opportunity to get some excellent images, from a beautiful white heron, to a huge calf, blocking our way. Without a doubt nature is very appropriate to leave in our minds those images. While I am writing this publication, I managed to capture another pet, a cat that usually visits me to be fed, I still don't know who his owner is, but I am sure he has an owner, since he is very well fed, besides having a good coat. I hope you liked my pictures and I invite you to leave a comment, this way I will know that you liked my publication and pictures.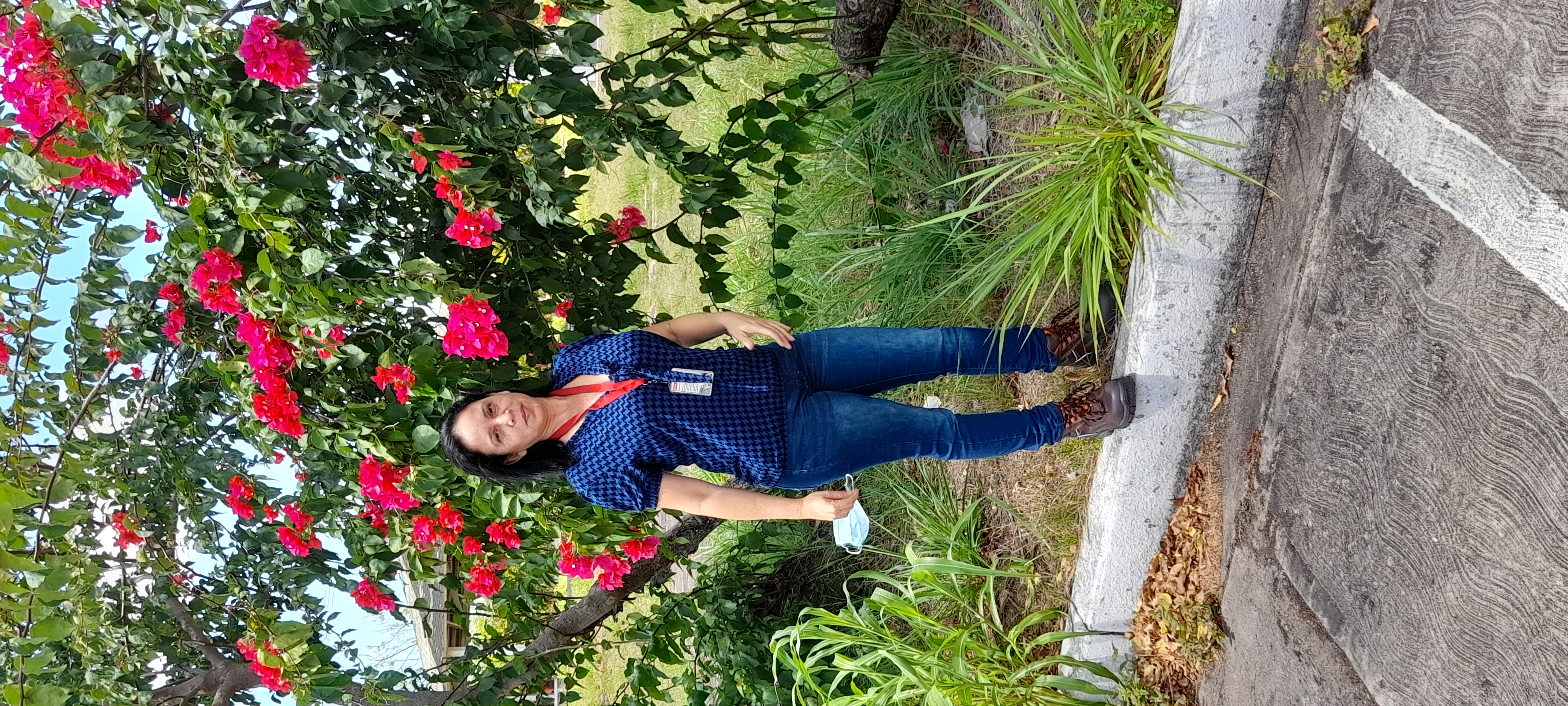 Imágenes captadas con mi teléfono Samsung Galaxi A21s.
Images captured with my Samsung Galaxy A21s phone.