Hello friends of the Photography Lovers community I am really a photography lover, but not a professional as such. However, sometimes I feel like a photographer. It is appropriate to explain that I will start my series of favorite photos with the last one, because of the meaning it has for me. I hope you at least like my little gallery. I invite my #hive friends to join this [contest].
Hola amigos de la comunidad Photography Lovers Realmente soy amante de las fotografías, pero no profesional como tal. Sin embargo, algunas veces me siento fotógrafa. Es oportuno explicar que iniciaré mi serie de fotos favoritas por la última, por el significado que tiene para mi. Espero les guste mi pequeña galería. Invito a mis amigos de #hive a unirse a este concurso
---
Equilibrio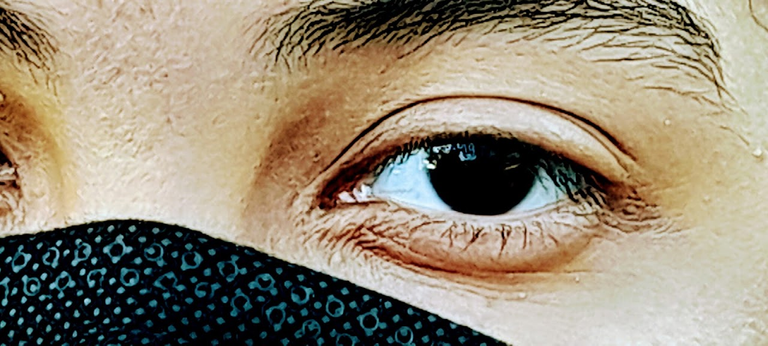 Fotografía tomada con un Samsung SM-A127Mƒ/21/504,6 mmISO32
Balance
This was my big picture! The look on my daughter's face, which although you may not notice it, is a look of happiness. Her time has come to say... "I hand over the guard to my brothers and sisters and I will rest". It was her turn to stay in Venezuela and take care of almost everything in our home for five years. I will not expand because it is a well-known and sadly repeated story. We are now united and in a single and beautiful country?
Equilibrio
¡Esta ha sido mi gran fotografía! La mirada de mi hija, que aunque no lo noten, es una mirada de felicidad. Ha llegado su momento de decir... "Entrego la guardia a mis hermanos y yo a descansar". Le tocó quedarse en Venezuela y encargarse de casi todo lo de nuestro hogar, por cinco años. No me extenderé porque es una historia conocida y tristemente repetida. Estamos ya unidos y en un solo y bello país...

El Visitante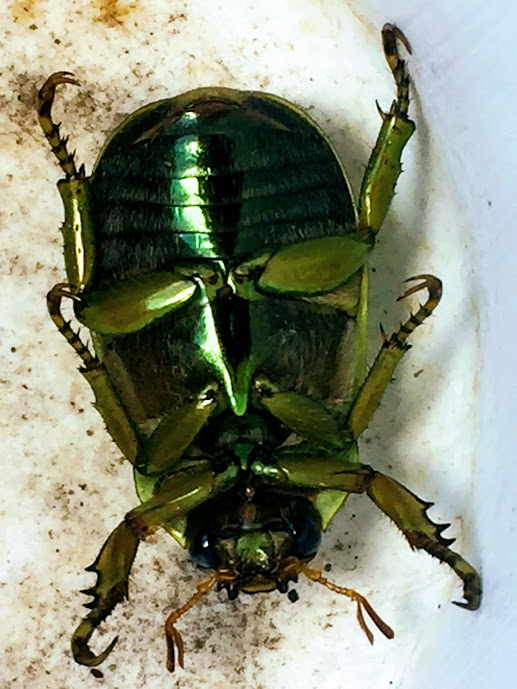 Fotografía, tomada con mi Apple iPhone 6ƒ/2,21/2654,15 mmISO32
The Visitor
This image meant for me, the beginning of a very varied series of photographs of insects. I loved this one in particular, and it was part of a publication made in a contest called
Shadowhunters
of the same community. Well, he was very naughty, he turned around when I wanted to photograph him, and it turned out that his body came out so nice, that analyzing well his forms, they look like the features of the face of Don Quixote, (with all my respect) and also that litmus tone bewitched me. That's why it became one of my best photos.
Esta imagen significó para mi, el inicio de una serie de fotografías de insectos muy variada. Esta en particular me encantó, y fue parte de una publicación realizada en un concurso llamado Cazadores de Sombras de la misma comunidad. Pues bien él muy travieso, se volteó cuando lo quería fotografiar, y resultó que su cuerpo salió tan lindo , que analizando bien sus formas, parecen las facciones del rostro de Don Quijote, (con todo mi respeto) y además ese tono tornasol me embrujó. Por lo cual se convirtió en una de mi mejores fotos.

Mi pote del dinero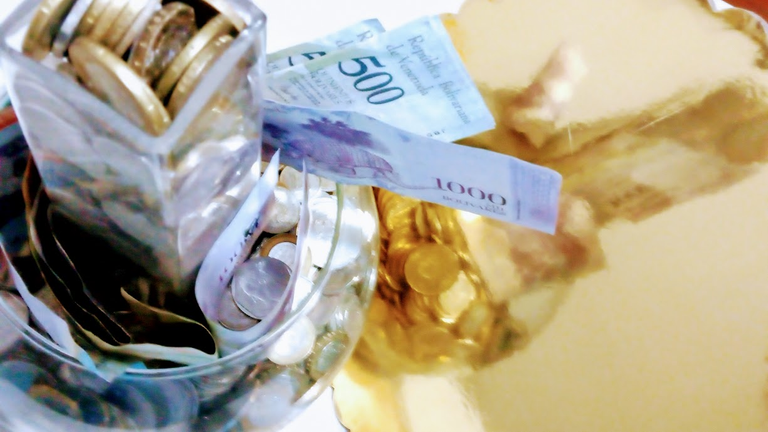 My pot of money
This image makes a lot of sense to me. I have heard , read and seen this custom or ritual in many homes . I began to collect little coins in my glass container and I think I took it so seriously that my mind became a bottle of coins to attract abundance to my home, as we had been through many fateful days. (Little or no food, medicine and other necessary items) Magical!..... Well noooo . It was really the attitude that made my bottle achieve its initial goal. Solutions were sought, among them my oldest son emigrated to help, my other children began to work hard, each one from his place and thus began the ascent in search of personal and spiritual satisfaction, as to obtain what was necessary to survive. From then on, we were all one. In this way we were able to cover a little bit of the medicine purchases. Finally, I started to enjoy writing in #hive and monetizing since the salary of a teacher is 3$ and with effort. Thanks to my little glass pot overflowing with coins and bills because just by looking at it, it made me prosperous (I emphasize the God Power of the mind, and the Will).
Esta imagen tiene para mí un gran sentido. He escuchado , leído y visto esta costumbre o ritual en muchas casas . Comencé a reunir moneditas en mi envase de vidrio y creo que me lo tomé tan en serio que mi mente se convirtió en una botella de monedas para atraer la abundancia a mi hogar, pues habíamos pasado muchos días aciagos. (Poco o nada de alimentos, medicinas y otros artículos necesarios) ¡Mágico!... Pues noooo . Realmente la actitud fue lo que hizo que mi botella logrará su objetivo inicial. Se buscaron soluciones, entre ellas mi hijo mayor emigró para ayudar, mis otros hijos comenzaron a trabajar duro, cada uno desde su lugar y así comenzó el ascenso en busca de la satisfacción personal y espiritual, como de obtener lo necesario para poder sobrevivir . De alli en adelante, todos éramos uno sólo. Así pudimos cubrir además, un poco las compras de medicinas. Finalmente yo comencé a disfrutar escribiendo en #hive y monetizando pues el salario de un docente es de 3$ y con esfuerzo. Gracias a mi potecito de vidrio rebosante de monedas y billetes Porque con tan solo verlo, me convirtió en próspera (Enfatizo en el Poder Dios de la mente, y la Voluntad )

La Flor del Manzano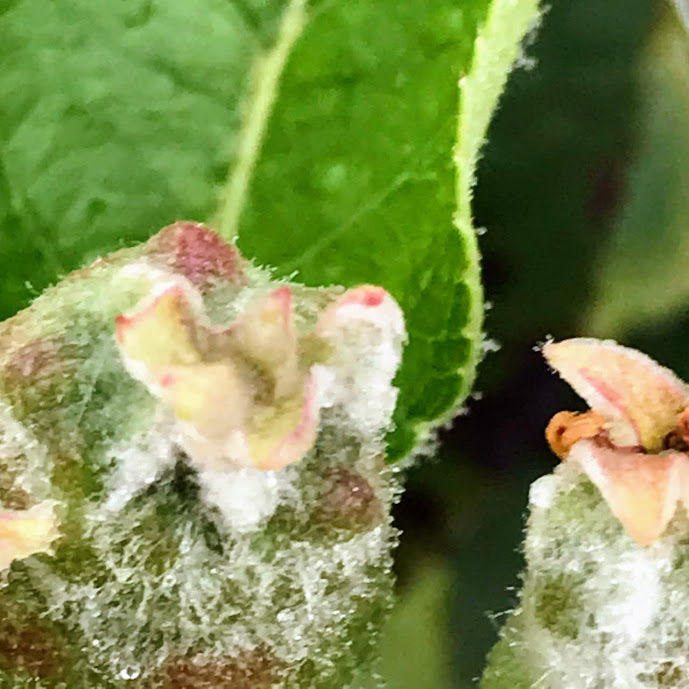 Fotografía, tomada con mi Apple ƒ/2,21/154,15 mmISO250
The apple blossom
The apple blossom is very important to me, because I didn't know it. I captured it from an apple tree that my eldest daughter had planted in her beautiful house. Fortunately I visited it when they were in full bloom. I took several shots of it and this was the one I liked the most. Its characteristics amazed me and the texture of its skin is very smooth. In that splendorous flower, I put all my senses to the test and perceived an incomparable aroma, amazing pastel colors, a softness to the touch and the appearance of something mysterious that wanted to tell me something. She was waiting to pose for me.
La flor del manzano tiene muchísima importancia para mi, porque no la conocía. La capturé de un manzano que mi hija mayor, había plantado en su hermosa casa. Afortunadamente la visité cuando estaban en plena floración. Le hice varias tomas y esta fue la que más me gustó. Sus características me asombraron y la textura de su piel es muy tersa. Es todo un poema .En esa esplendorosa flor, puse a prueba todos mis sentidos y percibí un aroma incomparable, unos colores pastel asombrosos, una suavidad al tacto y la apariencia de algo misterioso que me quería decir algo. Ella esperaba para posar para mi.

Magia Solar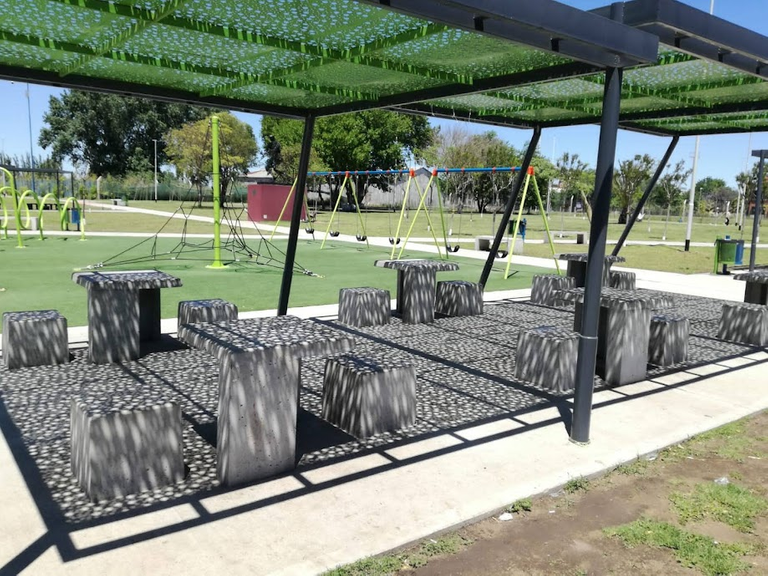 Fotografía, tomada con un HMD Global Nokia 2.3ƒ/2,21/333,38 mmISO132
Solar Magic
My photo is truly magical. This is the beautiful visual effect that this exotic place gives us, while the sun is shining, the most beautiful magic of nature! It is a Park designed very carefully to obtain these emblematic results. For me it was impressive when I saw them for the first time. It is a theme park located in the province of Buenos Aires, Avellaneda. I would love for all photography lovers to visit it because the diversity of apparatus and sculptures is food for those who are experts in this difficult but exciting Art...
Magia Solar
Mi foto es realmente mágica. Este es el hermoso efecto visual que nos regala este lugar exótico, mientras el Sol está resplandeciente. ¡La más hermosa magia de la naturaleza!. Es un Parque diseñado muy cuidadosamente para obtener estos resultados tan emblemáticos. Para mi fue impresionante cuando los vi por primera vez. Es un Parque temático que se encuentra en la Provincia de Buenos Aires, Avellaneda. Me encantaría que todos los amantes de las fotografías lo visitasen pues la diversidad de aparatos y esculturas es alimento para quienes son expertos en este difícil pero emocionante Arte..

Tejido de Cielo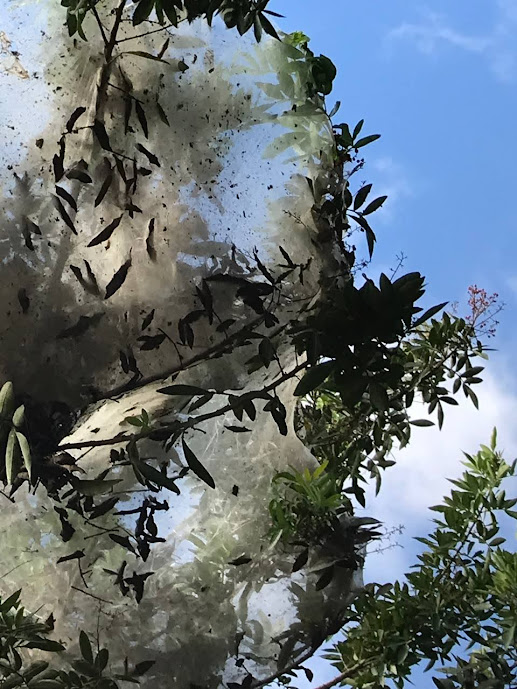 Fotografía, HMD Global Nokia 2.3ƒ/2,21/173,38 mmISO937
Sky Weave
I called it "Sky Weave", because of the impression it caused me when I saw it and from far away I mistook it for clouds... It also looks like a leaf litter wrapped in a cyclone, or perhaps, a layer of snow emerging from the trees. The impression was such, that I decided to perpetuate that image both in my mobile device and in my memory, as it was a last walk before traveling...
Tejido de Cielo
La denominé "Tejido de Cielo", por la impresión que me causó al verla y desde lejos confundirla con nubes... Asimismo parece una hojarazca envuelta en un ciclón, o tal vez, una capa de nieve emergiendo de los árboles. La impresión fue tal, que decidí perpetuar esa imagen tanto en mi dispositivo movil, como en mi memoria, pues fue un último paseo antes de viajar...

Menta con Miel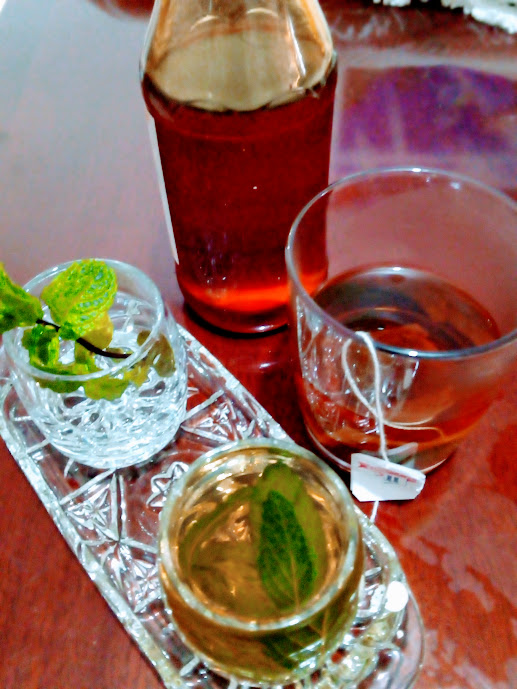 Fotografía: HMD Global Nokia 2.3ƒ/2,21/143,37 mmISO1563
Mint with Honey
I don't think it's appropriate to talk about the pandemic, but I will mention that thanks to this horrible evil called Covid19, I learned to prepare the most delicious and provocative drinks. For example this is a tea, Mint and Honey. Just that but it has such a soft and velvety taste in the mouth, that just by evoking it, my taste buds melt. With this I want to say that even from the bad things that happen to us and worse, like this unmentionable one ... we had to reinvent ourselves and learn.
Menta con Miel
No me parece oportuno hablar de la pandemia, pero si que voy a mencionar que gracias a este horrible mal llamado Covid19, Aprendí a preparar los más deiciosos y provocativos bebedizos. Por ejemplo este es un té, de Menta y Miel. Sólo eso pero tiene un sabor tan suave y aterciopelado en boca, que solo al evocarlo, se me derriten las papilas gustativas. Con esto quiero decir que también de las cosas malas que nos suceden y peores como esta innombrable ... nos tocó reinventarnos y aprender.

Escalofríos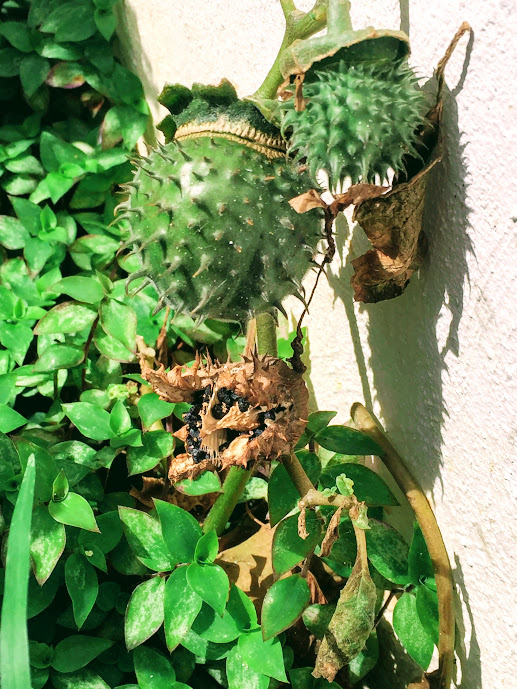 Shivers
You may ask, why such a title? Well, one beautiful sunny day, walking and taking pictures of nature, I found this curious and spiky plant. I didn't know if I was looking at the fruit or the flower, but I decided to pose it for myself. When I got home I started to investigate and nothing, I made a publication with several photos and nobody even found the name. So I went deeper and scientifically and it turned out to be a "Lethal Drug". This is the fruit and its seeds. The flower is a beautiful Bell , which expels a highly toxic powder. Its name is Stramonium. I invite you to read and you will prove me right.
Escalofríos
Se preguntarán, ¿ Por qué razón ese título? Pues un hermoso día soleado, paseando y tomando fotos de la naturaleza, encontré esta curiosa y puntiaguda planta. No sabía si estaba viendo el fruto o la flor, pero decidí hacerla posar para mi. Al llegar a casa comencé a investigar y nada, hice una publicación con varias fotos y nadie dió con el nombre siquiera. Pues me fui a lo más profundo y científico y resultó ser una "Droga letal". Este es el fruto y sus semillas. La flor es una hermosa Campana , que expele un polvo altamente tóxico. Su nombre es Estramonio. Los invito a leer y me darán la razón.
Fotografía,Apple iPhone 6ƒ/2,21/39684,15 mmISO32

Camuflaje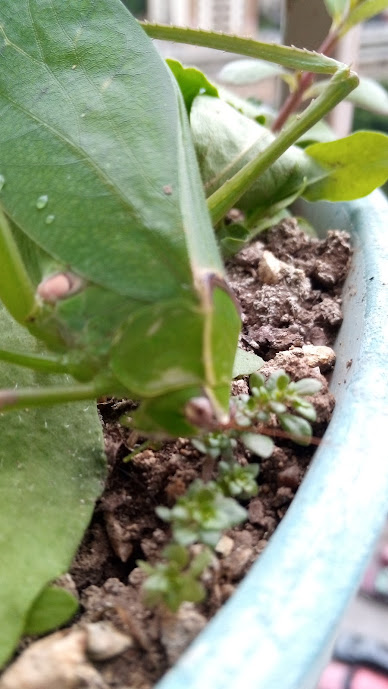 Fotografía, HMD Global Nokia 2.3ƒ/2,21/1003,37 mmISO139
Camouflage
One morning I was drinking my rich coffee on the balcony of my apartment, without noticing that a strange visitor was eating my flowering plants. As I started watering, I felt a slight movement that seemed very strange to me. The plant was small and its leaves looked a bit big for its size. Oh surprise! It was a beautiful grasshopper specimen they call Leaf. I was able to take a picture of it and then I sent it away, because it could end up with my plants hiding behind its perfect leaf green camouflage.
Camuflaje
Una mañana estaba tomándome mi rico café en el balcón de mi apartamento, sin percatarme que un extraño visitante estaba comiendo mis plantas de flores. Al comenzar a regar sentí un leve movimiento que me pareció muy extraño. La plantita era pequeña y sus hojas se veían algo grandes para su tamaño. ¡Oh sorpresa! Era un hermoso especímen de saltamontes al que llaman Hoja. Pude hacerle la foto y luego lo despaché ,porque podía acabar con mis plantas escondido tras su perfecto Camuflaje verde hoja.

La Cascada del Ángel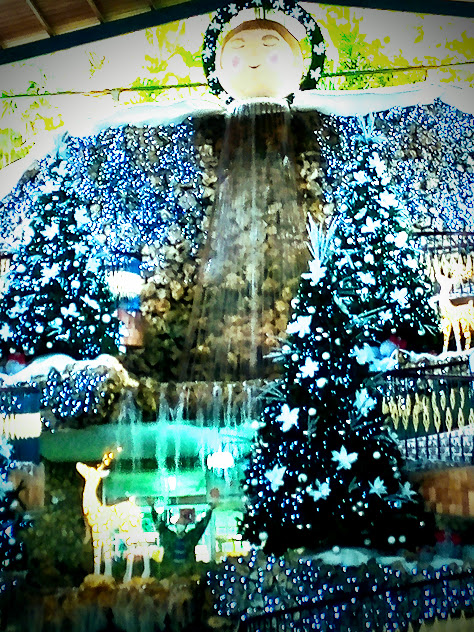 Fotografía, HMD Global Nokia 2.3ƒ/2,21/333,38 mmISO287
The Angel's Waterfall
Y... This image, more than one of my best pictures, is a beautiful memory of a place I always visited. It is La Cascada Shopping Mall in Altos Mirandinos, Venezuela. I take this opportunity to wish all of you who have visited my blog, that you receive a 2022, in complete family harmony, health and desire to live with quality. In the name of God, HAPPY NEW YEAR!
La Cascada del Ángel
Y... Esta imagen, más que una de mi mejores fotografías, es un hermoso recuerdo de un lugar al que siempre visitaba. Es el Centro Comercial La Cascada en los Altos Mirandinos, Venezuela. Aprovecho la ocasión para desearles a todos los que han visitado mi blog, que reciban un 2022, en completa armonía familiar, salud y ganas de vivir con calidad. En el nombre de Dios ¡FELIZ AÑO NUEVO!

Traductor
Separadores