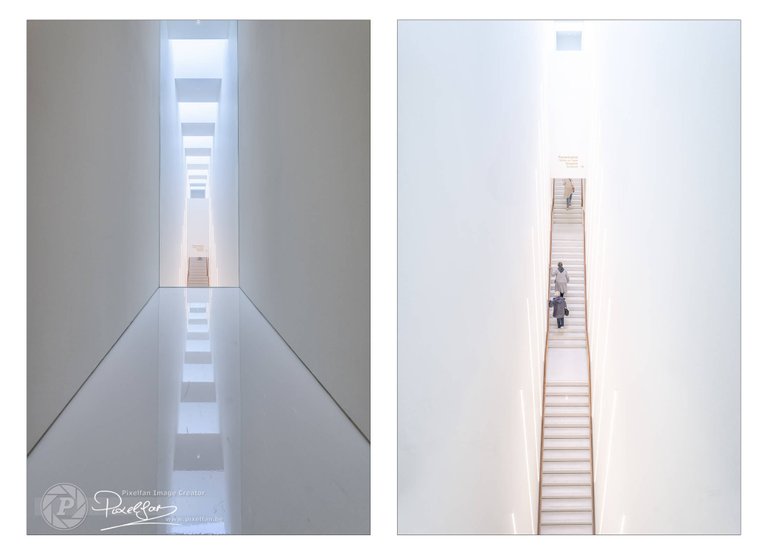 ---
..but for this next montage I couldn't resist choosing that fantastic staircase as subject again.
Although the museum (if you don't know which museum, check my previous posts) has some beautiful architectural masterpieces, in my opinion that staircase is the most beautiful and eye-catching part of the renovation...
The photos above were both taken on the top floor...with just a few steps difference between the two. Apparently the architects themselves also thought that the stairs should be part of the art collection and therefore they have provided a kind of "lost corridor" where you have a perfect view of the stairs.
I took the photo on the left crouching at the beginning of the corridor...and the photo on the right standing up and as close to the glass as possible.
By the way, lucky that that glass was there...it could have been a solid fall otherwise. Especially if you're looking through the lens and you don't pay attention to your feet 😉
Oh, one last detail. The blue you see in the photos is not the result of any kind of lighting. The roof of the museum is fitted with an installation that allows sunlight to penetrate to the lowest level of the building. The blue is an interaction between all that sunlight and the ubiquitous white of walls and floor.
In reality it is not so noticeable, but in the photo it is. And I admit that I increased the amount of blue a bit while editing... the dreamy effect was appropriate...stairway to heaven 😉
---
You liked this post?
Right you are 😉
Just follow me here to make sure you don't miss any new work. As you can see below, you will be in good company... my 3 skinny friends are waiting for you 😉


BTW: I will not ask you to upvote my posts… deep down inside you know you have to 😉
Curious to see my other work?
Although I spend most of my time here, you can also find me in other places… just take your pick…