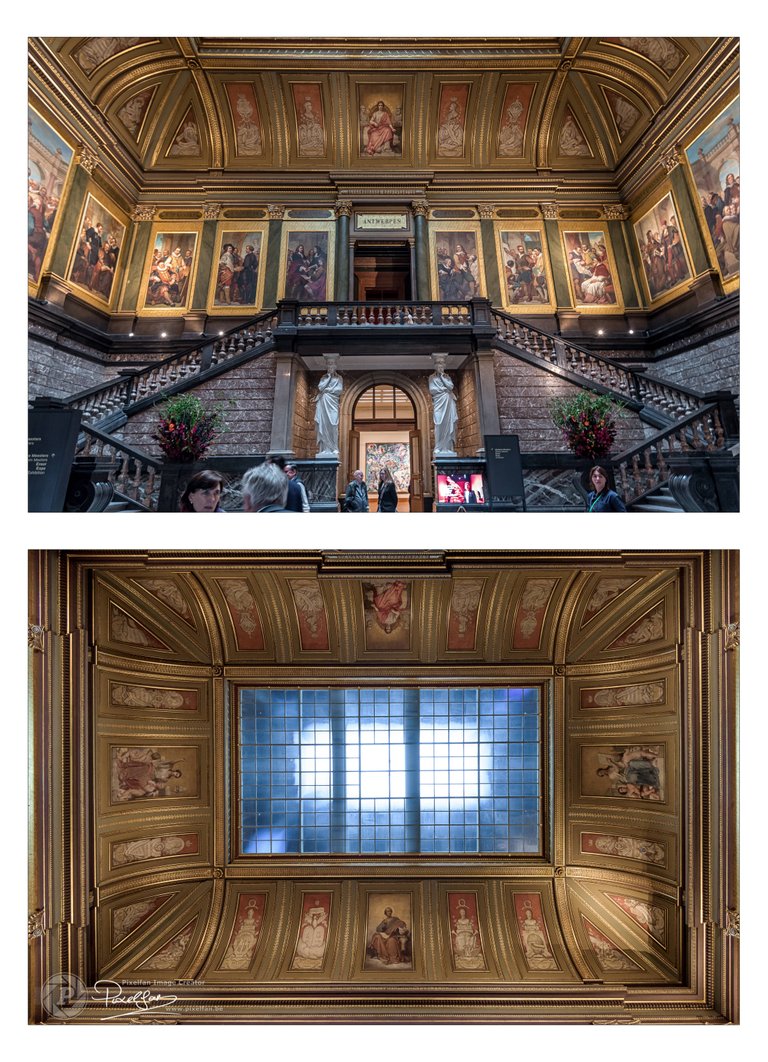 ---
So far in this series about the museum of fine arts I have only shown photos of the new (modern) part.
And although that part is very interesting from an architectural point of view, the older part should not be lost of sight either...
The top photo shows the general entrance, both for the modern and the classical part of the museum. If you look closely you will notice that the bottom door is the entrance to the modern part, while the entrance to the classic part is at the top of the stairs... right below the sign "Antwerpen"... (in case you forgot the city you are in 😉)
I really tried my best to have as few people in the picture as possible, but since it was the opening weekend it was impossible to get that done.
That's why I took the bottom photo... besides the fact that this is a very impressive ceiling, it's about the only place where there were no people 😂
Anyway, this part of the museum has also been completely renovated, but with the idea to bring it back to its original state...
That in turn explains why the renovation works took so long... just imagine renovating and cleaning all those paintings!
---
You liked this post?
Right you are 😉
Just follow me here to make sure you don't miss any new work. As you can see below, you will be in good company... my 3 skinny friends are waiting for you 😉


BTW: I will not ask you to upvote my posts… deep down inside you know you have to 😉
Curious to see my other work?
Although I spend most of my time here, you can also find me in other places… just take your pick…