🔴English🟡⚫Español🟠
Hello Hivers ❗🐝 welcome to a new post, today we are going to continue with the BearDesigns photography session , since each time we get closer to completing what this photo session was, and also to later publish some extra shots or improvised photographs that I managed to take at the time, so today we are going to analyze another part of this session where I managed to take very good photographs too, with that said join me, and let the post begin ❗🐻🚀📷
❗Hola Hivers❗🐝 bienvenidos a un nuevo post, el día de hoy vamos a continuar con la sesión de fotografía de BearDesigns, ya que cada vez nos acercamos más a culminar lo que fue esta sesión fotográfica, y también para posteriormente publicar algunas tomas extras o fotografías improvisadas que logré sacar en el momento, así que el día de hoy vamos a analizar otra parte de esta sesión en donde logré sacar muy buenas fotografías también, dicho esto acompáñenme ❗y que comience el post ❗🐻🚀📷
---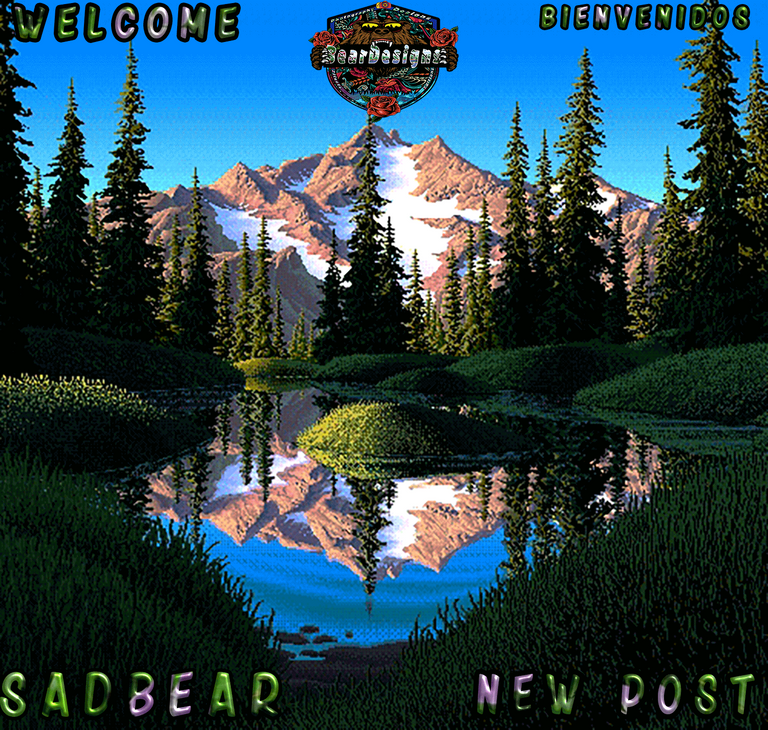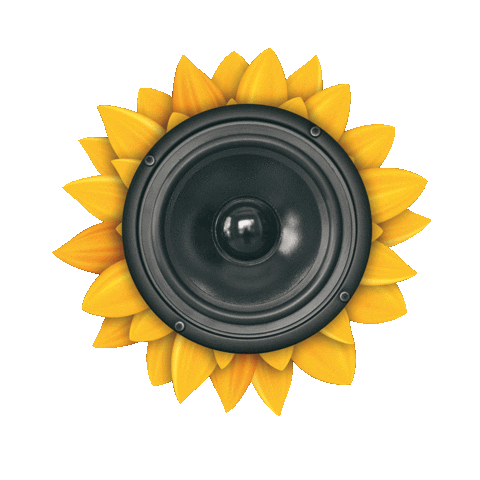 The truth is that I never tire of saying that collaborating with this brand was a very rewarding experience since it served me a lot of learning in the same way I take the opportunity to say that this brand will soon be 1 year after being created and that if you are interested in any garment that See in the photos with pleasure you can contact me through my discord and I will give you the official account of this brand so that you can buy some of the products that you have seen throughout this session, but returning to the session today we will take some photographs simpler and others in spiral stairs that personally is the first that I try to take pictures in an environment like this.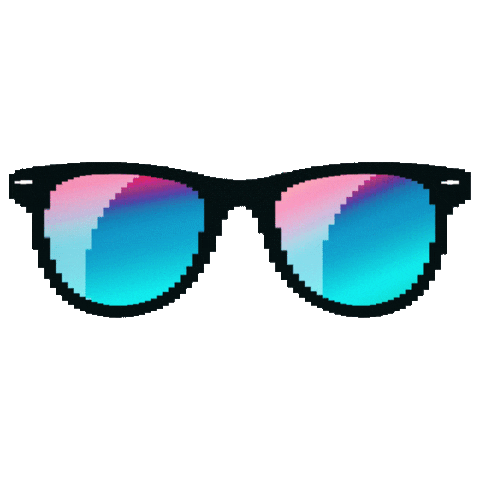 La verdad no me canso de decir que colaborar con esta marca fue una experiencia muy gratificante ya que me sirvió de mucho aprendizaje de igual forma aprovecho para decir que dicha marca pronto cumplirá 1 año de haber sido creada y que si estas interesada en alguna prenda que veas en las fotografías con gusto puedes contactarme por mi discord y te pasaré la cuenta oficial de esta marca para que puedas adquirir alguno de los productos que hayas visto a lo largo de esta sesión, pero volviendo a la sesión el día de hoy haremos algunas fotografías mas sencillas y otras en unas escaleras de espiral que en lo personal es la primera que intento tomar fotografías en un entorno así como este.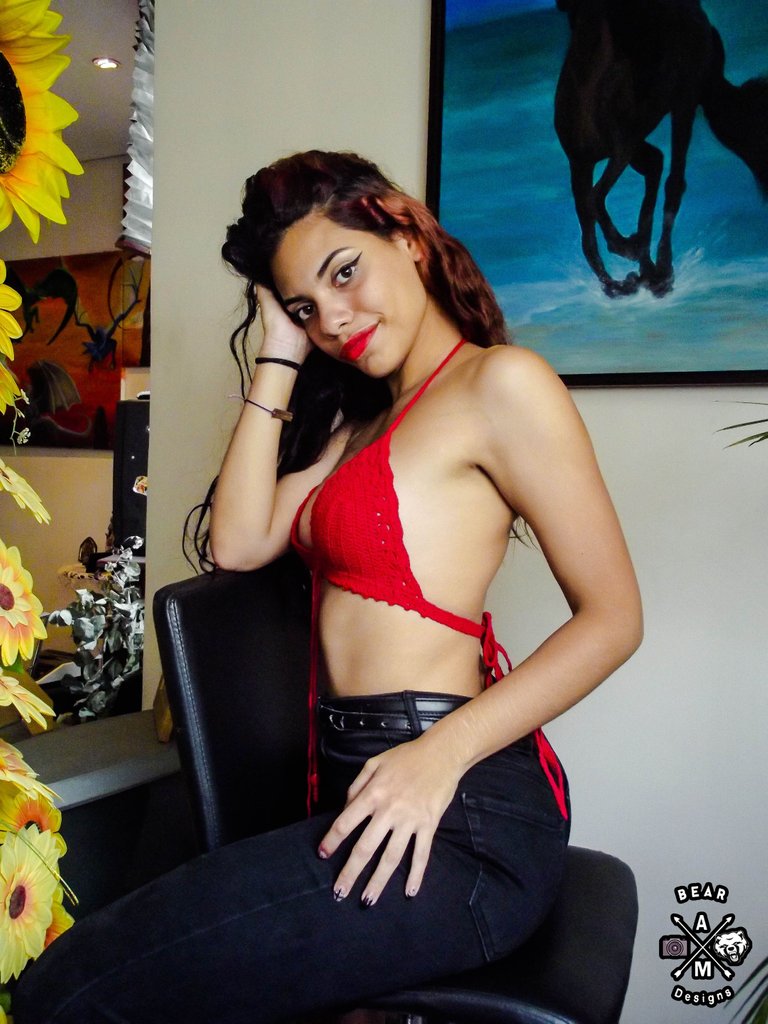 To begin we have the first photograph where we can observe a more studio-type environment, for these photographs, I thought about giving more priority to the quality of the primary colors that would be seen throughout this session, which are red and yellow of the garments that you can see in the photo, this time I decided to take joint and individual photographs, we have this first shot where you see the models posing back to back and with an expression fixed to the camera, a photograph that It seemed quite good to start, in the next photograph we have another perspective only with the yellow color, in addition to this I decided to use the environment of the sunflower ornament since it combined well with the colors I wanted to capture and it would surely make a good contrast with the whole photograph itself, and the same case applies to this shot where the red color is focused, the truth is that I was quite comfortable with the result of this photograph since it is It looks excellent and the pose of the model managed to combine very well with the whole environment giving it that touch that I was looking for so much, and here we have another photograph where yellow predominates again, and we can see a serene and calm expression on the part of the model and I really liked the way to capture the color of the environment with that of the model in addition to the sunflowers that give this touch of extra detail to the photograph.


Para comenzar tenemos la primera fotografía en donde podemos observar un entorno más de tipo estudio, para estas fotografías, pensé en darle mas prioridad a la calidad de los colores primarios que se verían a lo largo de esta sesión, las cuales son el color rojo y amarillo de las prendas que pueden observar en la foto, en esta ocasión decidí hacer fotografías en conjunto e individuales, tenemos esta primera toma en donde se ven a las modelos posando espalda con espalda y con una expresión fija a la cámara, una fotografía que me pareció bastante buena para comenzar, en la siguiente fotografía tenemos otra perspectiva solo con el color amarillo, además de esto decidí utilizar el entorno del adorno de girasoles ya que combinaba bien con los colores que quería capturar y seguramente haría un buen contraste con toda la fotografía en sí, y el mismo caso aplica para esta toma en donde se enfoca el color rojo, la verdad es que quedé bastante a gusto con el resultado de esta fotografía ya que se ve excelente y la pose de la modelo logró combinar muy bien con todo el entorno dándole ese toque que tanto estaba buscando, y aquí tenemos otra fotografía en donde predomina nuevamente el color amarillo, y podemos ver una expresión serena y calmada por parte de la modelo y la verdad me gustó mucho la forma de captar el color del entorno con el de la modelo además de los girasoles que le dan este toque de detalle extra a la fotografía.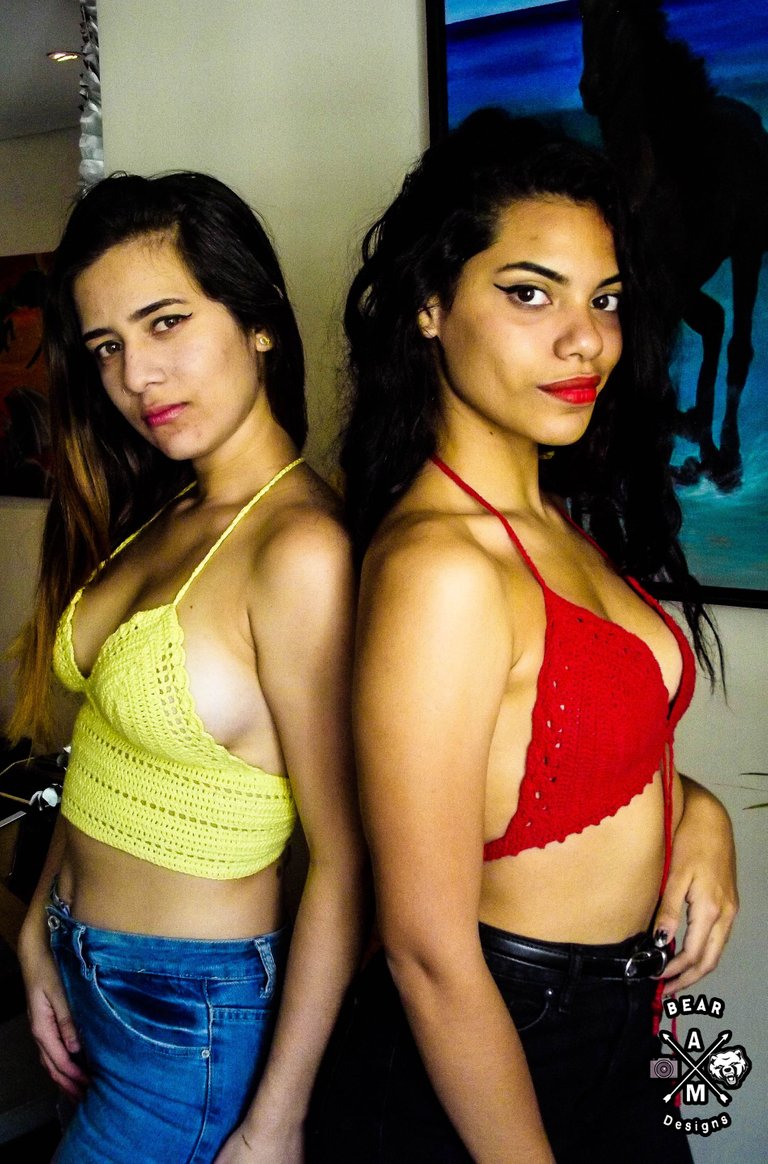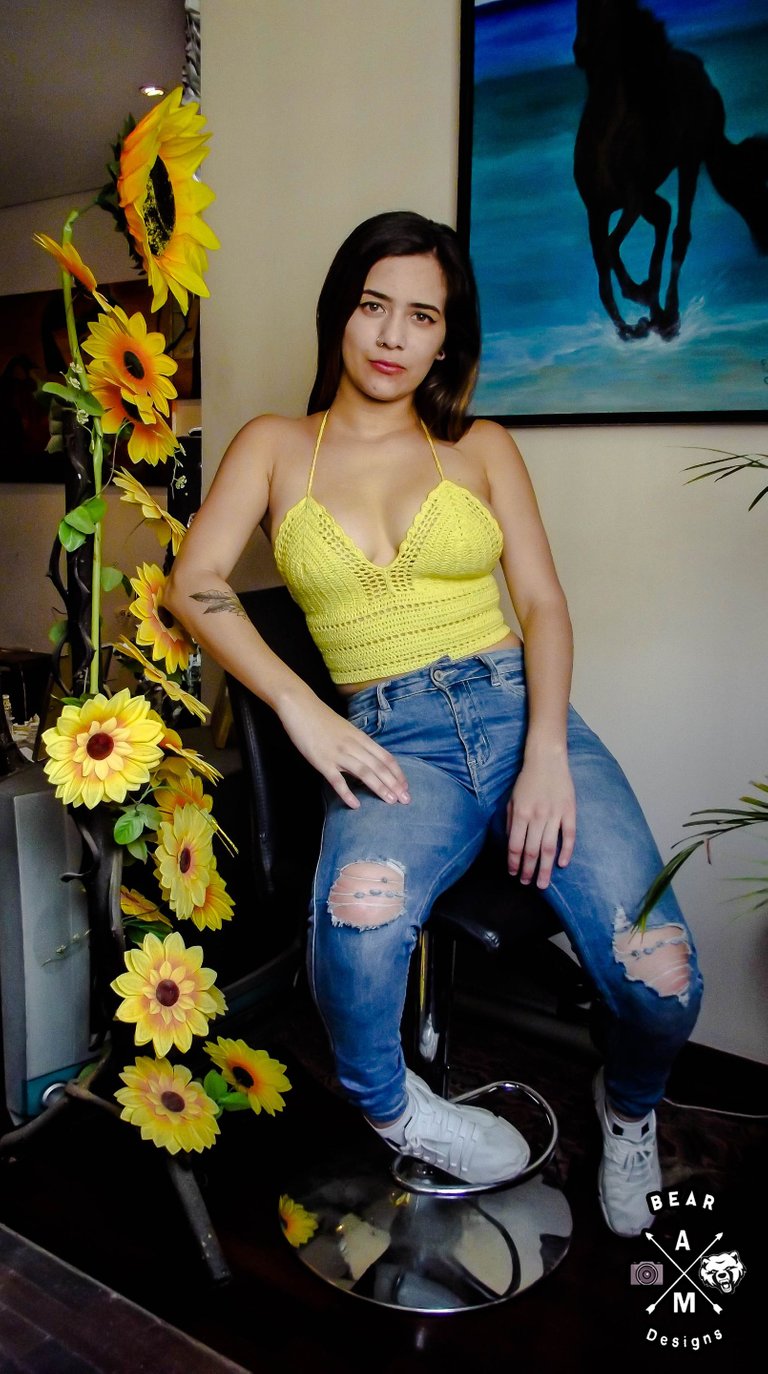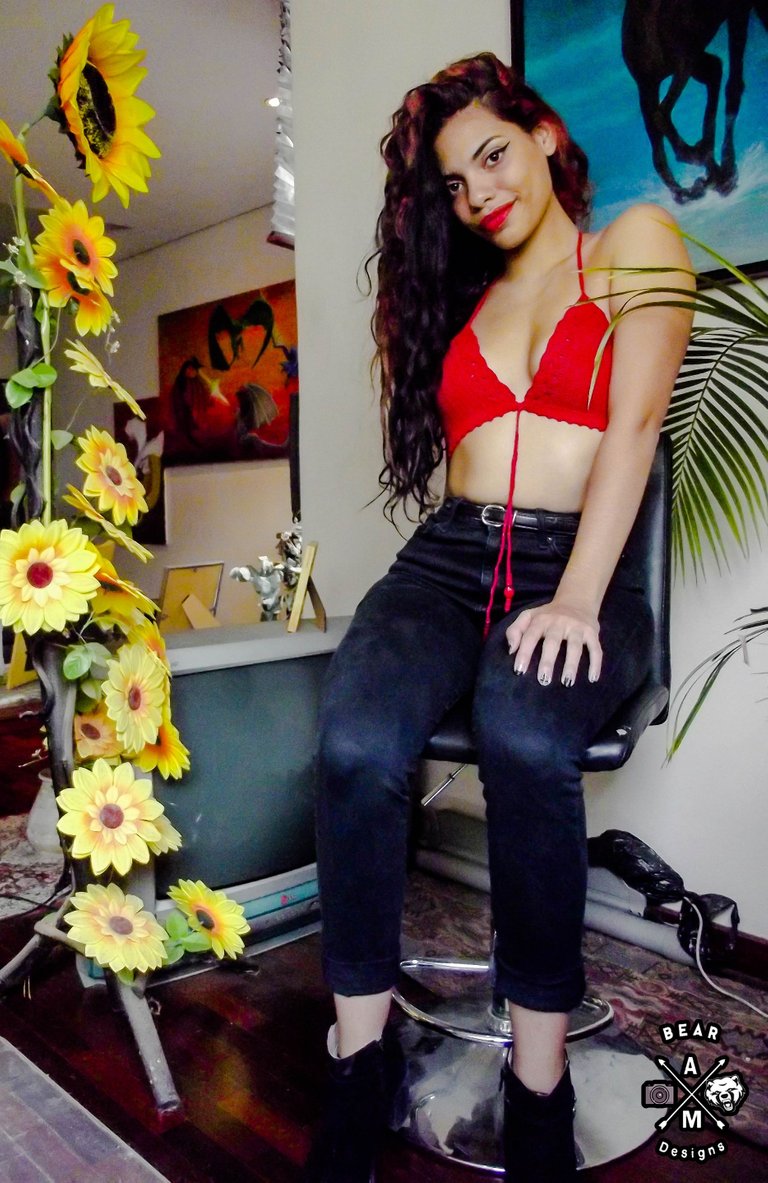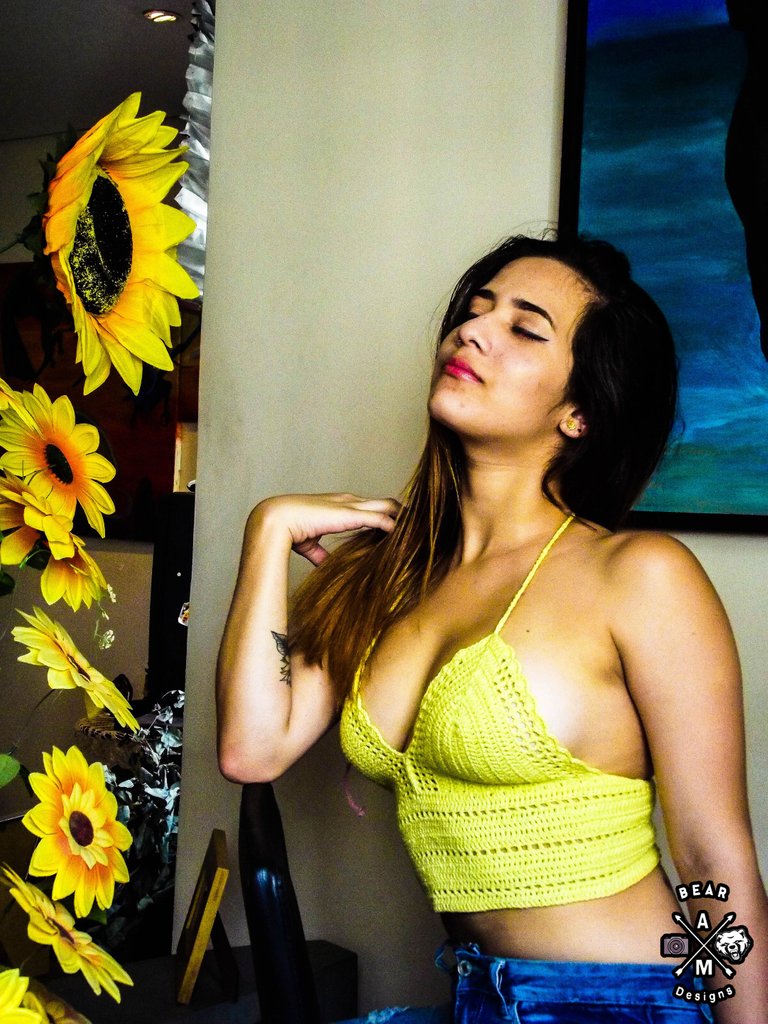 And here we have one of my favorite photographs of this session, and we change the environment to the spiral stairs, where I wanted to capture a shot with enough quality and where the model looked directly at the camera, the truth is this photograph is one of my favorites because to the shades of colors that I managed to obtain in the photography in general and the expression of the model, I feel that this photograph was very similar to the style of fashion magazine covers, and to be the first time that I try to capture this type of shots the True, I have been more than satisfied with the result I obtained in this photograph, the next photograph is not far behind in quality levels since it looks really good, we see another perspective of the same environment and with a slightly more neutral expression on the part of the model and where the pose of the model also stands out quite a lot, matching the colors of the environment, the next photograph we now have the yellow color again in this environment or the stairs and the model's gaze is now at the horizon, where we can also see a good quality of detail and the expression of the model that is totally neutral and serene, I also liked this shot a lot because of the level of detail that can be seen in the figure of the model throughout the photograph.


Y aquí tenemos una de mis fotografías favoritas de esta sesión, y cambiamos de entorno a las escaleras de espiral, en donde quise captar una toma con bastante calidad y en donde la modelo viera directamente a cámara, la verdad esta fotografía es de mis favoritas debido a la tonalidades de colores que logré obtener en la fotografía en general y la expresión de la modelo, siento que esta fotografía quedó muy similar al estilo de portadas de revista de moda, y para ser la primera vez que intento capturar este tipo de tomas la verdad que he quedado más que satisfecho con el resultado que obtuve en esta fotografía, la siguiente fotografía no se queda atrás en niveles de calidad ya que se ve realmente bien, vemos otra perspectiva del mismo entorno y con una expresión un poco más neutral por parte de la modelo y en donde igualmente destaca bastante la pose de la modelo haciendo juego con los colores del entorno, la siguiente fotografía tenemos ahora el color amarillo nuevamente en este entorno de las escaleras y la mirada de la modelo ahora es al horizonte, en donde podemos ver también una buena calidad de detalle y la expresión de la modelo que es totalmente neutral y serena, esta toma también me gustó bastante por el nivel de detalle que se puede ver en la figura de la modelo en toda la fotografía.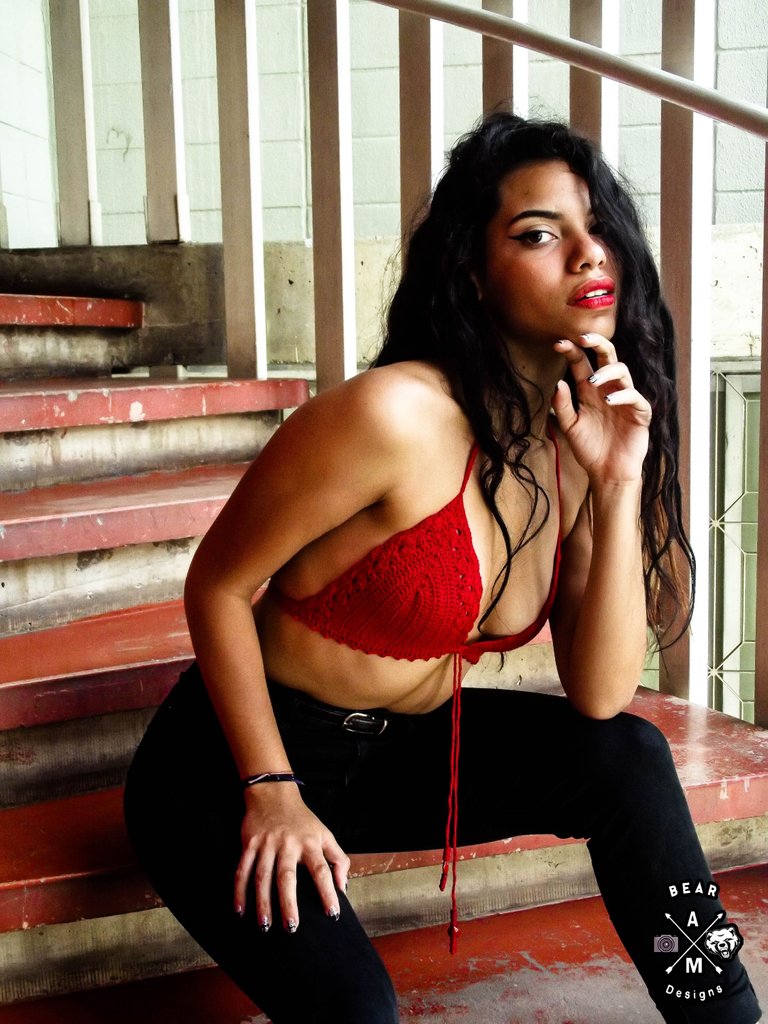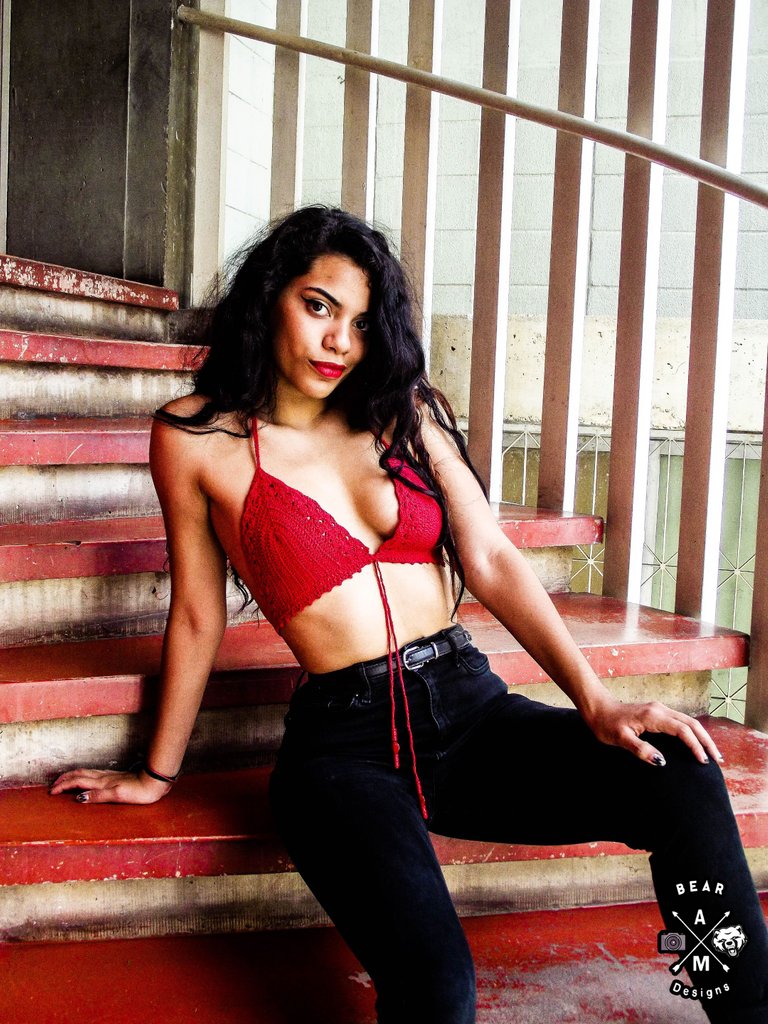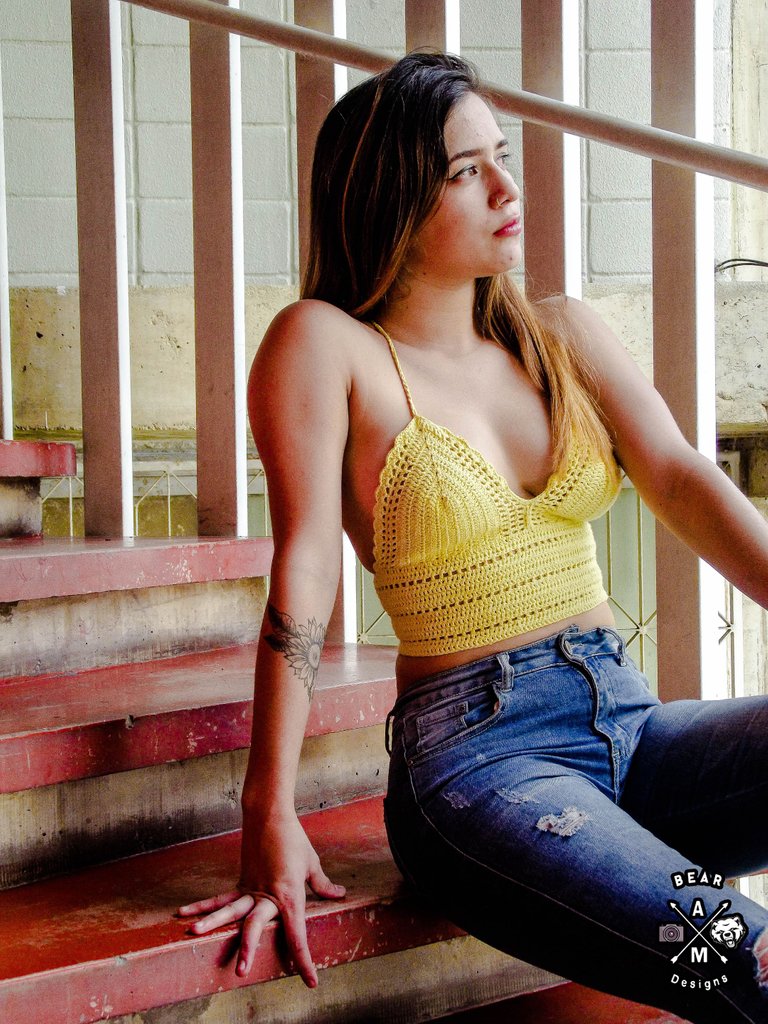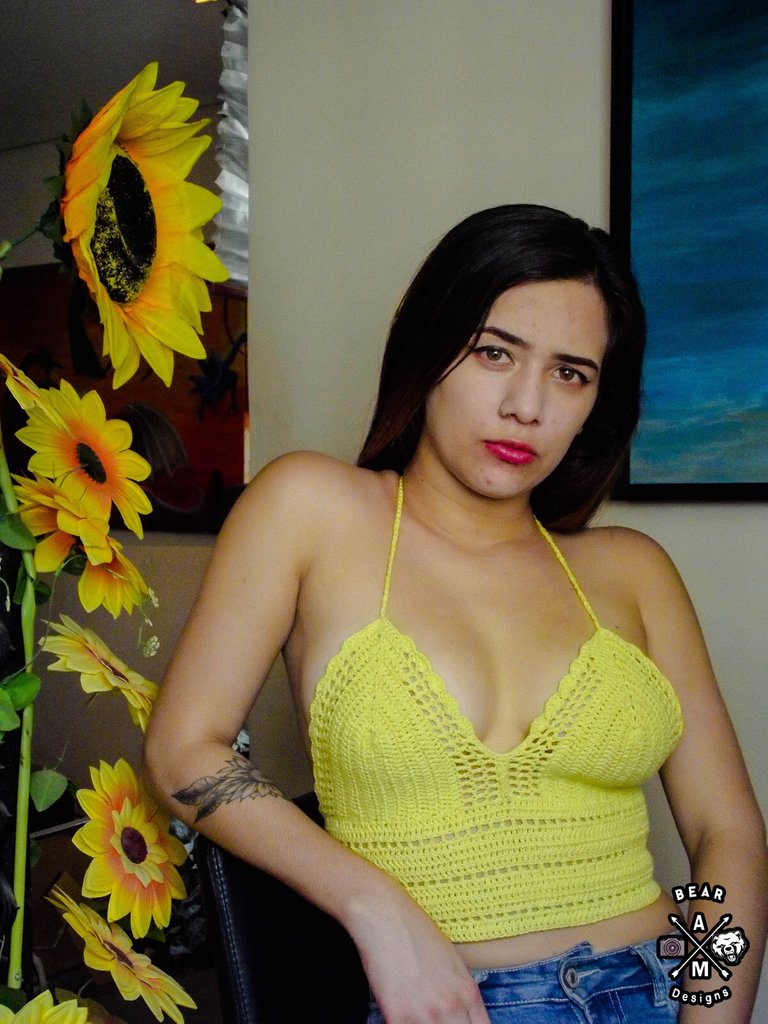 Let's go now with the last photographs of this post, we can now see a small change in the look of the models, now this time with a mixture of different colors, this time I decided to take a picture from a lower perspective, and I think I managed to get a pretty good result, and I think I managed to get that magazine cover style that I was looking for so much for this session, and also managed to capture the perfect angle for the model's pose, In the next photo now another pretty good shot in where we can see this pose where the model stares at the camera again, I honestly think that this pose was incredible for this shot and it also makes the model look really good with this outfit, in addition to the colors that I managed to get later to be able to edit them in the best way in editing, I was quite happy with this photography result, and I think it was necessary in this session, then we have this other photograph, where we see him The model now with a red garment with a different design from the one we saw previously, this time I wanted to capture a photograph similar to the one we saw in the previous shot, but I wanted it to be seen with that touch of vertical perspective and the truth is that The result was not bad for me personally, and finally we have this other shot similar to the one we saw previously, but with a slightly more serious expression on the part of the model, and with a slightly darker touch than we saw previously. , I really liked the quality of this photograph in terms of colors and the environment that is seen in the photograph and I am quite satisfied with my result trying these shots on a spiral staircase.


Vamos ahora con las últimas fotografías de este post, podemos ver ahora un pequeño cambio en el look de las modelos, ahora en esta ocasión con una mezcla de colores diferentes, en esta ocasión decidí tomar una fotografía desde una perspectiva más baja, y creo que logré obtener un resultado bastante bueno, y creo que logré obtener ese estilo de portada de revista que tanto buscaba para esta sesión , y que además logre captar el ángulo perfecto para la pose de la modelo, En la siguiente fotografía ahora otra toma bastante buena en donde podemos ver esta pose en donde la modelo ve fijamente a la cámara de nuevo, sinceramente pienso que esta pose quedó increíble para esta toma y también hace que la modelo se vea realmente bien con este outfit, además de los colores que logré obtener para luego poder editarlos de la mejor forma en edición, quedé bastante contento con este resultado de fotografía, y creo que era necesaria en esta sesión, luego tenemos esta otra fotografía, en donde vemos a la modelo ahora con una prenda de color rojo con un diseño diferente al que vimos anteriormente, en esta ocasión quise captar una fotografía similar a la que vimos en la anterior toma, pero quise que se viera con ese toque de perspectiva vertical y la verdad que el resultado personalmente para mi no quedó nada mal, y para finalizar tenemos esta otra toma similar a la que vimos anteriormente, pero con una expresión un poco más seria por parte de la modelo, y con un toque un poco más obscuro del que vimos anteriormente, la verdad me gustó bastante la calidad de esta fotografía en cuanto a colores y el entorno que se ve en la fotografía y me encuentro bastante satisfecho con mi resultado intentando estas tomas en una escalera de espiral.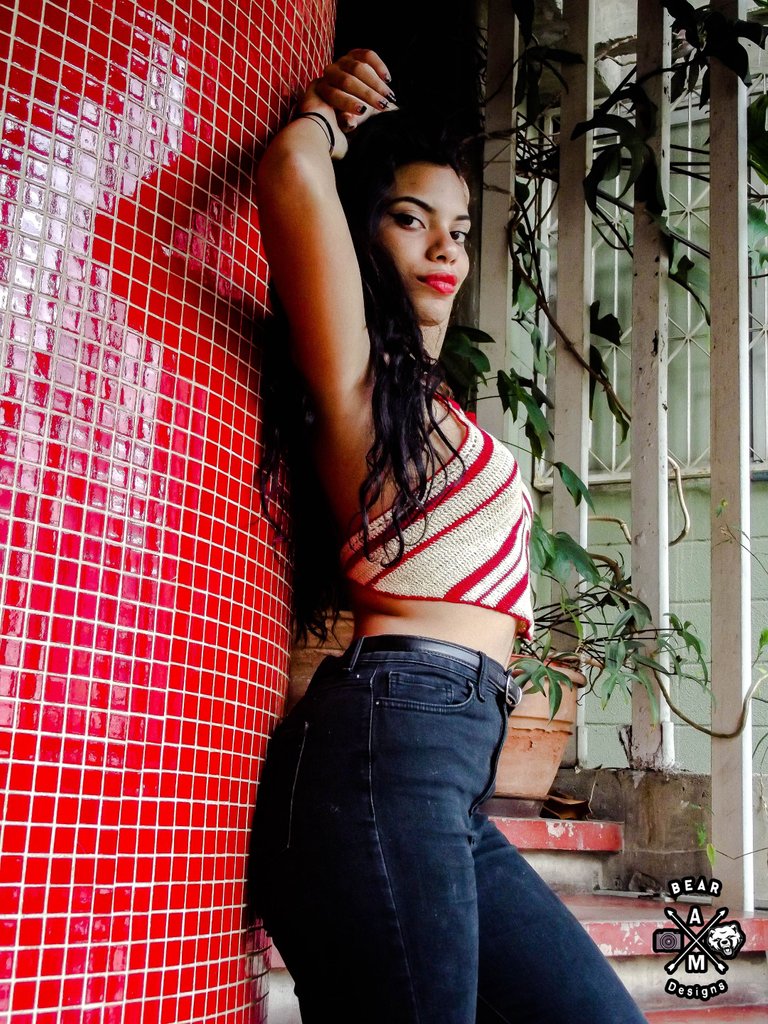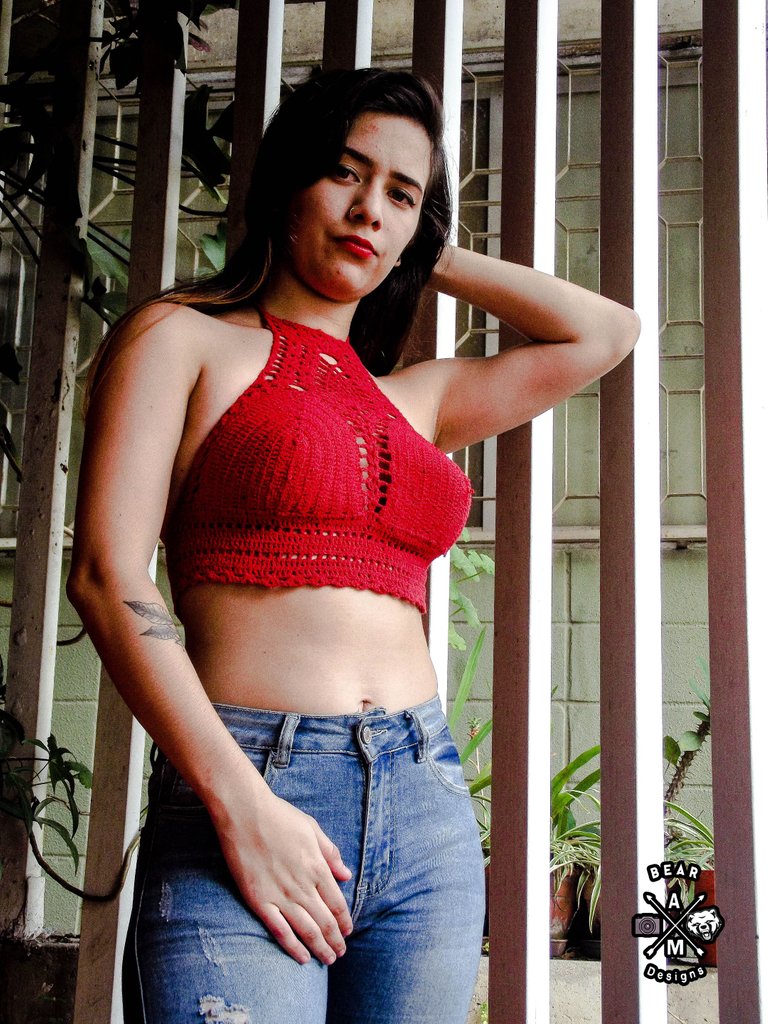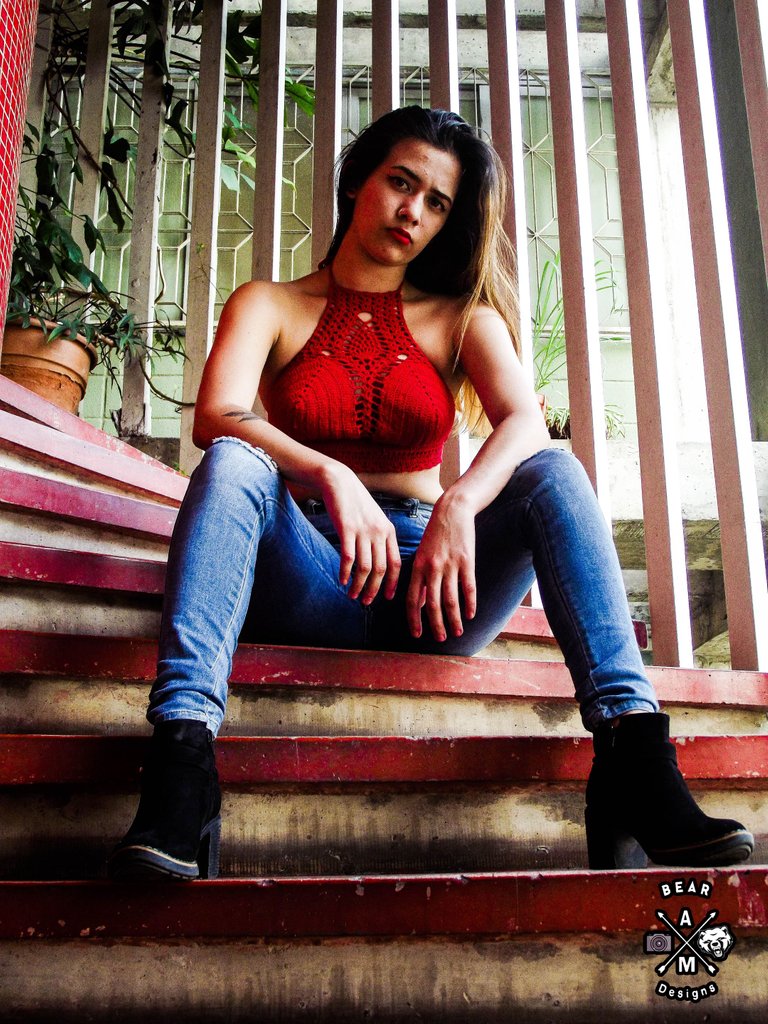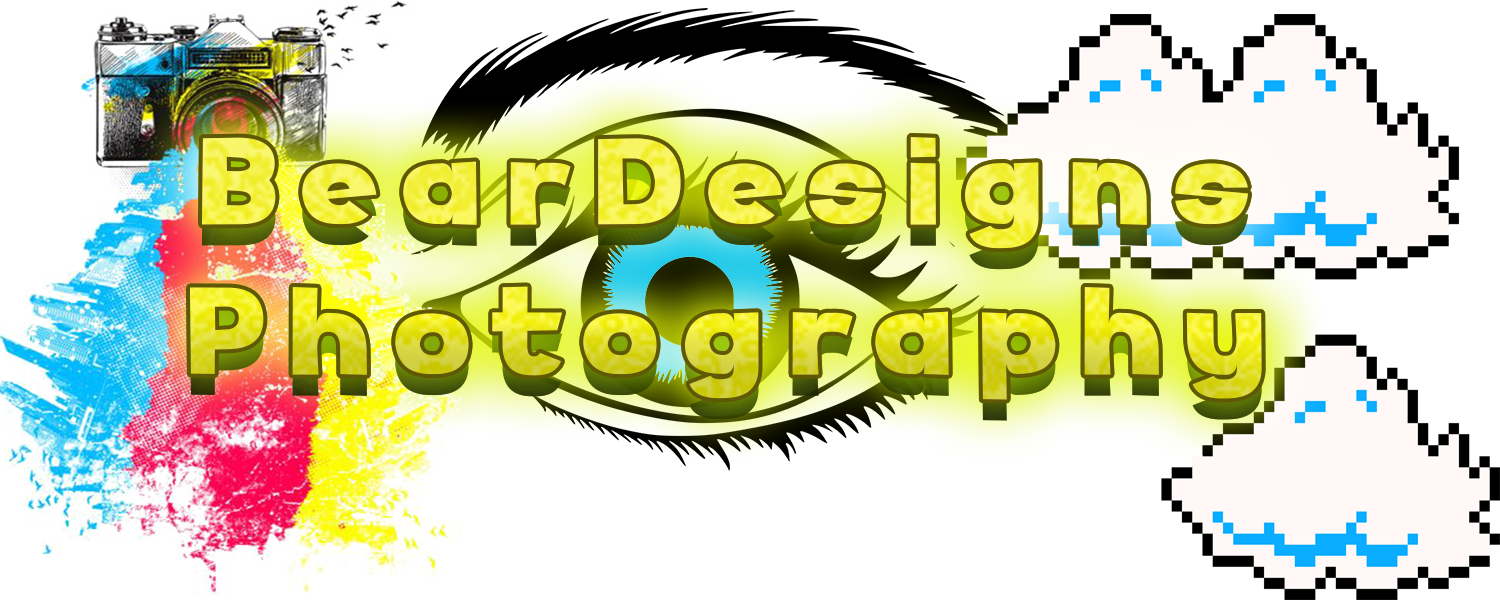 And so far today's post Hivers , I hope you liked it, but above all you enjoyed it, what did you think of today's photos ? Which was your favorite ? Let me know in the comments, if you like my content Do not forget to follow me to not miss anything in your feed of Hive , without further ado I wish you a good morning, afternoon or evening, from the cave Dismiss SadBear ❗Hasta other ocasión❗🐻🚀

All the photos and gifs you saw in this post were taken and edited by me.🐼
Follow 🐻📷 BearDesings 👓 on Instagram.
Photographs Taken With Finepix S2950 Camera Lens 28-504mm x18
Add me in discord if you want to give me suggestions for posts or know some information # SadBear # 6392👽

Y hasta aquí el post de hoy Hivers, espero que les haya gustado, pero sobretodo lo hayan disfrutado, ¿Qué te parecieron las fotografías del día hoy?, ¿Cuál fue tu preferida?, házmelo saber en los comentarios, si te gusta mi contenido no olvides seguirme para no perderte de nada en tu feed de Hive, sin más que decir te deseo unos buenos días, tardes o noches, Desde la Cueva se Despide SadBear ❗Hasta otra ocasión❗🐻🚀

Todas las fotografías y gifs que viste en este post fueron tomadas y editadas por mí.🐼
Sigue a 🐻📷BearDesings👓 en Instagram.
Fotografías Tomadas Con Cámara Finepix S2950 Lente 28-504mm x18
Agrégame en discord si quieres darme sugerencias para posts o saber alguna información #SadBear#6392👽