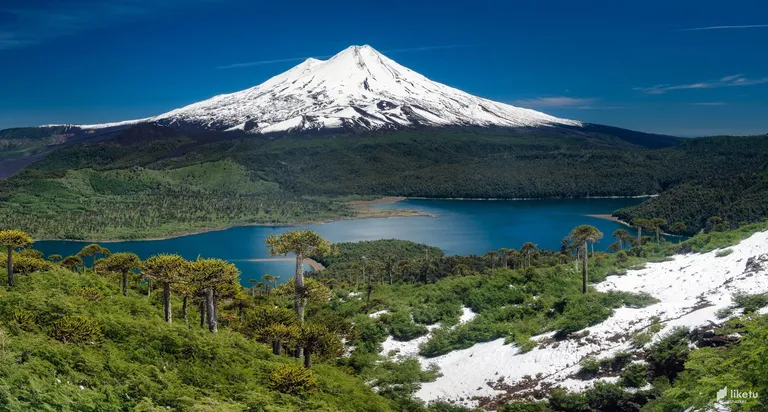 The Llaima Volcano in the Araucanía region, Chile. Its two snow-white peaks rise above the forests, hills and the Conguillio Lake: on the left, the smaller peak is 2920 m high, and the main peak reaches a height of 3240 meters above sea level.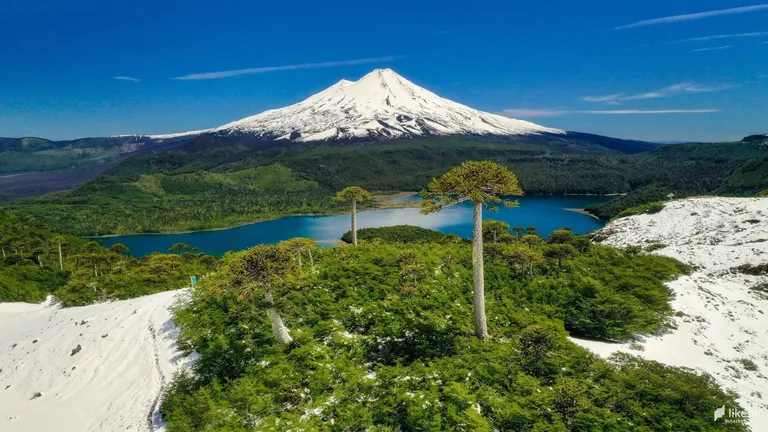 The trees growing here are quite unusual: these are araucaria, evergreen coniferous trees, which were named after the Araucania region. They reach a height of 40-60 meters.

The Liaima Volcano is a stratovolcano, it is one of the most active volcanoes in Chile with fairly frequent but moderate eruptions for several centuries. I wish I could see such an eruption with my own eyes!

Alas, during our arrival there were no eruptions, and there was beautiful sunny weather, and our short trekking from the lake to a viewpoint on the slope of the Sierra Nevada volcano, from where such views open up to the Llaima volcano, was successful.
I haven't posted anything for a while — I've been very busy. There is no time or energy for large posts yet, but today I decided to share with you at least a few photos of this beautiful volcano and its surroundings. By the way, I processed these photos three years ago and now I can clearly see some shortcomings in them (however, partially caused by the shooting conditions). But I hope you enjoy the photos anyway :)
This post is an entry to the PhotoFeed Around The World Contest dedicated every day of the week to one of the continents. Check out @photofeed for more information :)
It's better to watch photos in high resolution: 1, 2, 3, 4.
---
Camera: DJI Mavic 2 Pro and OLYMPUS E-M1 Mark II
---
You can also see my photos in my blog LJ and in my profile on NatGeo. You can read a short interview with me here.
---

---
For the best experience view this post on Liketu