One of the subjects I like to photograph the most are wildflowers. In British Columbia, Canada, where I live you have a short window in the summer months where the hills erupt in all sorts of different colours. They come and go very quickly, as one frost can take a lot of them out, which isn't uncommon at higher altitudes. The flowers make a for a great detailed foreground for landscape photography. Using a wide angle lens and you can create amazing depth of field, making the viewer feel as if they could step right into the scene.
Today I'm sharing with you a few of my personal favourite Canadian wildflower shots over the years.
Flowers in Mt. Revelstoke National Park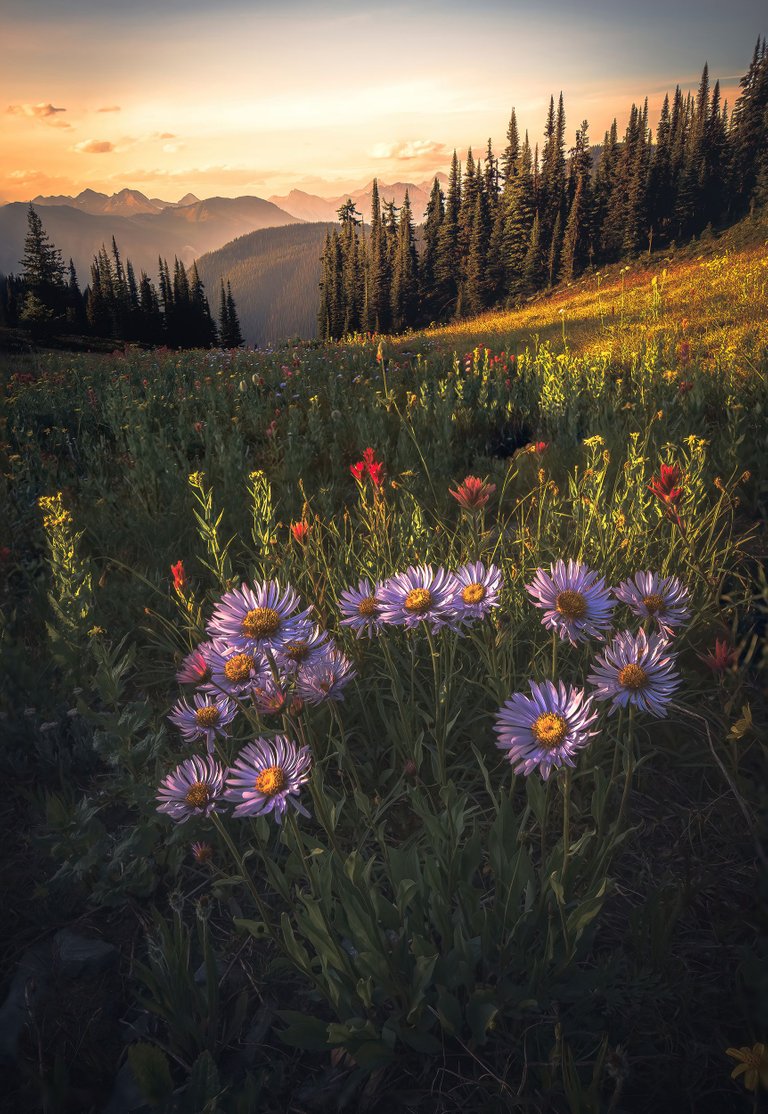 This is one of my very first attempts at a focus stacked image. For years, when I didn't know any better, I would just set my camera to an F stop of 16 and shoot. I thought this was going to give me the sharpest images possible for some reason. I must've read or watched something and never looked into it further back then. I would always see these beautiful landscape images with everything in the frame tack sharp. The foreground, the middle and the background. What was this wizardry? How did they do it? That's when I discovered focus stacking and my love for it began. I use it in almost every one of my landscape images today, it gives them that nice crisp look throughout. This photo is a little soft in places, but for a first attempt I'd have to say it went pretty well. This photo represents progression to me. It's nowhere near perfect and my work still has a long way to go but, I've come so far from where I began. As long as my work is improving over time I'm happy with where it's heading. 10,000 hours take a long time to accumulate shooting photos.
Eagle Pass, Near Revelstoke British Columbia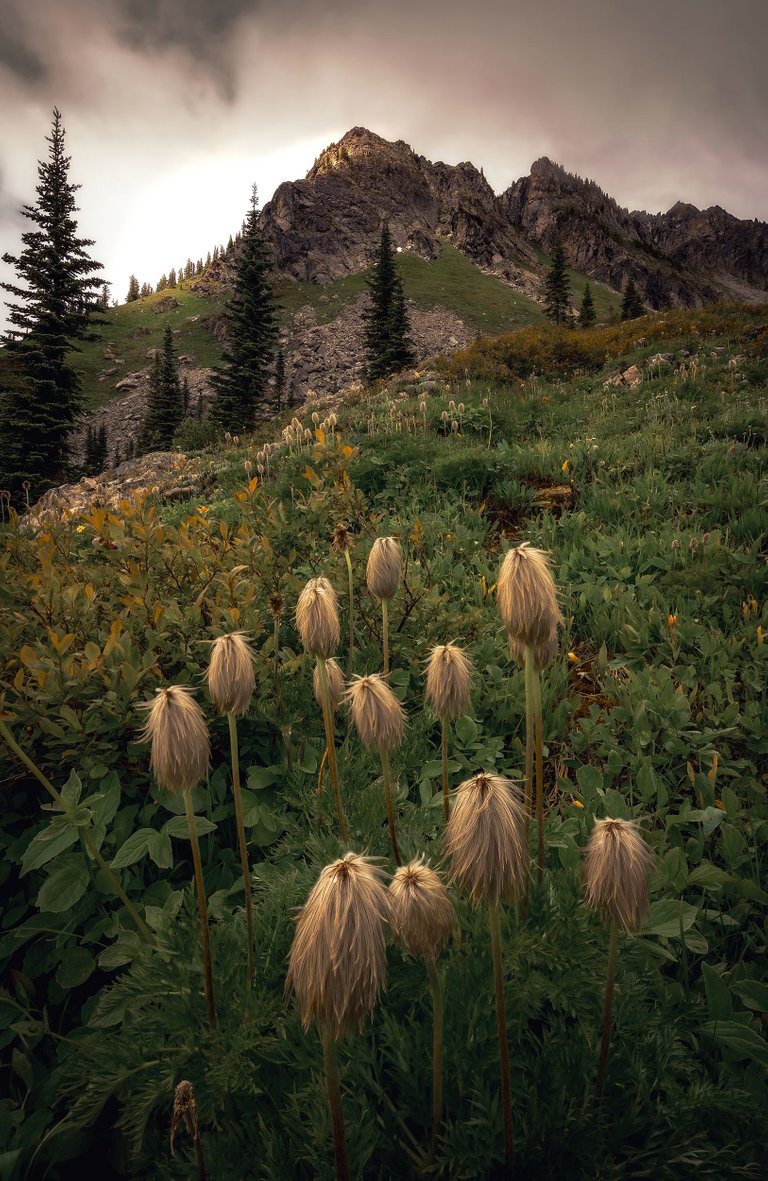 This is actually the first hike in the mountains we took our dog, Yuki, on. Needless to say she loved every bit of it just as much as us. I'm lucky enough to live in a place where during the Summer months the alpine meadows erupt into a plethora of wildflowers. They come in all sorts and sizes but, the ones pictured here, known as western anemone have always intrigued me. To me they look like little alien lifeforms from another world. Typically wildflowers are colourful and bright, but these look eerie and obscure. To me this image represents the diversity among plant life on Earth and just how many different kinds there are. They really make this moody scene pop with their haunting beauty.
Deep in the Backcountry of British Columbia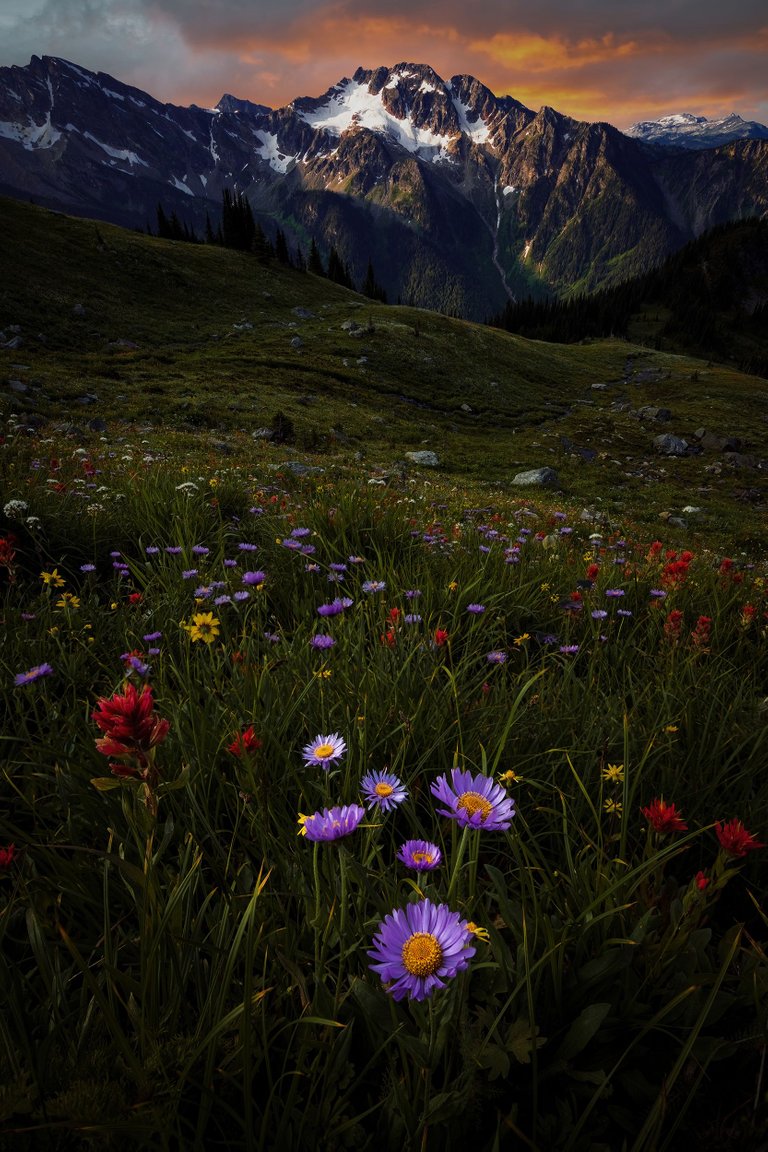 Wildflower season in the alpine meadows of Canada is very short lived. Depending on the weather, there is a window of a few weeks to a month, where you can see them in full bloom. On this trip we hit the jackpot.
A good friend and I headed up a remote logging road with my beat up old ford pickup truck. I made jokes on the way about not having a spare tire, to which we both exchanged nervous laughter. We got to the end of the road where we had planned to start our hike and left the truck behind for the night. Already, there were signs of recent bear activity, so we were on high alert. We started along a feint old trail which soon disappeared into nothing. For the next few hours we bushwhacked through the forest. Roughly following our GPS to a point we had picked out, where we would spend the night. Finally we emerged in a meadow that was exploding with the most wildflowers I had ever seen in my life. The rolling hills beneath the mountains were filled with an explosion of colour. We hurried to set up camp for the night. Then we had some dehydrated meals after a long day of hiking. Watching the sun set behind the peaks in the distance, to end the day, was enchanting to say the least.
This photo reminds me to take the path less travelled more often. It's easy to take the highway on autopilot through life. I'd much rather live a fulfilled life of adventure taking the side roads and pushing out of my comfort zone.
Naramata Flowers at Sunset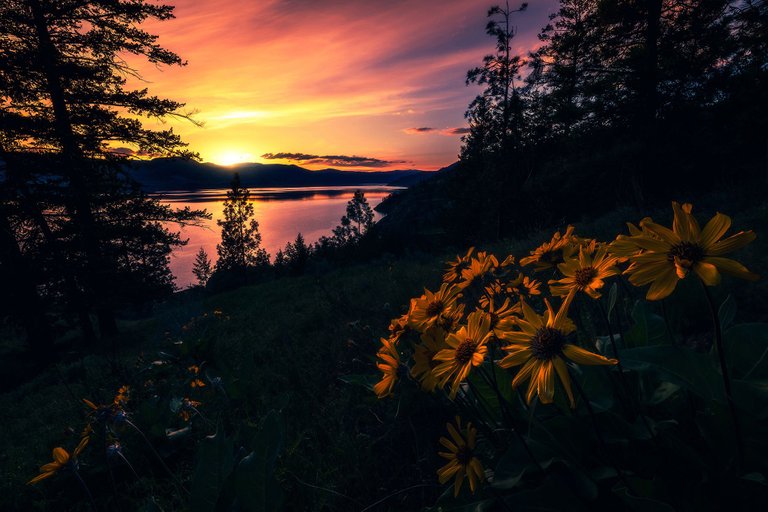 This shot was taken in the stunning Okanagan wine country of British Columbia. One can enjoy scenes like this while sipping wine and eating good food on a patio overlooking the rolling hills and lakes all around. The way the light here lines up perfectly with the flowers before the sun disappears over the horizon felt absolutely magical. The Okanagan area gets covered in balsam roots in the spring, followed by lupines, so there is no shortage of flowers to photograph in the spring to summer months.
If you enjoyed these photos checkout more of my work on my Social channels and website below 😌 👇
Social Media
Twitter
Instagram
Facebook
Website
NFTs