This game, when you start it feels really simple. You do a mission, if you haven't invested anything yet you wait for energy if you can't do a mission. Once you start getting enough starbits or invest a bit into pizza's, pizza boxes etc. it becomes a bit more "complicated". But I'm at that point of having many options and it opens up a lot more then it did before.
There's record staking, music promoter and many more things. For now I still feel like I will just buy packs as packs increase your cards and most likely your fans, which in turn increases your starbit per mission slowly. But one of these days when I feel like I earn enough starbits daily I will delve into these more complicated areas. But for now I'll get cards and more cards.
About my progress
So now I've actually passed lvl 125 which opens up: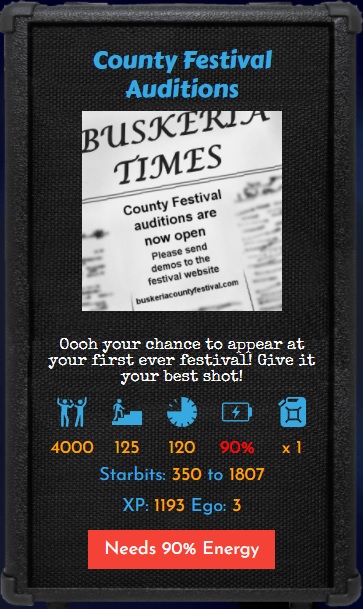 As most missions that to progress for the next mission you need to do like 10 of them. So I will be doing those for sure and in the mean time balance skill/fans out and earn as much starbits as I can. As we all know opening packs is a lot of fun, specially when you get an epic/legendary.
I still have yet to get a legendary, but oh boy when I get one I will be thrilled for sure.
Last weeks giveaway winner
Last week the price for the giveaway was: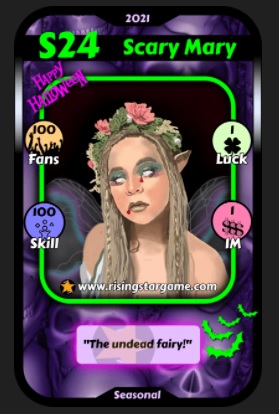 Which has been won by: @loloyaso
Congrats you won Scary Mary!
This weeks Giveaway
This card could you only could get by purchasing 12 packs with 50 hive at once, which had a limited amount of of 500.
Which has now already been passed. As the new one you can get now from it is: Chopin.
Anyway this is the card you can win: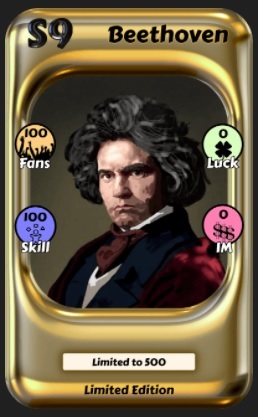 To participate just comment below with which hive account you want to receive the card.
Referrals