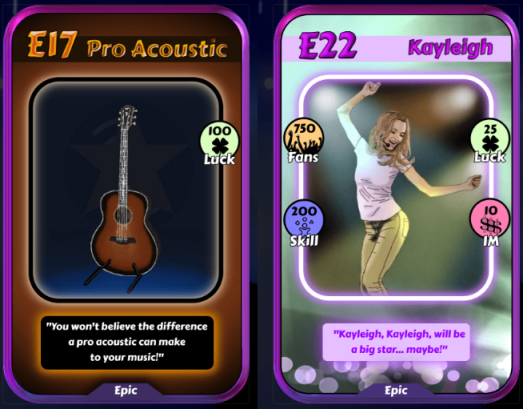 Two epic cards!
Today, I've bought 100.000 STARBITS then proceeded to purchase the 12-pack offer on the Rising Star crypto game's store. I got LUCKY!!! Rares were mostly people - I only got two instruments. Both epics came from common card positions, so I still got all the 12 rares to go with them. The card I'm giving away today is one of those rares: R67 Febie. Providing 50 fans and 150 skill, it's going to be a worthy addition to any participant's musical slave army.
Here's the list of rares I've gotten from this purchase: Febie, Bekky, Laney, Lucy, Touring Coach, Chubby Subby, Blue Guitar, Matt. I think I got multiple Febies. I also got two epics: Kayleigh and Pro Acoustic.
In case you're wondering, I haven't ditched song suggestions from you guys. I'll get back to them in my next post, where I'm also announcing winners for all my recent giveaways, including this one. That means you only get until tomorrow to join this giveaway and all the others that are still out in the open!
Card giveaway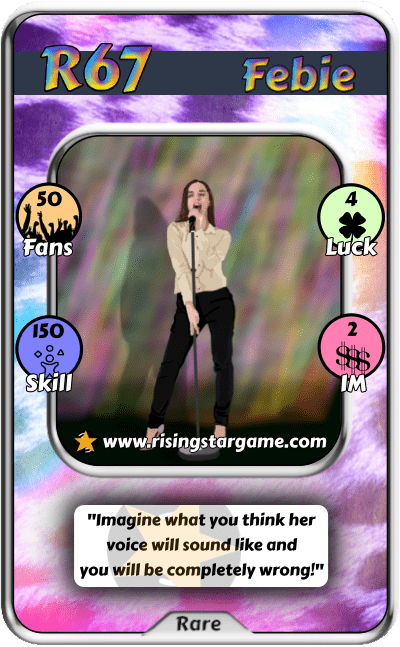 If you want to participate in this post's card giveaway for a chance to take Febie home with you, all you have to do is leave me a message in the comment section below, telling me what was your best card pull from a booster pack so far, or anything else really, just comment down below to participate.