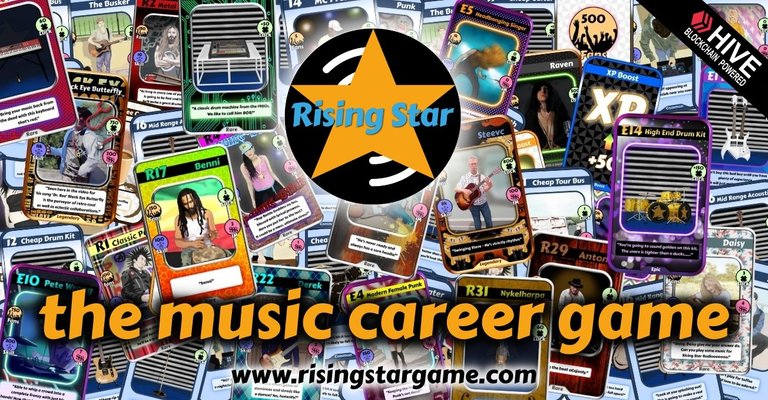 Everybody wants to be a rockstar, but do you have what it takes? Welcome to a short tutorial on Rising Star with tips on how to climb the leaderboards and starting a grind to greatness! I'm a big fan of working smarter, not harder so we'll be applying that methodology to learning how to play the game. If you're already a player, feel free to skip ahead to the tips section.
Tutorial
First things first though, you're going to need to sign up on Rising Star. If you already have a HIVE account, you're most of the way there, though you need the HIVE Keychain extension for the first login (the game can be played without it by generating a QR code for mobile play). Now, there is a manual verification step required for some aspects of gameplay, please refer to this page for details. It may take some time for verification to be done, but that doesn't stop you from starting to play, so let's take a look at the first mission - Illegal Busking!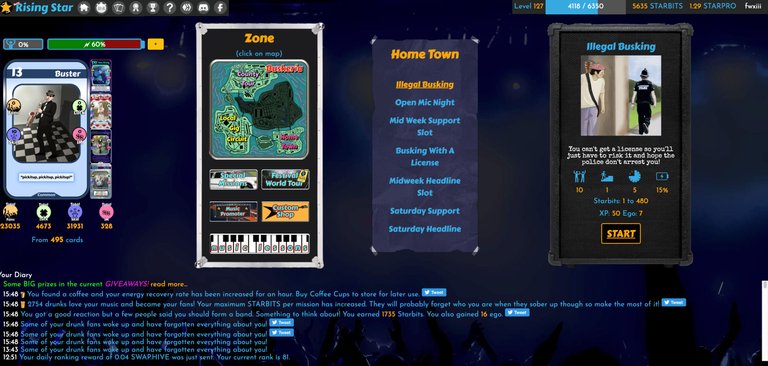 At first glance, it looks as though there's a lot going on, but it's easy to split out the game into sections. This is the default mission screen, showing your band's stats, a map of Buskeria, mission list, and the currently selected mission. On the left side, the band's stats will help you determine which missions you are able to complete:
Near the top, you'll see two different meters - I've labeled these in the image as EGO and ENERGY. The ego bar reflects the balance of ego to skill level, you'll want to keep this as low as possible to maximize mission rewards (more on this later). Next to it is the energy bar, which reflects the current energy level of the band - a key determining factor in which missions you can start. Every mission costs a certain amount of energy, and this refills at a rate of 1% per 5 minutes (completely refilling in 8hr20min). Certain cards/events can help refill this faster - finding coffee helps refill it faster, while finding a pizza will immediately refill it.
Underneath the band images, you'll see the total number of fans, luck, skill, and IM (income modifier). In general, these represent your overall progression within Rising Star - just like a real rockstar, you'll want to get as many fans as possible and be as skilled as possible.
Looking over towards the right side of the screen, you'll see the mission selected: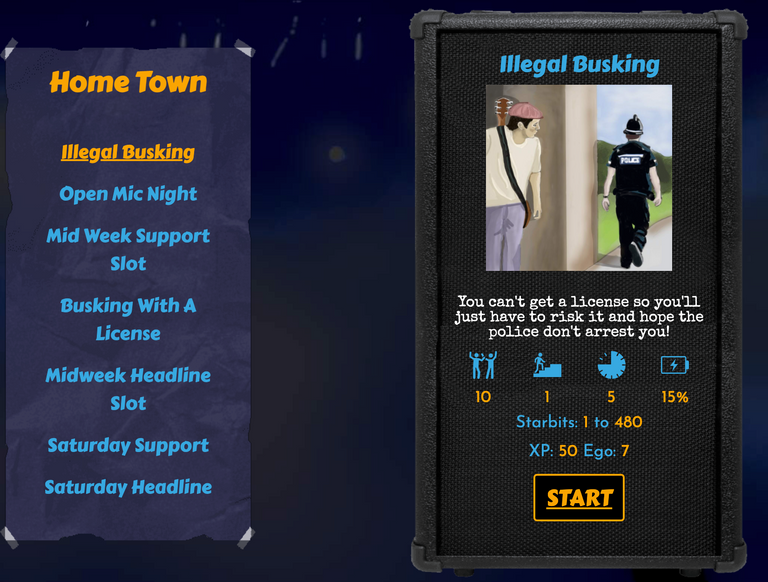 Here the mission's name, a small image, some flavor text and requirements are shown. From left to right, the numbers and icons represent the number of fans required, level required, duration of the mission, and the energy required. So for Illegal busking, we need at least 10 fans, to be at least level 1, it'll cost 15% of our energy to start, and it'll take 5 minutes. In later areas and missions, there may be additional requirements listed here as well. Underneath the requirements, a range of starbits, XP, and Ego is listed as the rewards for completing the mission. The range of starbits will vary based on the number of fans (increasing fans will generally increase the upper limit), ratio of ego to skill (if you have more ego than skill, the upper cap lowers), and how many times you've completed the mission today (running a mission too many times will result in fans getting bored, reducing the upper cap).
Gaining XP to level up is intuitive enough, but what about fans? When completing a mission, you have a chance to gain "drunk fans" - fans that only are there when they're drunk, but sober up after 12 hours (you must be playing a hell of a show!). Permanent fans are acquired through collecting cards - each card has the potential to provide fans, skill, luck, IM, or have a special function (restoring energy). Cards are available in packs which can be bought for Starbits earned in game.
Packs are a great way to build the collection, and have a chance of epic and legendary cards in addition to the guaranteed rare card per pack. From an optimization point, it may be better to look for cards individually in the game's market, or through NFTMart to find specific cards that best fit your strategy.
Tips
As mentioned in the beginning, I'm a fan of working smarter not harder - and there's definitely room to apply that in Rising Star. A few things I wish I knew when I started out:
Instrument luck affects the skill reward of lessons
Much like a band, it's probably best to stick to one genre (aside from the occasional experimental/side project) - meaning build up one type of instrument collection. Going deeper into one type of instrument will definitely help raise the lower and upper bounds of the lessons associated with it.
Unique cards are weighted higher in leaderboard rankings
Want to climb the leaderboard faster? Picking up cards you don't already have in your collection and growing the number of unique cards (as well as total cards) helps double the effect of the extra card. Unique cards are weighted for 40% of the ranking, while total card count is 30%.
Always check for new cards
Related to the above and getting cards via packs, it's not enough to open the packs/purchase the cards - the game has to see that you've received them. You'll need to wait a short amount of time to allow the transactions to occur on the HIVE chain for ownership to be fully completed. Once it is, you'll need to navigate to the cards page and that will trigger a refresh on the server to go and scan for any updated cards. Without doing this, you may have cards but they won't have any effect in game!
Eat pizza
Pizza will instantly restore 100% of your energy. It's possible to find pizza based on your overall luck as a mission reward, but you could get an empty pizza box to store it for when you need it. Cold pizza slices are reusable - each can be used once per 24 hours. Clicking the + button next to the energy meter will open up a drop down of each booster available. A little pizza can go a long way to making that grind much faster.
Mission limits reset daily
Every day at 00:00 UTC+1 any mission that had a lower cap due to "fans being bored" is reset to the full cap. The in game clock aligns to the clock listed in the event log at the bottom of the screen.
Join the Discord
This is the easiest way to say up to date on the game is the official Discord. Lots of good information and updates are being posted there - from HIVE chain statuses, game updates, and new game event information (currently it's the Festival World Tour).
Playing on the go
Even though the website requires the HIVE Keychain extension to log in on desktop, you can generate a mobile friendly QR code to log in without needing your keys. Navigating to the settings page will show this option (excellent for queuing up missions AFK, particularly the longer ones).
Calculate your moves
With energy and time being constraints for missions, it's helpful to know exactly when a mission will be finished and how much energy (at a minimum) you'll have when it's complete. Combining this with the daily refresh cycle and expected value per mission attempt, and you can optimize your starbit generation (or skill generation - don't forget it!). Typically, shorter missions have a higher expected value of Starbits per minute.
Rising Star has a surprising amount of depth to it - especially given the resource balancing act. If there's a tip I missed or part that was particularly helpful to you, please let me know in the comments!
The views expressed in this article are solely based on independent observations and research conducted by the author. The author has not received any sponsorship or payment from Rising Star in exchange for writing this article, and the opinions formed are independent of any external influence. Nothing contained within this article should be considered financial or investment advice, please do your own due diligence and research.