I've noticed that a fairly regular ask in the Rising Star discord (https://discord.gg/nddH8g) is how do pizzas work?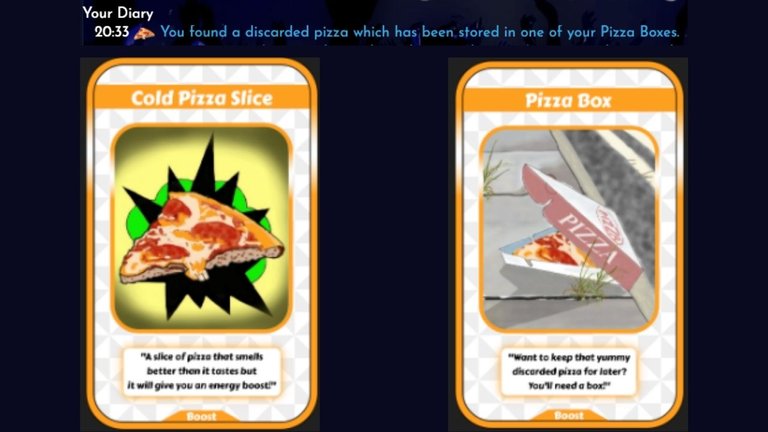 The guys there do a good job of explaining it - but I thought I just do a handy quick reference with all the pizza info in one place. I know once I understood what was happening, it definitely helped.
---
So, there are 3 types of pizza item in the game:
Discarded Pizza
Pizza Box
Cold Pizza Slice
Let's take them one at a time...
Discarded Pizza


A discarded pizza is a random drop that you have a chance of getting when you complete a mission. If you have been lucky enough to get one, a message will appear in your diary feed at the bottom of the screen.
Discarded pizzas instantly fill your energy back up to 100% - so they are pretty cool things to get as that means you can do more missions, and earn more STARBITS & XP.
If you don't have any pizza boxes, or they are all full (see below), then your energy will immediately jump to 100%
This drop is completely random - any luck you have from cards does not increase your change of getting a discarded pizza at the end of a mission. I'm reliably informed by @vcelier (who heard it from Jux himself), that there is a fixed 18% chance that you will get a discarded pizza drop after every mission...
Pizza Box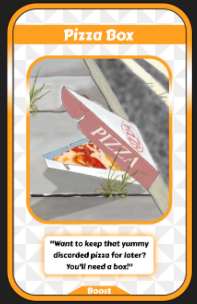 The pizza box can be bought from the market, or you may get one in a bought card pack.
The pizza box will save a discarded pizza, meaning that if you get a discarded pizza drop at the end of a mission it will not automatically fill up your energy to 100%, but be stored in your pizza box. You can have as many pizza boxes as you like, and as long as at least one is empty, if you get a discarded pizza, it will go into a box.
If all your pizza boxes are full, then the discarded pizza will automatically fill your energy to 100% as normal.
The benefit of this is that you can control when you refill your energy to 100%. For example, without a pizza box if you were on 50% energy, and you got a discarded pizza, your energy would fill up to 100%. This means you would only get the benefit of 50% out of a possibly 100% (as you were already on 50%).
However, if the discarded pizza goes into a pizza box, you can carry on doing missions until your energy gets closer to 0%, then choose to use the pizza - getting a bigger benefit.
You can access all your stored pizzas in their pizza boxes by clicking on the yellow [+] button to the right of your energy bar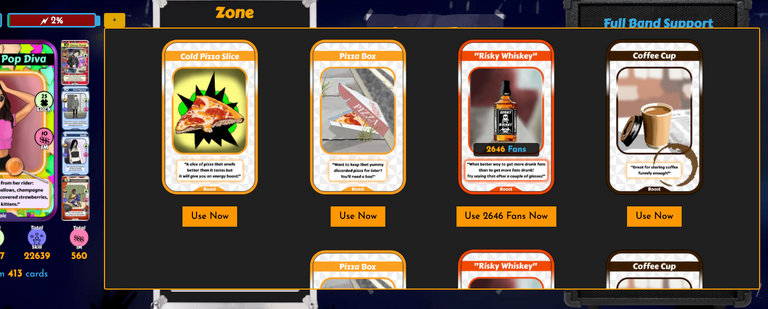 Cold Pizza Slice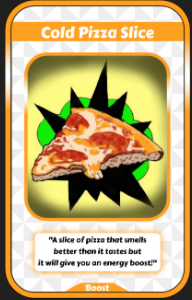 Again, these are bought from the market, or can be found in a bought pack.
Once you have bought one, you can click on it at any time to refill your energy to 100%. However, the cold pizza slice does not then disappear. Instead a 24 hour timer starts counting down, and when it reaches zero - you can use it again!
Like pizza boxes, you can have as many as you like and they are found by clicking on the same [+] as in the screenshot above...
---
So, hope that helps. If there's any questions ask in the comments, or pop over to the discord chat using the address at the top. If anything useful comes up, I'll add it to this post.