Hello and welcome to all the readers.
As mentioned in my last post, i finally went and bought the 12 card pack using my starbits balance. It was fun though as i tried to buy the packs without transferring the starbits to hive-engine account. Rookie mistake :-)
Hypothetically, I had to Hop, Skip and Jump to get my cards :-)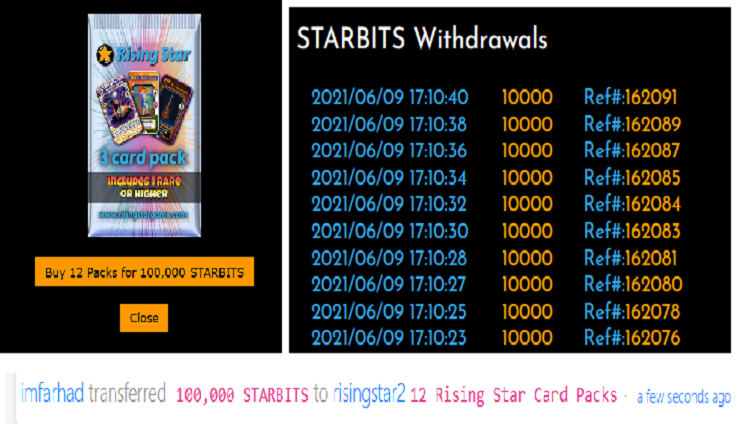 First, i had to do 10 transfers of 10000 starbits to my hive-engine account.
I think, risingstar should add one more option to transfer 50000 or 100000 starbits in one go.
Anyways, after a few minutes, i went and purchased the 12 card packs.
Opening Card pack:
Spoiler: I am not going to open all the packs in one go. 1 or 2 packs a day is the recommended dose that i can handle. I want to spread the fun over few days.
This is what i got in the first pack that i opened today.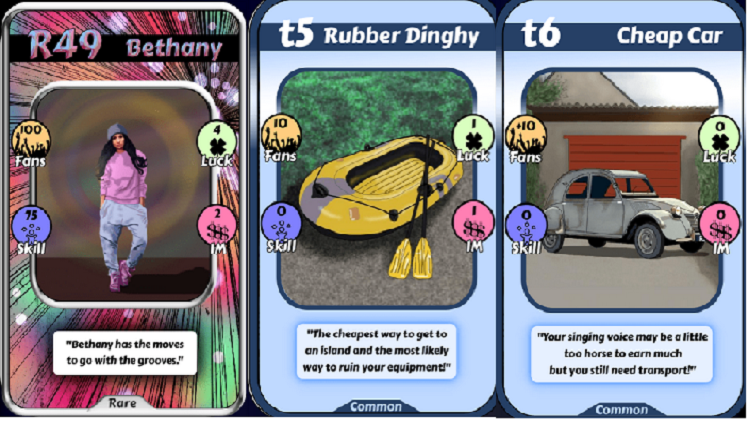 R49 Bethany - 100 fans, 75 skill, 4 luck
D5 Rubber Dinghy - 10 fans, 0 skill, 1 luck
T6 Cheap Car - 10 fans, 0 skill, 0 luck
A good balance card pack.
2 duplicate cards and 1 unique card added to my collection.
My Progress: [goal ends 30th June 2021]
Goal - level 70
Current - level 61 [one step closer]
** Added - A new starbit goal for rest of the period.
Goal - 40000
Current - 3458
Ego is currently on 22%.
I had been doing lots of lessons yesterday. Also, few temporary fans got sober and left.
Now that i have a cold pizza, i can do more lessons and missions.
Updated Stats:


Skill - 1351 from cards, 4580 from lessons
Drunks - 3855 from cards, temporary 925
Ego from fans - 4780 (925 temporary drunks)
Ego from missions - 2849
Total - 7629
Luck - 950
Cards - 101
Players ranking:


interestingly, the movement is upwards since last post. I was on 226.
---
Are you participating in giveaways? - https://peakd.com/@risingstargame/posts
---
Thank you for reading my post.
Have a nice day.
Farhad
[imfarhad]
Previous Rising Star Post - https://peakd.com/hive-195370/@imfarhad/rising-star-new-card-pack-opening-and-progress-update-qucfwa