Gaming on Hive can be a little different to other platforms. Some of the casual 'farming' games out there allow you to buy extra resources to speed up your progress, but I am not sure you can take money back out of them. In games like Rising Star, Splinterlands and Cryptobrewmaster you earn tokens that you can sell on Hive Engine. In some of them you can win cards that have real value too. That creates an economy that some will exploit for maximum profit.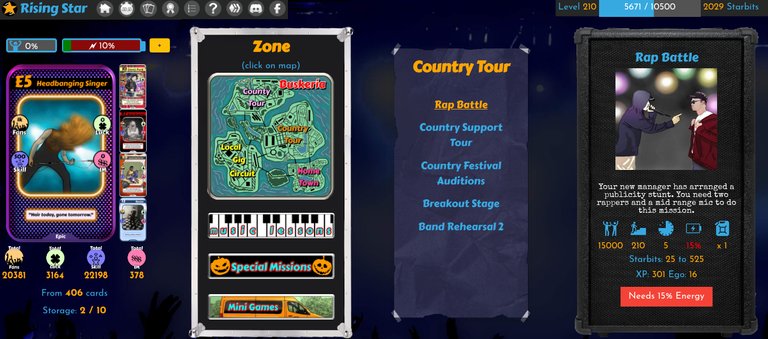 Those behind the games are well aware of this and have been taking measures to counter the profiteers. Splinterlands leagues now require you to hold cards to play the higher ones where you win more, Cryptobrewmaster has reduced the beer prices and Rising Star is adjusting rewards to encourage more engaged playing.
I am still playing Splinterlands as part of a guild. I mainly just do the daily quest to gain enough DEC to improve my cards, but I cannot get beyond Gold now. I am doing less with Cryptobrewmaster after reaching the payout threshold and selling my tokens. I am still into Rising Star as I like the community and the game theme.
This week I reached the final zone, Country Tour, in Rising Star. I still have a way to go to be able to run all the missions that require a higher level and more fans. You seem to get less Starbits each time now. I was making enough to buy a card pack each day, but that may not be possible in the near future. I have run out of coffee and pizza energy for now anyway. I have to wait for it to recharge or a pizza slice to become available again.
The game is still in alpha with a plan to go beta next month. The developer @atomcollector is adjusting various parameters to try and make the game viable when many more players join up. If people are earning too many Starbits then inflation could get out of control. There is much discussion in the Discord about this and other aspects of the game with people making suggestions for how it can work better. The developer is very open to feedback.
The recent changes to add increasing ego points for each mission mean you cannot just run the shorter missions all day. You need to buy cards with skill or earn it by doing lesson missions that depend on the instrument cards you hold. Some people were either earning enough or spending other funds to buy dozens of card packs each day, but they rely on finding buyers for those cards if they want to make a profit. The market is fairly well flooded with some cards. I am more into just collecting different cards. I would love to have the legendary musician cards, but am not going to spend hundreds of HIVE on those. The odds have been adjusted so you are much less likely to get them in a pack.
I bought a pack yesterday and got my first epic vehicle. Unfortunately I cannot actually use the Limo as the fans make my ego too high, so I have bought one of the new storage cards where I can keep it until I improve my skill. The Vintage Synth helps with the Production Lesson I have been doing.

I have spent some funds on the game, but it tends to be what I make from selling things other than HIVE such as BLURT. I know others have spent a lot more, but with a game at such an early stage there is the risk of the rules changing drastically and this is what we are seeing now. This has been made clear from the start, but people will gamble on it anyway. We have also seen abuse of the Wrapped LEO tokens this week when someone found ways to get them without paying. I would expect that people will try to hack the games too and I do not envy the developers in their efforts to combat this. Anywhere that financial gain is possible you will see this happen.
I play games for fun with profit as a bonus, in a similar way to how I treat Hive in general. I want to see more people get into this alternative platform, away from giant corporations and advertising. The games and Hive Engine are not decentralised like Hive, but they can still offer opportunities for many. I think it is fair for people to make some extra income from them, but if it is just about money then that would be sad.
Stay well and have fun.