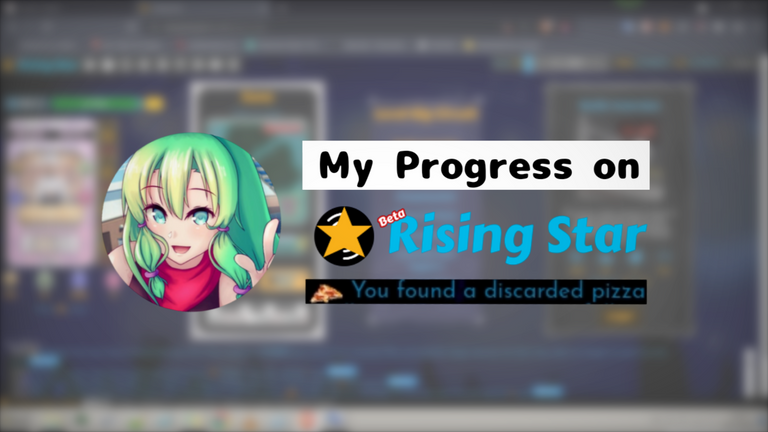 Welcome everyone to my first post about Pizza @risingstargame. And for this discussion I will give tips (or clues) on the easiest way to (more often) get Discarded Pizzas from missions.
this post is also my participation in a contest held by Rising Star and One up.
https://peakd.com/hive-102223/@flauwy/special-rising-star-and-1up-coop-card-available-now-win-3x-juan-up
NOTE: This method works for me, but I can't guarantee it will work for others

Before going to the main discussion, I will show you my progress in this game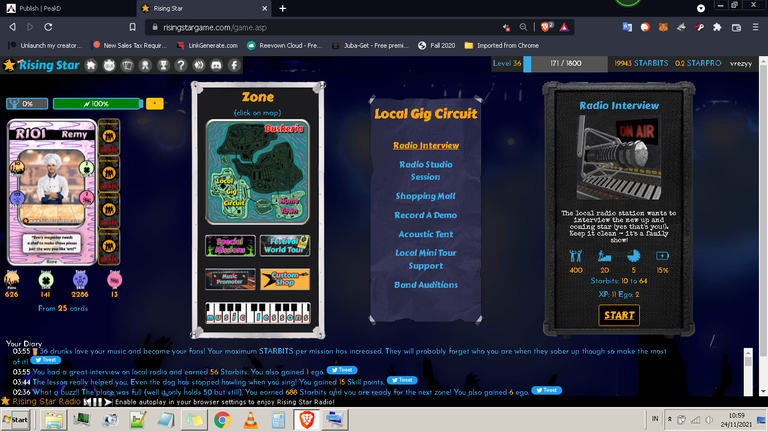 I'm close to meeting my weekly goal (20k STARBITS) counted after the last withdraw. my next target is 100k STARBITS in 40 days.

How do I Get Discarded Pizza More Often?
After showing my progress in the game, I will give you tips (or clues) on how to increase the chance of getting Discarded Pizzas in missions (this is only based on my experience).
Mission Selection :

When Energy is full (100%) choose a mission that requires high energy, I choose Saturday Headline.

when the remaining energy is around 30-40%, select the mission that is in the Music Lesson (wait until the energy reaches 40% if after completing the mission the available energy is still below that number).

when the remaining energy is around 1-15%, select Illegal Busking or Radio Interview (wait until the energy reaches 15% if after completing the mission the available energy is still below that number)

(optional) choose a mission with a time of under 1 hour (I'll explain later)

Booster Cards (I have 1 Cold Pizza Slice & 2 Pizza Boxes)

Use the Pizza Box when all missions (1.1-1.3) have been completed but you don't get Discarded Pizzas.

After using 1 Pizza box, select mission 1.2 and continue with mission 1.4 (this is used as bait to get Discarded Pizzas)

if you still haven't got Discarded Pizzas, use Cold Pizza Slices and do the same mission as 2.2.

if in 2.3 you still don't get Discarded Pizzas, you just have to wait for the energy to fill up without the help of Pizza Box or Cold Pizza Slices (if you have more) and run other missions randomly (1.1 or 1.4) according to the amount of energy that has been filled.

If between 2.1-2.3 you get Discarded Pizzas and your Energy is full (100%), choose mission at 1.1-1.3.


FunFact : I only use 1 Pizza Box per day on average

Pay attention to the Description on the "Musician/People" Card


If you pay attention to the descriptions of each Musician/People card, you will find the words Pizza or Fans on some of the cards. But keep in mind, this does not guarantee 100% that you will get Discarded Pizzas (or Drunk Fans) when using that card in every mission. This only indicates that the chance to get Pizza Slices (Or Drunk Fans) is higher than others if you are lucky while carrying out missions.

Patience and Luck

That was the Tips / Clue how to get Discarded Pizza (more often) when carrying out missions. I've been implementing this method (or rather realized it) from a week ago. My highest record was 6 Discarded Pizza (November 23) and today I haven't gotten any at all (ugh, maybe because I got too many yesterday).
For the next post about @risingstargame, I will talk about my achievement of getting 50k STARBITS. And thank you for visiting here.
credit :
all photos related to @risingstargame, I took them directly from the Game.
And thanks @thepeakstudio for the dividers.