Well, IT, is almost here not going to call too much attention to the closing end and the long new beginning but hope this next turn around the sun is not as surprising. Despite the fact that most of the all of the world seems to be locked in their homes, along with myself, I am thankful for all my opportunities to spend this time with my family and my garden. So Win Win. DGAF. Plus all you WeedCash nerds I look forward to interacting and sharing with. Thank You.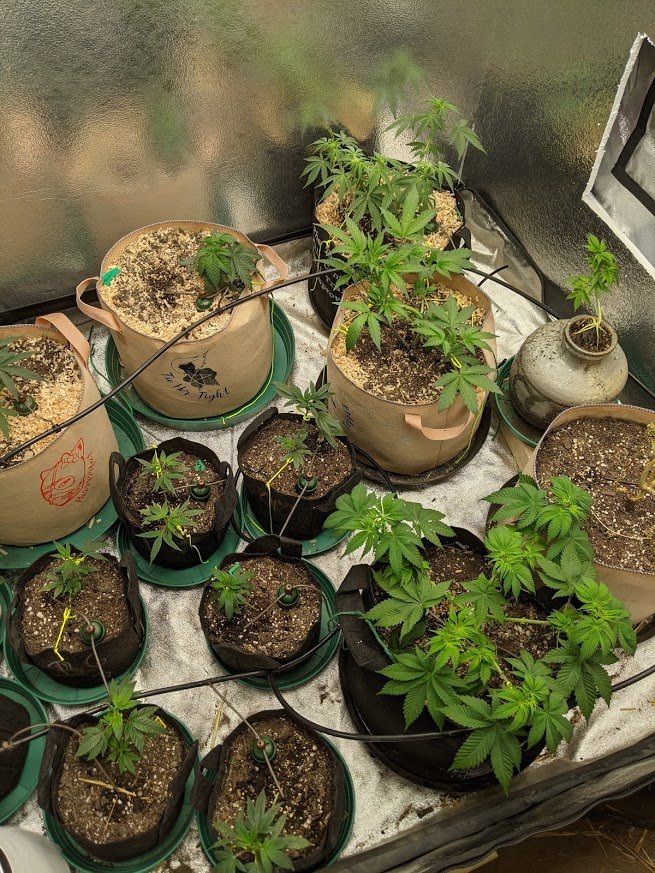 Getting Tight in here. Oh the problems that I have been looking forward to. Well I do my best to keep as much trained in the most light gathering areas as possible. Ladies everywhere and the pots have been down sized from the 5 gal to the 1 gal fabric less padding in the feeding cycles but it will help to tune in my mix proper. Small batch.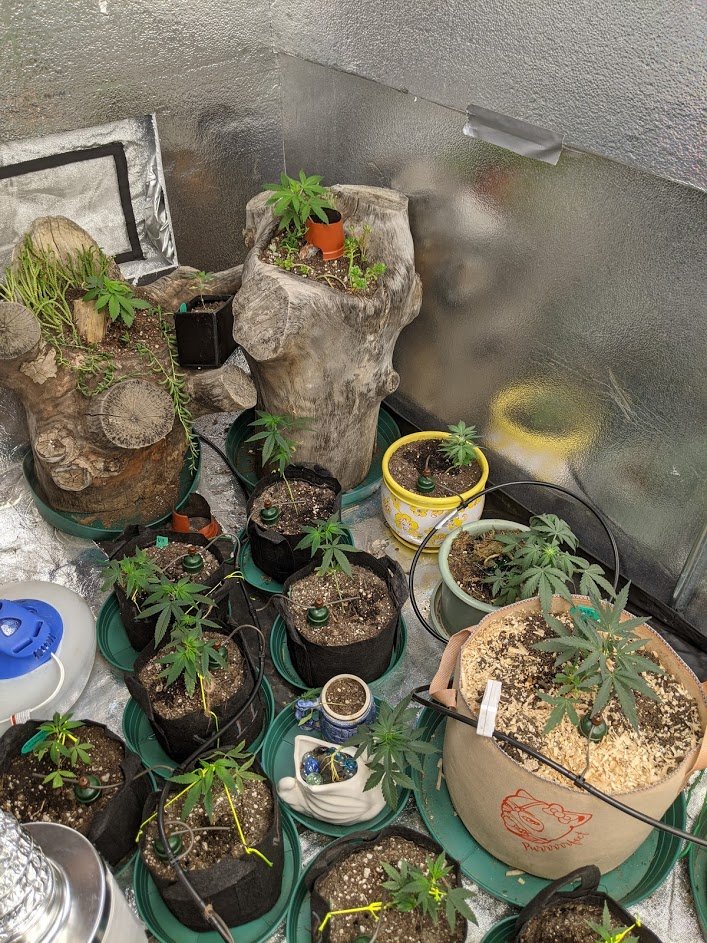 That Purrrrrfect Kitty pot there has such a purrculiar Larry Og growing. She is definitely a late run. If you member all the Autos even those in the 1 gal fancy pots there were all sprouted at the same time. My guess is that the early training on my part is why she is going this way, not to worry the smell is still as staggering as her sisters are emitting. The Other Larry Og's that seem to be tracking with a proper time line look week 3-ish of flower. Maybe.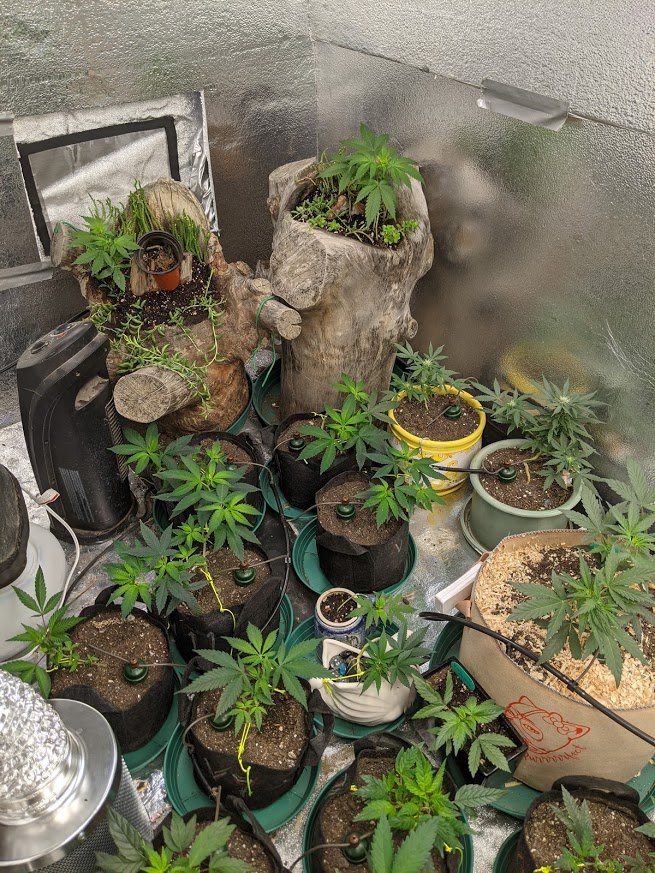 Left side. Saw dust in some for ground cover, and the smaller ones have yet to get some. Straw and saw dust seem to bring in the pests, sometimes, but lady beetles fix most all those problems if your keen on the leaf turn in a timely manner.
That is to say I am bothering the leaves every day, multiple times. Keep a watchful eye. If there is any advice to take from me, checking your leaves is the one.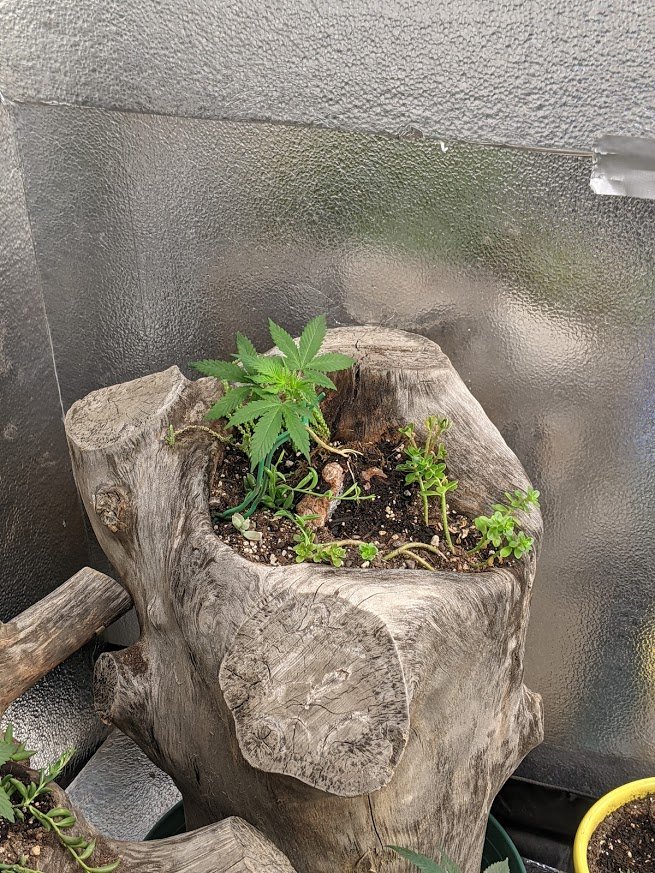 Canna-Bonsai's are doing well on their stones, broken Geode in this hollowed Log.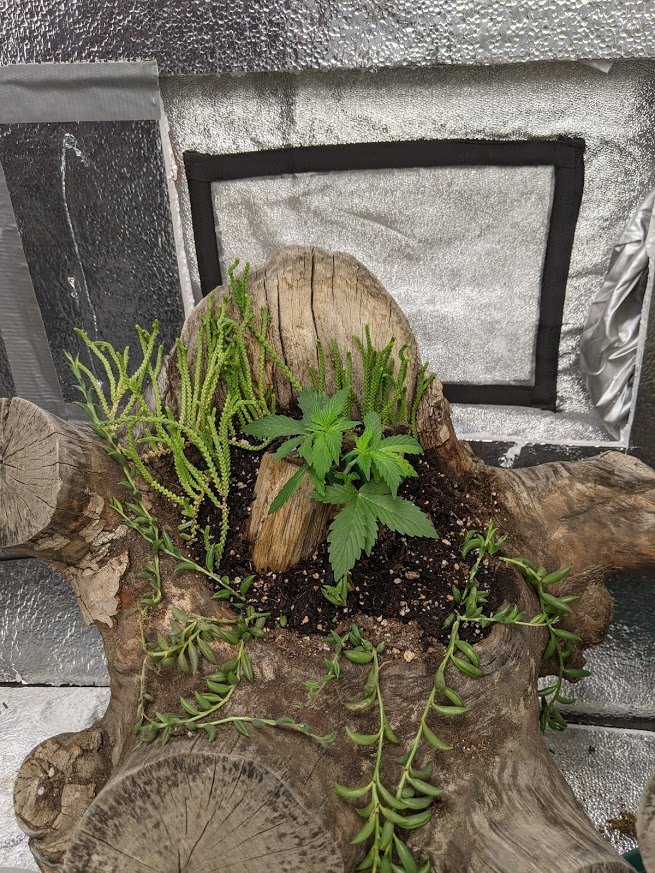 This piece of Petrified Wood, also another hollow log much knottier than the other, hopefully it will be a help in training an building a nice scene for the garden an its surrounding area.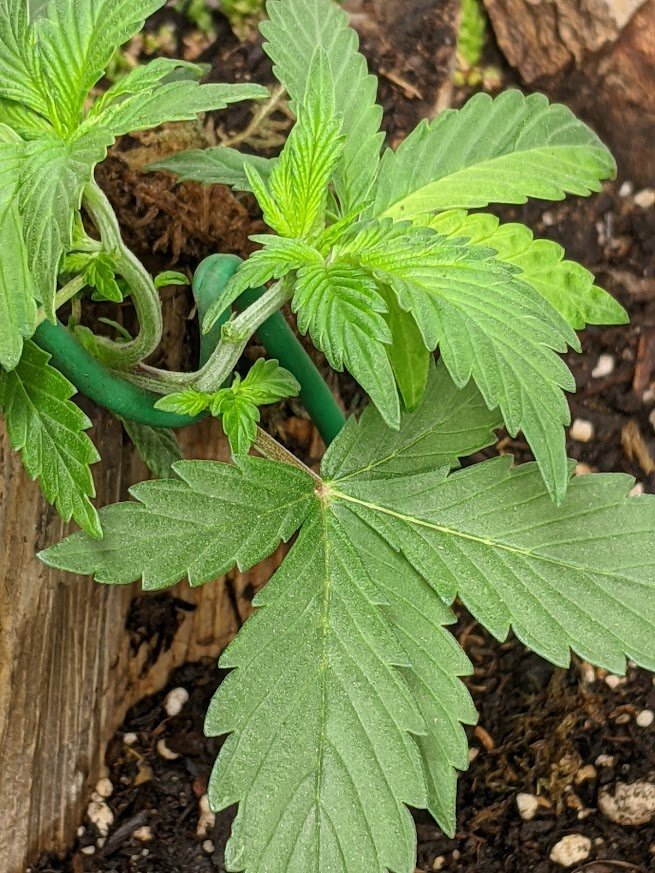 Pretty cool I didn't even top or trim or pinch a leaf, an two tops, Boom, nature is fun.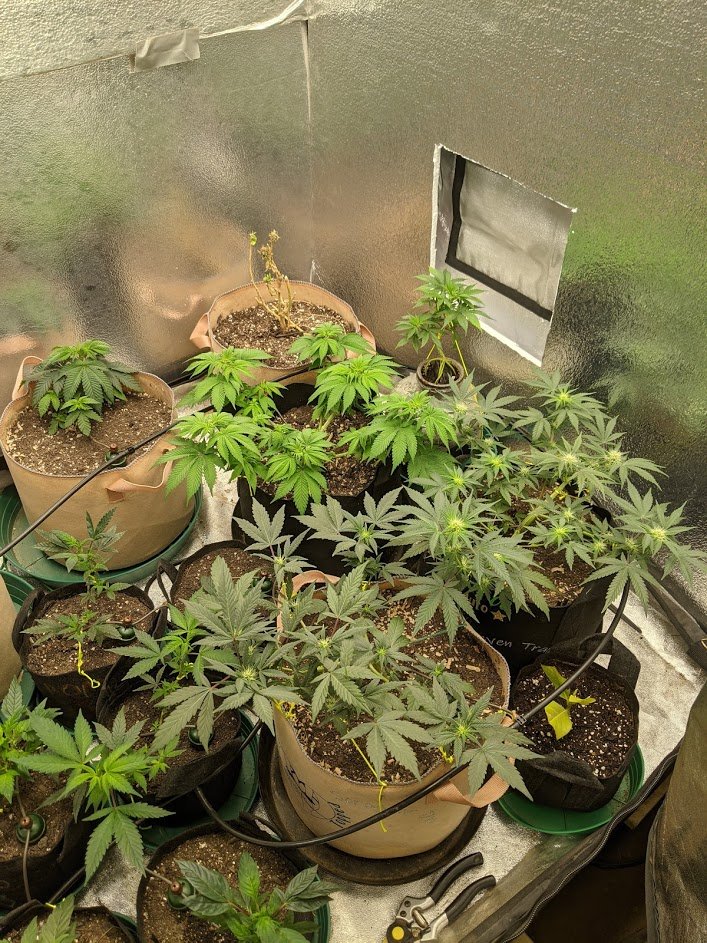 They are all coming along so nicely but there is always a down side, let you know when I find it, promise. The Monkey Mintz there in the top left there has some very unique leaves. it is a combo of Monkey Juice x Kush Mintz, it was a Freebe pack with my Autos. Breed By 42 is the breeder 🤷‍♂. Found @ unitedseedbank on the instagram.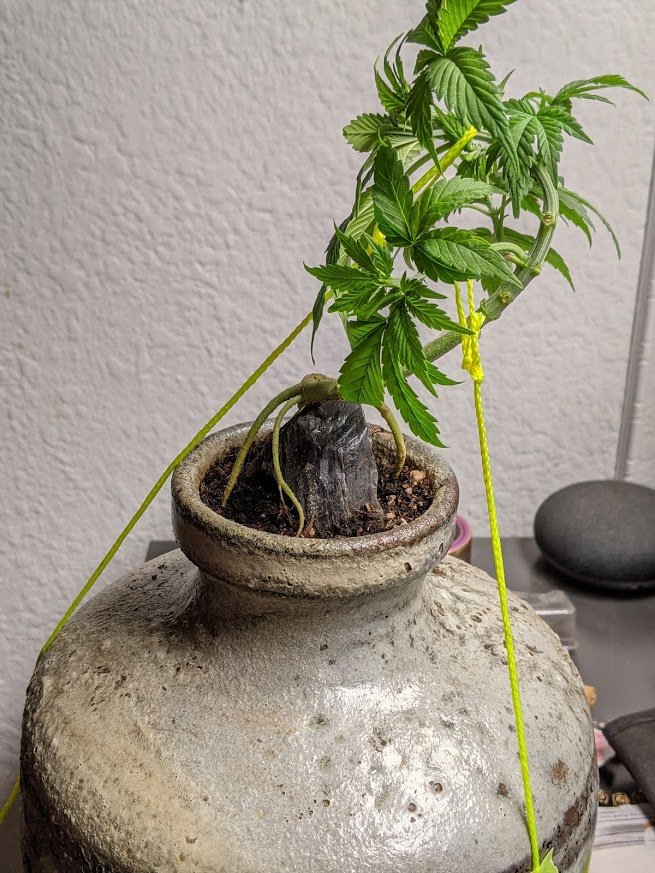 It was not long before she was ready for the string. Little bit of the painters tape and a well placed knot, tied correctly of course.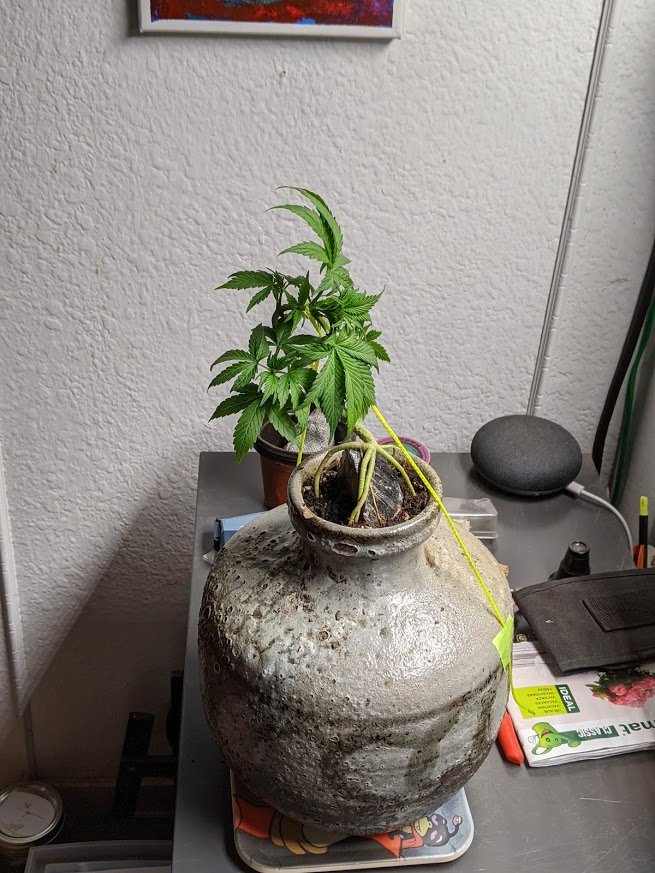 Tied correctly, by way of a Bowline. It can not slip and can always be untied.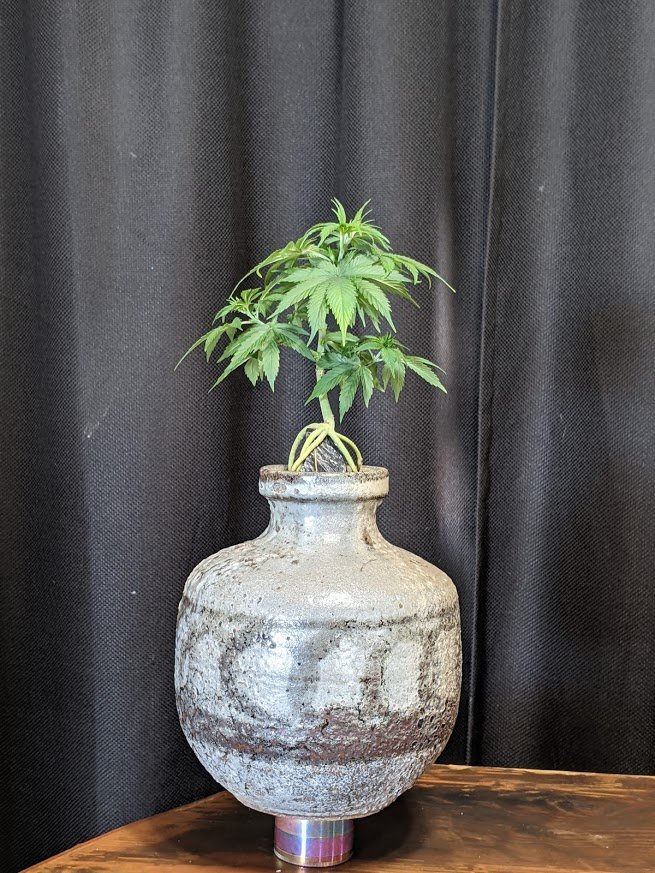 Not to say that a poorly placed knot would make for an ugly type of Bonsai, it just makes for a different flow. No one knot can be correct or incorrect in its placement, its all a matter of preference. Canna-Bonsai is a fantastic learning experience and a difficult one as well. It may also seem that I do happen to have a very hardy breed on my hands as well in this CB19/Platinum Widow reg strain.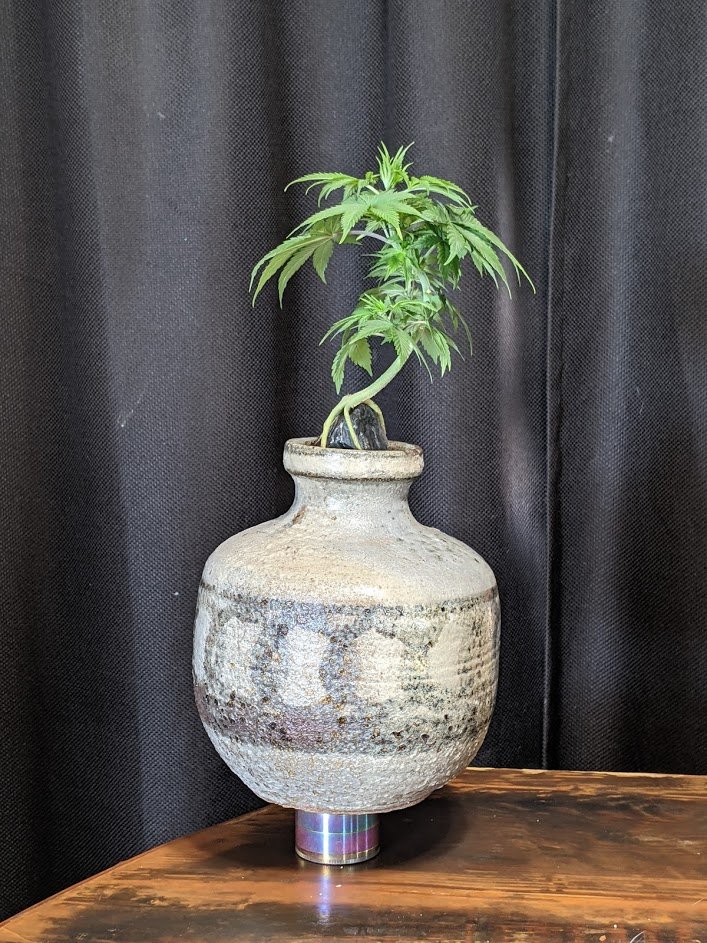 Shaping up nicely, I do like the way the root structure is almost grasping the Obsidian like a hand. The texture of the roots are a good contrast with the soda fired pot from yesteryear.
I am working with 4-1k Spiderfarmers on the right side of the 4x8 and a 2k on the left slowing bringing it into the proper strength.
Blumat watering systems for the fabric pots, and Hand watering on the Canna-Bonsai.
My inputs are Down to Earth, and Buccaroo worm castings. I'm working on getting my own rounded up but that takes time. Got the work part covered.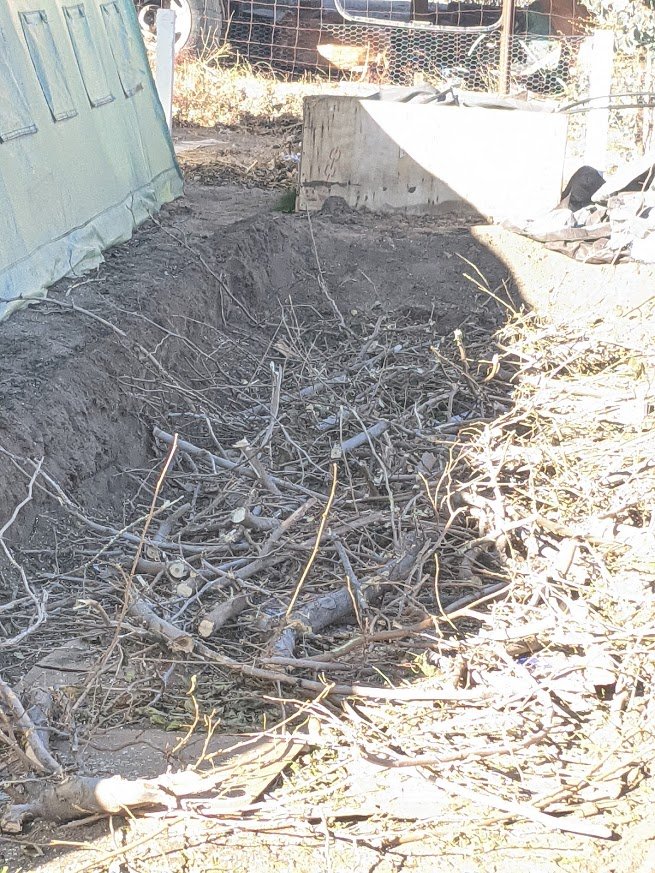 Getting the worm buffet all setup for future.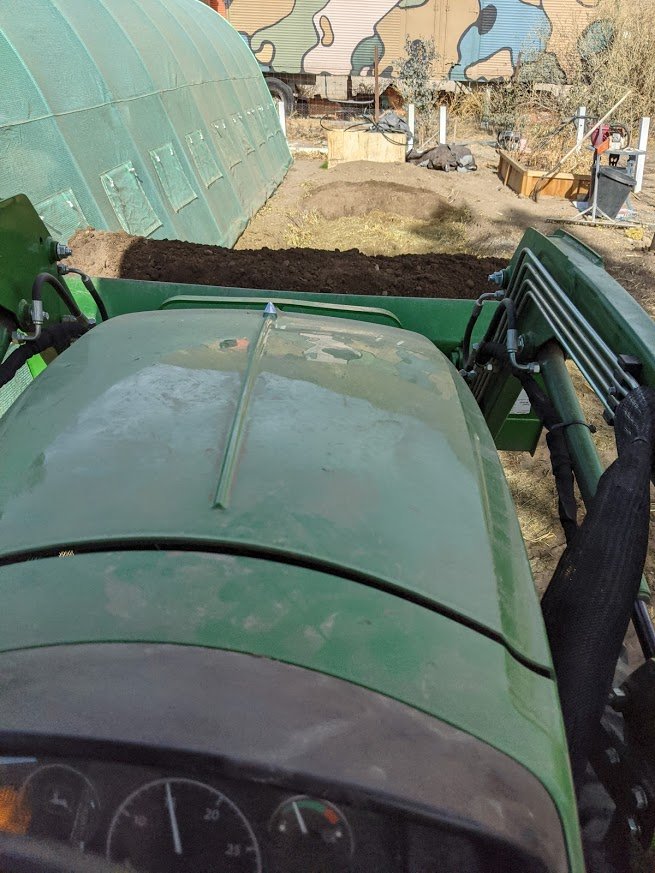 AS always my digital art is produced on my Wacom16 backed by an Asus laptop.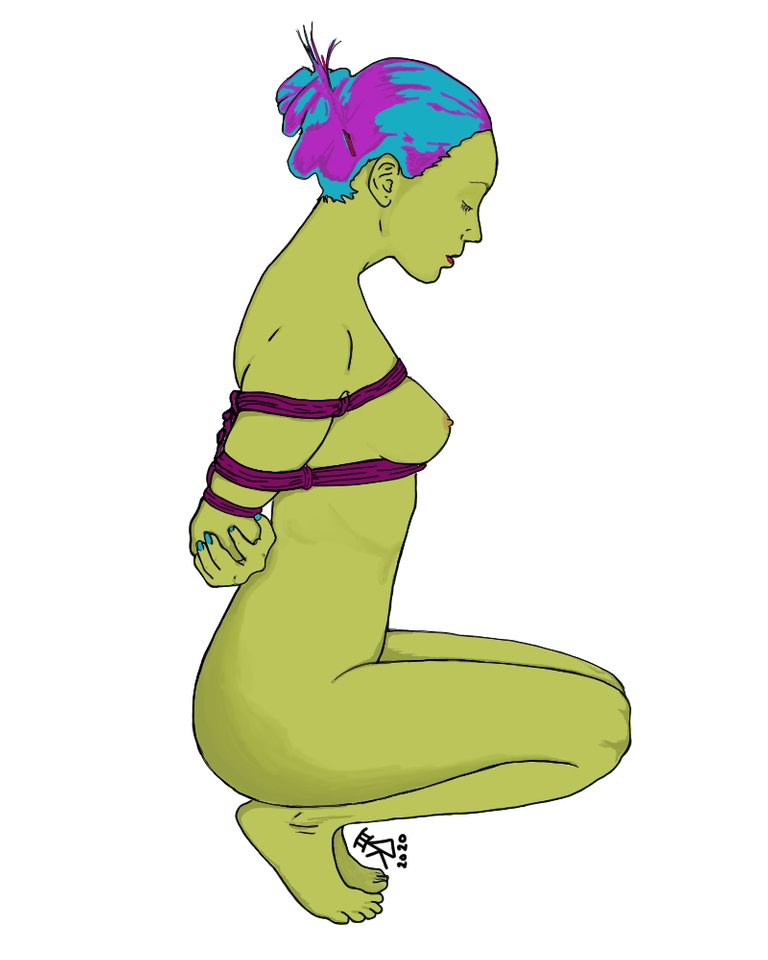 Kneeled and Waiting
Happy New Year,
Knottydaddy, Tied off.