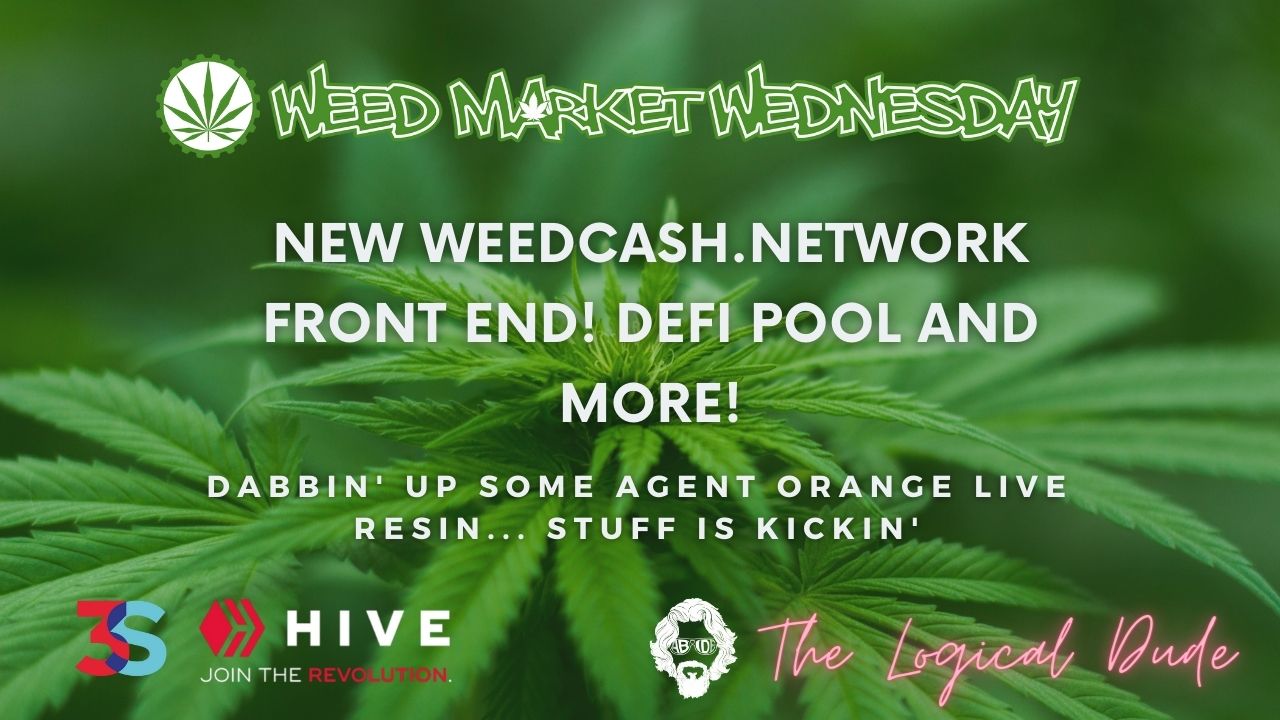 What's happening everyone! It's Wednesday, so it's another Weed Market Wednesday! Having to share the Youtube version of the video because 3Speak failed to upload the video twice. You will probably have to subscribe to watch due to age restriction...
Today I am chilling on some Agent Orange live resin that has a punch.
Also going over the new https://www.weedcash.network outpost! It's our new front end that is going to give us some awesome features right out of the box like access to the diesel pool, but also expansion into NFTs and a possible DHF kind of fund.
Also talking about changing up the Wednesday videos to start hosting a smoke session with guests!
If you want to get involved, let me know!
Also check out the @canna-community post talking about the update!
https://www.weedcash.network/@canna-community/7jpsim-weedcash-news
We are also going to make this today's WeedChat post... What are some things you are wanting to talk about in a community smoke session! I want to keep them topic oriented if possible, but you know... potheads... lol...
Be Cool, Be Real, and always Abide!
If you like what I am doing, please consider voting for my Hive Engine witness with your staked WORKERBEE!
https://he-voter.vercel.app/thelogicaldude
Or at
https://tribaldex.com/witnesses
https://thelogicaldude.com
https://hivelist.io
https://HiveHustlers.com
https://coin-logic.com
https://contractlogic.app
https://groovelogic.audio
https://weedcash.org
View my channel on 3speak.tv! Video platfrom for a free speech society!
https://3speak.tv/user/thelogicaldude
But if you must... here is the YouTube channel link:
https://www.youtube.com/channel/UCtGApfTp4ZzLHksDdImJ9JA
Pure Logic Podcast can be found on 3speak.tv and YouTube as well as the following podcasting platforms:
Spotify
Anchor.fm
RadioPublic
Breaker
Google Podcasts
Join Hive by going to:
https://hiveonboard.com?ref=thelogicaldude