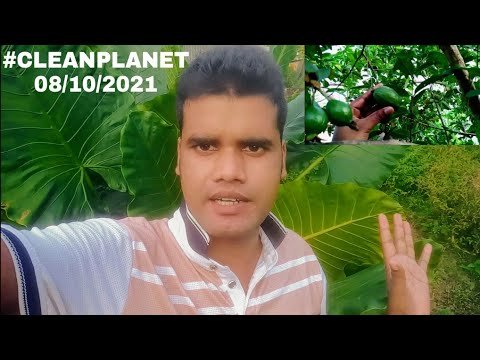 ---
Hello my fellow dtubers and Hivers,
Happy Friday from Bangladesh.Today is Friday, 08 October 2021 (আজ শুক্রবার ০৮ অক্টোবর ২০২১).I hope you're having a great day.
Friends, today is Friday.I woke up at 7:15 this morning.After waking up I went to visit our green vegetable garden.We have a green vegetable garden.There are different types of green vegetable trees in that garden.The garden has a variety of green plants and fruit trees.Sometime I visit that garden.So today Friday morning I went to see the current condition of that garden.Today I spent quite some time inside the garden.I walked through the garden and enjoyed the green beauty there.I collected a fruit from the fruit tree in the garden and ate it.Inside the garden I made a video.I shared the video with you here.In the video you will see the current condition of our green vegetable garden.
So friends this Friday morning inside the garden I worked on @cleanplanet.
While I was spending time inside the garden, then I saw some polluted garbage there.So I collected that garbage and threw them in the dustbin.In the video you will see the moment of cleaning.See my nature cleaning mission in the Friday (@cleanplanet - 08/10/2021) morning🖕.
Thank you
---
▶️ DTube