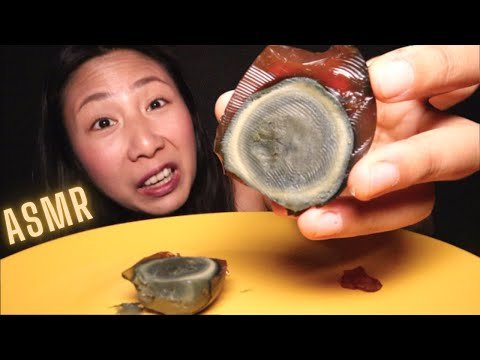 ---
BIZARRE 😨 Eating 1,000 Year Old Duck Eggs #ASMR with Tapping, gentle whispering, scratching, gulping, and eating sounds for good night sleep, relaxation and tingles.
Century eggs / Preserved eggs / Thousand-year-old eggs / pine-patterned eggs / hundred-year-old-eggs are considered top10 the most exotic foods in the world
What is century egg?
a Chinese preserved food product and delicacy made by preserving duck, chicken or quail eggs in a mixture of clay, ash, salt, quicklime, and rice hulls for several weeks to several months, even years, depending on the method of processing. Some eggs have patterns near the surface of the egg white which are likened to pine branches, giving rise to one of its Chinese names, the pine-patterned egg.
** ASMR - Autonomous Sensory Meridian Response
Enjoy the sound!
​Thanks for watching and being a part of this foodie journey. I'm on my way to be the best food asmr ever channel and I appreciate you being here and support me in any way ♡
#asmr #bizarre #exotic #centuryegg #century #1000 #weird #gross #ew #blackeggs #black #egg #blackfood #soft #jelly #sound #mukbang #eating #foodshow #food #asmrmukbang #asmreatingshow #eatingsounds #letseat #asmrsounds #asmrsatisfyingsounds #asmrcommunity #asmrfood #먹방 #tingles #triggers #whishpering #tapping
---
▶️ DTube