This is the first time I'm going to expose my side hustles to my followers here on Hive (yes I do have now 😊). It's actually been a few weeks already! I was just not able to take the time to share this with you.
Anyway, so what lead me to this journey? Well I guess quitting my previous corporate job has become the turning point as it opened more opportunities for career and personal growth. A couple of weeks ago, @raymondspeaks (I hope he doesn't mind me blogging about him lol) who I follow since Steemit days and also my long time follower here, probably read my "Quit Your Job and Find Another Job Rant series. He asked me about my skills or what I do in real life. I still had a job at the time but kept in mind his offer.
In case you guys don't know, he's the owner of BRO Hive Engine token and the BRO accounts @brofund (mancave) and @brofundholdings. He blogs mostly about self-help for men (much-needed in this day and age imho). He's generally a good guy (I think ha ha) and full of life wisdom from his personal experiences so I suggest you follow his blog too.
Anyway fast-forward, I'm now helping Ray with data analysis for his BRO project (reporting/data analytics is what I do in real life), well it's actually me and this other super smart guy @AMR who currently teaches me Python programming for data science. It's super cool!
At the beginning I'm wary of being part of a tribe here on Hive, actually I've never been really active on any communities here or even on Steemit. Just because I'm a super introverted and misanthropic and diabolic person (lol) so consider this such a huge step up for me! Anyway, I was looking for something meaningful to do while waiting for this new job so I chatted with Ray via discord because I remember our conversation previously about some things he might need from me. I feel comfortable connecting with him straight away (well the rel just developed as he constantly bugged me on Twitter about my whereabouts lmao - he still doesn't know tho ... I guess this is the way to get me haha) so now I have this new thing going on here on Hive apart from posting. It feels good!
So it's actually more for me than for Ray (lol sorry @raymondspeaks). I guess this new endeavor is pretty much self-interested but then it's win-win. I am transitioning to a new job (I'm gonna work for this IT resources company starting next week) and I want to devote my free time learning more about data science. I realized that being in my previous job got me stuck in the company's old systems and traditional ways (ancient behavior too). I thought that they might be deliberately unempowering their employees just so they stay unskilled, underpaid and unemployable by other modern and high-paying companies. Cheeky corps I must say! But anyway, just saying, no hard feelings anymore. Good riddance tho!
I've thoroughly enjoyed this leveling up that I do for myself these days and no doubt that I've already learned a lot. I will keep this new work-from-home job for as long as I can while also helping Ray with his project. There are no guarantees because this new company is asking me to move to a big city so I can work on site soon (when this pandemic is over ugh). And of course, that's 100% impossible. I choose to stay here in my peaceful and stress-free place. But I'll try my best to work it out with them and I hope that I can pull it off. It's just that the uncertainty of it all is giving me anxiety so far. I guess I'll just trust the process. What's for me is for me.
I've learned that I cannot be completely certain with anything so this side project with the BRO tribe is just my slow transition to creating a life in the cryptosphere. I mean in the end, I really just want to do meaningful stuff and not just work for money all my life. When tourism is on again, I can continue what I've been doing before and also do some blockchain data analysis on the side. It would be cool if I could do both things that I love right? Well that is just the future plan and I'm completely attuned to achieving these goals.
With all the craziness going on around us these days, it doesn't hurt to envision a life that you want and keep a bit of hope and positivity in there.
So anyway, here are my data analysis posts for BRO if you're interested in investing in this cool HE token.
Brofund Payouts ao 0620 - Are You Getting More from Bro?
Brofund Holdings ao 0625 - Why it's Worth it to Buy BRO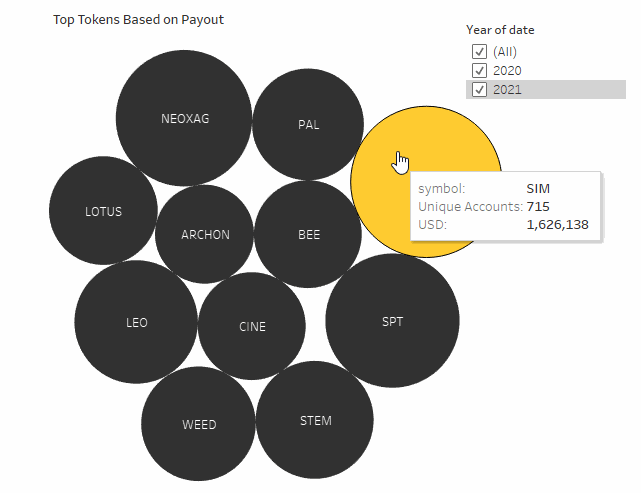 I used both Tableau and Power BI tools for the visual analytics (sample chart above). I got the data from @AMR extracted from HIVE Blockhain (I will soon do this too).
So if you run a company, a small business or have a blockchain project (or if you know anyone) and you want regular reports and colorful charts like these, you can PM me on discord - diabolika#2432 and let's discuss the task. Just in case you want to spare yourself of all the nitty gritty of data gathering, querying, and analysis. You can pay me in HIVE of course, ha! 😎
Yup I'm coming out of my shell here a bit and promoting myself now (lol). I guess I just truly enjoy this data stuff so anything that will help me practice, get more experience, or level up my skills would be great!