Easter egg coloring kits are in high demand and have been available wherever you go. I normally pick this brand as it is one of the more popular ones and I have used it my entire life. Every few years, they sell a new designer kind of kit. I have bought the standard egg coloring kit, the glitter eggs, the tie-dyed, one that used shrink wrap, sponges, and all sorts of other kits. One year, we used just the rich tones and then glued jewels on them. It was gorgeous!! If I really like the kit, I will buy a few of them when they go on clearance at the end of Easter. There is no guarantee that they will have it again next year, so if you love it, you better buy the extra!
This was the tie-dye kit, but a few years ago, I bought one that had these plastic containers as a bonus for buying the kit! Score!! I use the color to match up and when I am done, I wash them out and save them for next year. What a deal that was!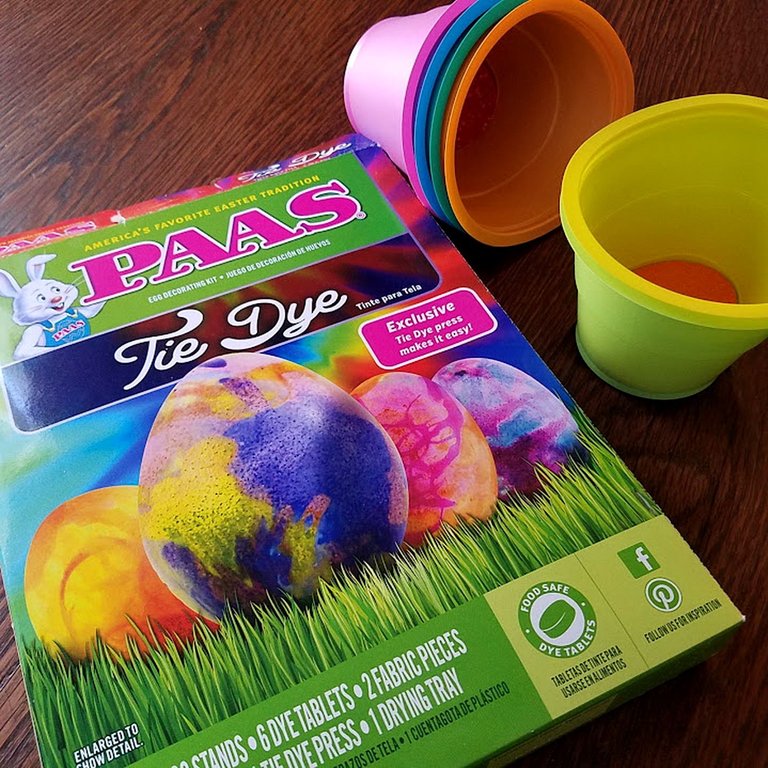 The original Paas Easter egg dye was invented by American William Townley, the owner of a drug store in Newark, New Jersey, where he concocted recipes for home products. In 1893, he figured out how to concentrate dye in tablet form and launched the modern Easter egg dyeing kit. Mr. Townley realized that he had a wonderful product that other families would like to use to brighten their Easter tradition. He renamed his business the PAAS® Dye Company. The name PAAS® comes from "Passen," the word that his Pennsylvania Dutch neighbors used for Easter. source

Today is #MarketFriday initiated by @dswigle (Denise, that's me!!) Join me as we share our markets across the globe. I always look forward to seeing what you send me! It is amazing to see the different markets and cultures of our friends here on Hive.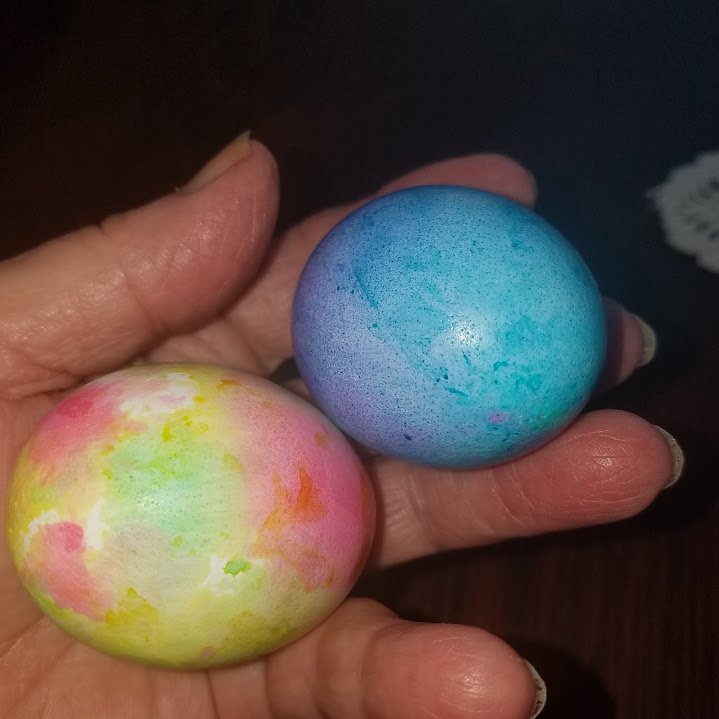 Here is a little quickie example of what the tie-dye looks like. We mostly checked it out to see if it was still good. Seems like a go, so we will put it in the rotation this year. Will you be coloring eggs or hiding eggs this year? Never too old to do this! Come on and join the fun on the night before Easter! I have a feeling that @bluemoon may be coloring eggs this Easter! He has the cutest little granddaughter, whose name is Ilinca. I would love to see that show!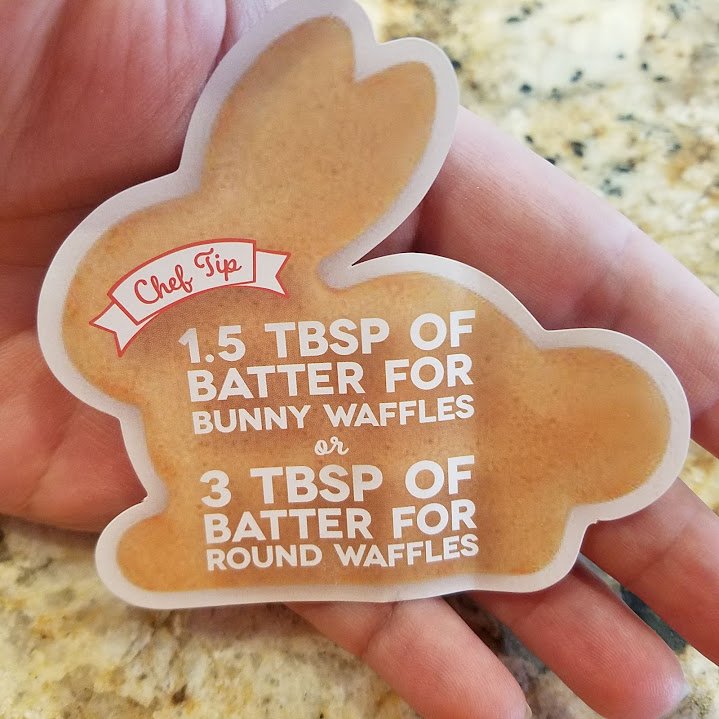 $5.00 Amazon Warehouse/ Dash Brand - One of the cheapest brands there is out there and yet, I have had one for a few years and I bought my sister one this year. She loved it and - five dollars! So there will be bunny waffles for all. They cool pretty fast too. I know what you are thinking. I would need to eat a dozen of these, but, these are the right size for me. Carb counting, you know.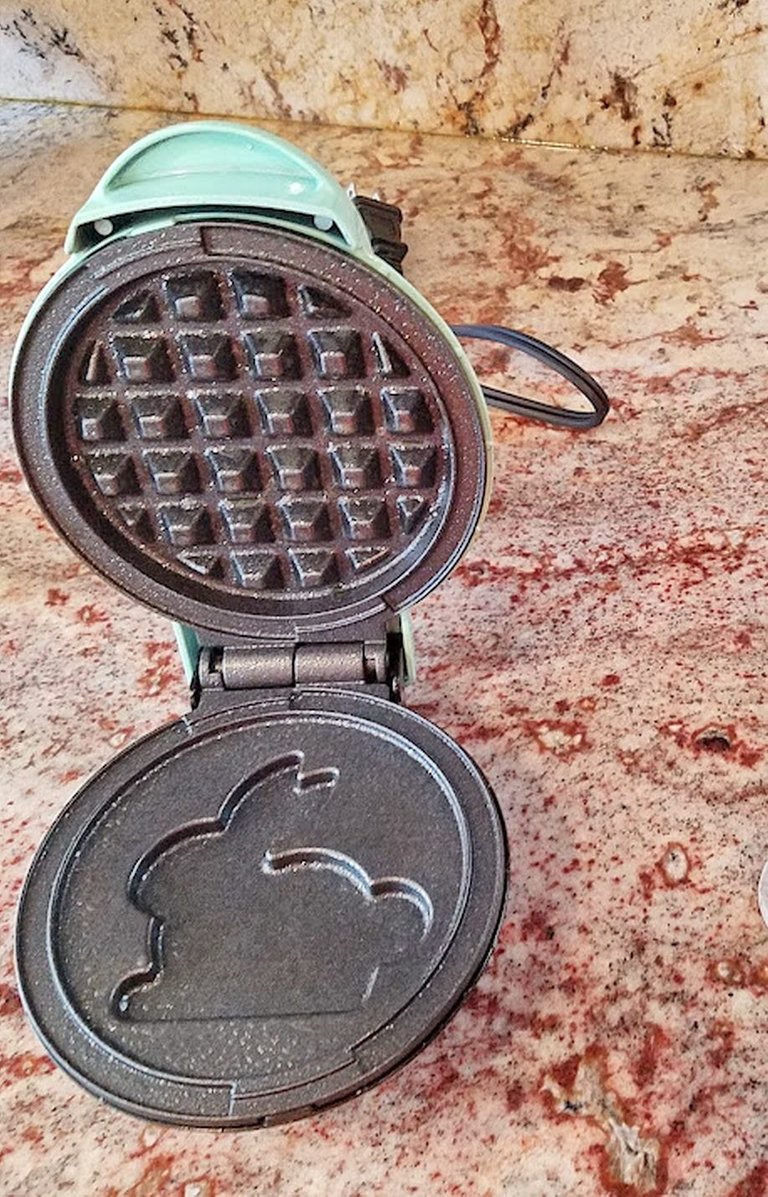 Do you need a fast and easy waffle mix? This should cover you. Feel free to add a few more ingredients that sound good. Fruit on top, maple syrup, powdered sugar, Nutella. The sky is the limit!
Ingredients
2 cups all-purpose flour
1 3/4 cups milk
2 eggs
1/2 cup butter melted
1 tablespoon white sugar
4 teaspoons baking powder
1 teaspoon pure vanilla extract
1/4 teaspoon salt
Instructions
Preheat your waffle iron and spray with cooking spray or rub a little melted butter on.
Whisk together the dry ingredients - flour, sugar, baking powder and salt.
In another bowl, beat the eggs with a mixer until light and fluffy and pale in color.
Add the vanilla to the egg mixture.
Mix the egg mixture into the dry mixture.
Add the butter and milk into the mixture- blending until just smooth.
Let mixture sit for about 5 minutes before adding to the waffle iron.
Pour onto hot iron and cook until golden brown.
Put your oven on warm and keep them in there until you make enough to serve.
Voila! They are done! ❤️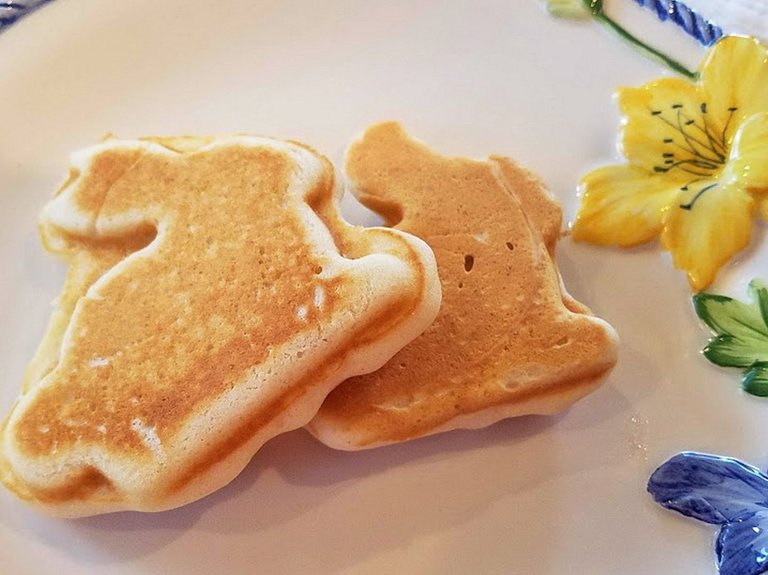 I ordered this postcard from days gone by. 1927 in fact. I just got it in the mail and found they mailed the wrong one. I already had one that was very similar to this one, so I am sending it to my sister for Easter. That is how it works. She really loves them and I think she should have it. What are the chances of getting a postcard so similar to one I purchases 15 years ago in Canada? At the time, the postcard cost me $3.00 and the most recent one cost $7.00 It is hard to tell if I got a good deal or abad deal. The prices are all over the place, so the best that I can say is that it was worth it to me. Would you buy a vintage postcard for nostalgic reasons only? It was from 1927 and it had the loveliest message written on the back.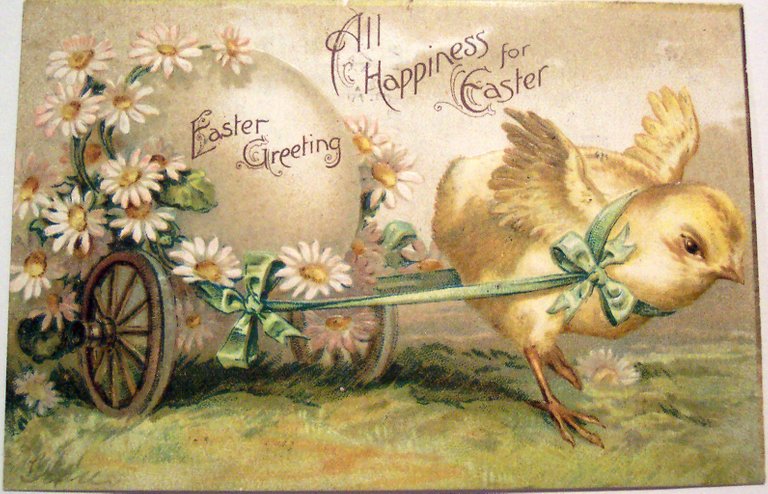 This is the local Walmart here. I did this for you, my #MarketFriday people. I dislike it and try to shop the local vendors, but, for scoping out Easter, it was the place to go. There is no shortage of candy anywhere. I would say they have enough to give you a mouthful of cavities.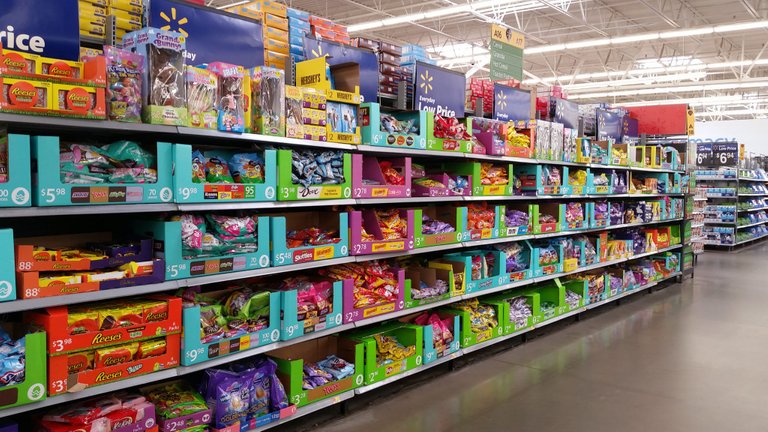 Aisles and aisles of it! I spy one of my favorites! I love Peeps! The candy encrusted marshmallow object of my affections? I don't eat them! I just look at them. Seems even looking at them will put on 5 easy pounds. But, look how many of them! Have you noticed the price of candy is like panning for gold? Way too much.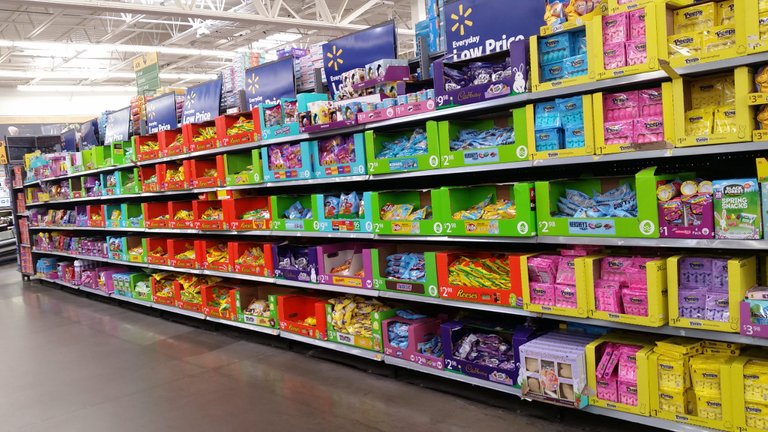 I have a few little decorative pieces up, just to give me that Easter feelig. I bought those boxes a few years ago for a gift and then, I just couldn't give them away. Have you ever done that? When I say it out loud, it sounds a little selfish...Yikes!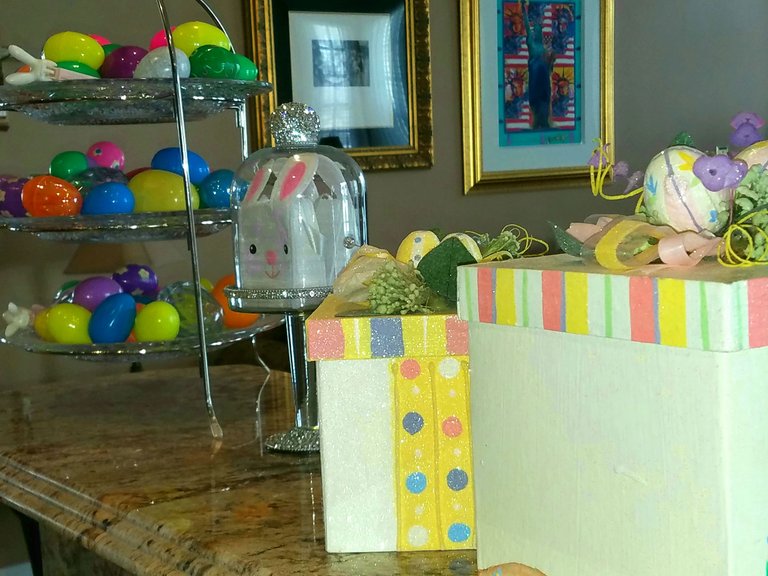 A few eggs here and there. I used to hide all the eggs and have little fun prizes inside of them, nothing expensive... although there was always one with money inside. The coveted money egg. Everyone wanted that one. But, there was ever always one... until one year, when there were two. What a surprise! Do you like surprises?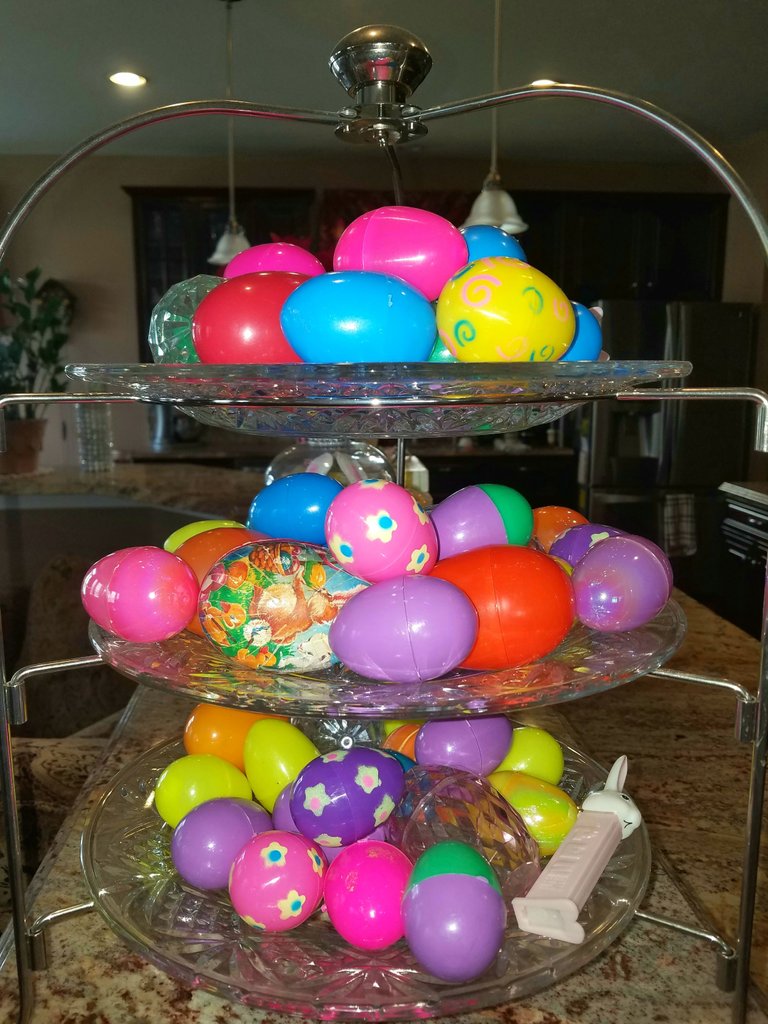 I had fun and I hope you did too - and just like that, this post is done. I hope you had a good time and learned a little something new. As always, I want to thank you for taking the time to visit, and just remember, #MarketFriday loves you! Thank you for supporting the challenge! Have a most fabulous day! Cheers!!

Please leave the link to your post here so it can easily be found by others. It helps you and me to have them in one place. Where else can you take such a quick trip around the globe? Thank you so much for joining us!! ❤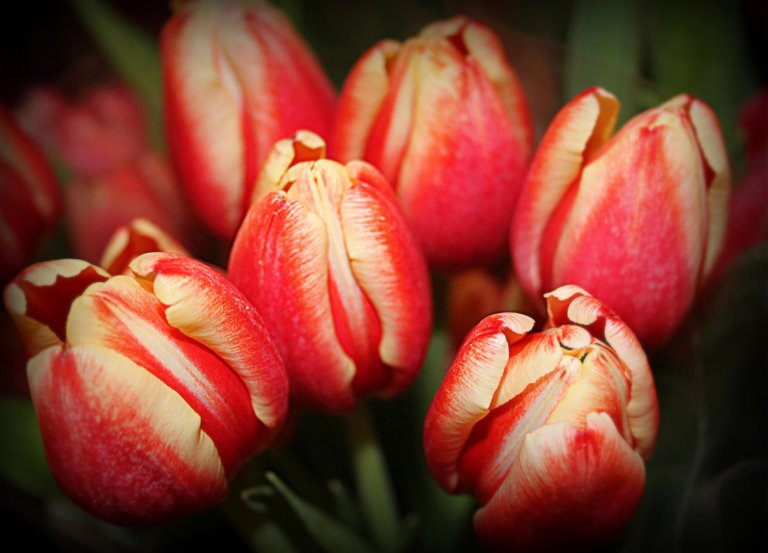 Words alone cannot always tell you how you color my world, but, I can give you a sneak peek. As always, there must be flowers to color my world. #alwaysaflower
𝓛𝓸𝓿𝓮, 𝓓𝓮𝓷𝓲𝓼𝓮 ❤️

---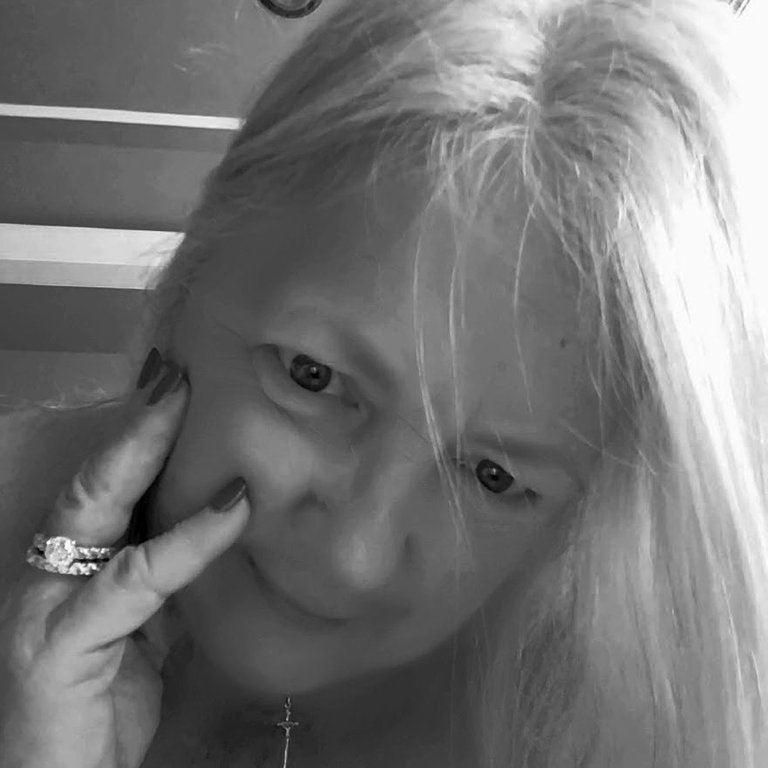 ---
Fridays are all about the #MarketFriday Challenge! Looking to take part in it? Here is how:
Rules of the Road to Join #MarketFriday!
Go to the market, or anywhere that you pay money for a service.
Take pictures! Be creative!
Tell us a little bit about the market or the event. What brought you there? What did you buy? How much did it cost? Was it expensive? Did it go up or down? I need something other than 50 pictures of the market.
Post the pictures. Of course, you should tell a little bit about the ones you post, it is too difficult to guess on some
Use the MarketFriday Community Platform to post (#hive-196308) This is not required but appreciated.
PLEASE Drop the link into the MarketFriday comment section so I can find it!!
Following me and reblogging the post would be appreciated, but not a rule, more vision for more views on the #MarketFriday posts!
You must put #MarketFriday by @dswigle somewhere on your post.
As always, please remember! #MarketFriday loves you!

#TeamUSA is a growing community of quality-content people from the United States or those living here. Check us out on Discord!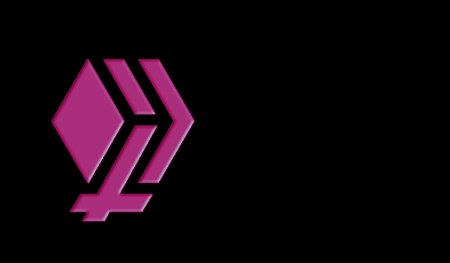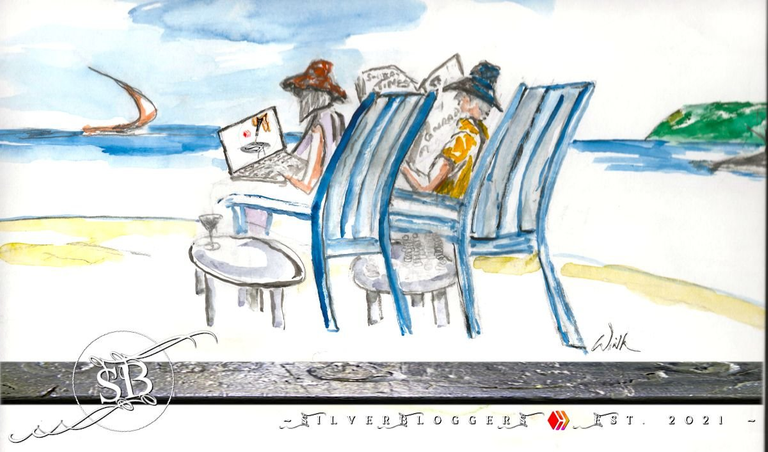 Recipe source