It goes against the grain in the real world to stop working before your time. Your time being old enough to retire. I know there are people that do it, but, for the most part, people continue with the expected path. But what if you could take the road less traveled, create your own journey? Live your life out without fear of running out of money? So many things to consider. I have always traveled, in some capacity, whether through work or on my own. After spending a long time pondering the whole point of life and what I still want to do with it and how to make it count best. In a perfect life, I will be making plans to travel and blog as I go, which is really quite exciting to me. I have no date, but, I have to set a date to stop working. How much money do I need to be happy? I do not want it as a permanent place. I already have a house and I will definitely keep it as a home base. And yes! I am a little excited! How about you and me take a look and see a few of the motor homes I looked at, at Camping World.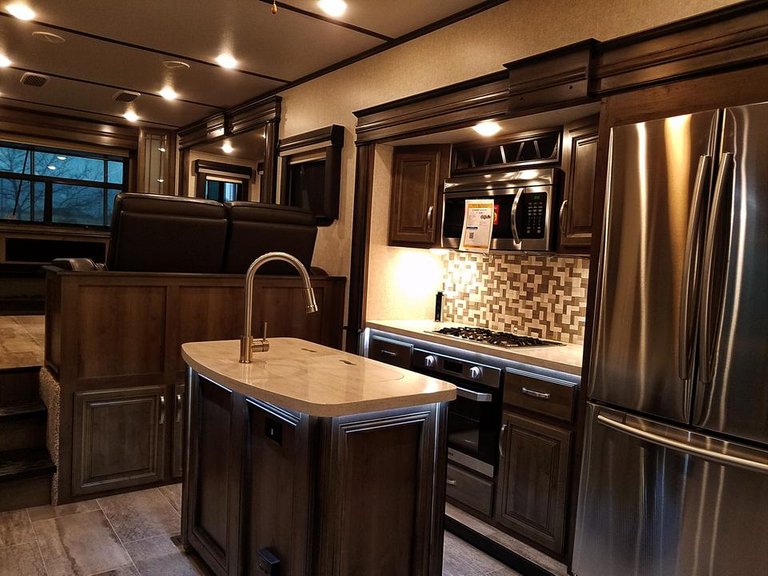 Today is #MarketFriday initiated by @dswigle (Denise, that's me!!) Join me as we share our markets across the globe. I always look forward to seeing what you send me! It is amazing to see different markets and cultures of our friends here on Hive.
Please leave the link to your post on here so it can easily be found by others. It helps you and me to have them in one place. Where else can you take such a quick trip around the globe? Thank you so much for joining us!! ❤
I shouldn't have shown this one first, but, this excited me a whole lot. It had an amazing layout and two sets of stairs. What??? I know, right? This was the kitchen. Full-size everything, including stove, refrigerator, oven, and microwave. You can see the faucet, but, the counter on the island has a cover over the sink to make more space for meal preparation. So you also have a sink, but, you will have to wash your own dishes. Sorry.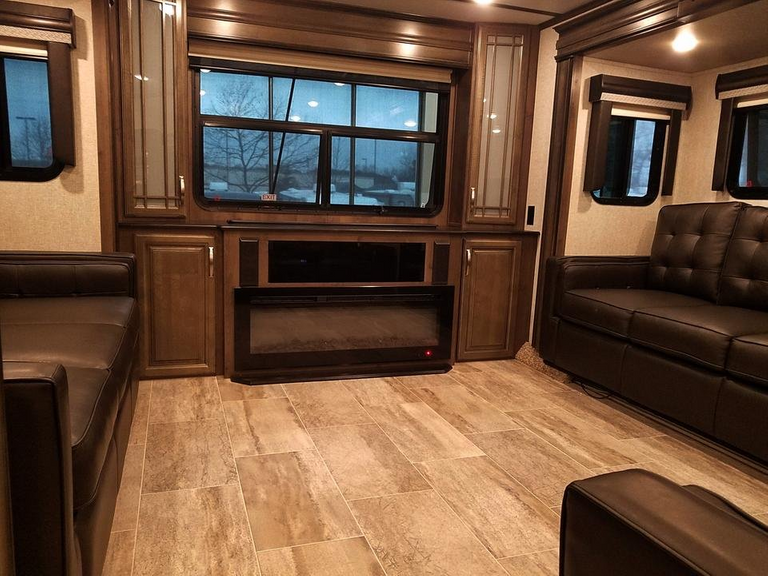 If you scroll back to the first picture, there is a small set of stairs on the left side of the screen. These walk up into the living room. It has a for-real living room. Two sleeper couches (for the company) that were leather facing each other. In between, is a fireplace... hello... I am not kidding. But, then, there is a pop-up television in the back of that. To complete the scene, there is a double set of leather recliners that have footrests and it even massages you. That is it, there will never be any pictures taken... Oh, did I say that there are five push-outs or slides to make this bigger? That is why it looks so big. Pushed in, the couches almost touch one another. Without them, it is merely a travel trailer.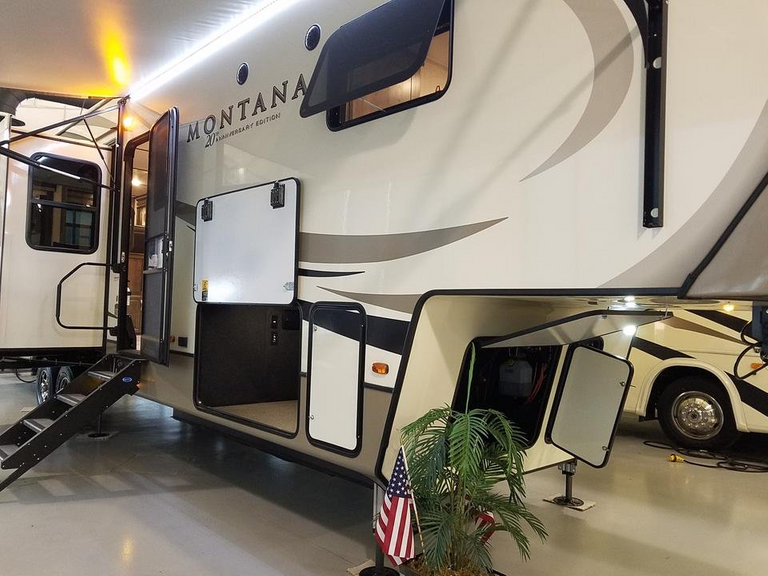 This is what you call a fifth-wheel. You need a truck to hitch it on to and in actuality, it is very easy to handle. The good thing is that you can unhook your trailer when you get somewhere and take the truck. That is a plus. (I keep telling myself that)
I have never liked fifth wheels. I have a weird aversion to them. I cannot even tell you why. But, I figure that God or the Universe is punishing me now because this is like the answer to it all. And I like it. Ugh!
The open doors are where storage is. Lots of storage! An embarrassing amount of storage. It is not a house, just temporary travel. But, there you have it. I think it could easily stow away a dozen or more people.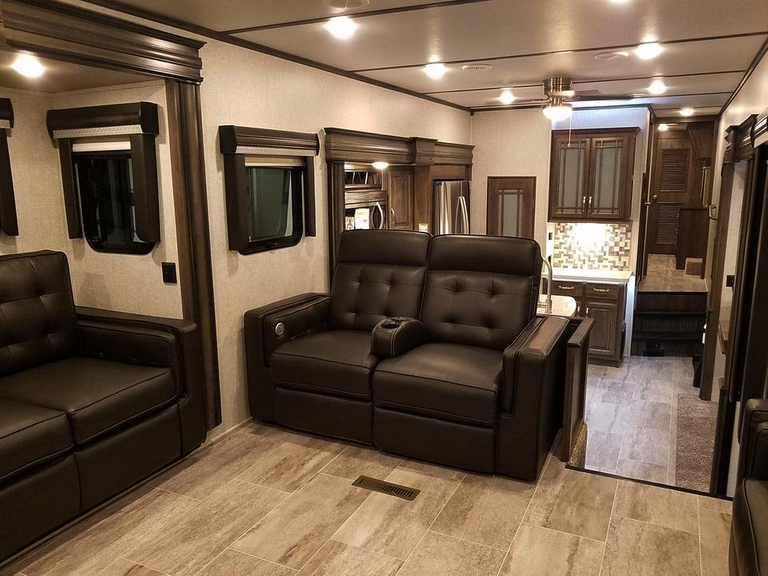 This is the other part of the living room with the lounge chairs. So, there is a nice little conversation corner to make it all cozy. I think I would need to put a coffee table in there. There is actually too much space. Did I really say that?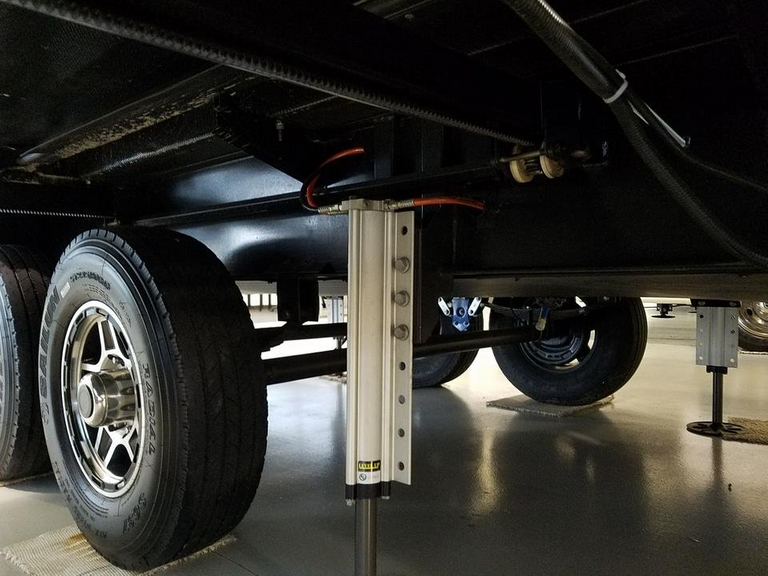 These are the automatic level jacks. It levels your trailer when you park it. So you are not walking uphill or downhill or sleeping on an incline. I have slept that way a few times! I even lived to tell... but what if you didn't have to??? Quite handy.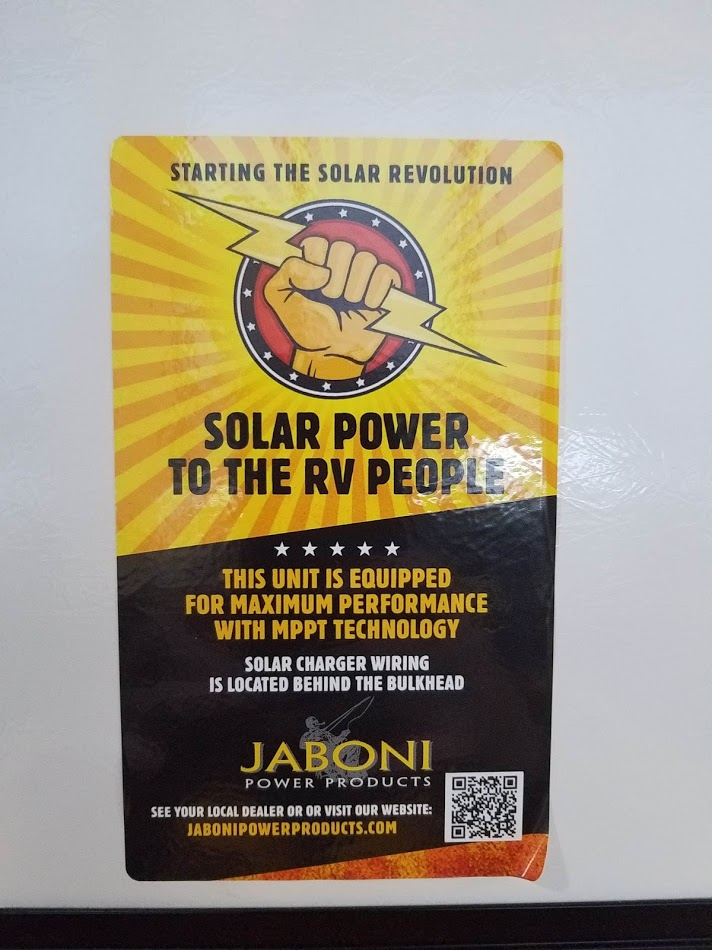 Guess what?? Self-sustaining!! It is solar! I have no idea why that surprised me, but it did. That makes me love it more.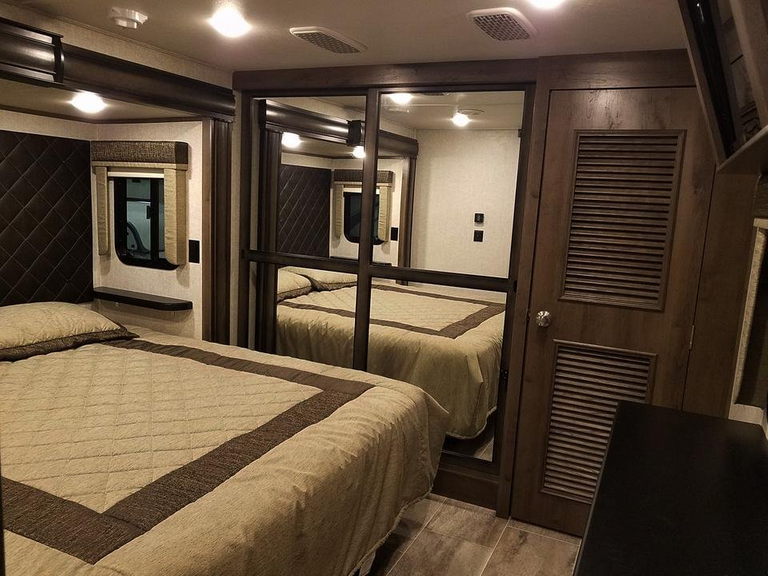 It has a separate bedroom with a king-size bed. Oh, I can sleep like a starfish if I want! There is a large closet with double mirrors and a washer/dryer combo in the door with the louvers. Now, as much as I don't want a washer in there, I will take one for the team because I dislike laundromats worse.
Did I say there was another big-screen television in the bedroom? Well, yes there is!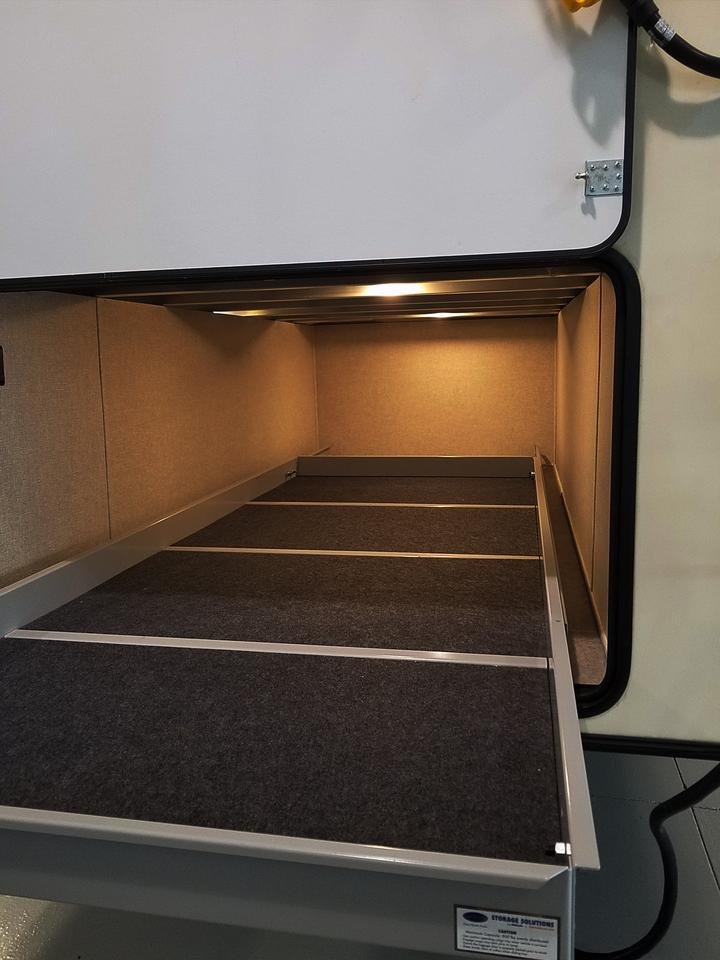 This actually rolls out and is made of steel. It is in the back of the trailer. You can put all sorts of outdoor toys in there, including Denise's kayak. It is ten or twelve feet long. I cannot remember which, but, it was huge. Why did I not like the fifth wheel again?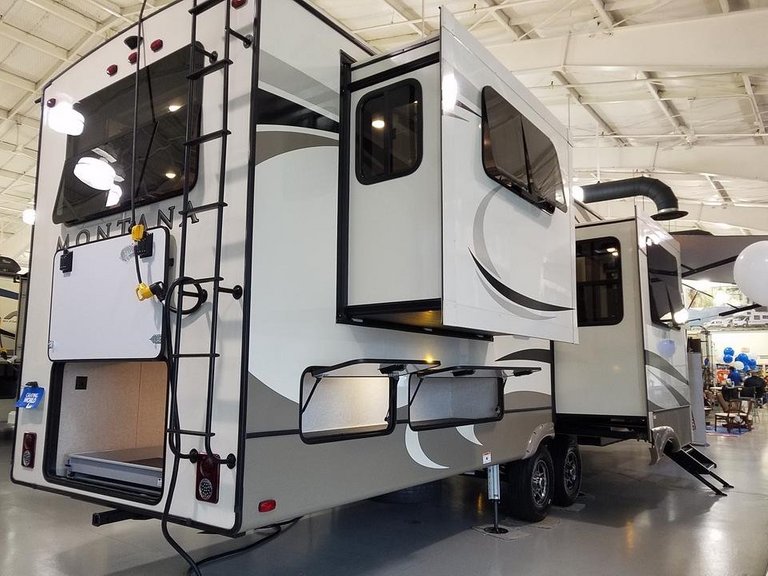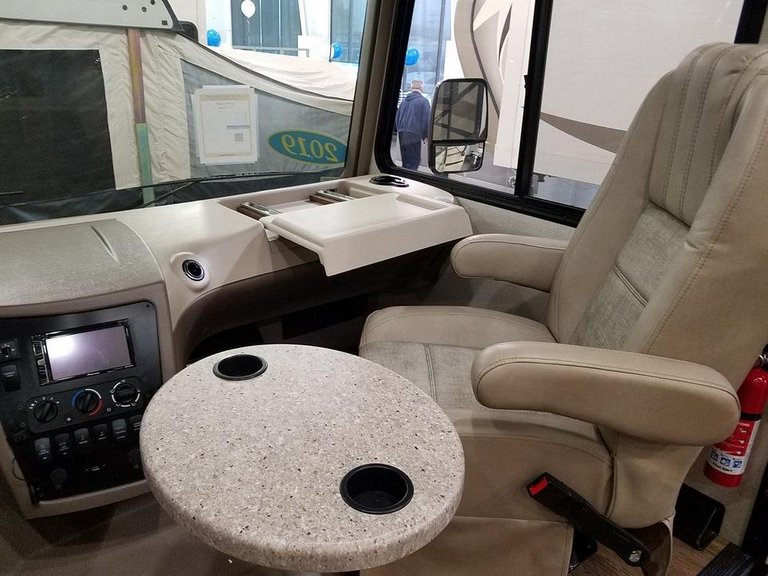 This is the outside of the trailer and you can see how much larger it can get by pushing out (they are electric) the slides. It goes from trailer to home with the push of a button. Also, you can see where Denise will be blogging. Her chair and a pull-out desk from the dashboard that fits a laptop. They think of everything!
Oh, Hive on!

STOP!! BRAIN TEASER AHEAD!!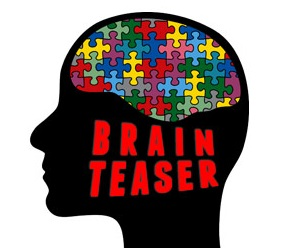 source55
In a one-story house, there was a pink person, a pink cat, a pink fish, a pink computer, a pink chair, a pink table, a pink telephone, a pink shower. Everything was pink! What color were the stairs?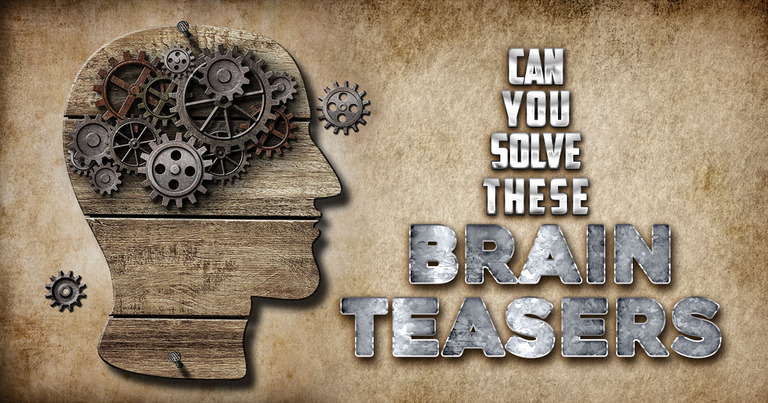 Answer: There weren't any stairs, it was a one-story house.

Rules of the Road
Go to the market, or anywhere that you pay money for a service.
Take pictures! Be creative (or not, we don't judge!)
Tell us a little bit about the market, what brought you here?
Post the picture(s)
Use the MarketFriday Community Platform to post
Or drop the link into the MarketFriday post so I can find it
Have fun!
Please leave the link to your post here so it can easily be found by others. It helps you and me to have them in one place. Where else can you take such a quick trip around the globe? Thank you so much for joining us!! ❤

This is another camper. It is what they call a Class C. It means that the trailer is on a truck chassis and you drive it. Okay, to be fair, it is a very strong, large truck. The layout was nice and it was more compact, which is not a bad thing either. You are not going to live in it forever, so do you really need all that room?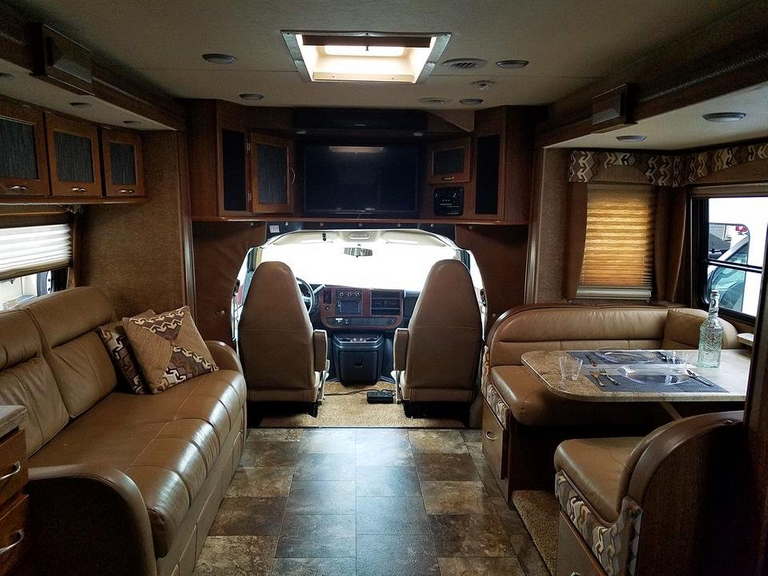 It also had a nice drivers cab, comfortable seats, and very nice tiles on the floor. It also had some carpet, but, actually like the tile more. The big screen was kind of oddly placed, given the placement of the couch, but, this also had push-outs that were not out, so it got quite a bit bigger. I really did like this one too.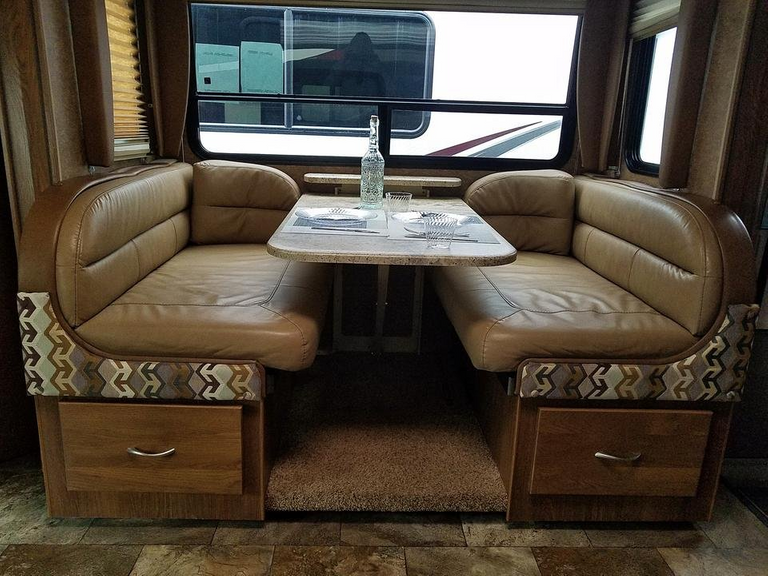 It had a pretty standard dining area, although the cushions were very comfortable. You could lean against the back of the seat and put your feet up if you wanted to. Not that I ever do that!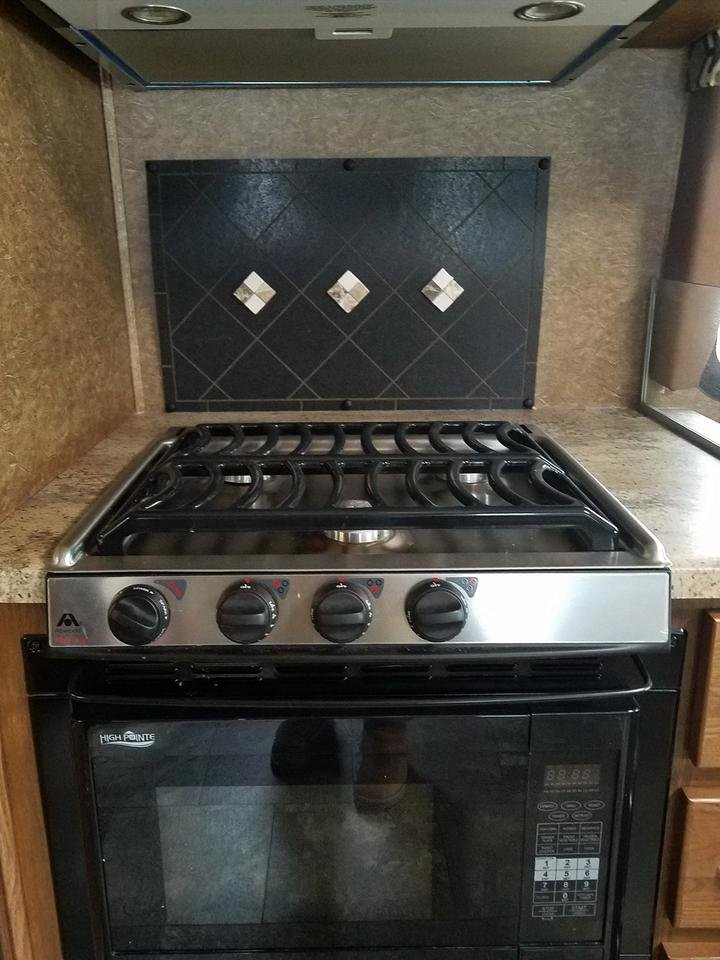 This had a nice stove/oven/backsplash in it. It also had a full-size refrigerator and oak cabinets. It has a lot of nice features that are there, but, after seeing so many of these, I almost don't see them. I have stars in my eyes from shopping for them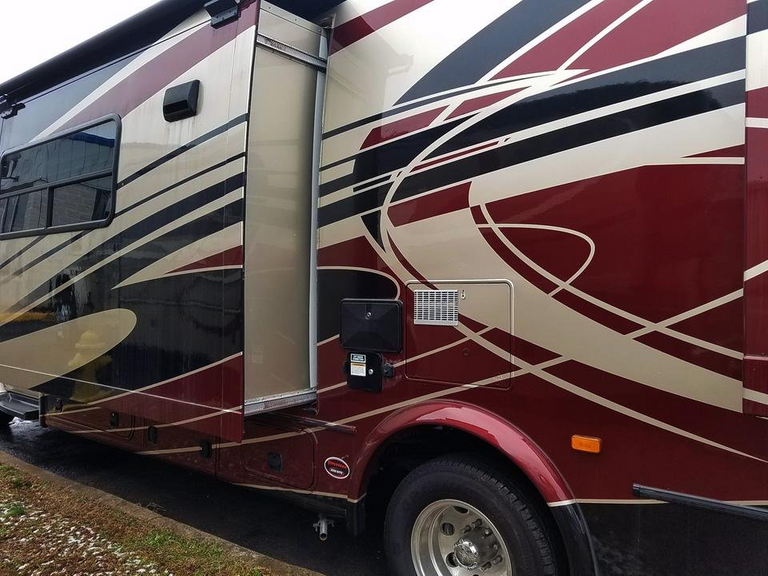 Wasn't the outside pretty? There was the one push out. The other side had two. That alone almost doubled the space. Incredible what they do to these vehicles now.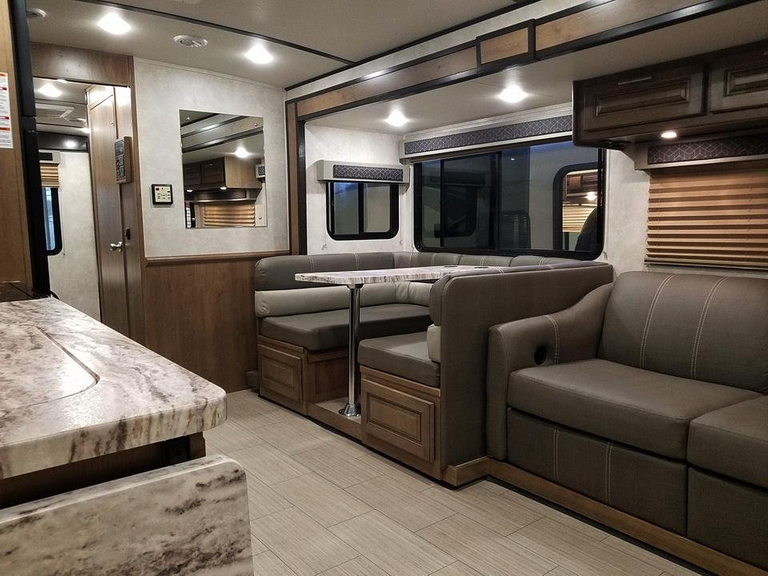 This was a Class A, which is an all in one drivable one. That is what I was originally looking for. It is well-appointed, compact and even has a push out. Just one, but, it really made a huge difference in size.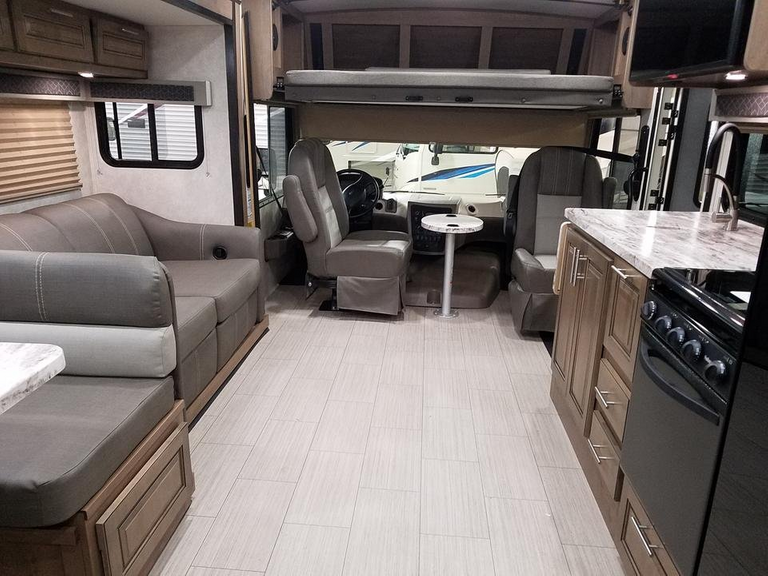 You can see above the driver's seat that there is another pull-down bed. If you don't need it for guests, you can always use it for storage or just push it up and it will make the cab part bigger. Your choice. It also has a nice pull-out computer desk, so if you have a driver, you can relax and look out that huge bus size window and admire our wonderful earth. She is a beauty! So much to see, so much to do.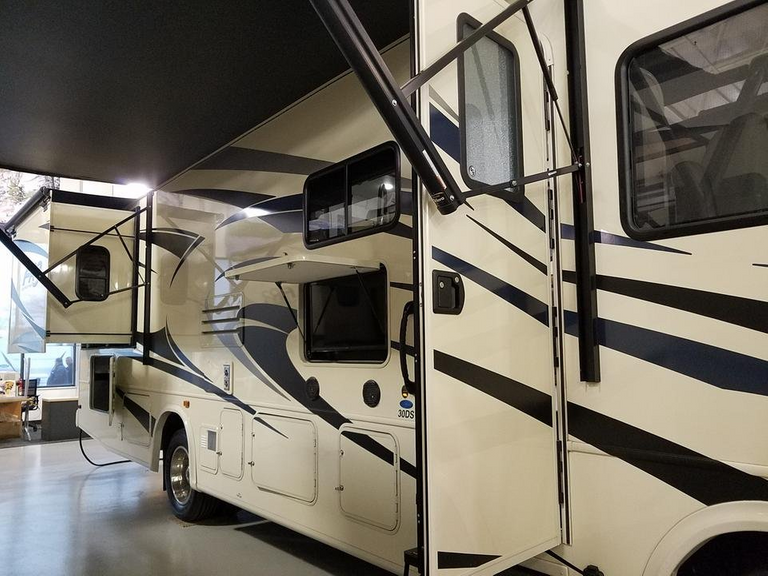 This was a real hit with me! It had an outdoor entertainment package. Big Screen TV and BBQ grill plus a nice awning to pull down for shade. It even had a place to put ice for keeping them cold. I just know a man designed the outside of this.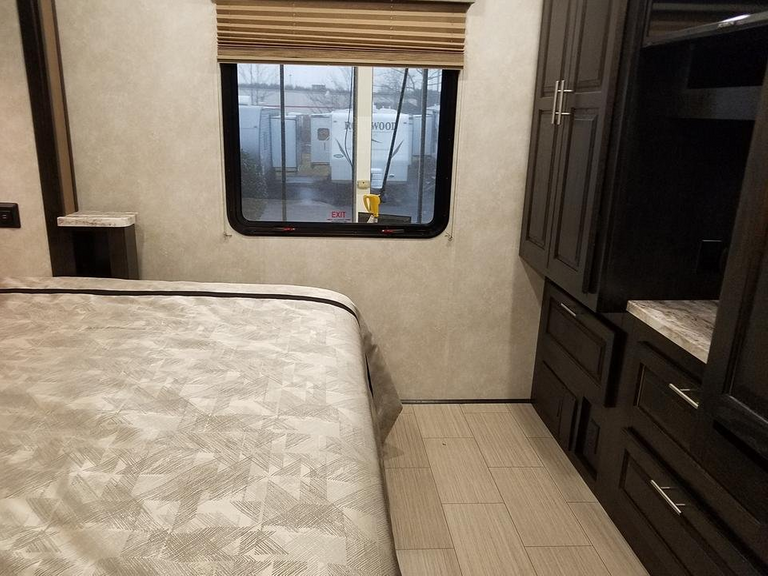 Queen size bed and a nice sized room with no waste. However, it did push out, so you could easily make the bedroom roomier if you so chose.
There was a big-screen television. I'm sorry. Aren't we out with nature? What is it with these televisions all over the place? Each vehicle had 3 or 4. That is easily twice the amount I have in my house. And probably bigger too. Ha!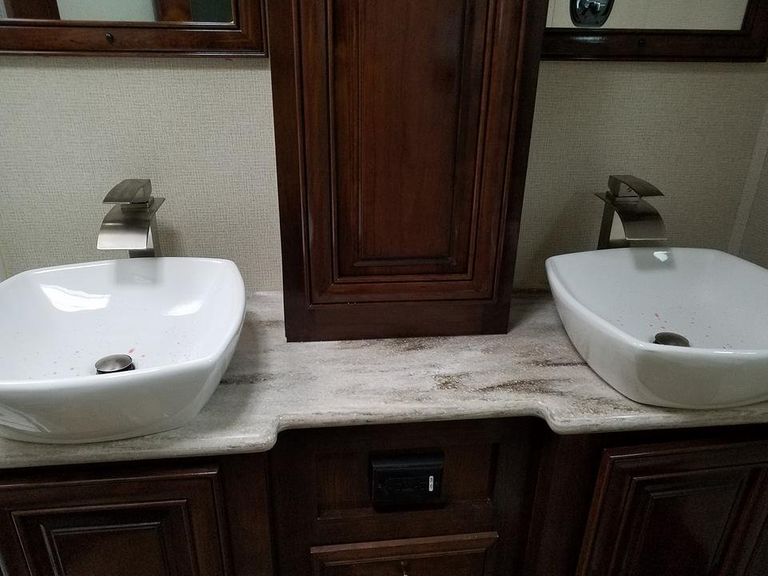 This section are some of the features I saw on various recreational trailers, some of which I went through and looked at them. I couldn't believe it but it had a double sink in the bathroom in one. Yes. Again... I am not going to live there. Skip this extra!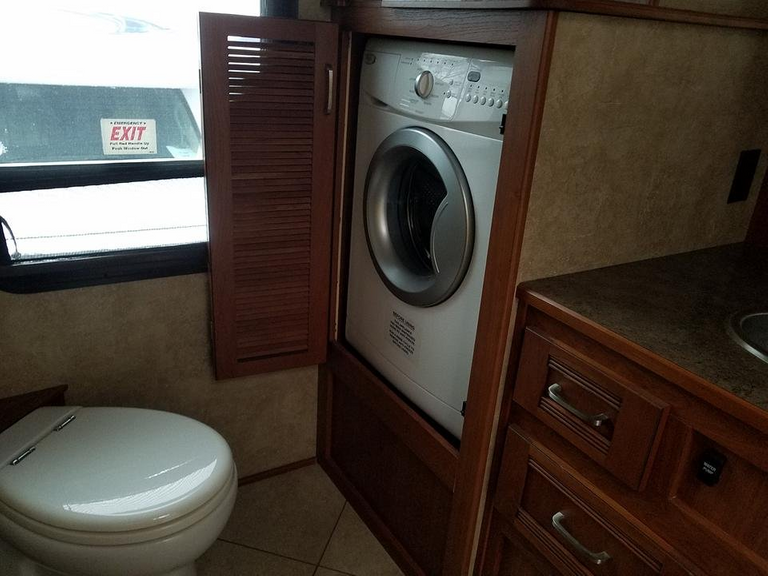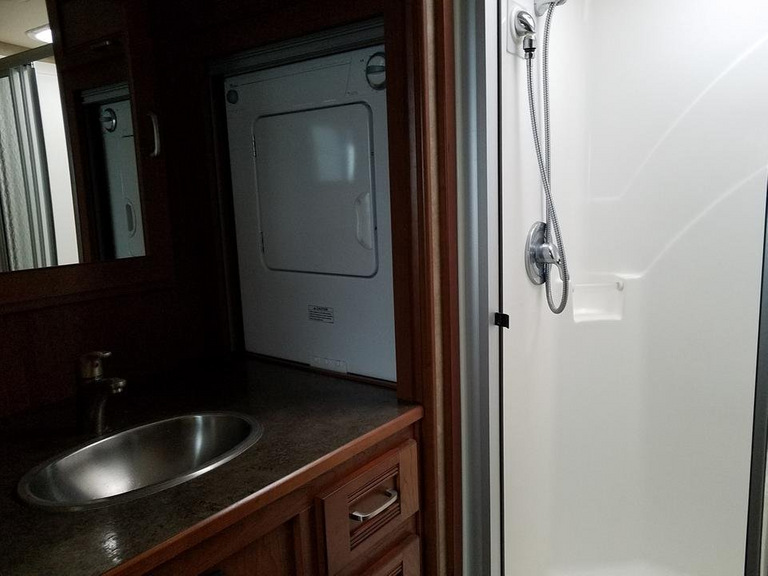 ...
This was a rather unique feature. Well, perhaps unique is not the right word I liked it because it was a space saver AND it had both the washer AND dryer. In the bathroom. Out of sight. Booya!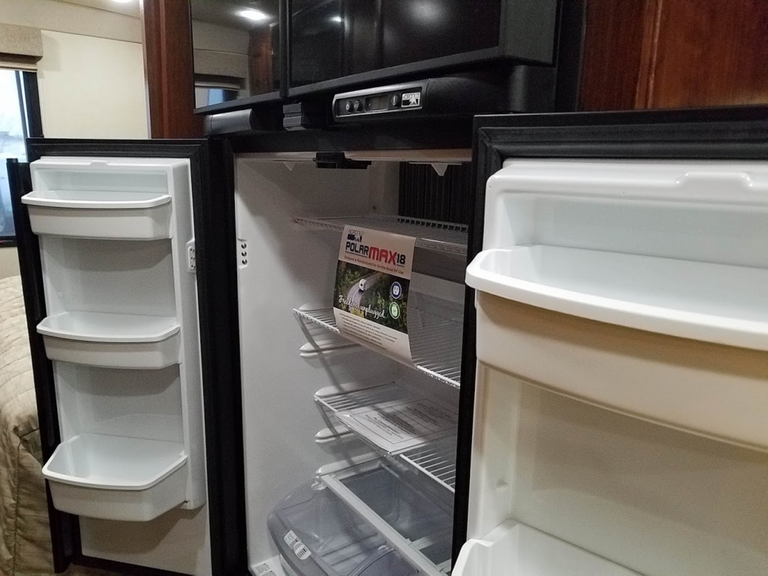 Full size refrigerators in all of the recreational vehicles that I looked at. That really surprised me, but, I have found that with all these push-outs, they really can fit so much more in them.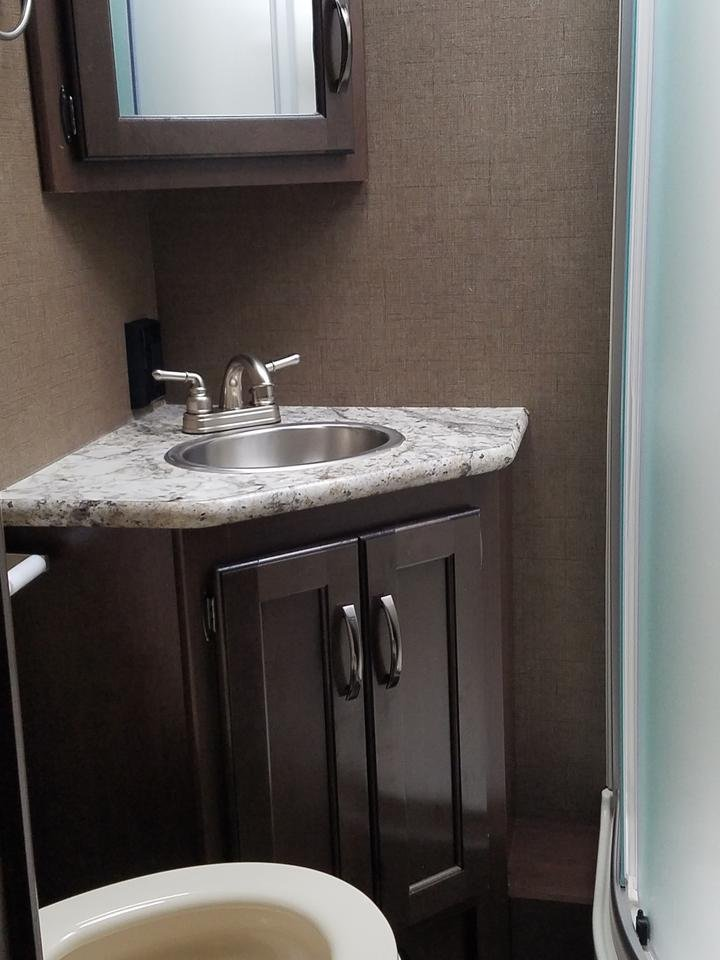 I would say that this was a typical bathroom. Very compact, yet, it has everything that you need. The sinks have Corian, as a matter of fact, all of the kitchens had Corian on the counters also. I forgot to mention that up there.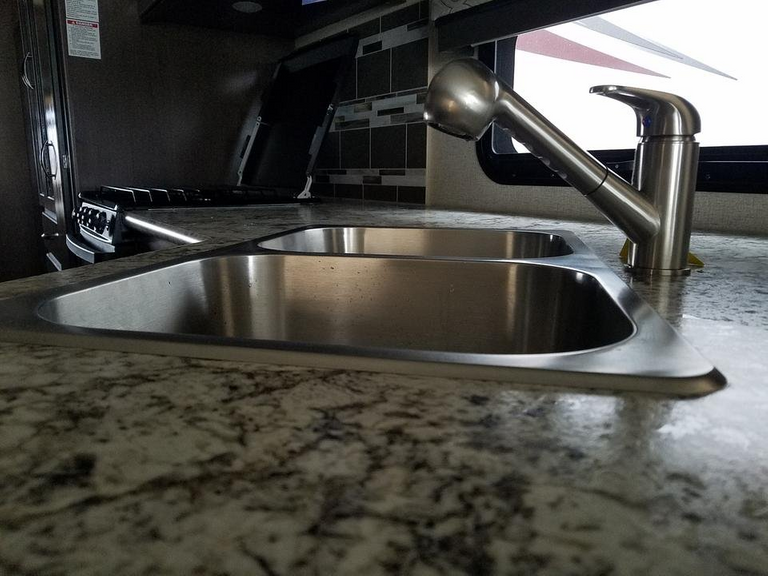 They were all generous with their counter space and as you can see for yourself, all Corian. This made them so much more luxurious looking. Or at the very least... durable!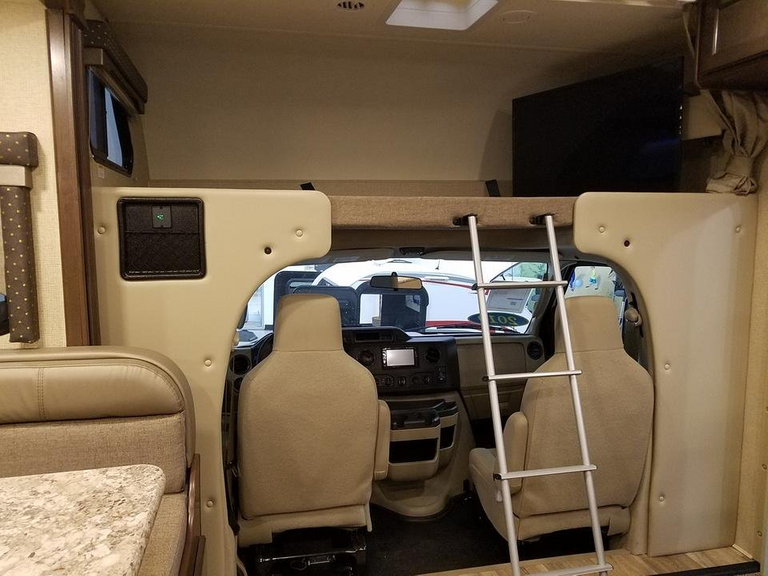 Many of them had ladders that went up to an extra bunking area. In the world of recreational vehicles, this was a definite plus! One can never have enough places to sleep.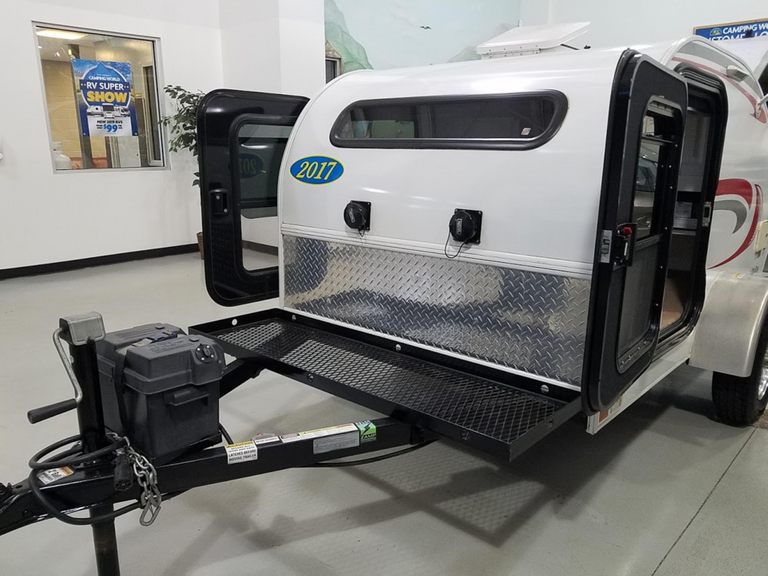 This was definitely an adorable little guy! Perfect for a single or a couple and I am sure, lots of fun and better than a tent, right? Although, I always like camping, so ...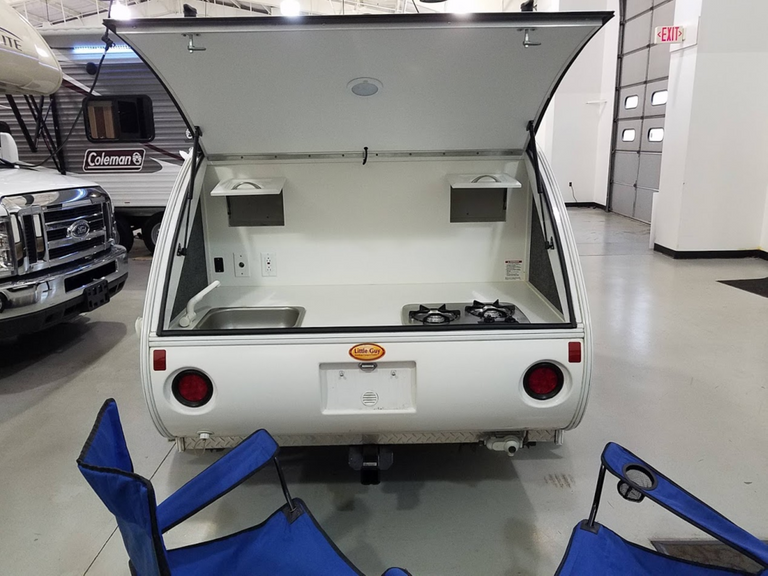 You open up the backside and there is a stove and a cooler. Cool, right? It really tickled my fancy! I would have done anything to have one of those a few years ago!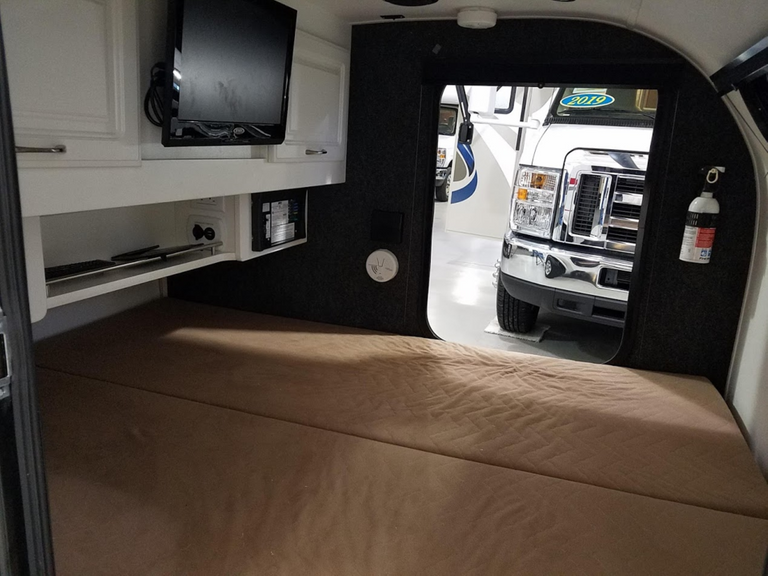 Yes!!! It has a bedroom, enough for two! Or two and a baby... Well, you know what I mean. It was spacious and plenty of room to go around for everyone!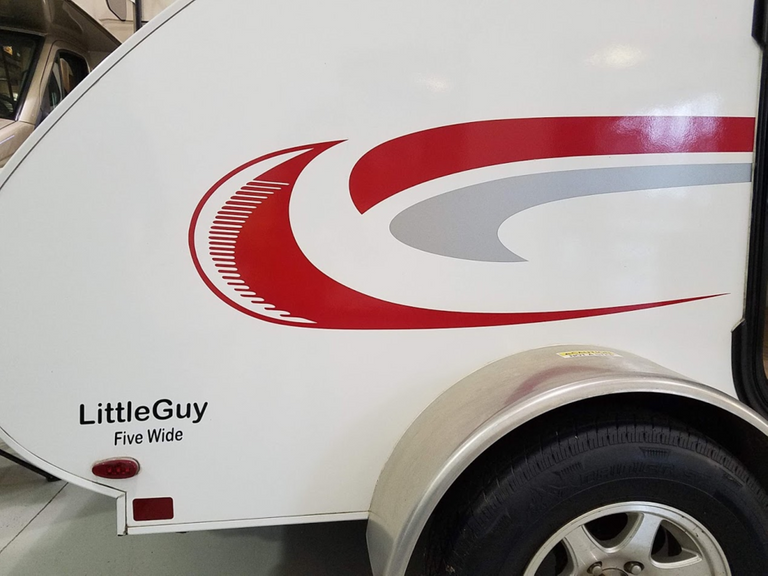 Aptly named: The Little Guy

If you actually got to the end, kudos to you. I didn't mean to make it so long... Well, I can say that I thank you for visiting #MarketFriday and I appreciate all who post into the tag or even come over and comment. It is a pleasure and I trust you will have a most amazing day! And people, please! Keep on Hiving and spreading that love!
So... Which one did you pick?
I hope everyone knows that these posts that I make are purely for fun and something to dream about.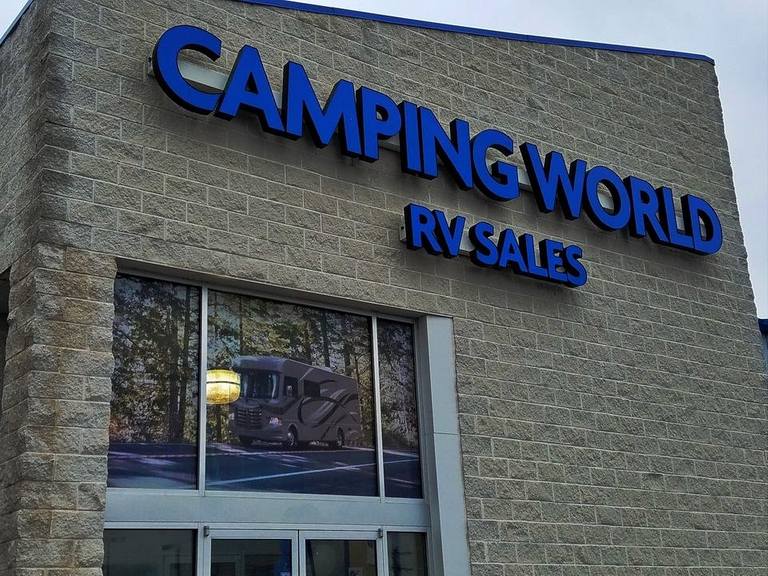 May there always be a flower in your day. #alwaysaflower to color my world.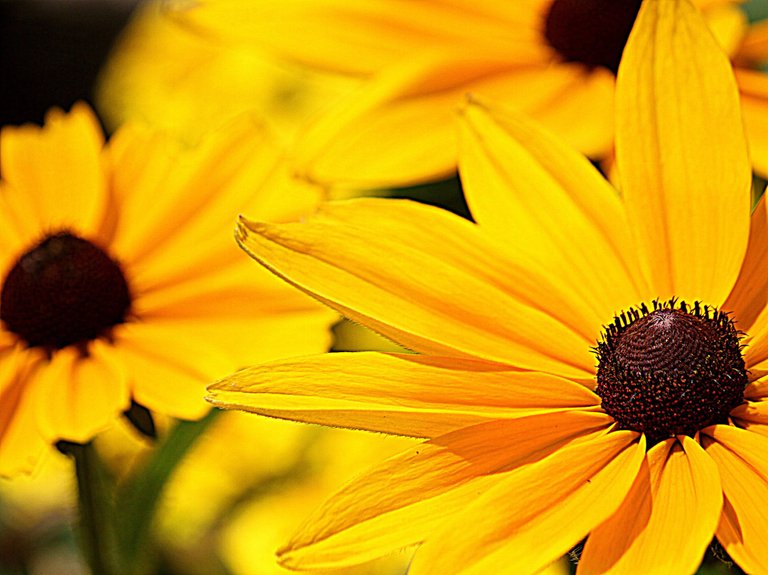 ¸.♥´¸.•♥¨) Let the sun shine in on your life
So the joy may touch your soul
(¸.•´♥ (¸.•´ ♥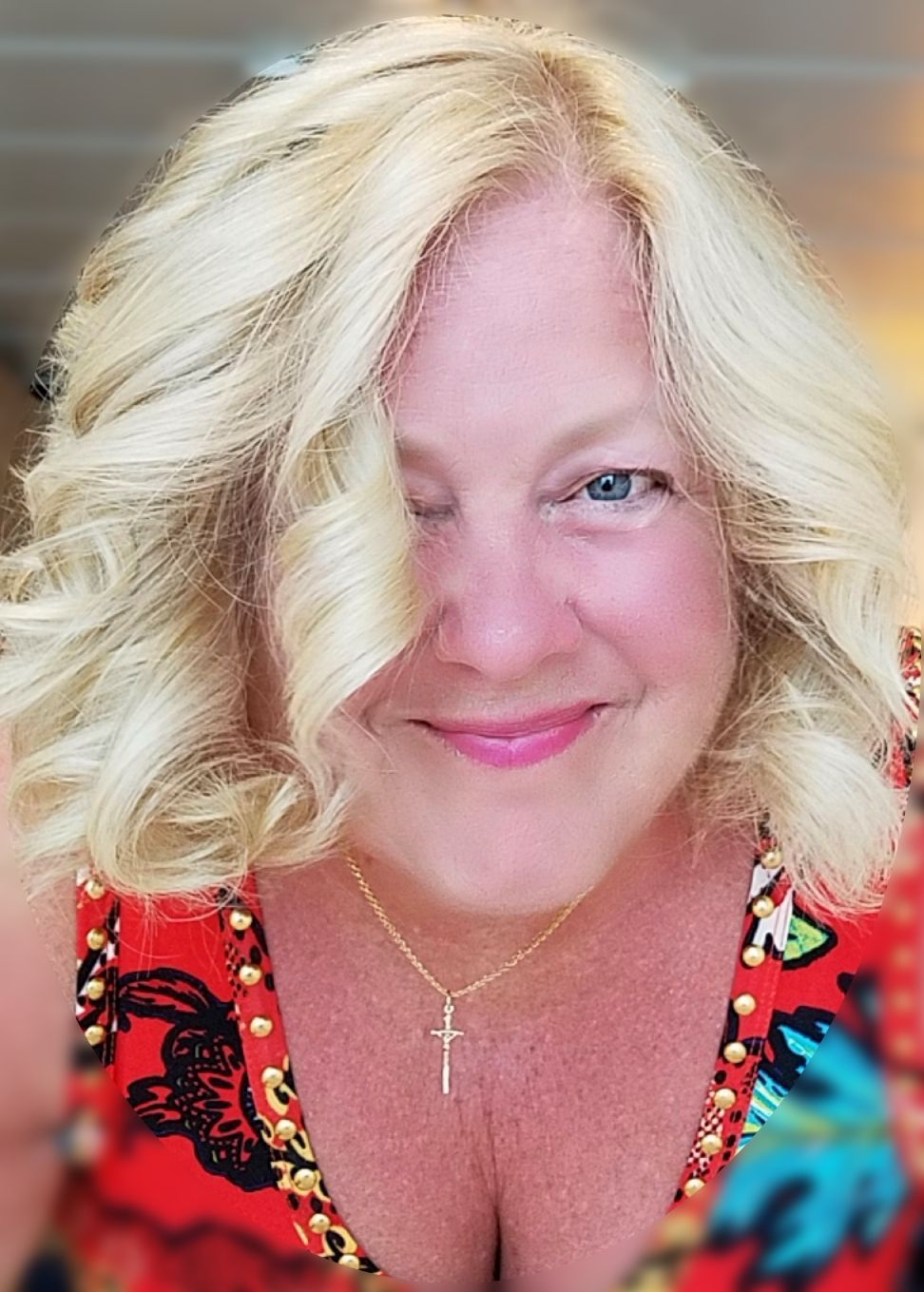 ---
Thank you for visiting my post 💖 Because of you, I come back to post again and again, I am encouraged by you, for the time you take to visit, comment or even upvote. For all of these reasons, I am eternally grateful. Don't ever forget what a wonderful world we live in, people. Some days, it is not as easy to see, how wonderful it really is. Kindness counts. Wherever you go, whatever you do.

they set my aunts house on fire
i cried the way women on tv do
folding at the middle
like a five pound note.
i called the boy who use to love me
tried to 'okay' my voice
i said hello
he said warsan, what's wrong, what's happened?
i've been praying,
and these are what my prayers look like;
dear god
i come from two countries
one is thirsty
the other is on fire
both need water.
later that night
i held an atlas in my lap
ran my fingers across the whole world
and whispered,
"where does it hurt?"
it answered,
"everywhere"
"everywhere"
"everywhere"
warsan shire

#TeamUSA is a growing community of quality-content people from the United States or those living here. Check us out on Discord!


*Parts of this post has been previously published last year. Sorry folks! Unforeseen work tonight!