This is an inspiration from Denise @dswigle to join the #MarketFriday Challenge! If you haven't followed her yet; please do so now as she is one of those genuine encourages with a true heart and soul to support people on Steemit.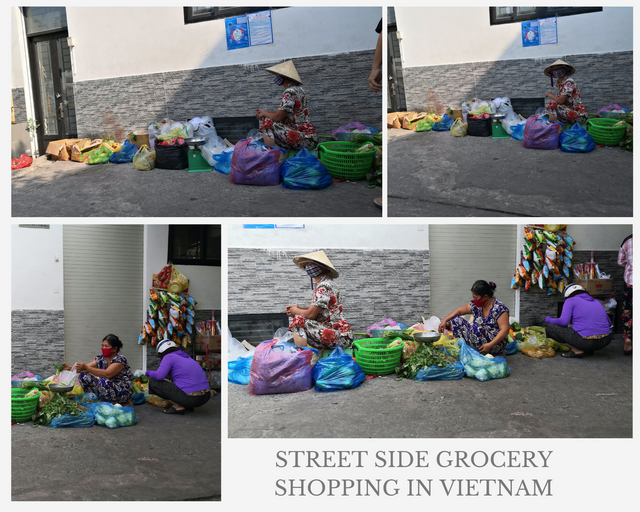 This is one of those photos which I managed to get during my short rounds on the weekends when I'm looking for fresh provisions. Street side markets are getting harder to find nowadays since the lockdown. What used to be a large parade of fresh vegetables, meat, seafood and dried food has now turned to just a simple basket or plastic bags. Middle aged ladies sit by the side of the streets with their goods waiting for passerby like me to come. I realised that many buy just what they need for either a meal or a day's cooking.
As for me, I do my grocery shopping once a week so I tend to buy more than others. These 2 ladies are now my favourite to go place.
Firstly, they have more goods to sell compared to others;
Second, their prices are much lower;
Third, it's a closer walk to my apartment.
And tomorrow, I shall do my grocery shopping; I do need fresh vegetables since I've cooked almost everything in my fridge except for a small bunch of spinach.
Do you have the same experience as I do ?
---
This is the one tag and weekly challenge that I try to make a point to join; not to mention that I'm also a fanatic when it comes to sight seeing or shopping in any form of market - indoors, outdoors, food, textile, accessories and etc.
It is always interesting to see the different markets around the globe!
There's so many different cultures and beauty in this world and the more we travel and open up our eyes, the more we gain.
It's easy to participate :
Go to the market! Any market will do! Food, Clothing, Plant or Animal, if you wish. You can go to the zoo or an art auction. Anywhere or anything that you pay money for a service.
Take pictures! Be creative (or not)
Tell us a little bit about the market, what brought you here?
Post the picture(s)
Don't forget to hashtag it! #MarketFriday by @dswigle
Minimum 250 words
---