Hey there! Welcome to my new article.
I have seen a lot of kidney stone cases myself. It's quite common, actually. But most of the cases I have seen were of small stones. The size of stones can range from less than 5 millimeters to a few centimeters. There have been a few cases in the past that have recorded some exceptionally enormous kidney stones. In 2003, 11.6 cm wide and weighing approx 350g stone was recorded. That's huge, but nothing compared to a case from England in 2012. This is the biggest stone ever recorded and surgically removed. It was about 20 cm wide and weighed approx 2 kg or 4.4 pounds.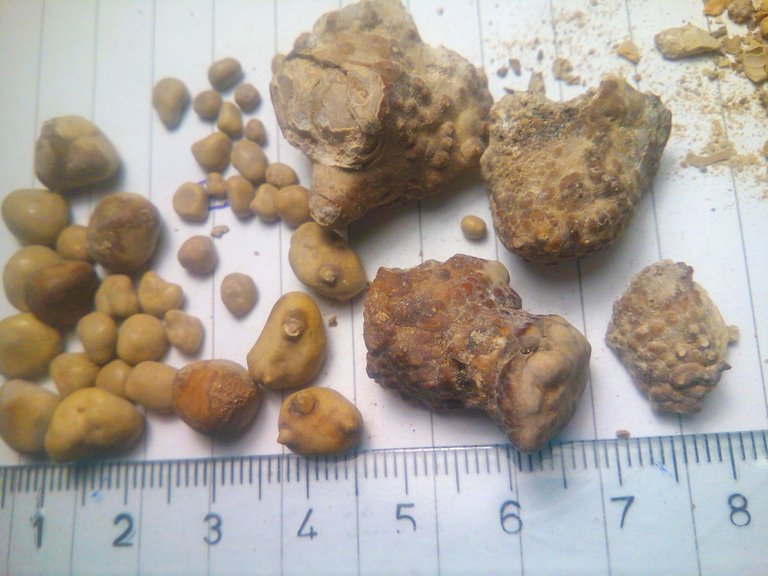 Image by Jacupika, Wikimedia, CC BY-SA 4.0
In medical terms, Kidney stones have got many names. Most commonly "Nephrolithiasis" meaning stones forming in the nephrons (functional unit of the kidney). Another name is "Urolithiasis" meaning stones forming in the urinary tract. It can be also called "Calculi" which just means stones. As you can see, Stones are not just formed in the kidney, it can form anywhere in the urinary tract, hence the different names.
The lifetime prevalence of Kidney stones is about 20%, i.e. a person has a 20% chance of forming a kidney stone. Also, the recurrence rate is also high, which is about 70%. Meaning, if a person has already been treated for this once, then he has a 70% probability of developing it again within 20 years.
In this article, I will talk about how kidney stones are formed, what are the different variations, the role of the diet and ways to prevent it.
---
Formation of kidney stones
As we all know, kidneys are the organ that filters the blood and produces urine with the purpose to remove all the waste products. More specifically, nephrons are the one to filter blood, excrete waste and reabsorb things back to the blood stream. Therefore, this plays a major role in regulating electrolytes and fluid balance. To understand kidney stones, we need to be aware of the composition of urine. We can consider urine as a solution with the mixture of solute and solvents. Solvent being the water, which constitutes more than 95% and solutes being
Urea
Uric Acid
Calcium
Potassium
Sodium
Magnesium
Phosphate
Sulphate
Ammonia
Creatinine and others
All of these constitutes less than 5% of the urine. When these solutes precipitate out from the urine, it forms something called "nidus". Nidus is just an accumulation of the precipitates. This is very small, less than 1 millimeter. This nidus acts a seed for the stone. As more and more solutes deposits on the nidus and helps it get bigger. Now, why do solutes precipitate out in the first place? Well, there can be many causes for that. We can understand this as inactivity of the urine. When the urine is very concentrated as in dehydration, it becomes supersaturated with solutes which forces the solutes to precipitate out leading to formation of nidus. So, the main root is the imbalance between the solutes and the solvent. Dehydration is not only the cause for this, diet plays a major role.
---
Variations of Kidney Stones
Mostly we observe these five types of stones. These stones have their own chemical composition and are linked to different form of diets.
Calcium Oxalate Stone
Calcium Oxalate stones by Grammarfascist, Wikimedia, CC BY-SA 4.0
This is the most common one. Formed by binding of calcium and oxalate. This can happen due to consuming more oxalate rich foods. Oxalate are found in many green vegetables or "healthy" foods. Some examples are barn cereal, grits, spinach, etc.
This stone has an irregular surface and is very spiky. Therefore, if this stone grows enough, it can lead to severe complications. As, irregular surface can lead to internal wounds.
Uric Acid Stone or Calcium Phosphate stones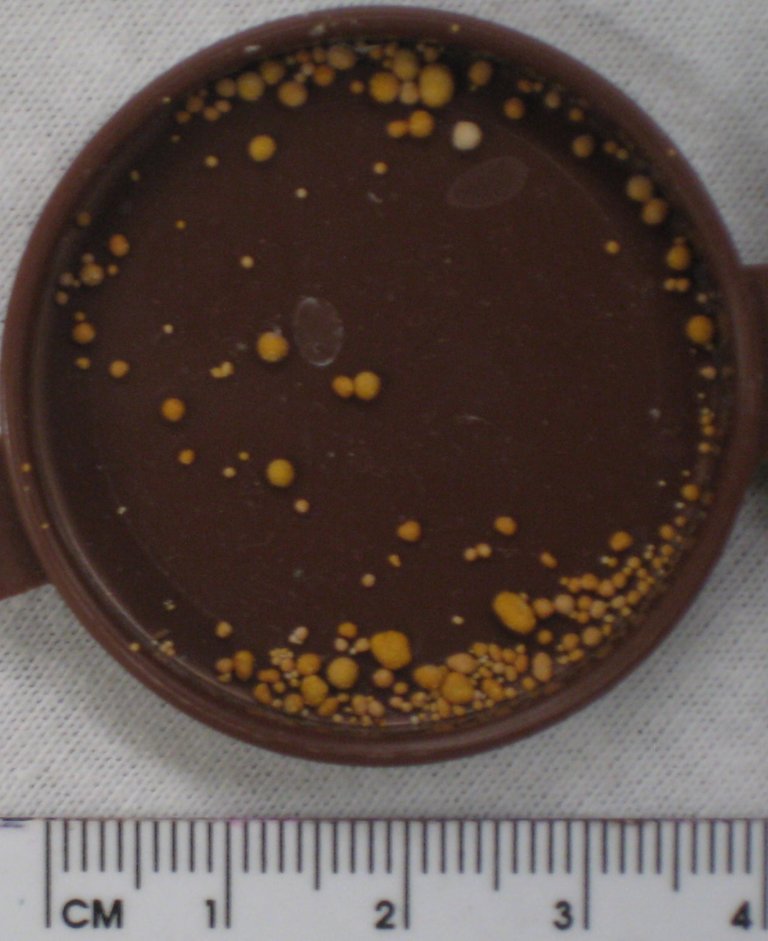 Uric Acid stone by James heilman, Wikimedia, CC BY SA-3.0
These stones are formed due to high level of uric acid in the blood. But, there are some other factors that leads to precipitation of the uric acid. That is high acidity of the urine. High acidity of the urine is due to high levels of purines. What is purine? It's a substance found highly in animal proteins like fish, red meat, shell fish, etc. Also, high levels of proteins leads to more calcium in urine. Now, you know what type of diet leads to this stone.
Also, this stone commonly occurs in men suffering from gout or going through chemotherapy.
Magnesium Ammonium Phosphate Stones or Struvite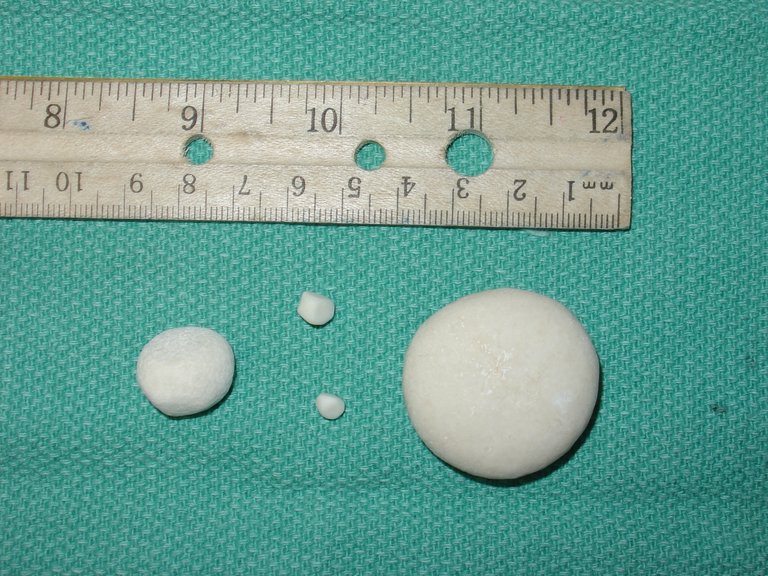 Struvite Stones by Joel Mills, Wikimedia, GNU free License
Struvite stone is the second most common one. It is formed due to infection in the urinary tract because of urea spitting organisms like Pseudomonas, mycoplasma, Proteus, etc. This mostly occur in women because of their smaller urethra. Any infection in the pelvic area can easily ascend to the urinary bladder and to the kidney. Leading to formation of stones.
These stones are soft but are not easily detectable.
Cystine stone
These types of stones are rare and happens in both men and women with a genetic disorder called "Cystinurea". This type as stone is very hard as it is made of sulfur. With this disorder, cystine leaks into the urine from the kidney. Consuming the food products like egg, fish, meat can aggravate this condition because they contain high sulfur.
Xanthine Stone
This form is absolutely rare and is due to inborn defect of the enzyme xanthine oxides. This enzyme helps in oxidation of xanthine to uric acid. As, the enzyme is defective, xanthine is excreted more into the urine. It is less soluble, leading to stone formation.
---
Prevention of Kidney Stones
Your dietary habits play a major role in prevention of stones. Let's see what some of those habits are:
Staying Hydrated
Dehydration is the most common factor for kidney stones. As I explained above, dehydration concentrates the solutes which leads to its supersaturation and the crystal formation. Believe me, your urine color tells a lot about the state of your health. Normally, it should be pale yellow or clear. If it is dark, that means your urine is concentrated, and you need to drink water asap. But how much water exactly is needed? Different people have different opinion on that. Some say 5 liters a day some say 10. But I would say, just drink water until your urine turns colorless. As, drinking too much can be harmful too.
Eating Calcium and Oxalate rich food at the same time
You might think just cutting out calcium rich food or oxalate rich food might reduce the risk of forming calcium oxalate stones. But that's not the case. Calcium oxalate stones are formed only when they bind together in the urine. Instead of cutting out any of them you need to consume both foods types at the same time. This leads to binding of calcium and oxalate in the guts instead of kidneys. Therefore, stones will be less likely to form.
Eat Less Salt
Too much salt in the diet increases the risk of kidney stones. As it prevents calcium from being reabsorbed by the kidney. This eventually leads to high level of urinary calcium, one of the cause of calcium oxalate stones. To lower the salt intake, you must read the food products label carefully. Some popular foods that must be avoided are, chips, crackers, canned foods, food containing MSG.
Avoid vitamin C Supplements
I am not talking about the vitamin C containing food, I am talking about the supplements. According to a study done in 2013, men taking vitamin C supplements doubled the risk of kidney stones.
Less Animal Proteins
If you are at risk of developing kidney stones or have already been treated once for it. They you must be limit consuming animal proteins. As they increase the uric acid levels and proteins favors the formation of calcium in the urine.
Lower the Caffeine Consumption
Caffeine but be consumed in a limited amount if you are at risk. Caffeine increases your metabolism and speeds of the process of dehydration. This can be very risky for at risk people who consume it daily.
---
The bottom line is, this preventive measure may or may not work, but they will surely reduce the risk. The Best option to prevent kidney stone is make some dietary changes and always stay hydrated. Drink water until your urine turns colorless and keep it consistent.
That's it for this article guys, I hope you liked it.
All images used are copyright free
References:
[1]https://en.wikipedia.org/wiki/Kidney_stone_disease

[2]https://en.wikipedia.org/wiki/Calculus_(medicine)

[3]https://www.ncbi.nlm.nih.gov/pmc/articles/PMC3252394/

[4]https://www.mayoclinic.org/diseases-conditions/kidney-stones/symptoms-causes/syc-20355755

[5]https://www.byramhealthcare.com/blogs/the-7-best-ways-to-prevent-kidney-stones



My Previous Articles:
[1]Using Laser to Cure eyesight | LASIK surgery