Once again, I bring you content that I consider to be of quality, this takes several hours of reading, comprehension and writing.💡📚
But more than that, this is one more publication so that together we can appreciate and contemplate how wonderful our nature is!🐬🐟🦈🦀🐢🐳🐙 I hope you enjoy!🐬🐟🦈🦀🐢🐳🐙🤗

I was appointed as spokesperson for the most important Society in the study of marine mammals in Mexico!🐬🐋
Definitely studying a postgraduate degree in science brings benefits, and this despite being a PhD in a country like Mexico, where unfortunately the development of science and technology are not a priority in the country.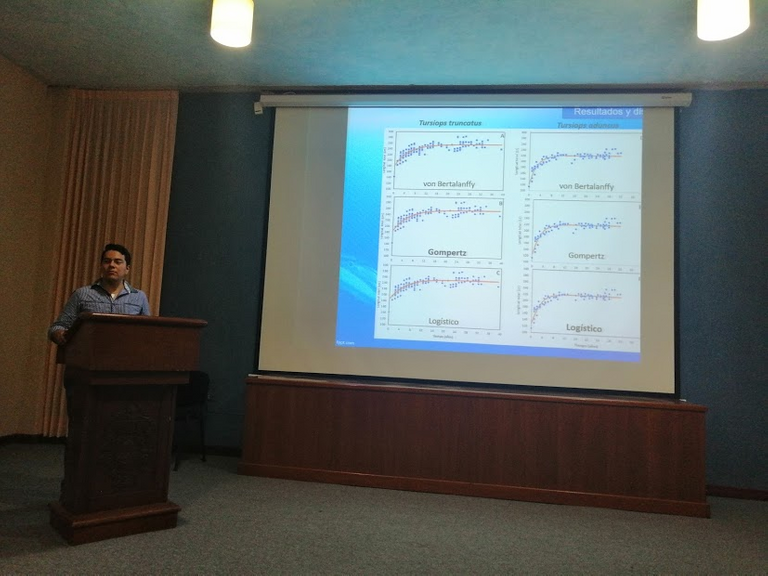 Photo credit: Carmen Gil
📍Location: Autonomus University of Yucatán, México
It is sad to hear all the stories of Mexican scientists for whom the government has drastically reduced their research budget. Even so, not everything is bad, and less when it comes to marine science, and even less when we talk about marine mammals, in general, humans are indescribably curious to see these amazing animals.

The Mexican Society of Marine Mammozoology (SOMEMMA), exists since 1979!😱
This is the name given to the most important Society in Mexico that is dedicated to scientific dissemination regarding marine mammals. All research with species such as whales, dolphins, sea lions, manatees, seals and even sea elephants is presented at a national meeting organized by SOMEMMA, this meeting is held every year. This year, due to the current contingency of COVID-19, the meeting was held virtually.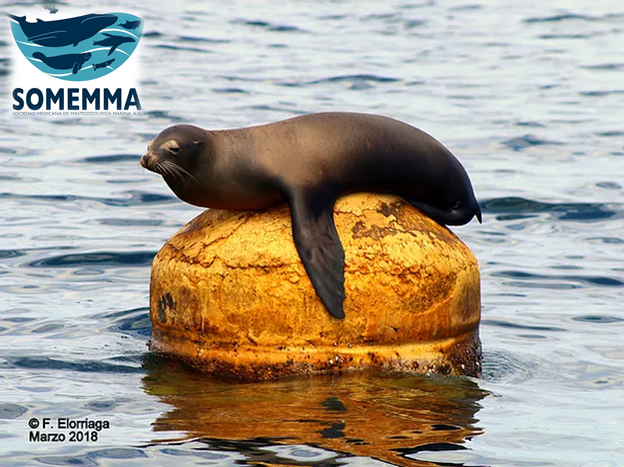 Photo credits: Fernando Elorriaga (president of SOMEMMA)
📍Location: Baja California Sur, México
The research presented at this meeting is so numerous that this meeting lasts for a week, with a schedule from 9:00 a.m. to 6:00 p.m. Here you can learn from great researchers but also from younger people and students.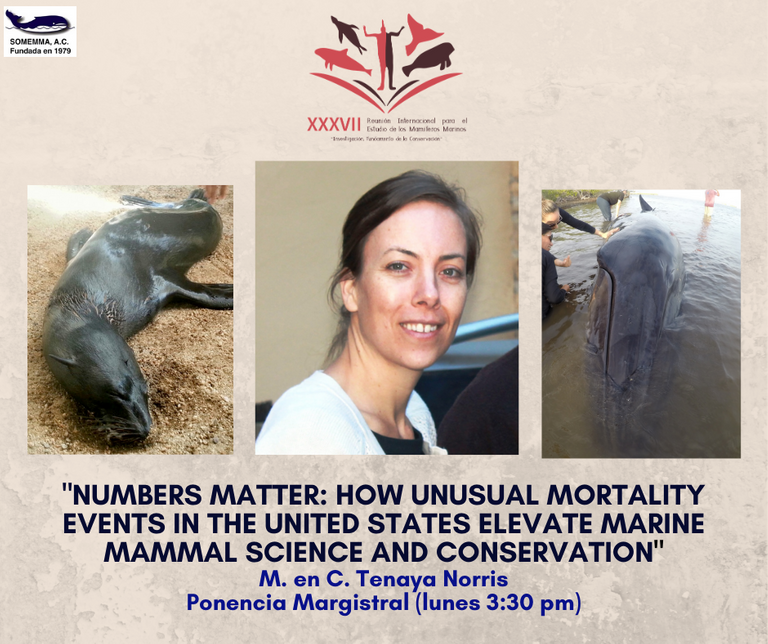 Image credits: SOMEMMA 2021

Research on marine mammals in Mexico should have more support❗️
It is incredible to see the amount of research lines that the scientific community in Mexico covers. Topics such as marine bioacoustics, mammalian health, population biology (I participated in this category), ecology, parasitism, diet, behavior and many more were presented at this meeting.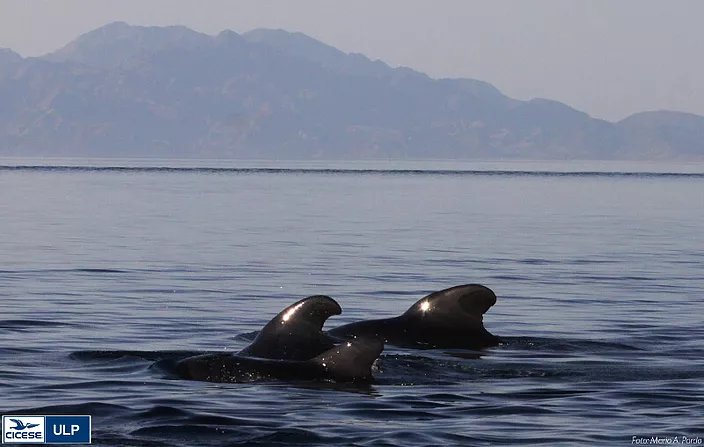 Photo credits: María A. Pardo (SOMEMMA)
📍Location: Baja California Sur, México
The keynote presentations were presented by renowned researchers in Mexico and other countries such as Chile and the United States.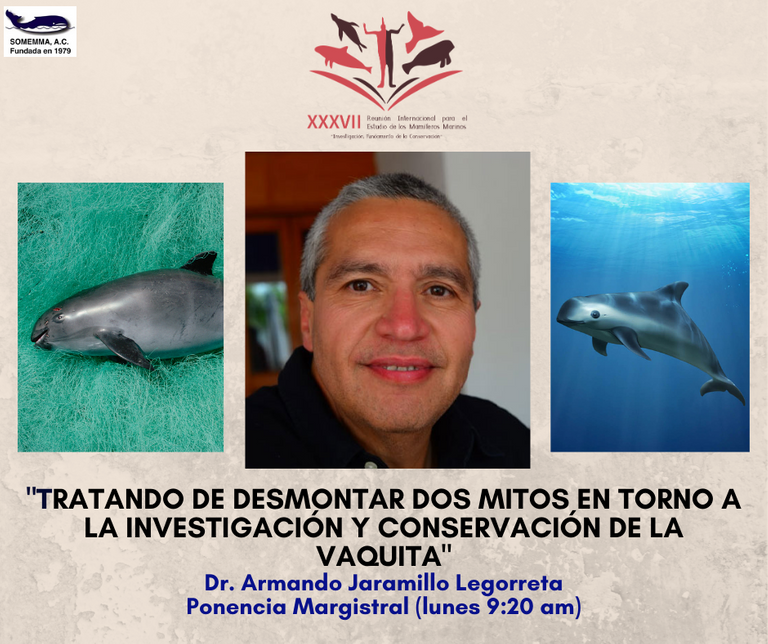 Image by: SOMEMMA 2021

My participation in SOMEMMA 2021✅
In this meeting I spoke about the thesis that I did in my master's studies, a work that I had previously written a more detailed post, here I will not give many details. You can find that explicit information here👉https://peakd.com/hive-127788/@juanbg/i-graduated-as-a-master-of-science-how-have-i-contributed-to-marine-sciences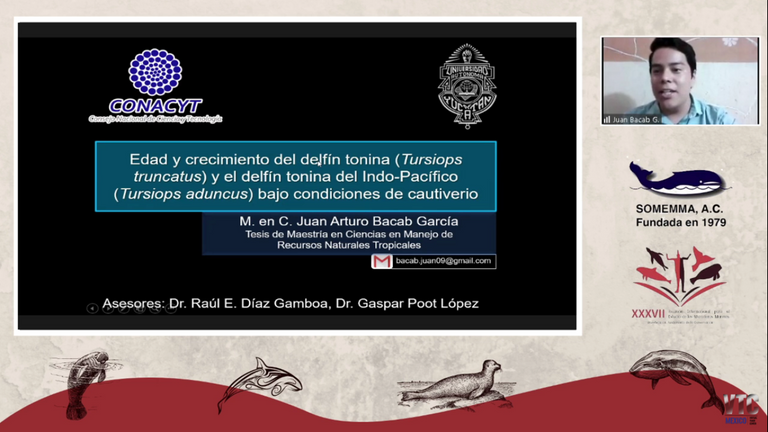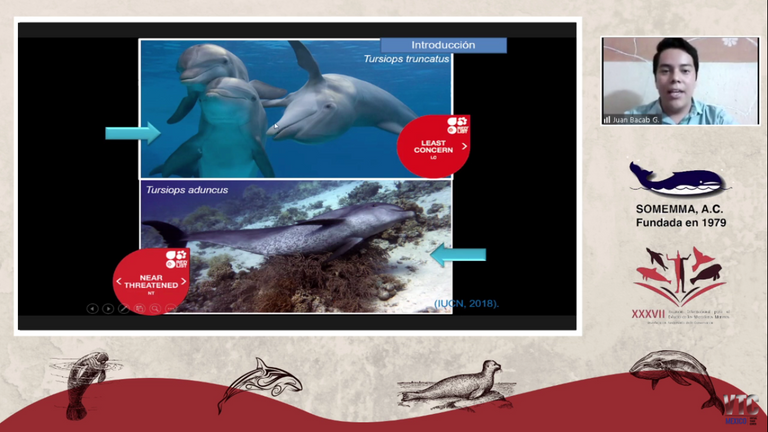 In general, I worked with two species of dolphins and studied their growth. We found that the smaller species grew slightly faster than the larger species, something that was not known before. These results will be published in a scientific journal in due course.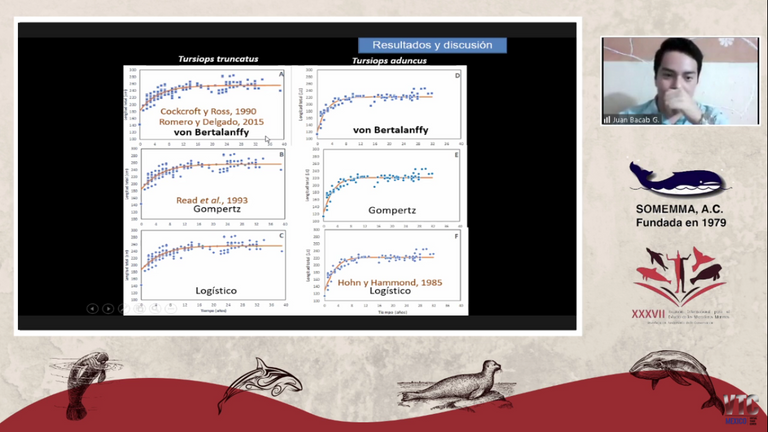 A big unexpected surprise!😱
Every three years, it is customary to hold an assembly where the new board of directors is elected that will organize and coordinate SOMEMMA's activities for the next three years. Actually, all participants can enter this assembly.
Some of the positions on the board of directors are as follows:
🔷President
🔷Vice President
🔷Secretary
🔷Finance
🔷Spokespersons (3 spokespersons distributed throughout the country)
🔷Science committee
🔷Stranding Committee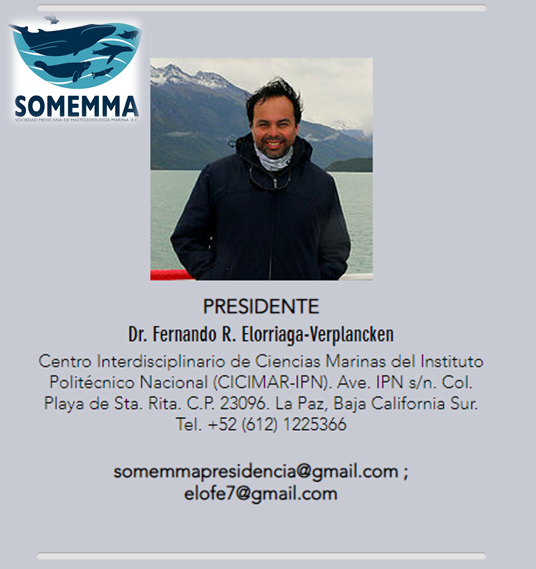 My big surprise was to see my appointment to be the spokesperson for the southeast region of Mexico! To do this, I had to compete with three other researchers. The satisfaction I felt when I heard about the results and realized that I had obtained this position was very great.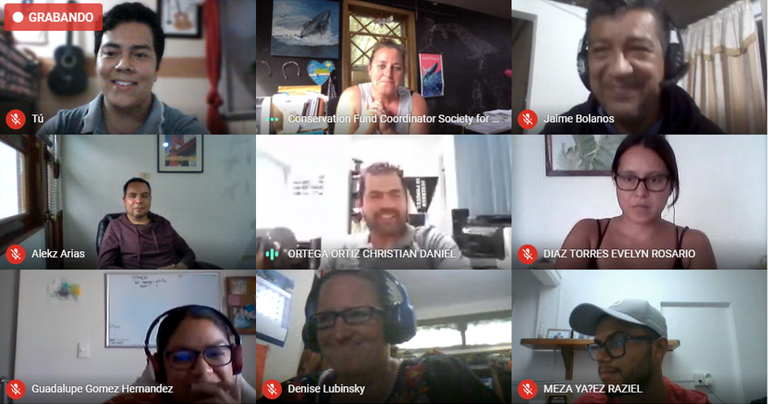 Our first meeting as board of directors of SOMEMMA 2021!😄
Although I am still a PhD student, this seems to be the right way to contribute to science and generate links with other researchers. But my dream doesn't end here...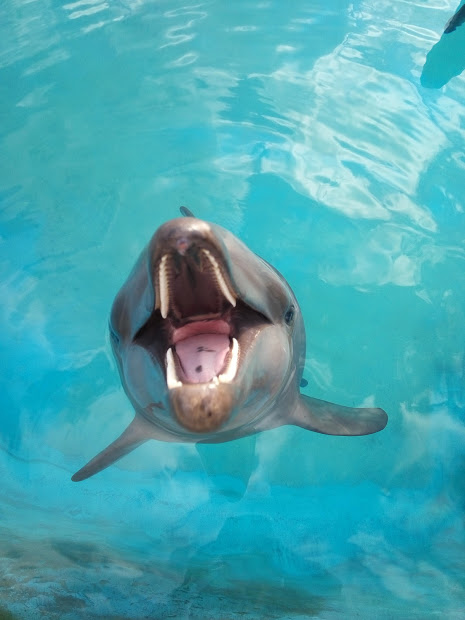 Photo credits: Juan Bacab G.
📍Location: Cancún, México
Definitely the sea and its species are like an addiction when you start to study them. They generate curiosity, admiration and great passion. Much work remains to be done for them...
"Research is the foundation for the conservation of our species" - Mexican Society of Marine Mammalogy (SOMEMMA)🐳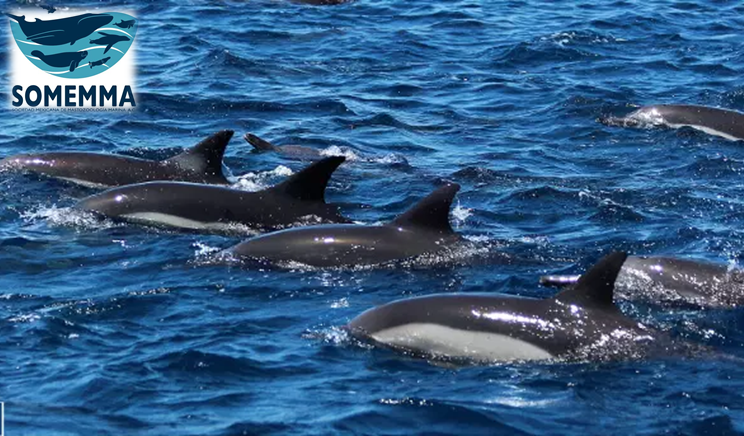 Photo credits: Mario Pardo (SOMEMMA)
📍Pacific Ocean, México

What do you think about this❓
What are the organizations that study marine mammals in your country❓🌎
Let us know in the comments💬...

DNA - Densifying Nature-Appreciation :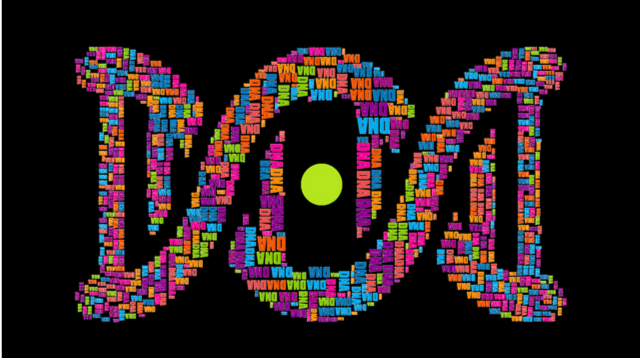 DNA is an organization to foster and DENSIFY NATURE-APPRECIATION which aims to establish REPORTS OF BIODIVERSITY DATA that is contributed by all of us Hiveans and subsequently cataloged. DNA animation GIF by @Suheri
Therefore DNA searches for HIGH-QUALITY posts that aim to DESCRIBE and determine the BIODIVERSITY AROUND YOU with added EXPLANATIONS and INFORMATION. For these informative posts they offer a CURATION SERVICE using the @dna.org account. It is also a CURATION TRAIL. Just add the #dna TAG if you think that any of your posts is what they are looking for.

Clickable Banner for free usage. Redirects to the Amazing Nature Community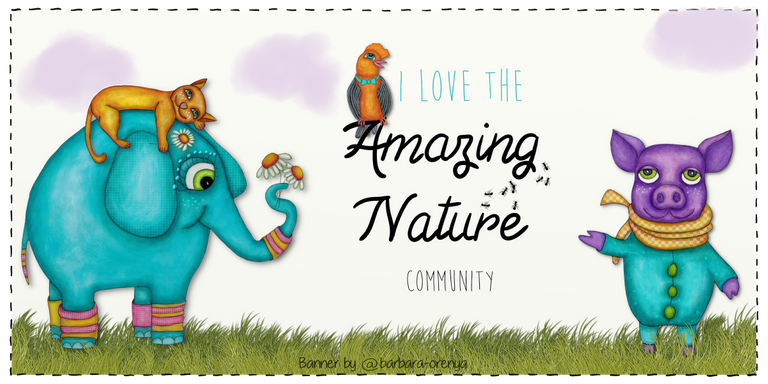 Clickable Banner by @barbara-orenya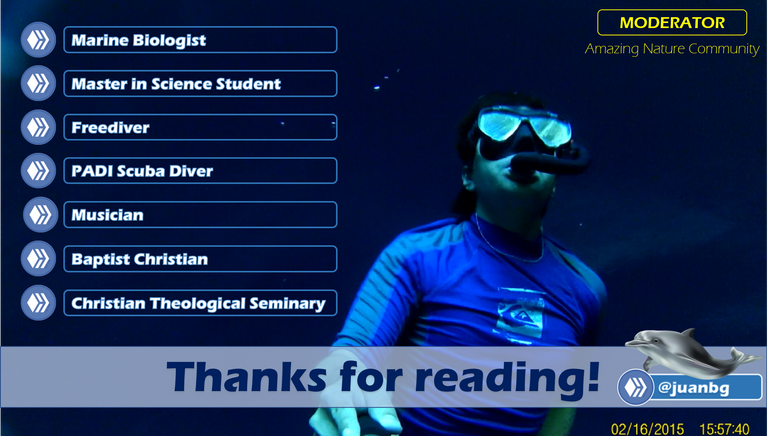 @juanbg: Moderator and curator of Amazing Nature Community