Source
When one thinks of robots, perhaps influenced by works of science fiction, one always thinks of a humanoid, metallic thing, with clumsy movements and a monotone tin voice.
Cuando uno piensa en robots, tal vez influenciado por las obras de ciencia ficción, siempre se piensa en un cacharro humanoide, metálico, de movimientos torpes y con voz de lata monocorde.
But I suppose that, as robots are integrated into our daily lives, we will gradually realize that robots can be presented to us in the most varied shapes, sizes and functionalities.
Pero supongo que, a medida que los robots se integren en nuestra vida cotidiana, iremos dándonos cuenta de que los robots se nos pueden presentar en las más variadas formas, tamaños y funcionalidades.
A group of scientists from the University of Pennsylvania, in Philadelphia (USA) have managed to give movement to a robot with a size smaller than 0.1 mm, the thickness of a human hair.
Un grupo de científicos de la Universidad de Pensilvania, en Filadelfia (EE UU) has conseguido dotar de movimiento a un robot con un tamaño menor de 0,1 mm, el espesor de un cabello humano.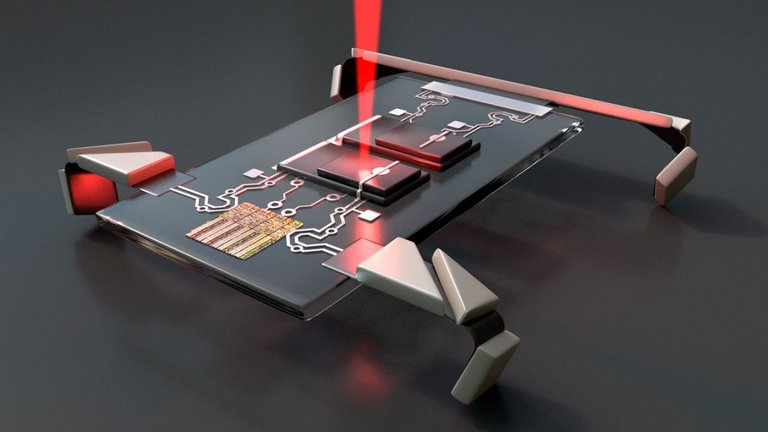 Source
For this they have created electrochemical "motors" compatible with the silicon electronics currently used so that they can be used to create "legs" for robots with a size of 0.1 mm.
Pare ello han creado unos "motores" electroquímicos compatibles con la electrónica de silicio empleada actualmente por lo que podrán se utilizados pare crear "patas" para robots con un tamaño de 0,1 mm.
These small motors that form the "legs" of the robots, when individually stimulated with laser light, bend and unfold creating a movement that could be said to be walking.
Estos pequeños motores que forman las "patas" de los robots, al ser estimulados individualmente con luz láser, se doblan y se desdoblan creando un movimiento que podría decirse que es andar.


Source
These microscopic robots are the size of a paramecium so it would be feasible to inject them using hypodermic needles and use them for the reconstruction of materials or to suture blood vessels inside our body.
Estos microscópicos robots son del tamaño de un paramecio por lo que sería factible inyectarlos utilizando agujas hipodérmicas y utilizarlos para la reconstrucción de materiales o para suturar vasos sanguíneos en el interior de nuestro cuerpo.
According to their creators, although these robots are slower and have less performance than other models of existing swimming robots, the fact of being compatible with existing electronics gives them an extra advantage.
Según sus creadores, si bien estos robots son mas lentos y tienen menos prestaciones que otros modelos de robots nadadores existentes, pero el echo de ser compatibles con la electronica existente les da una ventaja extra.
More information/Más información
https://www.unite.ai/researchers-develop-first-microscopic-robots-capable-of-walking/
https://www.elespectador.com/noticias/ciencia/crean-microbots-del-tamano-de-un-cabello-humano-que-son-capaces-de-caminar/