Sometimes Science Experiments Give Us Unexpected Surprises.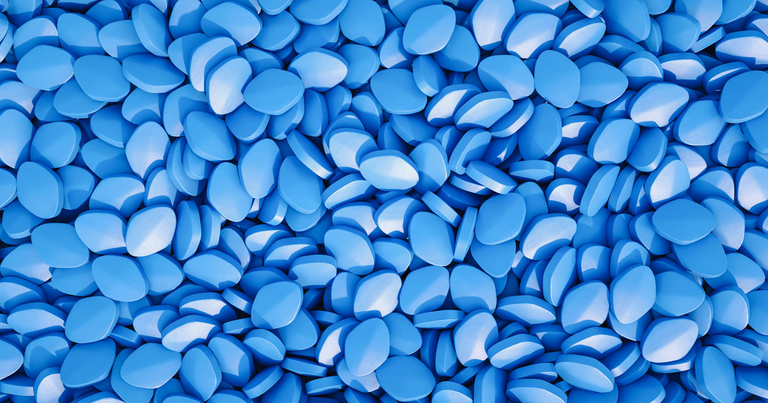 Happy little blue pills. Image Source
In 1985, two British scientists, Peter Dunn and Albert Wood began developing a new drug for Pfizer that they intended to treat high blood pressure and a condition known as angina - caused by restricted blood flow to the heart.
This drug, sildenafil citrate, was intended to dilate blood vessels in the heart in order to treat angina. During the scientists' initial trials, sildenafil seemed to work exactly as it was supposed to and showed the expected outcome in the test mice without severe side effects, so they moved on to human trials in the early 1990s.
Phase one of the clinical trials had a very unexpected outcome, and when nurses went to check in on patients, many of the men were found lying on their stomachs. They were apparently embarrassed about a particular side effect... It turned out that instead of dilating the blood vessels in the heart as intended, sildenafil dilates the blood vessels in the penis!
Somewhat disappointed but excited about the end result, Pfizer quickly realized they had a cure for impotence, and began working long and hard on trials for their new erectile dysfunction drug. Viagra was born and would be approved by the US Food and Drug Administration in 1998. It was a huge success, and tens of thousands of prescriptions were filled for Viagra within just the first few weeks as men around the world learned of this new little blue potency pill.
How does Viagra work?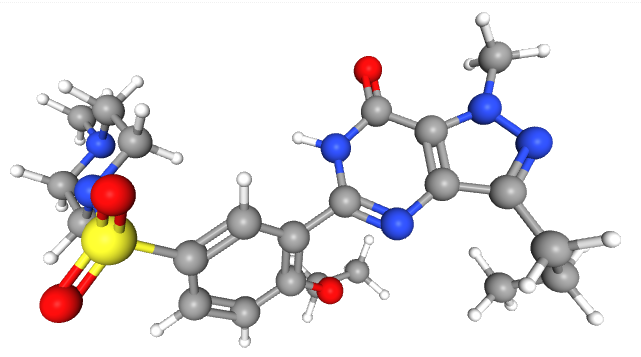 Sildenafil Molecule (C22H30N6O4S) Source: Pubchem
Sildenafil, the active ingredient in Viagra, is a phosphodiesterase (PDE) inhibitor, simply meaning it blocks a particular type of enzyme. In this case, the target enzyme is one called PDE-5.
Your cells contain tons of chemicals that make them do different things. Two monophosphates, cAMP & cGMP, help regulate physiological processes by decreasing the amount of calcium in cells. PDE inhibitors, as you might have guessed, block the PDE enzyme from breaking down those monophosphates. This lets the amount of cAMP and cGMP within the cell increase and break down more calcium, which in turn leads to vasodilation in the target areas.
PDE-5 inhibitors specifically target the penis and lungs, and sildenafil is prescribed in lower dosages as a treatment for pulmonary hypertension.
Happy Endings
Not all mistakes turn out to be flaccid failures. Millions of men around the world now use Viagra and other similar drugs every year to treat erectile dysfunction and it's all thanks to a (fortunate?) accident.
---
Resources:
---
Thanks for reading!
This one is a little shorter than average, no pun intended, but I felt it was a genuinely interesting topic to include in the chapter of the book about accidental discoveries. If you enjoyed this short but just as super cool science s#!t, catch up on the rest of the series by clicking the banner below. You can even earn HIVE for suggesting great topics!

Get your own custom follow banner HERE!