On dit souvent que le second volet d'un film est moins bon que le premier...
Sauf que ce n'est pas toujours le cas ... Surtout quand, ironiquement, le second volet est en réalité le premier, chronologiquement.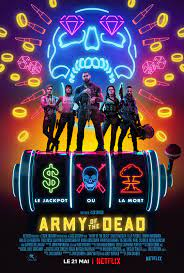 Si vous avez vu Army of the Dead, dont voici l'affiche ci-dessus, vous comprendrez peut-être comme moi, dès les premières secondes du film que :
"Mais, c'est Dieter, le crackeur de coffre dans Army of Dead, chiche qu'il va parler avec un accent Allemand" ...
En tous les cas, c'est mot pour mot ce que j'ai dit à mon épouse ... Qui ne pouvait confirmé puisqu'elle n'avait pas vu l'autre volet ... Et d'ailleurs on s'ets promis de le voir ensemble du coup :-)
Donc , sans spoil aucun des deux volets, sachez que ce volet-ci raconte le parcours de Dieter avant de rencontrer l'équipe qui l'engagera dans le Army of the Dead...
Ce film est bardé d'humour, et de situations cocasses, vous ferez GLOUPS une parie de fois et vous aurez des éclats de rire garantis. Sans avoir affaire avec trop de zombies puisqu'on est juste avant la grosse épidémie...
Des scènes de combats, oui il y en a quelques unes et avec une belle choré, des effets spéciaux aussi.
Je ne peux que vous inviter à regarder le film, e tpour vraiment bien le savourer, regardez le
APRÈS AVOIR VU ARMY OF THE DEAD :-)
Si vous l'avez déjà vu, dites-moi ce que vous en avez pensé, mais si possible, sans aucun spoil :-) Moi, vous aurez compris que j'ai vraiment beaucoup aimé.
---
A bientôt,
≋𝕴𝖙𝖍𝖆𝖗𝖆 𝕲𝖆ï𝖆𝖓≋
@itharagaian
≋≋≋≋≋≋≋≋≋≋≋≋≋≋≋≋≋≋≋≋≋≋≋≋≋≋≋≋≋≋≋≋≋≋≋≋≋≋≋≋
Helping my projects / Tipping :-) ???
Helping the author : https://www.paypal.me/Lordolivier
We of course accept cryptos:
All the ones on Hive-engine
Steem / SBD /Hive / HBD
BTC : bc1qxtaam3mq62kpa0vlafjlpdfluqt6anh22qyu3k
DASH: Xuetc3zEDQfx7WGHpJUtPdrgB4tQJEQbat
DOGE: DD5MZYCeEA68D4FLNmqt51VUEg8mG3yeHR
LTC : ltc1q32fq9ae55l0zmrqjc5h763s8x0y2dv7pwk699c
ETH : 0x710c5Ea59F8ae07b7C005C516B7865CDd94Fa52a
All donations are appreciated and welcomed,
thank you.
≋≋≋≋≋≋≋≋≋≋≋≋≋≋≋≋≋≋≋≋≋≋≋≋≋≋≋≋≋≋≋≋≋≋≋≋≋≋≋≋