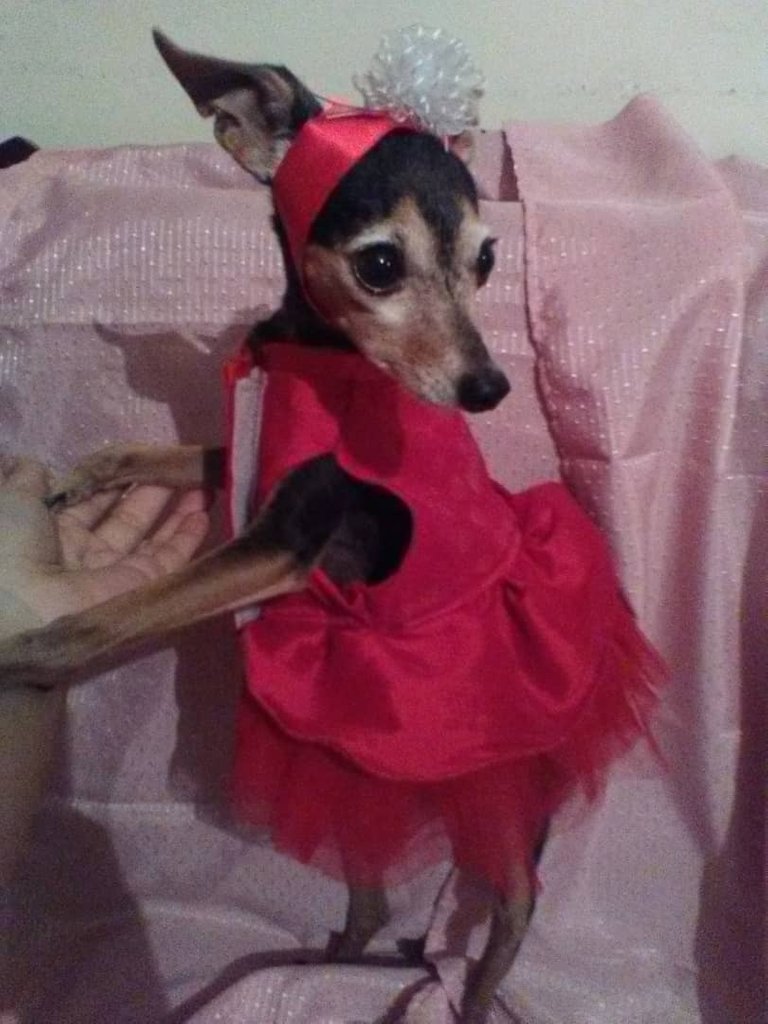 Happy start of the week, I declare it a blessing for this beautiful community of Hive, especially @Hive Pets in this opportunity I come to talk about Kytty is a mini pincher of 6 years old very affectionate, playful, she is my pet and is part of my family, she is the princess of the house very dear and spoiled by my nephews. She is a great companion and many times knows when to comfort and give happiness, one of the best experiences in life is to give yourself the opportunity to be loved by an animal, that is why we must remember that a pet is to love and protect, not to get even for a bad day or for a whim, she is also a living being that requires respect and a home where she occupies a place within the family.
She knows how to detect my moods: she knows if I feel happy, sad, sick or angry and, despite this, she always waits for me happy and anxious when I get home and also just by seeing her look I learn to understand her, she is my faithful companion, she makes me laugh with her antics and many times I take the opportunity to make her clothes or simply as in this case, I put her best suit and I do a photo session enjoying the moment.
Taking care of living beings is taking care of our environment and our world. Pamper your pet, give him love and enjoy the emotional benefits of having a pet by your side.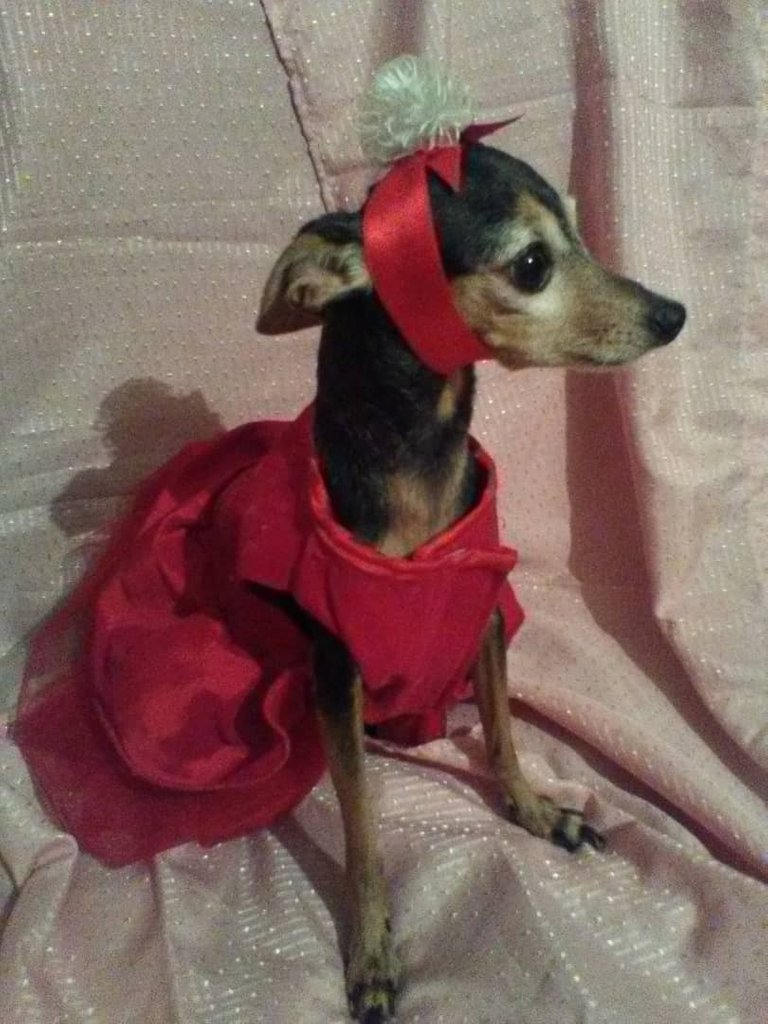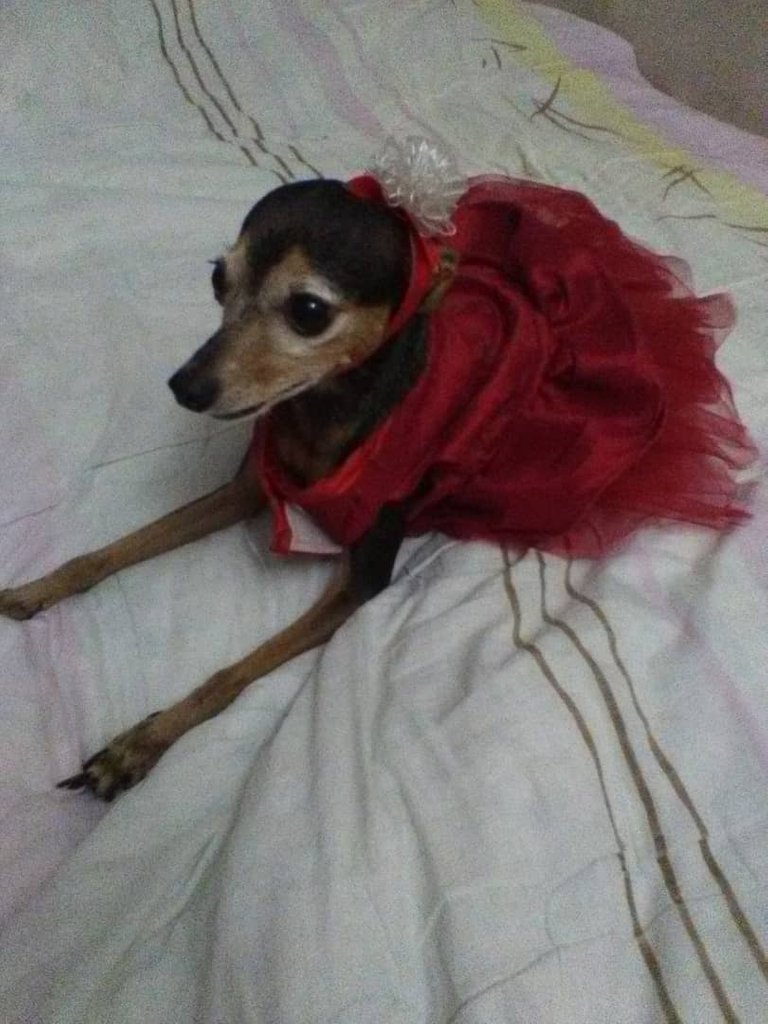 Feliz inicio de semana, la declaro en bendición para esta bella comunidad de Hive, en especial @Hive Pets en esta oportunidad les vengo hablar de Kytty es una mini pincher de 6 años muy cariñosa, juguetona, ella es mi mascota y forma parte de mi familia, es la princesa de la casa muy querida y malcriada por mis sobrinos. Ella es una gran compañía y muchas veces sabe cuándo consolar y dar felicidad, una de las mejores experiencias de la vida es darse la oportunidad de ser amado por un animalito es por eso que debemos recordar que una mascota es para querer y proteger, no para desquitar un mal día o por un capricho además es un ser vivo que requiere respeto y un hogar en donde ocupe un lugar dentro de la familia.
Ella sabe detecta mis estados de ánimo: sabe si me siento alegre, triste, enfermo o enojado y, a pesar de ello, siempre me espera feliz y ansiosa cuando llego a casa e igualmente con sólo ver su mirada aprendo a entenderle, ella es mi compañera fiel, me hace reír con sus travesuras y muchas veces aprovecho de elaborarle su ropa o simplemente como en este caso, le pongo su mejor traje y le hago sesión de fotos disfrutando del momento.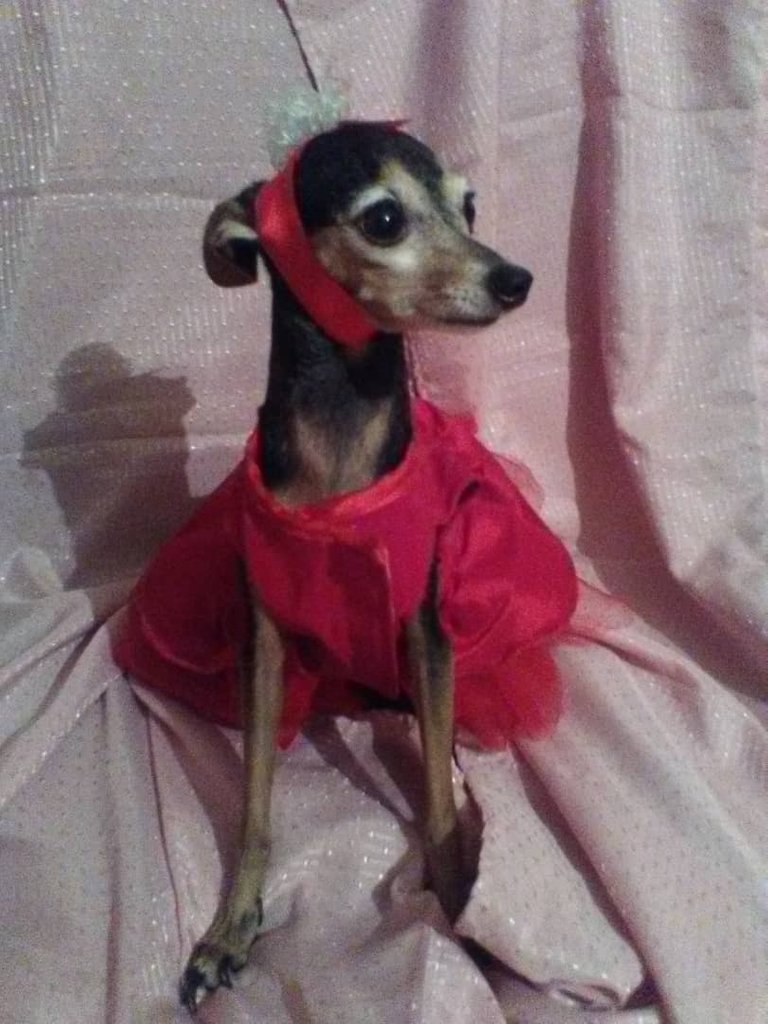 Cuidar de los seres vivos es cuidar de nuestro entorno y nuestro mundo. Consiente a tu mascota, proporciónale cariño y disfruta de los beneficios emocionales que te brinda tener un animalito a tu lado.