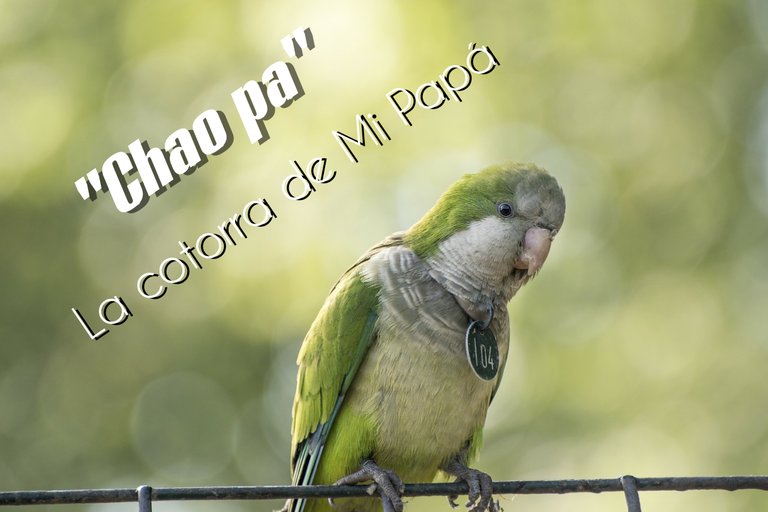 ---
[Versión Español]
La cotorra de mí papá, una muy singular, maliciosa la condena'a
Quería pasar el día, recibiendo de mi papá caricias,
Cuando el se iba, salía corriendo a su despedida.
"Chao pa", chao pa, se oía que gritaba, la llamaban así en toda la cuadra y cuando mi papá llegaba, ella era la primera a quién él saludaba.
Nos hacía reír y las palabras ella repetía, no le enseñabamos groserías, ya que sería grande la paliza que nos darían.
Mi hermano menor creo que la odiaba, por que ella gritaba cuando a él lo castigaban, "pegale más duro" decía y aparte de eso, al verlo llorar se le reía.
Tenerla en casa nos llenaba de alegría, a veces los sonidos de mi mamá hacia, nos engañaba y preguntaba cosas, ella se sabía los chismes de doña Rosa.
Un día, como cada mañana mi papá la esperaba mientras su café se tomaba, pero ella no llegaba,
¡Le ganamos! Decía mi hermano, pero que raro, que no ha llegado
Salí a buscarla al patio, pues no estaba enjaulada, al no encontrarla pregunté en la cuadr, ¿no había visto a "chao pa"? La cotorra de mi papá.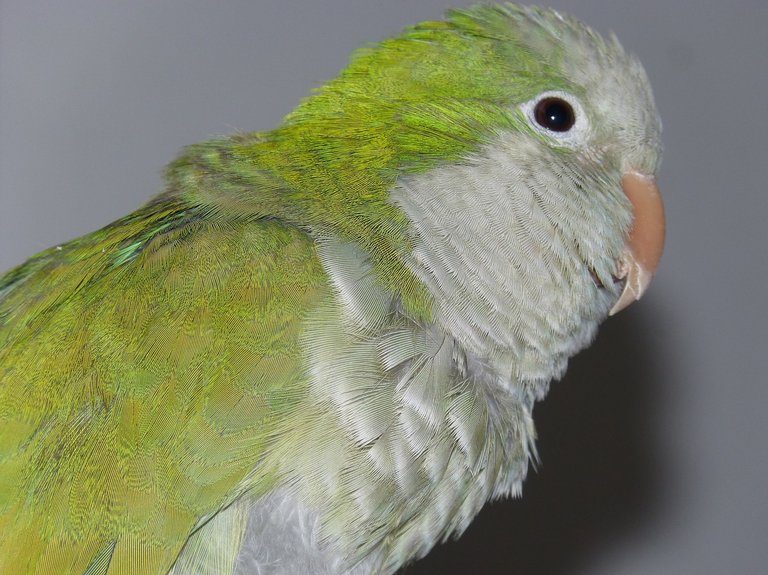 Pixabay

[English Version]
My daddy's parrot, a very singular, mischievous condemned one.
She wanted to spend the day, receiving caresses from my dad,
When he was leaving, I'd run off to say goodbye.
"Bye pa", "Bye pa", you could hear her shouting, they called her that all over the block and when my father arrived, she was the first one he greeted.
The parrot made us laugh and repeated the words we said, we did not teach him rudeness, as it would be a big beating we would receive.
My younger brother I think she hated her, because she would scream when he was punished, "hit him harder" she would say, and apart from that, when she saw him cry she would laugh at him.
Having her at home filled us with joy, sometimes she would repeat the sounds my mother made, she would trick us and ask us questions, she knew Doña Rosa's gossip.
One day, like every morning, my dad was waiting for her while she drank her coffee, but she didn't arrive,
We beat her! My brother said, but that's strange, she hasn't arrived.
I went out to look for her in the courtyard, as she wasn't caged, and when I didn't find her, I asked in the quadr, hadn't I seen "chao pa"? My dad's parrot.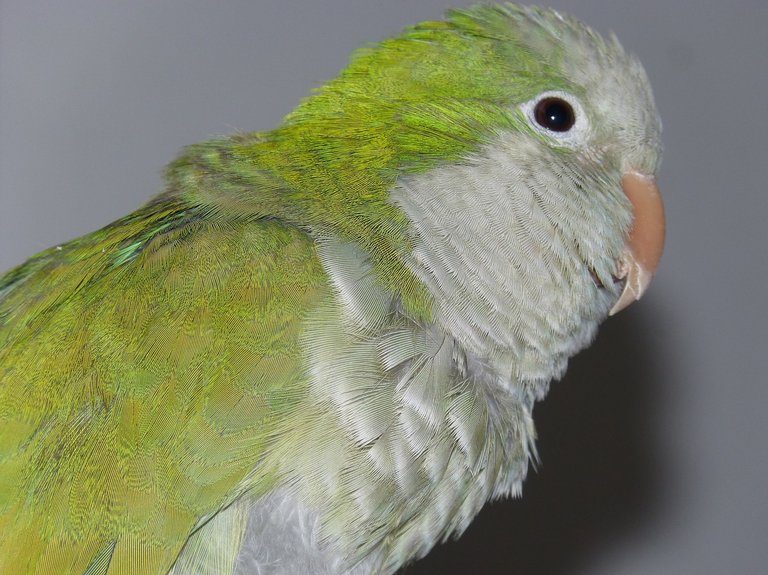 Pixabay

"Chao pa", fue una cotorra muy linda que tuvimos en casa, ella no estaba enjaulada pues siempre iba y regresaba. Nunca le pusimos un nombre, se quedó como "Chao pa", ya que esa fue la primera palabra que aprendió de nosotros, así le decíamos a mi papá cada vez que el se iba a trabajar.
"Chao pa", was a very pretty parrot that we had at home, she was not caged because she always went and came back. We never gave her a name, she stayed as "Chao pa", because that was the first word she learnt from us, that's how we used to say to my dad every time he went to work.
Tener una mascota es muy lindo, lo malo es cuando se van, bien sea de manera natural o por culpa de gente mala, nos dejan un vacío. Pero los recuerdo de que nos dejó esta hermosa cotorra, nos hacen reír hasta hoy en día.
Having a pet is very nice, the bad thing is when they go away, either naturally or because of bad people, they leave us an emptiness. But the memories that this beautiful parrot left us make us laugh to this day.
Lamento no tener ni una foto real de ella. En aquellos tiempos era difícil. Aquí les dejo la fuente de la imágen de la portada.
I'm sorry I don't even have a real photo of her. In those days it was difficult. Here is the source of the image used on the cover.
---

Sepadores cortesía de @tripode para la comunidad.