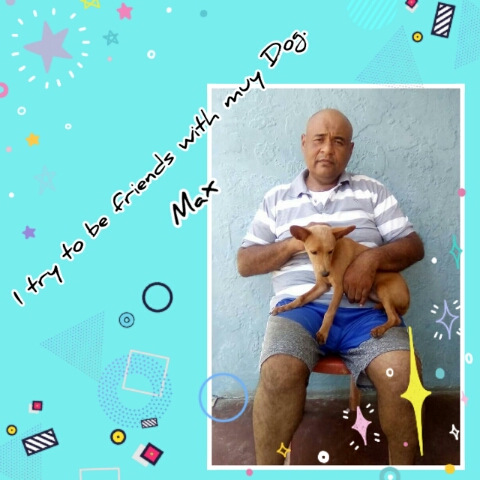 Undoubtedly, a pet is like another child, I have proved it after I grew old, although I must emphasize that in my maternal and paternal family we were instilled "perhaps" unconsciously, the fear of animals, dogs bite and give rabies disease should not be touched, cats bring many diseases including toxoplasmosis, rabbits give scabies, turtles bite and when they squeeze they do not let go and their heads should be cut off, horses kick and kill a person, toads spill milk from their eyes and can leave a person blind, turtles bite and when they squeeze, they do not let go and their heads must be cut off, horses kick and kill a person, toads spit milk out of their eyes and can blind a person, snakes are snakes whether they are poisonous or not, the list is very long of all the things they told you as a child, so the fear of touching an animal grew with me.
For all this I was always an isolated person, I did not like to get close to any animal and much less to dogs, because one bit me in my childhood, but the insistence of my younger daughters to have a pet, made my feelings more flexible, and I tell you that I have changed my perception, in my own flesh I lived this unique and rewarding coexistence.
As I explained in another post (ESP)(ENG)EL PRIMER CONTACTO I have wanted to break this generational chain and my younger daughters have been allowed to have pets, but it is never enough, in my opinion they want a zoo, anyway, today they have a turtle that is lost in the yard, a cat and a dog, at first they were fighting each other, now they sleep and eat together, I realized that the natural hatred is because of their genes, but they can be reversed by their upbringing.
Sin lugar a dudas, una mascota es como un hijo más, lo he comprobado después de viejo, aunque debo destacar que en mi familia materna y paterna nos inculcaron "talvez" inconscientemente, el miedo por los animales, los perros muerden y dan mal de rabia no se deben tocar, los gatos traen muchas enfermedades entre ellas toxoplasmosis, los conejos dan sarna, las tortugas muerden y cuando aprietan no sueltan y se les debe cortar la cabeza, los caballos patean y matan a una persona, los sapos botan leche por los ojos y pueden dejar ciego a una persona, culebra es culebra sean o no venenosas, en fin la lista es muy larga de todas las cosas que le decían a uno de niño, por lo que el temor de tocar un animal creció conmigo.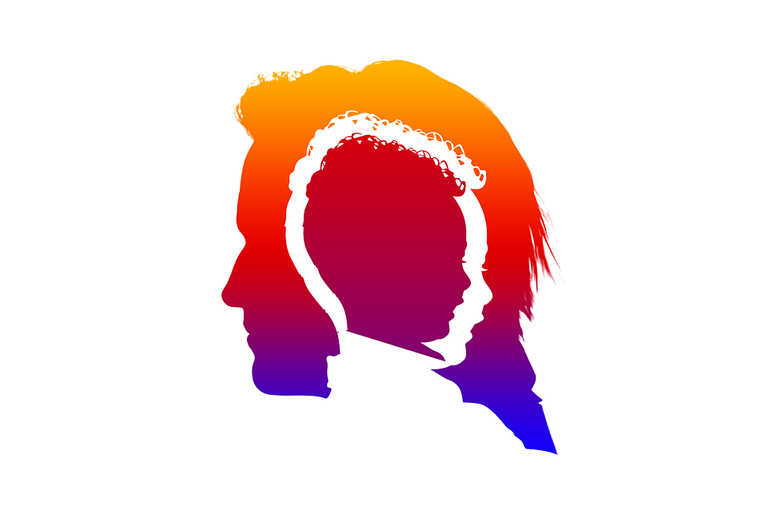 Imagen degeralt en Pixabay
Por todo ello yo siempre fui una persona aislada, no me gustaba acercarme a ningún animal y mucho menos a los perros, pues uno me mordió en mi niñez, pero la insistencia de mis hijas menores por tener una mascota, hizo que flexibilizara mi sentir, y les cuento que he cambiado mi percepción, en carne propia viví esta convivencia única y gratificante.
Como lo explique en otro post (ESP)(ENG)EL PRIMER CONTACTO he querido romper con esta cadena generacional y a mis hijas más pequeñas les he permitido tener mascotas, pero nunca es suficiente, a mi parecer quieren un zoológico, en fin, hoy en día tienen una tortuga que esta extraviada en el patio, un gato y un perro, en un principio peleaban entre ellos, ahora duermen y comen juntos, me di cuenta que el odio natural es por sus genes, pero pueden ser revertidos por su crianza.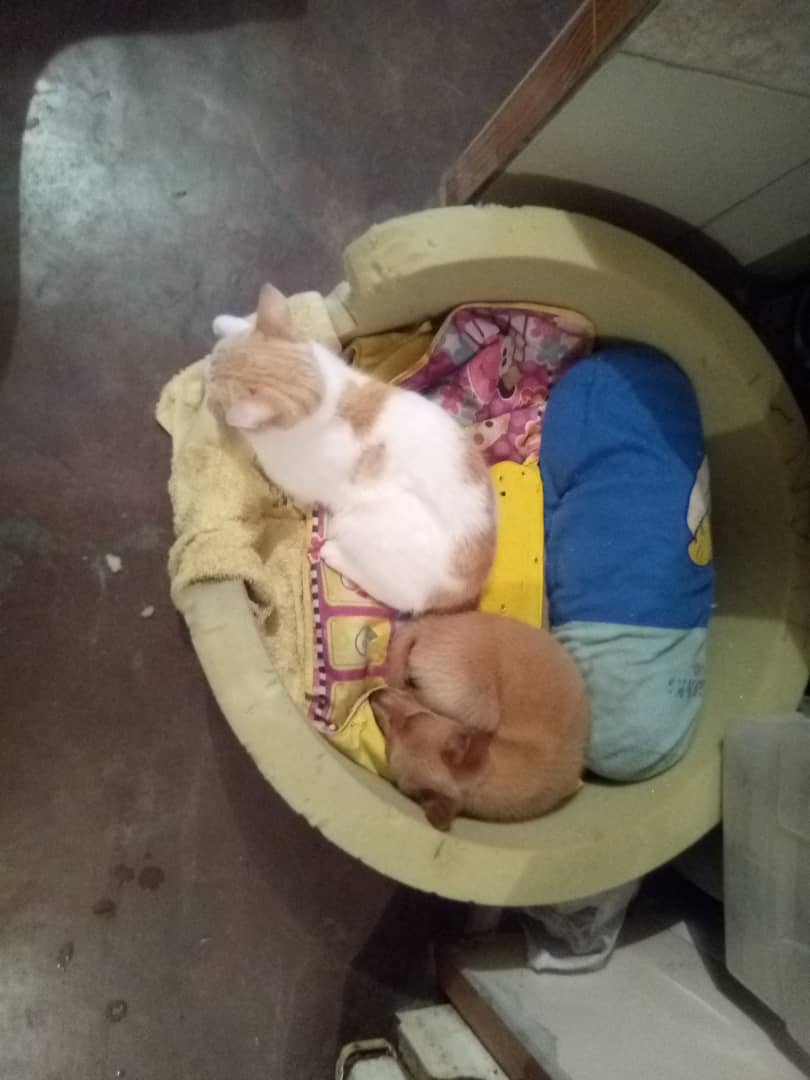 My oldest daughter has complained to me about the fact that she always wanted to have pets and we never allowed her to, of course I grew up afraid of animals and her mom did not tolerate them, it was an intricate combination, my current partner @motica29 is more subtle with sensitivity towards animals and more permissive in that aspect, so my younger daughters have that privilege.
Mi hija mayor me ha reclamado el hecho de que ella siempre deseo tener mascotas y nunca se lo permitimos, claro yo me crie con miedo a los animales y su mamá no los toleraba, era una combinación intrincada, mi actual pareja @motica29 es más sutil con la sensibilidad hacia los animales y más permisiva en ese aspecto, por ello mis hijas menores tienen ese privilegio.
With this sharing with pets I have become very observant of their things and behavior, and they seem like children to me, they are happy when I come home from work, they want to be caressed and play all the time, they like me to give them my food, they surprise me with their tenderness, they gladden my soul with their sudden occurrences, it hurts me to see them sick, they know when they are being scolded for some mischief done, in short, they are other indisputable members of the family.
Con este compartir con mascotas me he vuelto muy observador de sus cosas y comportamiento, y me parecen unos niños, se alegran cuando llego de mi trabajo, quieren caricias y juego todo el tiempo, les gusta que les dé de mi comida, sorprenden con su ternura, alegran mi alma con sus ocurrencias repentinas, me da dolor verlos enfermos, saben cuándo se les está regañando por alguna travesura realizada, en fin, son otros miembros indiscutibles de la familia.
| | |
| --- | --- |
| | |
I have noticed that the dog (Max) wants to have cat behavior, he wants to jump to high places, this causes us much laughter, and as I said in another post MY PHOBIA WITH DOGS, I LIKE CATS. // MI FOBIA CON LOS PERROS, ME GUSTAN ES LOS GATOS I identify more with cats because I have a phobia of dogs, when I pet Max and he tries to bite me playing, and this causes me repudiation, I treat him with affection, but I think a lot about when he grows up, I got used to his smell which I could not stand and I always feed him what I eat, of course hidden from my wife, because she usually says that I am going to get them used to lambuceo haha maybe she is right, but it is my way of spoiling them, they all became like other children more.
He notado que él perro (Max) quiere tener comportamiento de gato, desea brincar a lugares altos, esto nos causa mucha risa, y como dije en otro post MY PHOBIA WITH DOGS, I LIKE CATS. // MI FOBIA CON LOS PERROS, ME GUSTAN ES LOS GATOS me identifico más con los gatos ya que le tengo fobia a los perros, cuando acaricio a Max e intenta morderme jugando, ya esto me causa repudio, lo trato con cariño, pero pienso mucho en cuando crezca, ya me acostumbré a su olor cosa que no aguantaba y siempre le doy de comer de lo que como, claro escondido de mi esposa, pues suele decir que los voy a acostumbrar a lambuceo jajá quizás tenga razón, pero es mi forma de consentirlos, todos se volvieron como otros hijos más.
| | |
| --- | --- |
| | |
In this experience of sharing with pets, I realized that they feel, understand, love, and of course also have fun; Thanks to my heavenly father for allowing me to live these experiences that gratify the soul, I have already come to reason with him because there are organizations that defend animals, I totally agree that they have the right to life and good treatment, my greatest appreciation to those who have shelters for abandoned animals, for those veterinarians who give free days for the welfare of these noble and innocent beings and of course a big hug of gratitude to this community that lets us talk about our pets.
En esta experiencia de compartir con mascotas, me di cuenta que ellos sienten, entienden, quieren, y por supuesto también se divierten; Gracias a mi padre celestial por permitirme vivir estas experiencias que gratifican el alma, ya entre en razón de él porque existen organizaciones que defienden a los animales, estoy totalmente de acuerdo que ellos, tienen derecho a la vida y a un buen trato, mi más grande reconocimiento a esos que tienen albergues para los animalitos abandonados, para esos veterinarios que dan jornadas gratuitas para bienestar de esos nobles e inocentes seres y por supuesto un gran abrazo de gratitud a esta comunidad que nos deja hablar de nuestras mascotas.
---
Imagen alusiva al tema de pixabay, con su fuente de identificacion
Las fotografias son de mi propiedad, tomadas con mi celular Alcatel 1.
Utilice el traductor gratuito DeepL.
Image allusive to the theme from pixabay, with its source of identification.
The pictures are my property, taken with my Alcatel 1 cell phone.
Use the free translator DeepL.