Hello, Hive friends! So one of my two nerite snails, Macha, is a lady snail and she is very smart about where she lays her egg sacs. People on the internet had me expecting to find nertie eggs everywhere, but really she is quite strategic!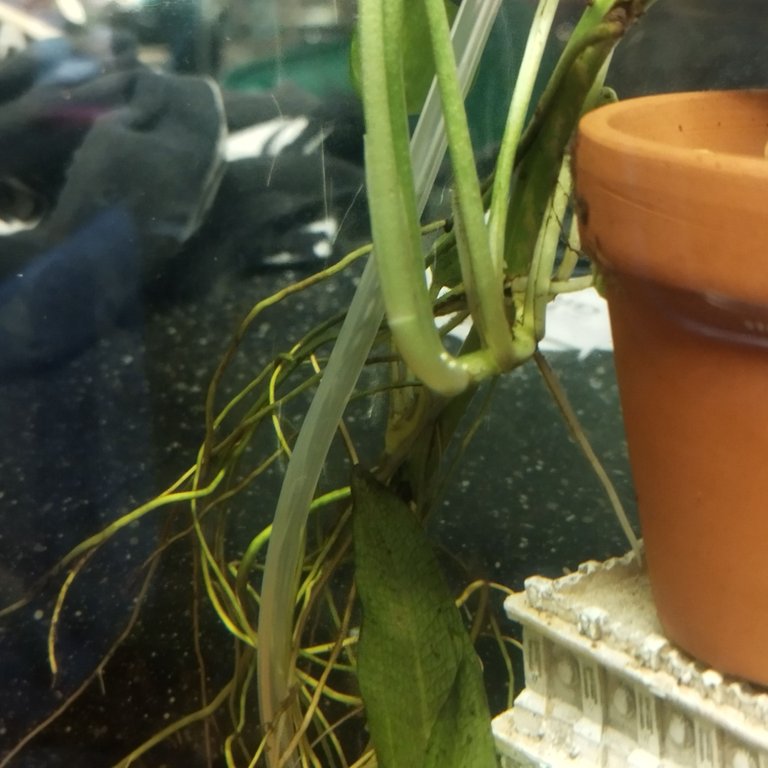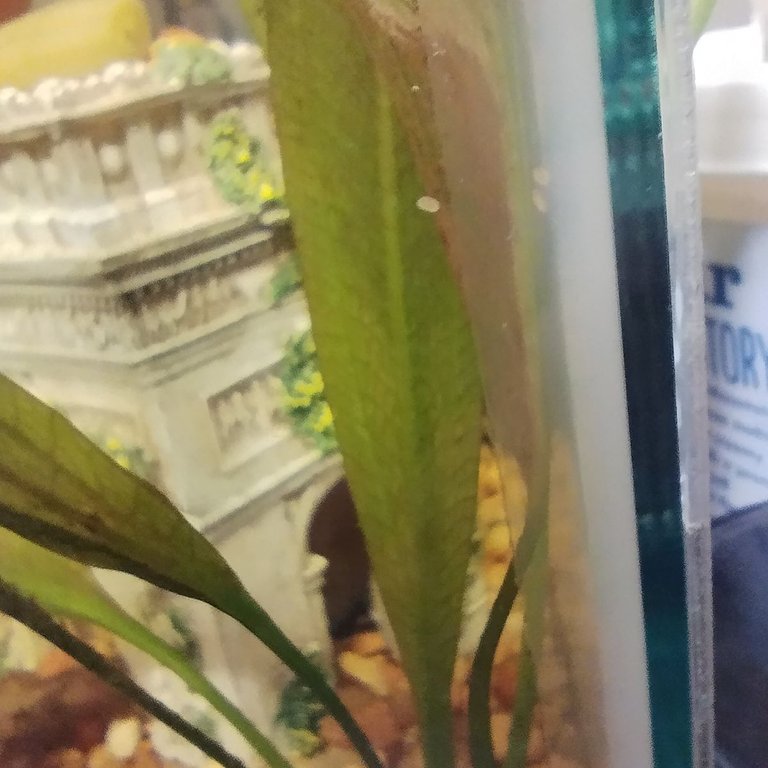 Here you can see a few egg sacs (because really they look like tiny eggs to us but those little white spots are a sac full of lots and lots of even smaller snail eggs!) on the stem of a pothos that is in the aquarium, and then in the second photo, there are three more in the corner of the glass hiding behind an Amazon sword leaf.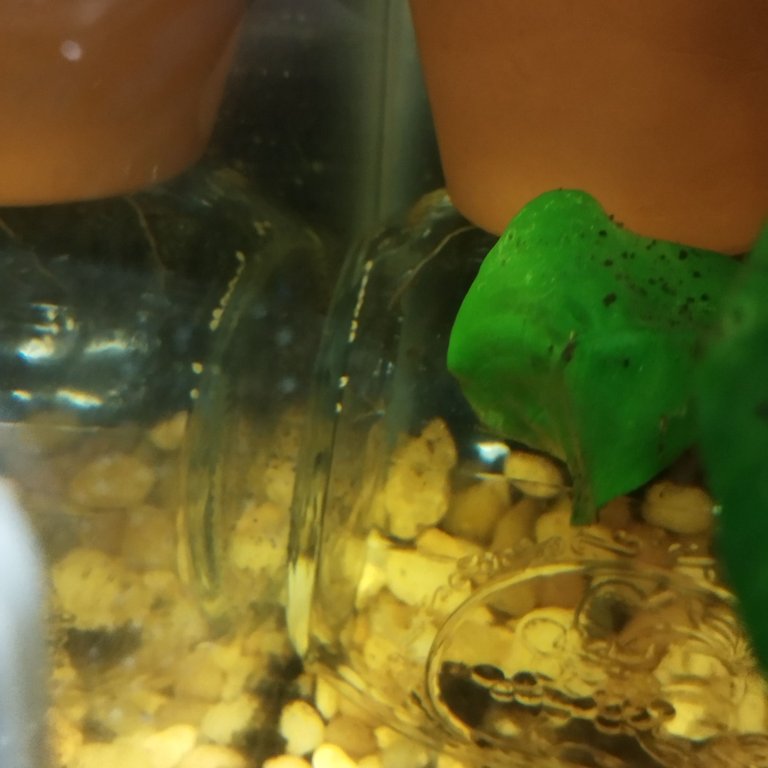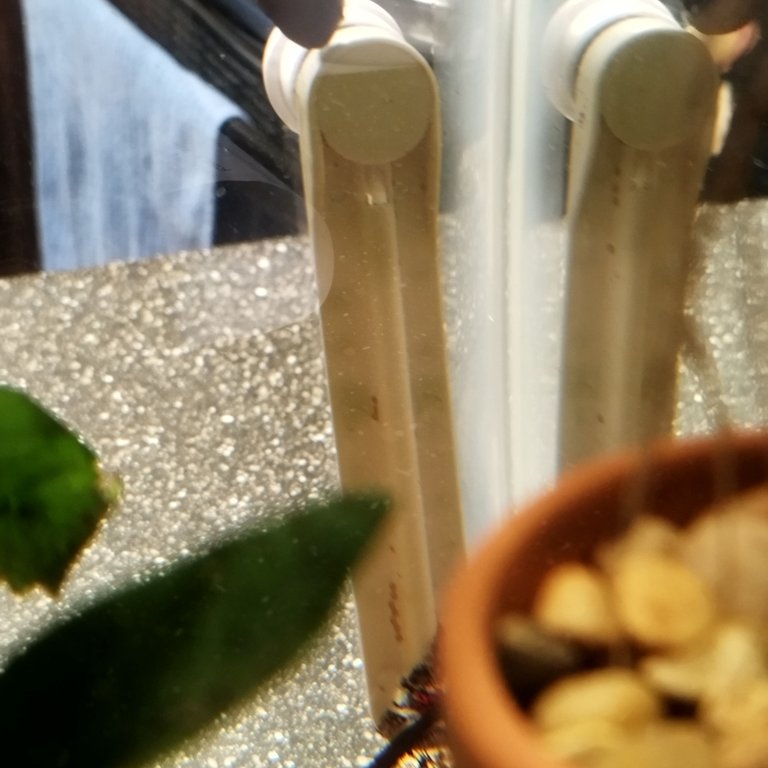 Then here you can see she laid several of them right in the corner of the bottom of the glass jar I put in there to be a little cave for them, and then again a line of several in the corner of the back of the thermometer.
She is laying her eggs not just anywhere, but in corners and on narrow stems, where they would be harder to get off for any predators. She knows there's a bully in the tank - she's the snail that CuChulainn often flares at - so I don't know if that's what prompted her to be so strategic about where she leaves her egg sacs, but she's certainly being wise about it!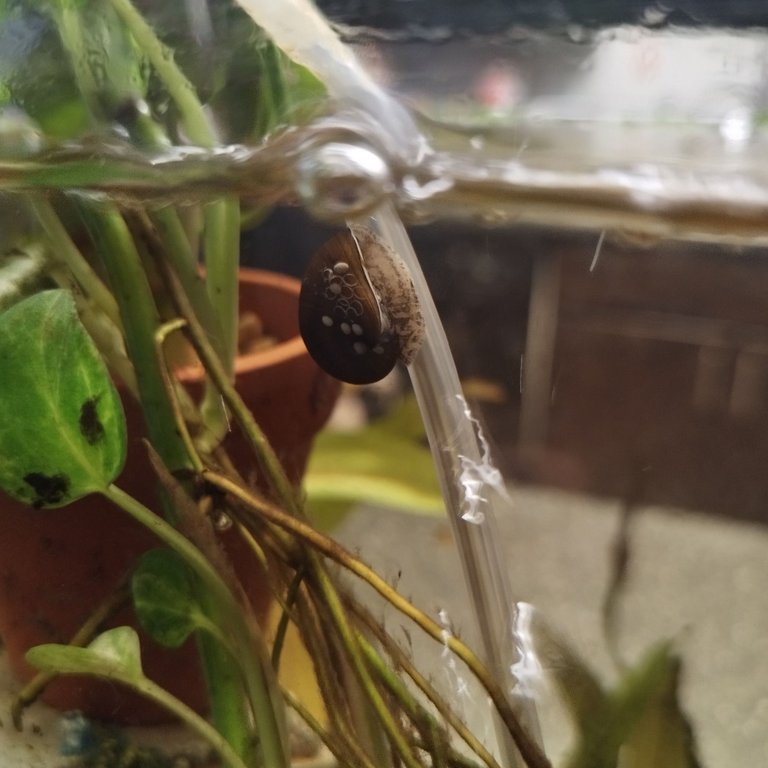 She also has a collection of egg sacs on the outside of her shell!
Nerite snail eggs won't actually result in snabies (snail babies 😄) in a freshwater tank (which is what I have). In nature, nerites will travel (apparently, sometimes long distances!) from freshwater to brackish water in order to lay their eggs. Most people say they just won't hatch at all in freshwater, but I did see at least one other article say that they will hatch, but the larvae (because that's what they are at first upon hatching) will then die in freshwater because it's not salty enough. I do think she has lost a couple of the spots on her shell, but I don't know if it's because that happened or if they just got brushed off as she moved around (they are supposed to be quite sticky and hard to get off, however). If they do hatch and then die, I sometimes wonder if that's why CuChulainn flares at her and almost never at Sanglainn (the boy snail) - maybe he saw one hatch and ate the larvae, and now he thinks she's carrying around snacks on her shell? I don't know, but it's a theory!
I do have more plants coming in the mail for the aquarium, which will hopefully help with that situation - more things for CuChulainn to interact with and be entertained, but also more hiding spaces for the snails. He only seems to flare at her when she's up on the glass in the open, not when she's on the ground or the decorations or plants. So maybe it's like, a line of sight thing? If more plants are around, he might not notice her as much (to be clear, he hasn't nipped her antennae or anything like that - I check, all of their antennae are intact. But he has booped her shell a few times). Fingers, fins, and antennae crossed!
I really enjoy getting to know my new aquarium friends. I hope you enjoy reading about them too! :) Have a wonderful day!